From the Archives: Send in the Clowns : The Comedy Store keeps the laughs coming as it celebrates its 20th birthday with some of the comedians who got their start there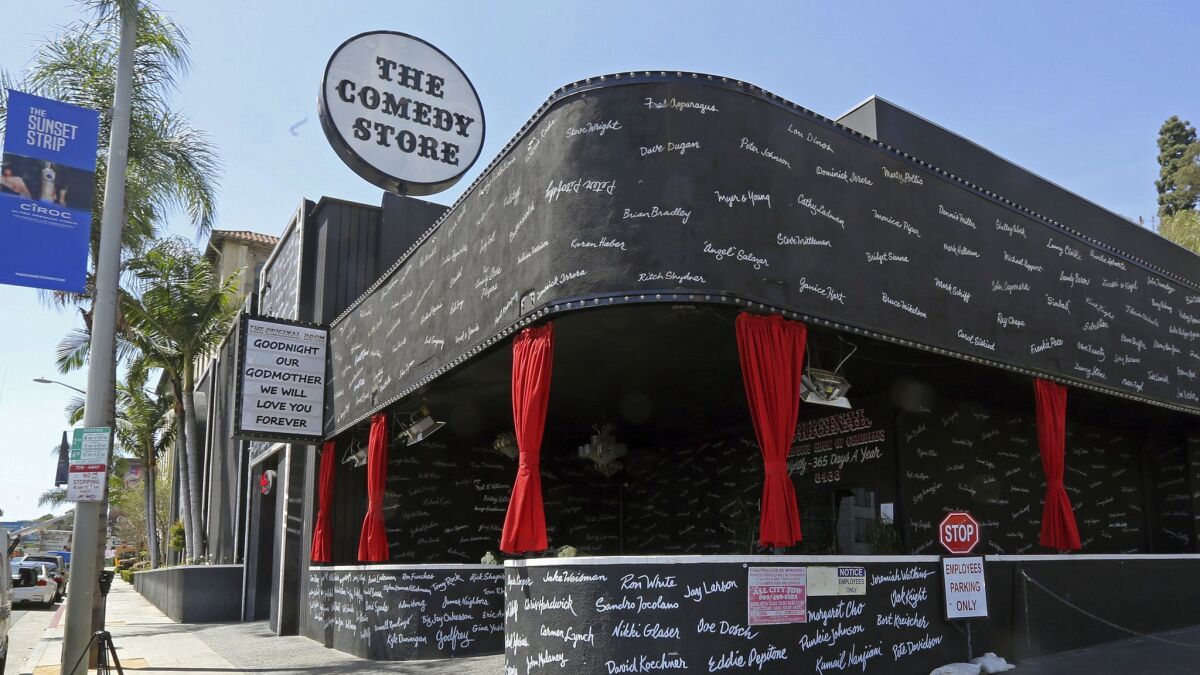 The Comedy Store on Sunset Boulevard in West Hollywood has a facade adorned with the names of hundreds of great comedians who have passed through its doors. Mitzi Shore, the club's longtime owner, died Wednesday at 87. Below is a Los Angeles Times story, published Sept. 20, 1992, about the 20th anniversary of the Comedy Store and how many influential comedians hold the club dear to their hearts.
Richard Pryor needed help getting up on stage. It was his first public performance in four years and he looked gaunt in blue jeans, his voice gone hoarse from a battle with multiple sclerosis.
"This is embarrassing," he told the audience at the Comedy Store.
But he struggled through a few jokes and drew a standing ovation. This was, after all, a stage where he and David Letterman and the late Freddie Prinze had honed their acts more than a decade ago. Same with Robin Williams and Damon Wayans. Pryor had returned to help celebrate the 20th anniversary of the Sunset Strip club.
His performance and those of a dozen other comics will be televised on an NBC special, "The Comedy Store's 20th Birthday" at 10 p.m. Thursday.
"Do you remember your first time at the Comedy Store?" Richard Belzer asked, laying a straight line on Pryor at the start of the show.
"Actually," Pryor deadpanned, "no."
In Los Angeles, the Comedy Store and the Improv are the two comedy club heavyweights. They've been around longest and have attracted the biggest names. Relations have always been cool between the two rooms, due in large part to the personalities of their founders.
Budd Friedman opened the first Improv in New York City in the early 1960s. But it was the Comedy Store and its owner, Mitzi Shore, who broke the ice in Los Angeles in 1972, a year before the Improv opened on the West Coast.
Shore has been called the "Godmother of Comedy," a title that doesn't displease her. She is a woman of glittery clothes and bright scarves, but with the wiry voice of a nagging mother. In fact, she is wont to act maternal — some would say possessive — when it comes to the comics who work her club.
"There are comics that she claims to have created," said Mark Lonow, a co-owner of the Improv. "We could say that without the Improv in New York City, Robert Klein would never have become a comic. But if Robert Klein wanted to be a comic badly enough, he would have found a bar with a table to stand on. To say, 'I created this person,' is not right."
The relationship between comic and club is central to the way the Comedy Store operates. Shore insists she is devoted to comics. And she demands a peculiar brand of loyalty from them.
The best stand-up emerges from years of sometimes woeful experimentation on stage, Shore believes. Comics must slowly sharpen their jokes, their delivery and body language.
"I remember that was 1979," Robin Williams recalled in an interview that will air during the special. "I performed after Jimmy Walker and did very badly. It was that lovely kind of Death Valley experience."
So the Comedy Store has provided--some say demanded--internships.
The late Sam Kinison was an example. Like others, he appeared at an all-comers night in the late-'70s and was spotted by Shore, who spends hours a day at the club. She gave him only a few spots a week at first. The rest of the time he worked the door, taking tickets and showing people to their seats. Eventually, Kinison worked his way up to regular gigs as a featured performer.
Similarly, Yakov Smirnoff worked as the club janitor for two years before getting top billing.
"I'd always heard about this place and knew it was the place to come if you were a young comedian," said Bob Saget, who emceed shows for six years before landing spots on the television shows "Full House" and "America's Funniest Home Videos."
Jim Carrey — a member of the "In Living Color" cast — says he struggled for years at the Comedy Store.
"I used to go up on stage with no material. Mitzi would say, 'I don't understand what you're doing, but go ahead,' " he recalled. "About a third of the stuff I came up with was great. The poor audience had to sit through the other two-thirds."
Again, Lonow argues, Shore didn't invent this "pecking order" system. Danny Aiello worked the door at the New York City Improv and Elayne Boosler was a hostess. But it is the Comedy Store, and Shore, who have become known for the philosophy.
Not all comedians agree with it. For many years, neither Shore nor Friedman paid their comics. Comedians profited from the exposure, the club owners said. In 1979, Los Angeles comedians called a strike against the "no-pay policy." Both clubs began paying nominal fees soon after.
Shore has also been accused of discouraging her comics from performing at the Improv, a charge she only partially denies. "When I support a comic for a number of years and then he goes over there, I say that's not fair." And she knows some people think her unfair.
"That's OK," she says, and then rattles off the big names that have come through her club. "The product shows that I know what I'm doing."
Whatever Shore knows about the business, she learned through years of experience and some hard knocks. Her ex-husband, comic Sammy Shore, started in country clubs and worked his way to Las Vegas. He and Rudy De Luca, a comedy writer, were actually the ones who opened the place, in a 99-seat room that had been the cocktail lounge for Ciro's restaurant.
The Comedy Store was a hit from the start. Redd Foxx played there. A young Steve Martin used to sit quietly in back. Director Barry Levinson and actor Craig T. Nelson were members of the now-defunct house comedy troupe. Most nights, the room was packed. But Shore and De Luca knew nothing about business and couldn't make a penny.
"I was a writer and he was a comic," says De Luca, who worked for "The Carol Burnett Show" back then and more recently wrote a number of Mel Brooks' films.
Sammy didn't want Mitzi involved with the club, but when he left for a monthlong stint in Las Vegas, she took over. She redecorated the room and restructured the shows, including more young comics. The Comedy Store suddenly turned a profit.
"That's where everybody wanted to be," said Arsenio Hall, during the special. "It was Carnegie Hall for a comic. The Comedy Store was number one."
Less happily, Sammy recalled: "It was Mitzi's room and I wasn't wanted."
The Shores divorced soon after, and Sammy gave her the club as part of the settlement. In a way, though, he left a legacy.
"I wanted to give respect to the stand-up comics," Mitzi said. "They never had it when I was traveling with Sammy."
In 1976, Mitzi bought out Ciro's and opened the Main Room, with 400 seats, in addition to the original room. Two years later came the Belly Room, a small upstairs space for women comics. Whoopi Goldberg worked out parts of her Broadway show there, Shore said.
Over the years, Comedy Store branches have opened in La Jolla, Westwood, the San Fernando Valley and at the Dunes Hotel in Las Vegas. Only La Jolla and a newly reopened Westwood branch remain.
Shore has also purchased the Hollywood Playhouse, a space that is given over to one-man shows. "It's for comedians who want to segue into dramatics," she said.
All along, her house up the hill from the club served as a gathering place after shows. Paul Rodriguez recalls hanging out and watching Mitzi's son, Pauly, now a successful comic himself, try to outdo the professionals.
"I remember him trying to cut up a room with Robin Williams and Billy Crystal and Richard Pryor and myself," Rodriguez said. "Here was this little guy doing shtick for us."
Said comedian Jeff Altman: "We were a group of people going through the good times and the bad times."
The bad times have included Prinze's suicide in 1977 and, earlier this year, Kinison's death in an automobile accident.
"It's tough to lose people like that," Shore said. "But this has been a good life. It has been such great, great fun."
And though she has plans for the future--keeping the playhouse going, producing television specials with her other son, Peter--Shore has reached a time in her life when she can feel satisfied. Her 22-year-old son Pauly, who started as an MTV host, recently became the youngest comedian to star in an HBO comedy special. And her club has stuck it out for two decades.
"Whether it's Mitzi's eye for comedy or just the wacky people who come here, I don't know," Altman said. "But this place has endured. It's a place you can come and try new stuff. It's comfortable."
---
Get our daily Entertainment newsletter
Get the day's top stories on Hollywood, film, television, music, arts, culture and more.
You may occasionally receive promotional content from the Los Angeles Times.