Chuck Lorre on his Golden Globe-nominated cast of 'The Kominsky Method': 'You certainly don't give a note'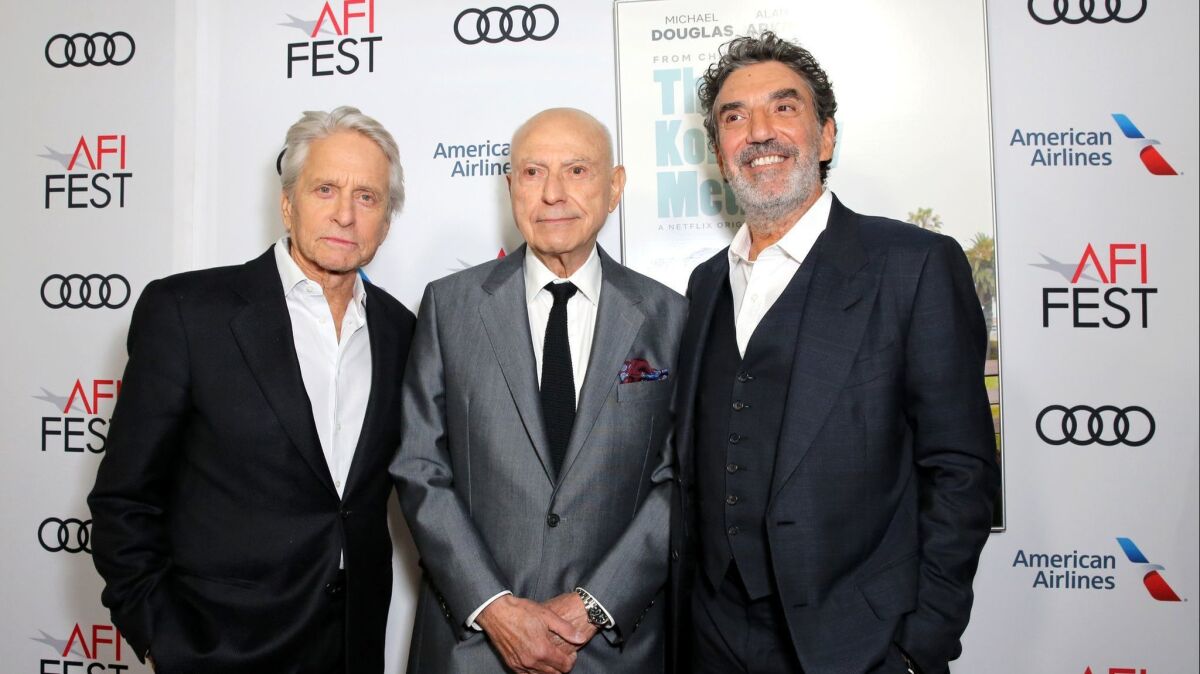 Creator of multiple hit sitcoms that include "Two and a Half Men," "The Big Bang Theory" and "Young Sheldon," Chuck Lorre captured the eyes of the Hollywood Foreign Press Assn. with the Golden Globe-nominated "The Kominsky Method."
Starring Michael Douglas and Alan Arkin in a comedy about aging, the series also earned a nomination for Douglas as lead actor and Arkin for supporting. Below, Lorre talks about working with a pair of acting veterans as well as his decision-making behind making the jump to streaming after so many years on network TV.
I imagine it's been a busy morning...
I slept through the whole thing. My UTA agent was frustrated that I wasn't picking up my phone. He had my wife's number so he called her and woke her up and she woke me up. What a terrific way to start the day. What a beautiful rainy day this is. I'm trying to get to Burbank now — I might get there hopefully by the end of the year.
So when you're the creator of a TV show that stars Michael Douglas and Alan Arkin, are you a fool to give notes?
It's not notes so much as a Q&A, a conversation. I try to communicate what I'm thinking and offer it up — there's a lot of different ways to approach material and one of the smarter ways I've learned is to trust actors at this caliber. Michael Douglas and Alan Arkin have incredible instincts that are honed over, what, 50 years a piece? So part of my journey is learning to trust maybe what I'm hearing in my head isn't the only way to sing the song.
Conversation is the only way to do it. You certainly don't give a note: Here's how to do it. That would be foolish. And they were very gracious and patient with me.
Did you, a veteran producer, find it intimidating?
It was intimidating. They're not just actors — they're Michael Douglas and Alan Arkin. And I never forgot it. I can't even begin to tell you what a joyful experience it was to see the final result and to see the extraordinary chemistry between the two of them on camera. To get to tell a story about getting older with two great actors who could make it poignant and funny at the same time.
Did you share stories about getting older?
Yeah, there was a little bit of that. I'm also delighted to be the youngest of the three on the set at 66 years old. I liked being the kid. Yeah, there was a lot of commonality in these issues for sure.
Does it feel like validation for you, whose work has mostly been on broadcast TV, about what you could do outside of it?
I'm just really grateful. To get acknowledged for the work is really quite a wonderful feeling. The people who are watching it and enjoying it and find that it means something to them — it's hard to put into words. Hopefully I get to do more of this.
You also had the pot comedy "Disjointed" on Netflix. What prompted your decision to venture outside broadcast TV?
I wanted to learn how to paint with a different palette. It's been there for a long time. [I was] trying to find a venue where I could tell a story and approach comedy from a different angle. There was never any question that this would be shot film-style. I really wanted the opportunity to learn how to do this. I've been working in front of an audience for 30 years.
How would you describe the experience, this world of no notes? Did you find it took some adjustment?
Encouragement and support is not a tough thing to get used to. It's just wonderful. They were incredibly supportive. I remember back before it all started, I called [vice president of original series for Netflix] Cindy Holland and was like, "I'd really like to direct the first episode." And I don't have a track record of directing single-camera comedies; I'd be a novice, and I was. And she said, "If you feel strongly about it, you should do it." That meant a lot to me. It's an extraordinary thing to say, it was a great leap of faith and I was really grateful.
And, I have to tell you, the idea of telling a story without commercial breaks so that it can just flow, that's really nice. It changes the way you write the story, it changes the dynamics of the relationships. You're not praying that you can keep an audience after a long commercial break. It flows more like chapters in a book than an episodic television show. I got to make the show I wanted to make.
Was it nice to not have to worry about ratings?
Oh, you mean waking up in the morning after an episode airs and saying, 'Oh my God, oh my God, please, did somebody watch'? This is a different thing. It's an entirely different kind of response. I've been getting encouraging feedback from friends and family and people I don't know. They're seeing everything. They can watch however many episodes they choose to on Netflix.
Does not having a viewer number to hang onto make nominations like the ones you received today all the more important?
First of all, I'm a big fan of anecdotal. But, yeah, the Golden Globes nomination was the icing on the cake. I'm so delighted that we got invited to the party.
What will that party feel like when you're sitting next to Alan Arkin and Michael Douglas?
I'm going to have the biggest, dumbest smile in the world the whole night.
Get our L.A. Goes Out newsletter, with the week's best events, to help you explore and experience our city.
You may occasionally receive promotional content from the Los Angeles Times.