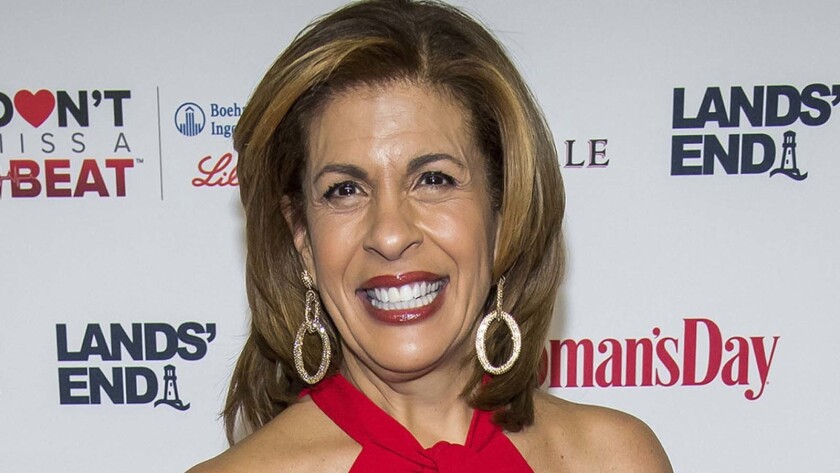 Want to hear Hoda Kotb smile? Just listen to the call she made to the "Today" show Tuesday, sharing the news that she and Joel Schiffman have adopted a second baby girl, Hope Catherine Kotb.
"You think that you're full … ," Kotb said, talking about life with boyfriend Schiffman and 2-year-old daughter Haley Joy. "Joel and I were standing there when they hand you the baby, and it's the closest thing to a live birth I think you'll ever see. In that moment I was like, my heart just grew!"
Kotb has kept all details of her second adoption secret to this point, except for a cryptic Instagram post Monday that read, "Choose Hope." It was similar to what she did around her first baby's adoption.
As for Haley, the toddler is taking the baby's arrival in stride after Mom and Dad told her they had "a present," then introduced Hope.
"Haley ... this morning at breakfast was trying to feed [Hope] her raspberries. …," Kotb said. "She's literally marching around saying, 'I'm a big sister.'" She's also been caught sleeping under Hope's bassinet.
The new mother of two called back in the fourth hour of "Today" to talk more with Jenna Bush Hager and Savannah Guthrie, the latter of whom is filling in on "Hoda & Jenna." The hour debuted in place of "Kathie Lee & Hoda" after Kathie Lee Gifford left the show earlier this month.
Kotb told Hager and Guthrie that she'd been praying that her life would include a second child. The adoption agency had told her to "wait wisely" and not count the days.
"To get the call is so mind-blowing," Kotb said, sounding tearful once again. "You can't believe someone saying, 'Come get her. She's here.'"
Kotb, 54, and Schiffman, 61, have been dating since 2013 and adopted Haley together in early 2017.
"I'm going to be with Joel until my last breath — I know that," the TV personality told Andy Cohen on "Watch What Happens Live" in 2018. Kotb was chosen to replace Matt Lauer on "Today" early that year.
@theCDZ on Twitter and Instagram
---