Keanu Reeves is on a roll, and 'Toy Story 4' is no exception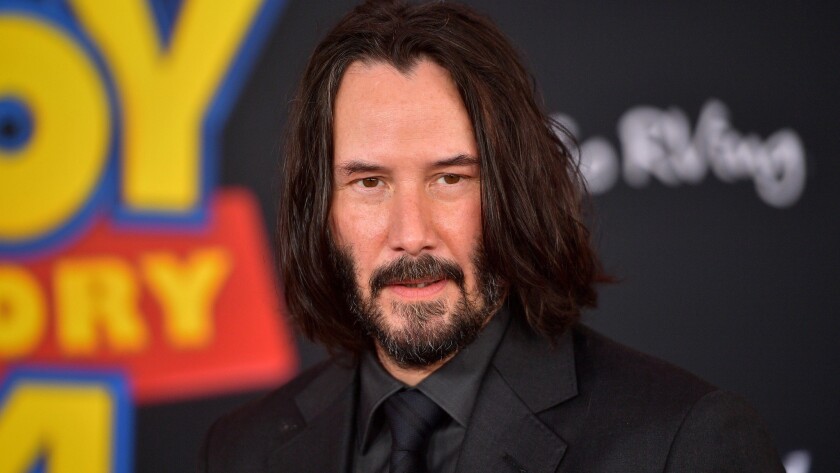 Don't expect Keanu Reeves to accept a movie cameo casually.
It's go big or go home for the Canadian American star of the hit films "Speed," "The Matrix" and the "John Wick" franchise. Or in the case of "Toy Story 4," it's go stand on top of a table in a Pixar Animation Studios cafe and strike some poses.
Reeves' impromptu show for Pixar employees on lunch breaks all started with a pitch from 39-year-old filmmaker Josh Cooley. The latter was working on his directorial debut: the fourth iteration of the beloved "Toy Story" juggernaut, produced by Pixar Animation Studios for Walt Disney Pictures.
No pressure, right?
Thinking of ways to evolve the story line, Cooley asked Reeves, 54, to join the world of talking toys. He developed the character of Canada's greatest stuntman, Duke Caboom — an action figure best known for epic motorcycle crashes and posing for an imaginary camera — with Reeves in mind.
But Reeves does not simply hear a pitch. He flew to the studio's Emeryville, Calif., headquarters to continue the conversation.
"He just wanted to talk about the character before he even agreed to do it," Cooley told The Times at the film's world premiere Tuesday night, where the block behind Hollywood's El Capitan Theatre was transformed into a carnival. (The animated film, likely to be another blockbuster, will be released June 21.)
"We had lunch together, and he started acting it out," Cooley said. "He was embodying the character to the point where he was posing and jumping up on the table."
RELATED: Keanu Reeves' 'Always Be My Maybe' role has everyone obsessing: Here's why »
The role marks Reeves' second film cameo in a month, following a surprise — and heavily hyped — appearance in Netflix's new romantic comedy "Always Be My Maybe."
Reeves was involved in shaping his roles for both projects. With Caboom, he was serious about "approaching the character in a major way," Cooley said.
No detail was lost on Reeves, who even had input on the type of motorcycle Caboom rides, said producer Mark Nielsen. The actor did co-found a motorcycle company, after all.
"We thought, 'OK, we can make it kind of like one of your motorcycles," Nielsen said of an early conversation with Reeves. "He was like, 'No way, man.'"
Producer Jonas Rivera added, "He liked the toy version. Basically, Keanu Reeves is exactly who you'd hope he is."
Our 1995 review: 'Toy Story' visuals delight kids, while adults will appreciate the wised-up jokes »
But for Tim Allen, who has voiced Buzz Lightyear since the 1995 original, it was "scary" how much Reeves was exactly like the characters he has portrayed on screen.
"I sat with him during one preview, and I had just seen 'John Wick 3.' So, you're sitting next to him and he looks exactly like the guy you just saw. He didn't do his hair any different," said Allen, after a costumed Lightyear waved down the press line.
"And I thought, 'OK, I don't want to upset him. 'Cause he'd stab me with a fork or something.'"
RELATED: Meet Forky, the star of the new 'Toy Story 4' trailer »
There was no fork stabbing in the making of "Toy Story 4," but Bonnie's toys are introduced to a very special fork.
Tony Hale voices newcomer Forky, a spork turned toy. The utensil suffers from an existential crisis as he processes what it means to no longer be trash.
Even though he was approached for the role, Hale is still a little incredulous that he was cast.
"I still think someone's going to pull me out of this," he told The Times at Tuesday's premiere. "I'm not meant to be here. They made a mistake."
When told of Hale's comment, Nielsen said, "He's brilliant and that insecurity that he's showing you — that's why we cast him. That's what he brings to the role of this spork."
Cooley chimed in, "And he's hilarious. And he's heartwarming. We made the right choice."
Tom Hanks, the longtime voice of Woody, agreed: "They might as well call this movie 'Toy Story: Forky.'"
And maybe that title could come to fruition. Writer Andrew Stanton teased this is far from the end for the action figures, dolls and utensils.
"It's a deep universe, so I never write it off that there's an end to this," said Stanton. "I mean, I always looked at 'Toy Story 4' as 'Toy Story 2.1.' It's a beginning story. It's not an end story."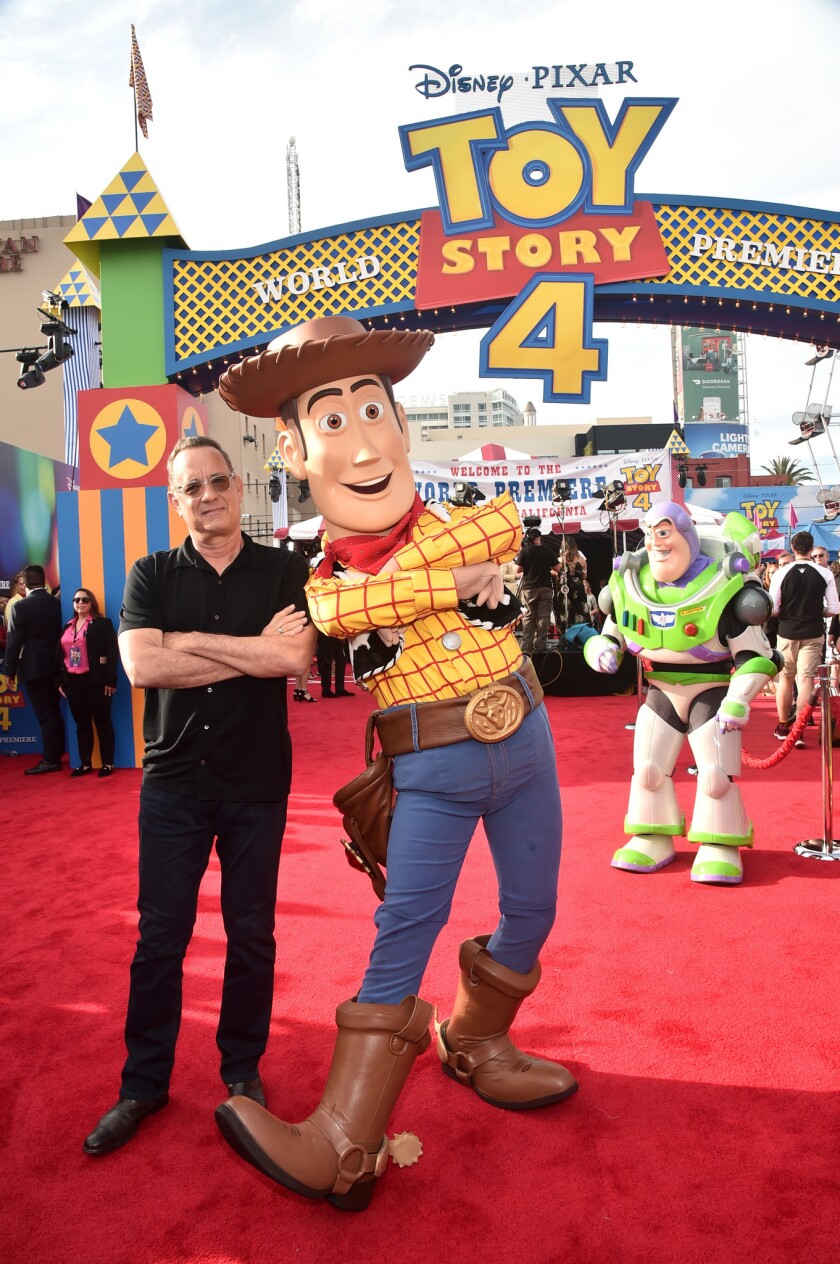 ---
Your essential guide to the arts in L.A.
Get Carolina A. Miranda's weekly newsletter for what's happening, plus openings, critics' picks and more.
You may occasionally receive promotional content from the Los Angeles Times.