CD: Lil Wayne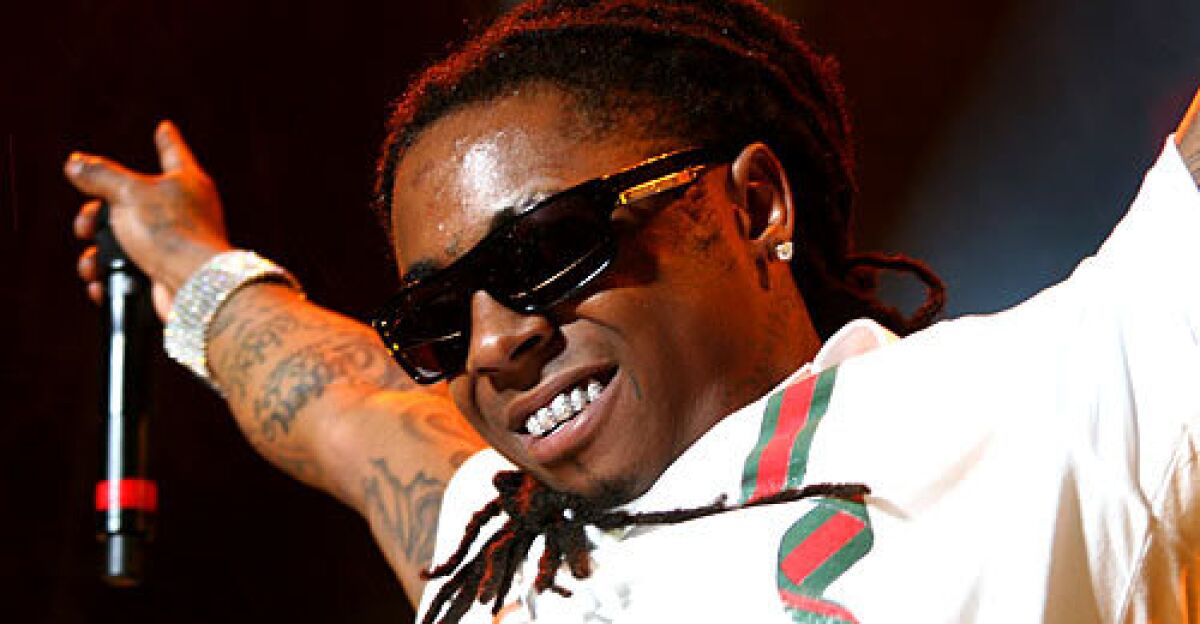 Special to The Times
Lil Wayne
"Tha Carter III" (Cash Money/Universal Motown Records)
***
When you call yourself "the greatest rapper alive," championship seasons aren't just expected, they're required. Lil Wayne knows this well, having spent the last three years crowing with the subtlety of a sledgehammer that he belongs in the same hallowed pantheon as 2Pac, the Notorious B.I.G. and Jay-Z.
Accordingly, "Tha Carter III," due out Tuesday, is intended to be Wayne's version of "The Blueprint": solo album No. 6, no written book of lyrics, production from the likes of Kanye West, Just Blaze and Timbaland (whose "I Know the Future" lamentably never made the final cut). In short, the career-defining masterpiece that will forever serve as a riposte to his legions of doubters. No big deal.
"Tha Carter III" isn't just the most anticipated major- label rap record of the year, it's pretty much the only one. One of the last superstars standing, Wayne (and his label Universal) have taken no chances in ensuring that the album fulfills its blockbuster potential, hiring rainmaker producers such as West, Just Blaze, Wyclef and Swizz Beatz and recruiting guest appearances from Busta Rhymes, Robin Thicke, Babyface, Fabolous, T-Pain and that ultimate 2008 status symbol, Mr. Blueprint himself, Jay-Z.
Nearly every track feels ready to be neatly consigned to one of three categories: skull-fracturing knockout punches for the heads, ring-tone-ready bangers for the club kids, or maudlin album closers for the sentimentalists.
In his quest to make the all-important yet all-profitable album, Wayne too often ignores what made him the toast of the blogosphere in the first place, namely, his raw hunger for rhyming, his facility in stringing together clever non sequiturs and similes, his prodigious ability to shred the simply sliced soul loops and earthquake bass lines that made "Carter II" just a few judicious editing decisions away from being his much sought-after "classic."
Of course, Wayne's far too talented not to deliver when focused. In a decade when most rappers openly admit that they'd rather be coke dealers or CEOs than actual MCs, his monomaniacal drive for greatness has spurred him to heights that few would have predicted he would reach. His competitive streak rears its head most acutely when challenged, as two of "Tha Carter III's" finest moments come when Wayne is forced to show and prove. "You Ain't Got Nuthin' on Me" finds him evaporating Fabolous and Juelz Santana with a snarling, loose-limbed, Dadaist spout of punch-line lyricism. On "Mr. Carter," his torch-passing team-up with Jay-Z, the pair erase the sour taste that "Hello Brooklyn" left behind.
In Wayne's quest to emulate Jay-Z's and Biggie's practice of not writing down lyrics, his reliance on spontaneity alternately skews genius and generic. Quite frequently, he doesn't make a lick of sense, due to a refusal to self-edit his rambling gibberish. Sometimes, it works perfectly, as on album highlight "Let the Beat Build," where Wayne wisely opts to let his raspy croak float alongside the beat's moaning gospel maximalism.
But too often, witty turns of phrase leadenly crash into asinine hooks like "Don't shoot me down because I'm fly / I'm higher." To say nothing of the unoriginally titled "Got Money," a T-Pain-featured Miami bass catastrophe that must have had the Notorious B.I.G. (whose album cover Wayne also mimics) rolling in his grave.
Although lead single "Lollipop" miraculously has scaled the charts via its trend-hopping calculation (add the "This Is Why I'm Hot" beat to auto-tuner excess), its lyrics rank among the dumbest ever (not) penned, swiping from the dregs of Fergie and 50 Cent.
When Wayne's mad alchemy works, "Tha Carter III" evinces shades of brilliance that merit the wild hype, but in its transparent attempts to define its era, it fails, falling victim to the imperial bloat of its big-budget mishmash of styles.
By the end of its over-long 80-minute run time, the Jay-Z album it most recalls isn't "The Blueprint," but rather the scattershot "Vol. 3: Life and Times of S. Carter."
Ultimately, "Tha Carter III" will have you believing in Wayne's greatness but wondering why, as often as not, he just isn't very good.
Albums are rated on a scale of four stars (excellent), three stars (good), two stars (fair) and one star (poor).
---
Get our L.A. Goes Out newsletter, with the week's best events, to help you explore and experience our city.
You may occasionally receive promotional content from the Los Angeles Times.