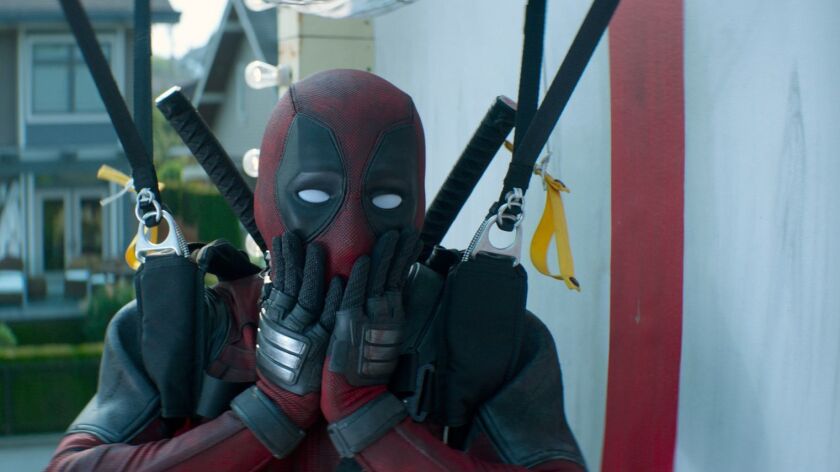 Time for Iron Man and Captain America to give someone else a turn at the box office — namely, the guy known for throwing shade at his fellow superheroes.
Ryan Reynolds' foul-mouthed mercenary, Deadpool (a.k.a. Wade Wilson), is poised to rule the charts this weekend, two years after the superhuman antihero first shattered film industry expectations with his acerbic take on the comic book genre.
Twentieth Century Fox's "Deadpool 2" is poised to open with $130 million to $150 million in box-office receipts Friday through Sunday in the United States and Canada, according to people who have reviewed pre-release audience surveys. The R-rated film will unseat "Avengers: Infinity War," which has spent three weekends as the No. 1 film and has grossed $1.66 billion worldwide.
The film is expected to add more fuel to what the film industry hopes to be a box office bonfire after a weak 2017. The industry is off to a strong start, with box office receipts currently up 5% over the same period last year, according to data firm ComScore.
What superhero fatigue?
The first "Deadpool" launched in February 2016 with a domestic haul of $132 million, setting the record for an R-rated picture — a benchmark the sequel has a solid chance of surpassing.
"Deadpool," which carried a relatively low production budget of $58 million, eventually collected $783 million globally, including $363 million in the U.S. and Canada. The sequel cost an estimated $110 million to produce, nearly double the budget of the original.
The first "Deadpool" won over crowds in part by skewering Hollywood's omnipresent superhero franchises, and it's clear the character's fans haven't tired of his antics. If anything, the studio has upped the self-referential gags and off-the-wall marketing gimmicks.
The promotional campaign has included a Celine Dion music video, a teaser trailer featuring Deadpool as painter Bob Ross, and a contest that lets artists on the website DeviantArt submit their own posters for the movie. One video featured Deadpool in a pink suit to support a cancer charity.
Fifty shades of graying
As superheroes continue to dominate the box office, Paramount Pictures will try to draw older audiences with "Book Club," a comedy about a quartet of ladies whose love lives take a dramatic turn as they tackle the novel "Fifty Shades of Grey."
Starring Diane Keaton, Jane Fonda, Candice Bergen and Mary Steenburgen, "Book Club" is expected to premiere with a modest $9 million. The studio, which is riding high on the success of "A Quiet Place" ($271 million worldwide), paid $10 million for the domestic, British and French distribution rights in November.
Global Road Entertainment, meanwhile, will try to draw kids to cineplexes this weekend with its canine comedy "Show Dogs," about a Rottweiler that goes on an undercover police mission at a fancy dog show. The PG flick is expected to gross $5 million to $9 million.
---
UPDATES:
10:40 a.m.: This article was updated with the estimated production budget for "Deadpool 2."
This article was originally published at 6 a.m.
---