Old Hollywood lingers at Chez Jay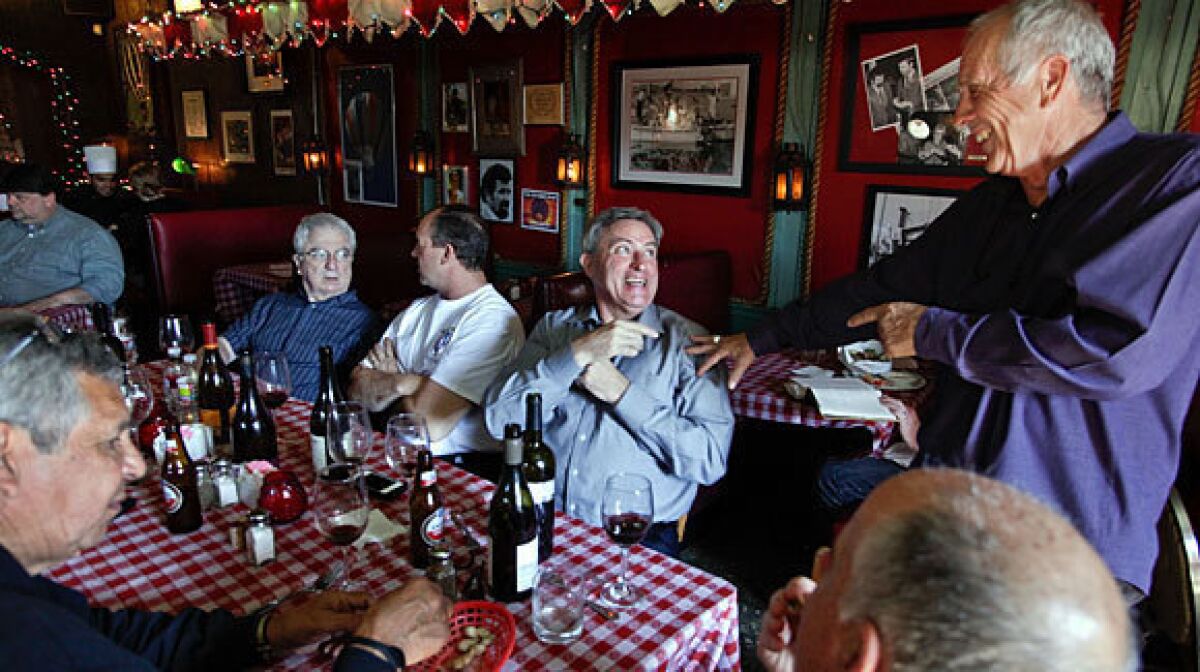 When piped-in music and a bar's history perfectly align, it makes for a sweet cocktail of synchronicity, a besotted wink from the intimate interior that makes all the drinkers lean into their liquor just a little bit more.
On a recent Sunday night, the ramshackle Chez Jay, a beachcomber bistro in Santa Monica with a legendary past, was packed. Glasses twinkled, waiters rushed through the room delivering steaming steaks, and the Doors' "L.A. Woman" played overhead. "Driving down your freeways," Morrison growled, and it seemed like the room was right there with him, careening down Pacific Coast Highway.
Morrison was known to frequent Chez Jay, as well as a host of other famous regulars in its 53 years of business. Frank Sinatra, Sammy Davis, Dean Martin, Lee Marvin, Judy Garland and even Marilyn Monroe would get seated in the curtained-off booth in the back, Table 10.
The restaurant, and that table in particular, is reported in the unpublished memoirs of now-deceased owner Jay Fiondella to have been the birthplace of many a screenplay, including work by Matt Damon and Ben Affleck, as well parts of Warren Beatty's "Shampoo."
The Beach Boys hung out at Chez Jay too. Dennis Wilson, according to one of the bar stories long passed down, once dove over the low border wall in front of Table 10, igniting a brawl that probably didn't end in lush harmony.
Like the Doors' catalog, Chez Jay has been well-loved to the point of obsession by its local denizens. Today, Chez Jay manages to seem both classic and a little seedy. Like dust in the grooves of an old record, peanut shells are trapped in the pockmarks of the bar's floor. Perfunctory movie art hangs on the walls; checkered tablecloths cover the tables.
But Chez Jay, despite its history or maybe from the weight of it, is one of a dying breed. Tom Brackey, an entertainment lawyer in his mid-40s, has been going to the nautical-themed bar and restaurant since he was a teenager. "We lost Chasen's, there's still Dan Tana's," Brackey says, "but there aren't a lot of places left that conjure old Hollywood."
He points to the porthole window that looms over Table 10. "I climbed through that when I was 19," he admits, trying to get away from somebody coming through the front door but he won't tell who. Like a lot of Chez Jay's history, the details are murky, the fables far more alluring to share than fact.
A few things known to be true: Opened by Fiondella in 1959, the Chez had a devoted crowd by the mid-'60s, first beloved by British actors like Richard Burton and Peter Sellers, who according to the aforementioned memoirs, would regale the crowd with fake accents and imitations.
Soon enough it was taken over by the Rat Pack, who drank up there before a weekly poker game, according to a letter that entertainment PR maestro Jim Mahoney wrote in 2010 to Chez Jay's co-owner Michael Anderson. "Granted there were fancier nightspots," Mahoney wrote, "but the Chez Jay experience was something unique. It was personal and it was private. And that was critical for that group."
"Jay had a policy that continues to this day," Anderson says. "No paparazzi and no leaking who's here to the press." Anderson, Fiondella's business partner for some 30 years and current co-owner of the bar with Fiondella's daughter Anita, is still loath to name the celebrities who drop by, preferring instead to focus on regular people who make for good stories too.
There's Patrick Cunningham, for instance, who fought bulls in Spain in the '50s with his mentor Sidney Franklin, friend and muse to writer Ernest Hemingway. A longtime Santa Monica resident, Cunningham visited Chez Jay often. When he died earlier this year at 85, his family chose Chez Jay for an Irish-style wake.
Jim Wiatt, the former head of the William Morris Agency and now consultant to AOL, says that Chez Jay is "where the stars go to slum." Eating at Table 10 with a friend, Wiatt says Chez Jay "may not have the same luster as back in the day … but it's still doing pretty well."
Tamar Geller, a dog trainer who's worked with Oprah and many other stars, has been going there for 15 years, first taken by her friend Mark Steines, host for "Entertainment Tonight." Nearly everyone in the industry who goes to Chez Jay was taken by another industry friend intent on passing on the secret.
"It's very authentic," Geller says. "A safe place away from the bull of Hollywood — and it's aging really well."
It's also a great date place, and a certain kind of test. David Anspaugh, the director of "Hoosiers" and "Rudy," says that Blake Edwards and Julie Andrews had their first date at Chez Jay. Anspaugh also has brought a few potential girlfriends here. "One woman, she just didn't get it — the food, the atmosphere," Anspaugh says. "After that check was paid, we didn't talk again."
Chez Jay
Where: 1657 Ocean Ave., Santa Monica
When: Dinner: Mon.-Thu. 5:30-10 p.m., Fri.-Sun. 5:30-10:30 p.m.; also open weekends for brunch, and during the week for lunch
Info: (310) 395-1741, https://www.chezjays.com
Get our L.A. Goes Out newsletter, with the week's best events, to help you explore and experience our city.
You may occasionally receive promotional content from the Los Angeles Times.