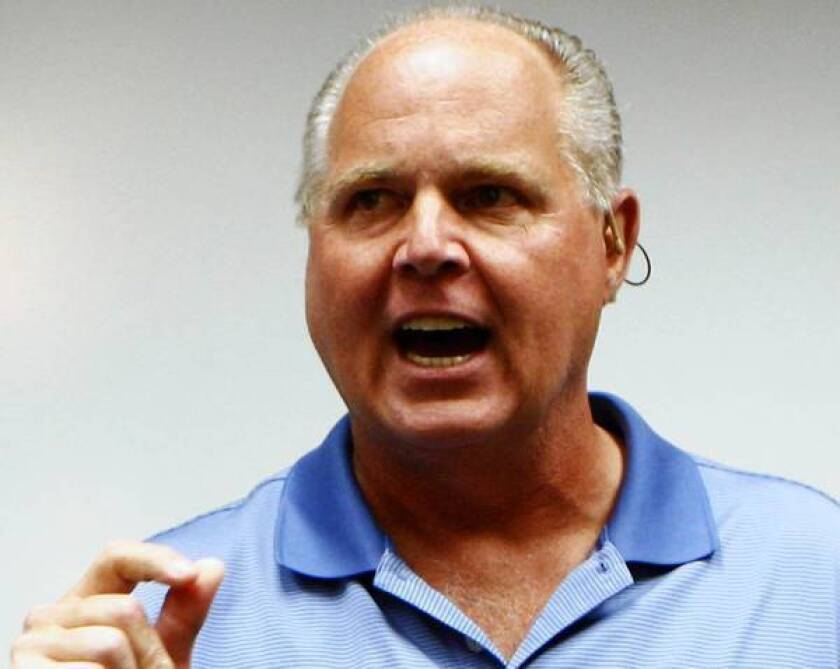 Top 40 station KIIS-FM (102.7) hit the top of the radio ratings last month — a perch it has held or shared every month since April — but the king of pop expects to be dethroned in the near future, as Justin Bieber and Rihanna are no match for Bing Crosby or "Linus and Lucy."
KIIS garnered 5.5% of the Los Angeles-Orange County listening audience ages 6 and older, according to figures released Tuesday by the Arbitron ratings service. Talk station KFI-AM (640) and adult-contemporary station KBIG-FM (104.3) took second and third, the same places they held in the preceding four-week survey period.
In addition, KIIS led in cumulative audience — the number of listeners who tuned in for least five minutes per week — at 3.6 million, far ahead of KBIG at 3.2 million, according to the survey of listeners from Oct. 11 to Nov. 7.
"Top 40 music is really on fire right now," said John Ivey, program director at KIIS.
"It's much broader than it has been," he said, citing rock acts such as the Lumineers and Imagine Dragons who have cracked the pop charts, and country star Taylor Swift, whose new album "is way more poppy." He also mentioned a recent spate of hits by Top 40 stars collaborating, such as Bieber and Nicki Minaj, and Will.i.am and Britney Spears, which have lured listeners to the station.
But lurking in fourth place was adult-contemporary station KOST-FM (103.5), which on Nov. 15 — for the 11th Christmas season in a row — switched to a temporary format of all holiday music. The move has perennially turned the station into a ratings juggernaut that might as well send conventionally formatted competitors into hibernation.
With that looming, Ivey joked that he expected Christmas to be "not a very happy holiday for me."
In actuality, KOST is a sister station to KIIS, part of the national Clear Channel chain of which Ivey also happens to be vice president of programming. He said the company's other stations in the market — including KBIG, adult-alternative station KYSR-FM (98.7), and urban oldies station KHHT-FM (92.3) — will keep their current formats and direct those seeking holiday tunes to KOST.
But deeper into December, Ivey said, KIIS will mix in the occasional Christmas classic, as will KHHT, relying on versions by Stevie Wonder and the Temptations.
This year, as last year, KOST has some company: smooth-jazz station KTWV-FM (94.7) also switched to continuous caroling on Nov. 15. The station struggled a little with the move last year, actually dropping in the ratings the first few weeks afterward. But station program director Jhani Kaye said its numbers improved after it tweaked and tightened the playlist, and promised to come back at it again this year. In the ratings released Tuesday, KTWV placed 15th, up slightly from its showing in October.
Although labeled by Arbitron as its November survey, Tuesdays report actually includes more days of October because, instead of using calendar months, Arbitron divides the year into 13 four-week ratings periods. The 13th is the "holiday" time period, comprising the final four weeks of the year and this year running from Dec. 6 to Jan. 2. Meanwhile, the December ratings period will run from Nov. 8 to Dec. 5, and will include the first returns on KOST and KTWV's investment in holiday tunes.
The November ratings period closed the day after the presidential election, timing that could have helped news and information stations as listeners tuned in for updates in the closing days of the national, state and local races. All-news KNX-AM (1070) jumped from 15th place in October to 11th this time, increasing its audience share from 2.7% to 3.1%. KNX saw increases in every time slot, including weekends. Its most dramatic increase came in the evenings; from 7 p.m. to midnight weekdays the station shot from 13th place in October with a 2.8% audience share, to seventh place at 3.8% in November.
In the competition for morning listeners, KFI again dominated, even widening its lead from the previous month. In the 6-10 a.m. time slot, when broadcasters hope to grab listeners and hold them for the rest of the day, KFI airs home-grown host Bill Handel and the first hour of Rush Limbaugh's national show. They garnered 7.5% of the audience in November, up from 7.1% in October. Ryan Seacrest on KIIS placed second at 5.1%, up from 4.8%, as he switched places with Kevin Ryder and Gene "Bean" Baxter on alternative music station KROQ-FM (106.7), who fell from second to third, dropping from 5.1% to 4.1% in November.
PHOTOS AND MORE
PHOTOS: Iconic rock guitars and their owners
The Envelope: Awards Insider
PHOTOS: Unfortunately timed pop meltdowns
---