How comedy impressario Brian Volk-Weiss navigates the nexus of big-money stand-up, streaming and #MeToo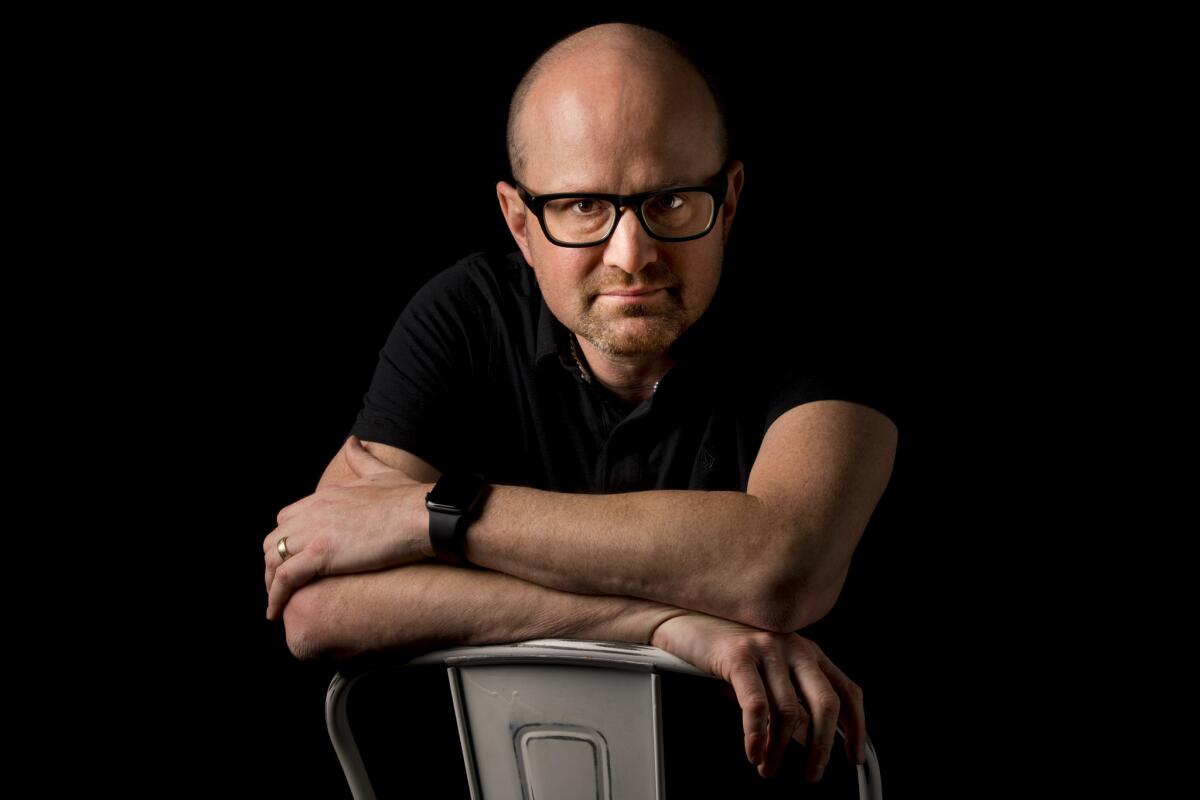 Brian Volk-Weiss's walls are scattershot with the arcane and the sublime: Johnny Cash's "I Walk the Line" single from Sun Records, a stone from industrialist John D. Rockefeller's gravesite, a painting of Luke Skywalker shunning the dark side and a spreadsheet showing that 649 gallons of Coca-Cola were sold in Los Angeles in 1892.
The walls, like the man, suggest a contempt for the predictable and a restless search for meaning no matter how obscure the source. The Coca-Cola spreadsheet is a metaphor for a small idea that takes over the planet; the stone is a reminder of a billionaire who glimpsed opportunity where others saw adversity. Volk-Weiss has collected such talismans on his way to becoming one of the most influential stand-up comedy producers in the country.
His Comedy Dynamics has produced specials for Ali Wong, Tiffany Haddish, Jim Gaffigan and many others. The company, which has more than 700 titles in its catalog, is run out of a Burbank office littered with skateboards, toy guns, strange gadgets and millennials tapping keyboards. A lanky man wearing black-framed glasses and green sneakers, Volk-Weiss, who roams the place as if he's stumbled into his own graphic novel, is prone to movie analogies.
"Look at stand-up comedy like this," he says. "There was a period in movies when horror was under the drama genre. But then came 'Rosemary's Baby' and 'The Exorcist' and suddenly horror came out as its own genre. This is the year when stand-up popped out of the comedy genre and became its own thing. You routinely see stand-up comics go from $600 in the bank and $80,000 in debt in February to having $4 million in the bank by September."
Those paydays have been propelled by a growth in comedy clubs and streaming platforms, notably Netflix, which is increasingly showcasing emerging and international comics. But the big money is colliding with a post-#MeToo era of political correctness and changing gender dynamics when comics, those boundary-pushing voices reverberating through the national sub-consciousness, are navigating new and delicate terrains.
"I got a call this weekend from a comic I won't name," says Volk-Weiss. "He says to me, 'Hey, man, we gotta take that one little line out, now that this Brett Kavanaugh/Christine Blasey Ford [Congressional hearing] happened. You know, that joke I alluded to about rape.' I told him he didn't make a pro-rape joke. It was an anti-rape joke. But in his mind, he's thinking, he's a white dude in his 40s. He didn't want social media going crazy. People are starting to self-censor."
He adds: "I don't think we've lost our sense of humor, but I think we are sensitive to issues we weren't sensitive to in the past or are overly sensitive. That's changed comedy."
Volk-Weiss is himself a white dude in his 40s. The son of a microbiologist and a city judge, he grew up in Queens, N.Y. He was a geek and a less than impressive student; he failed algebra twice. His parents yelled a lot. During his teenage years — " 'Star Wars' changed my life" — he and his buddies started making their versions of B-sci-fi films. "We made a giant 20-foot-tall robot that we schlepped around," he says. "I had smoke bombs that we tied to a friend's chest and lit on fire."
His obsession with "Star Wars" is well known, says comic Christina Pazsitzky, whose "Mother Inferior" Netflix special was produced by Volk-Weiss. "My husband [comedian Tom Segura] and I went to see the latest 'Star Wars' film," she says. "We're in the car on the way back, and Volk-Weiss was the first person we thought of to give a call. We know he's such a nerd. He was throwing out all these references and we're like, 'Man, we don't even know what you're talking about.' "
"In stand-up comedy, Brian's the guy right now," added Pazsitzky, who goes by the stage name Christina P. and in 2016 narrated "Can We Take a Joke?" — a pre-#MeToo documentary about comedians and political correctness. "He's a million miles an hour, but he's so good at what he does."
After attending the University of Iowa, he ended up in Los Angeles, eventually managing comics, including Dane Cook and Whitney Cummings. He called it "a tremendously bizarre job of convincing your clients to do the right thing." He left management a decade later and in 2008 founded Comedy Dynamics, a division of his Nacelle Company through which he's produced the documentaries "The Toys that Made Us" and Kevin Hart's "The Black Man's Guide to History."
Volk-Weiss's latest venture is a move into independent cinema. His company bought the U.S. rights to the French-Canadian film "Slut In a Good Way," a satirical tale of sexuality and a girl's coming of age that changes up the narrative of male teenage movies and includes a "Lysistrata"-style sex strike. Directed by Sophie Lorain and shot in black-and-white with subtitles, the film, which opens in April, is a risk for a producer seeking to expand his fascination with comedy beyond stand-up specials.
"There is something outrageous and courageous about Brian," says Lorain. "He wants to attract people who are not scared to do things differently. The fact that a woman directed this film was important to him. I think it opened him up and sent a message to the industry that Brian is not scared to go in different directions. This film is about young women, sexuality, cleverness. It's not pretentious."
A conversation with Volk-Weiss is a slipstream of asides — environmental regulations in Chicago helped Los Angeles get the upcoming George Lucas museum — — which leads to his saying, "and this circles back to." The circles spool through an afternoon; they mostly connect, but the trick is in their concentric designs. He is a deep reader of American history. His children Washington, Grant and Truman are named after U.S. Presidents. He finds resonance in the past, whether ruminating on the Civil War or recalling the instant he realized comedy was his world.
"It was so vivid, it's like it happened a week ago," he says. "Jeff Ross went up [on stage]. I had never seen anything like it. It was 1999. He wrote a poem about not being able to find his keys. Harland Williams also went up that night, and I've never seen him do this joke since, but he said, 'Do you know that the pumpkin is the only organism with triangle eyes.' I was hooked. It was brilliant."
Comedy's redefining moment
The comics that have echoed through his life — and much of America's last half-century — include male provocateurs George Carlin, Richard Pryor, Andrew Dice Clay and Chris Rock, who received a reported $20 million for his Netflix special this year. Female stand-ups were rare two decades ago, but that is changing, most recently with the success of Haddish and Wong. In 2016, Volk-Weiss produced Wong's first Netflix special, "Baby Cobra," which ignited her stand-up career.
RELATED: Who's laughing now? Once treated as punchlines, women like Monica Lewinsky are now being celebrated by pop culture »
"Amy Schumer is a great example. There was something about Schumer and her material that was really easy to access," he says. "Amy didn't feel like this computer-designed comedian who spent a billion hours in a library writing jokes. She came across as an everywoman who was funny and just happened to get up on stage instead of becoming a doctor. It said to millions of girls, 'Oh, I can do that.' Amy doesn't get enough credit for this."
But America is caught in an unnerving and redefining moment, a time when past injustices, such as racism and sexual harassment, are searing and shaping the national debate. There are fewer places to hide or take cover, which have left comics navigating a fierce and unsparing landscape where political correctness, social media and our identity politics are fueling our culture wars and recasting what's funny or offensive.
"There are a lot of old-school comedians (Jerry Seinfeld, Chris Rock) who were huge in the '90s who aren't doing colleges anymore," says Volk-Weiss. "They're saying these kids are too sensitive. Why would I run through that gantlet? And we're dealing with the social media climate we've never had to deal with before. How thin is your skin?"
Many stand-ups are pushing the edges; others are bewildered. Comics such as Joe Rogan, Joey Diaz and Segura, who received death threats after making fun of Cajuns from Louisiana, are as challenging and abrasive as ever. Louis C.K., disgraced after admitting to sexual misconduct, is testing the bounds of redemption and attempting a comeback. Volk-Weiss says a white male comic he knows struggled with understanding 'white privilege' and its place in history.
"But then as he began to understand and started talking to people he realized there is something there," says Volk-Weiss, who did not name the comic. "Now he says, 'Yes it's valid, but it shouldn't be the end all and be all of every comedian rewriting his material to acknowledge white privilege.' He went from denial to acceptance to these people are crazy."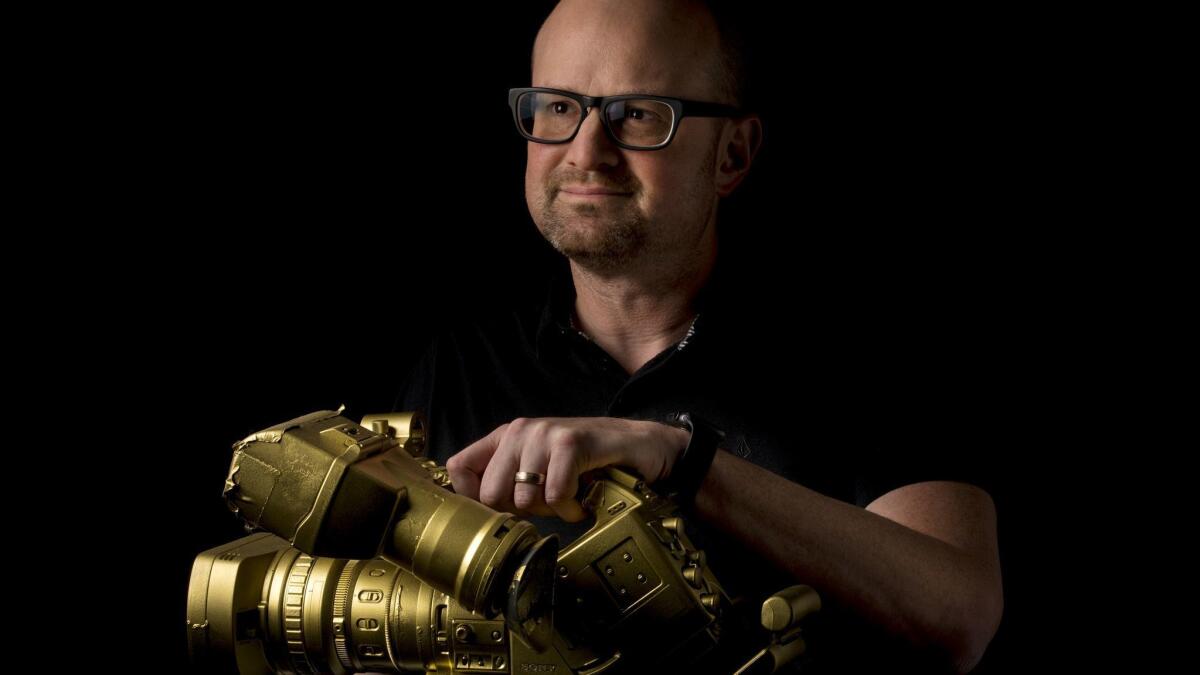 The comedy compulsion
Volk-Weiss wanted to be a film director. But with a fidgety attention span and eclectic tastes, he couldn't see himself devoted only to a movie project every two years. Despite a wry manic-energy-head-full-of-factoids personality, he never aspired to be a comic. After working with comedians for years, though, he understands their tics, insecurities and endless hunts for flashes of brilliance.
"For 95% of comedians, it's like an affliction," he said. "They have to go on. If it's 9 o 'clock at night and they're home on a Wednesday, it's weird. It's kind of like interactive paid therapy, but it's also very rewarding to sit at a gas station and see something and have your unique brain turn that into words and four hours later be on stage and have 118 people out of 120 laughing at it.
"You can never stop going up. You gotta keep going up."
It's all on his walls, people met, lessons learned; a collage of inspirations and a few failures. He pointed to a Sony EX3 camera, one of the first he bought when he started his company. "A lot of comics went through that camera's body," he said. He looked to another wall and nodded to a street sign hanging next to the Coca-Cola spreadsheet.
"I told you about this, right?"
"No."
"Oh, man. '8989 Redstone' was a horror movie we produced. It went nowhere. Lost a lot of money on it."
It stays on the wall as a reminder: Know your strengths, don't get over confident, and keep in your lane.
See the most-read stories this hour »
Twitter: @JeffreyLAT
ALSO
Cultural Divide: Books, poems and the Doors inspire liberal women in Virginia against Trump and conservatives
This wrestling villain praises Hillary and invokes Obamacare. Meet the Progressive Liberal, who's body-slamming his way through Trump country
Get our L.A. Goes Out newsletter, with the week's best events, to help you explore and experience our city.
You may occasionally receive promotional content from the Los Angeles Times.