Ethan Hawke lets us in his editing room and reveals what Philip Seymour Hoffman taught him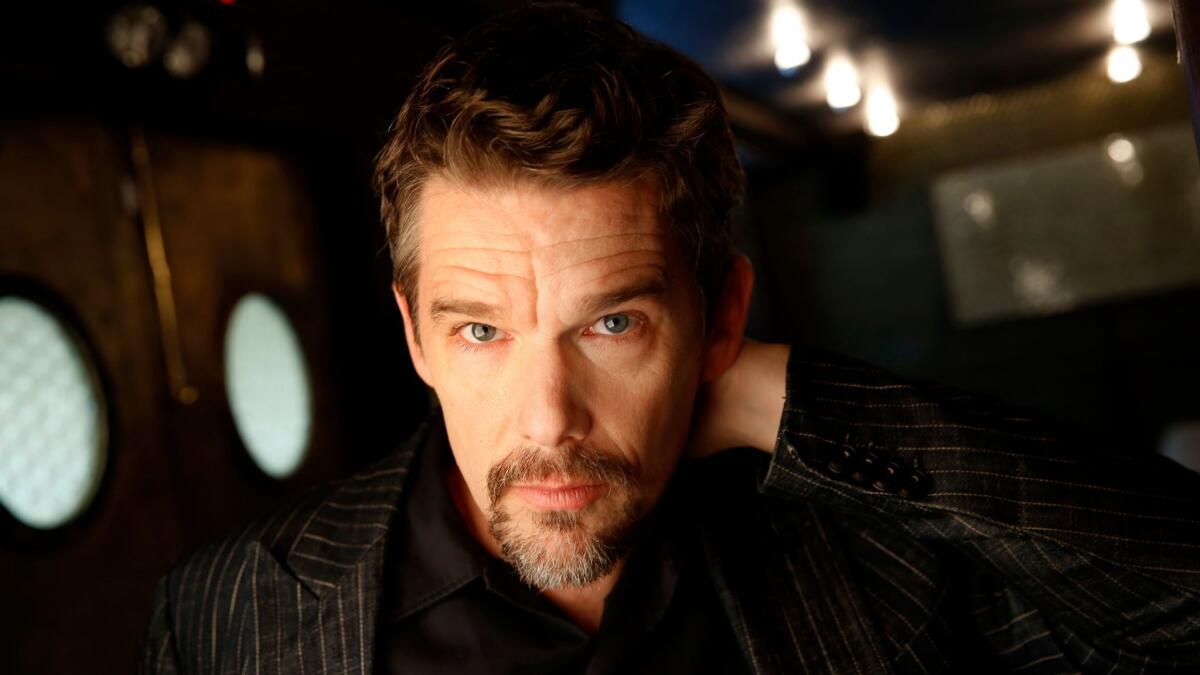 Reporting from NEW YORK —
The sun breaks across rooftops in the early days of a Brooklyn spring. The sidewalks are quiet, and Ethan Hawke is inside editing a movie he's directed about a shot-to-death singer most people have never heard of. The screen fills with a misfit's raucous delight at banging on drums and mocking Richard Nixon. Hawke laughs. Then he leans forward, scratches his graying goatee and turns serious.
"You think we're trying too hard to make that joke work?" he says.
"I've always liked the uncomfortableness of it," says Jason Gourson, his editor.
They look at their screens. Images fast-forward like blurred ghosts.
"The more manic we make the beginning," says Hawke, "the more peaceful scene of the song will resonate."
The film, "Blaze," about songwriter Blaze Foley, opens next year. It's one of many projects the actor, novelist, producer, musician, onetime slacker and long-ago Hamlet has in the works.
He costars with Sally Hawkins on June 16 in "Maudie," a rustic bit of charm set in Nova Scotia about an arthritic painter and her cantankerous fishmonger husband. Light-years in another direction, Hawke plays a space-age pimp in next month's sci-fi thriller "Valerian and the City of a Thousand Planets."
Hawke is 46. He arrived as a kid nearly 30 years ago in "Dead Poets Society." He's been with us so long he seems a co-conspirator in our lives: mischievous brother, sly uncle, troubled father, son who found his way. Wide gait, spiky hair, a spray of stubble and a pin-striped blazer, he roams his neighborhood of Boerum Hill like a loquacious character in a Kerouac novel who wants lightning in his thoughts but knows that age makes a man ponder the mark he wants to leave in the time ahead.
He can be both irresistible and irritating, a star and a journeyman who has veered across genres in more than 75 films and four Academy Award nominations. Some find him pretentious; others acutely reflective. A conversation with him can wend through Buddhism, sci-fi films, Chet Baker, Jimmy Carter, solar energy, Ibsen, the brashness of youth and early fame, and an imagined ancestor-knight who in the winter of 1483 died in the Battle of Slaughter Bridge in England.
He says things like, "I remember reading an essay by some monk" or "I feel like an extremely young old person." Perhaps that's why, when assessing his many artistic iterations, he comes back to acting, whether it's as vagabond-turned-husband in the "Sunrise" series or his sharpshooter in "The Magnificent Seven," as his fulcrum.
"Acting pays for my child support. It pays for this house. It pays for my editing suite. My insurance. It makes life and because of that it has a huge weight on it. It's no longer fun in the same way that acting was fun when I did 'Dead Poets Society,' " he says. " 'Blaze' is a passion project. I like to have that passion in my life, but if I'm ruled by it I'm not going to build a family and be the friend and son I want to be."
That sounds less like his Generation X guitarist in "Reality Bites" (1994) than a man taking stock of fatherhood, divorce (he split with Uma Thurman in 2005 and later married their nanny), doubts and frailties, and the idiosyncrasies that confound and exalt us. To understand Hawke's sharpened aesthetic and personal perspectives, one need mention the late Philip Seymour Hoffman and the different ways they came to their craft as young actors in New York.
"Philip played so many second guys to the left or the third cop or waiter number four," says Hawke, who starred with Hoffman in the 2007 thriller "Before the Devil Knows You're Dead." "I never played those parts. But what he learned to do was maximize every opportunity, maximize every line. He didn't let one line go. And there I was 19 years old and the lead of 'White Fang.' I was like ehhh. When things come easy you don't value them that much. But Phil didn't take one line for granted. He was ferocious, and I started thinking I need to play more character parts."
That realization has led to recent years of intimate portrayals. In "Maudie," Hawke brings tender austerity to Everett Lewis, a man whose manner is as harsh and scoured as the coast he fishes. His Chet Baker in "Born to Be Blue" is a study in whispery seduction and drug addiction during the rise of West Coast jazz. They are mature, broken men, but Hawke can also embody narcissistic charmers with hidden blades, as he did with John Harding, a philandering writer in "Maggie's Plan."
He likens acting to writing. His novels — "The Hottest State" and "Ash Wednesday" — are told in the first person. But often the deeper, more subsuming grains are found in characters written in the third person. Hawke says Hoffman and Daniel Day-Lewis are third-person actors, disappearing beyond semblance of self. Paul Newman, he says, was a first-person actor, always good, but always Paul Newman.
"For 20 years," he says, "I was a first-person actor. Then slowly I've been exploring having a whole other interest in different kinds of characters. It's made acting so much more interesting."
"He's very good at playing characters that have dark elements but at the same time are very sympathetic and endearing," Robert Budreau, director of "Born to Be Blue," says in a phone interview from Toronto where he's directing Hawke in a new film, "Stockholm," a story about hostages and a bank robbery. "Because he's also a filmmaker and writer himself he's able to be self-aware, but at the same time when he's acting he's so in the moment you wonder how someone can do both of those things."
Hawke's Brooklyn neighborhood is one of wrought iron and strollers; cafes, dry cleaners and morning light. It's peaceful in the moments before noon. Dogs pull on leashes and children dart on playgrounds, far from the Great Barrier Reef, which the radio reports is threatened by global warming, its coral turning the color of ash. Hawke strolls into a corner restaurant and orders rucola, fish and a cappuccino. He pushes back his hair. The lines in his forehead are deeper than those around the eyes, as if his face is not ready to succumb to what the years demand. He eats.
"My mother used to say 'please' and 'thank you' is a daily meditation on the quality of life," he says. Such sentiment runs through his book, "Rules for a Knight," a treatise on virtue based on the writings of his heroic, fictional 15th century English ancestor. Hawke wrote it for his four children.
Phil didn't take one line for granted. He was ferocious, and I started thinking I need to play more character parts.
— Ethan Hawke
"What kind of rules do we believe in?" he says. "When I went to Sunday school my favorite part was the parables. What's the meaning behind the loaves and fishes? What's the meaning behind Noah's ark?"
Hawke is good at existential riffs and letting questions loose. They whirl and linger in dissonance and occasional resolution, as they did in his documentary on music teacher Seymour Bernstein. A lot of questions were asked during his nine months of rehearsals for Tom Stoppard's "Coast of Utopia," a trilogy about 19th century Russian radicals that opened in New York in 2006. Hawke says he was struck — the same way he was by Hoffman — at Stoppard's meticulous, scalpel-like nature to edge toward bone.
"He shaped characters, altered lines, simultaneously giving you notes on what was driving the character," says Hawke. "It was exciting to watch a mind like that shape a work of art. It's exciting to be around a mind that's not lazy. It really matters to him what word it is. It matters to him that you know what you're talking about and whether or not that sentence is true."
He puts his fork down, shoves his plate aside, wipes his mouth.
He looks over the restaurant. A mother and child are eating and a young couple is holding hands. A waitress hurries through murmurs and the clatter of cutlery. Hawke smiles, speaks of his children, how they grow and move through life, and how precarious and sublime it can all be.
"Intimacy is what we all long for and are terrified of. You can't text it," he says. "That messy, wet stuff of life. The painful, the hard, the stuff that makes it all worth living."
What about the things that paralyze? He mentions he still feels the sting of his messy, tabloid-luring break-up with Thurman. "Divorce," he says, "is like that cartoon when you get a pan in the face."
And fame? "Other people's judgments will not be as kind as you want."
Jason Blum, a film producer who has been close to Hawke since they worked on the Malaparte Theater Company in their 20s, says, "Ethan can put an incredibly clear light on something that had never occurred to me. He's able to get perspective on situations that you shouldn't have for five to 10 years immediately. It's a real ability, and the remarkable thing is he can do it with himself. He looks at a situation with a lot of distance when there is no distance."
The bill is paid and Hawke is on the sidewalk, crossing the street in early afternoon light. He is a fixture in this neighborhood; his kids go to St. Ann's school and he gets his coffee around the corner. Depending on what movie he's in, he can be famous Ethan or uncompromising Ethan, who writes a graphic novel about the Apache Wars and spends 12 years filming "Boyhood" with director Richard Linklater.
"There's a certain glamour in New York attached to not being successful," he says. "That doesn't exist in Los Angeles. L.A. is all about power and money. In New York, there's a general attitude of suspicion around anything that sells too much. Friends are pushing you here and fanning the best flames inside you."
Hawkins feels that way about Hawke. "He's one of those people who make you want to be better," she says of their weeks together shooting "Maudie." "He was always playing his music. Folk music. We laughed a lot. We played with words. He's a great writer and that's very inspiring to be around. He has a very easy way on screen. You just want to stay with his characters. He is a film star but I think he sees himself as a jobbing actor who loves what he does."
A car passes. Hawke takes a right and opens the door of his editing suite. Framed photos of Alec Guinness, Gram Parsons and Emmylou Harris hang on the wall next to a picture of Bob Dylan, Sam Shepard and Allen Ginsberg gathered at Kerouac's grave. Editor Gourson sits at a screen, and Hawke pulls up a chair in front of another one. They talk about the antics of Blaze Foley, an iconoclast singer-songwriter who once lived in a tree house and was shot and killed in a domestic dispute in 1989.
Foley's lyrics were sparse, poetic and profane, capturing life at its most tender and cruel: "I could build me a castle of memories just to have somewhere to go." Hawke has been wanting to make a film about him for a long time. He admires Foley's brave indifference and the way he challenged "what happiness is and why so often we're pursing goals so antithetical to our own happiness."
Hawke's screen lights with the scene of a recording studio and Foley, sitting drunk at the drums, mimicking Ronald Reagan and channeling Hunter S. Thompson. A producer threatens Foley with a baseball bat; the moment slides into comedy. Hawke cracks up. Gourson too. Hawke leans closer to the screen. He fast forwards and goes quiet. A new scene appears. Foley, a man winding toward his end, sits in a bar at closing time, alone on stage with broken words and battered voice.
"Oh, man," says Hawke, "this is so sad."
He turns to Gourson.
"We're going to have a ball cutting all this together," says Hawke, noting that Foley is played by Ben Dickey, an Arkansas singer new to acting. "I just shot all this live. It's so fun to have someone who plays and sings like this. You can feel it. This movie was the right path to be taking. You just start collecting energy."
Hawke gets up and goes for coffee. The sky is slipping toward dusk. A few trees are beginning to bud. Children, coats unbuttoned, holler and laugh, and for a moment the world seems like nothing could hurt it. Hawke walks on. He has these questions about fitting things together and how some paths go one way and some another, and that in the end all you have is the journey.
Special report: The past, present and uncertain future of the multiplex »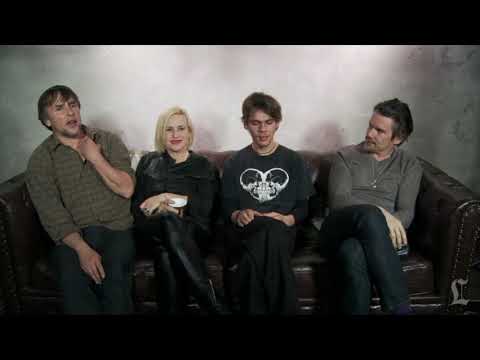 Director Richard Linklater, actors Ethan Hawke, Patricia Arquette and Ellar Coltrane discuss their film "Boyhood," which was shot over 12 years. They spoke with the L.A. Times' Steven Zeitchik at the 2014 Sundance Film Festival.
Twitter: @JeffreyLAT
ALSO
Racing through Rome before the ticket booth goes dark and other faraway moviegoing adventures
Wild, brash and funny Jon Gabrus takes on Hollywood's bruising world of comedy
A Romanian father-daughter tale about the moral failings of post-Communist Europe
Get our L.A. Goes Out newsletter, with the week's best events, to help you explore and experience our city.
You may occasionally receive promotional content from the Los Angeles Times.