Racing through Rome before the ticket booth goes dark and other faraway moviegoing adventures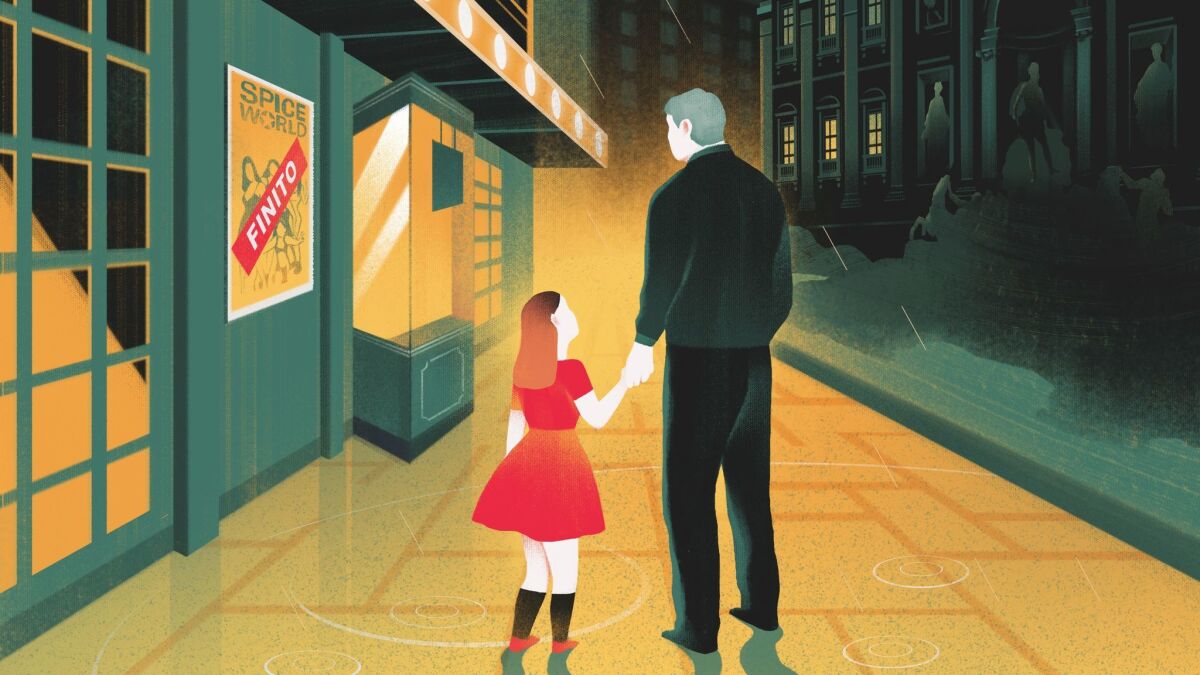 I don't remember the name of the theater. It was long ago in an alley not far from the Trevi Fountain in Rome. The bus had dropped us off in the rain and we hurried to the ticket booth, where a woman in a sweater, hair prim and gray, was sipping an aperitif and reading a newspaper in the lamplight.
"Due biglietti, signora."
"No. Finito"
We had recently moved to our new city, and my daughter, Hannah, did not yet speak Italian. But she knew "finito" was not good. The theater was empty, the concession dark. "Spice World" had had its last showing. The new Spice Girls movie was supposed to have run through the week, but as we would discover with many things Italian, schedules were approximations subject to unpredictable whims.
"Finito."
Special Report: Can moviegoing be saved? »
Hannah's face fell in the way a 6-year-old handles bad news. Her eyes cut sideways; she squeezed my hand. The rain blew hard. The signora looked at Hannah, glanced at me. Sensed the intricacies at play. She told us that if we rushed across town we could catch the film at another cinema. We turned to leave, but she held up a finger and stepped out of her booth. She disappeared into a side room and emerged with posters her theater had displayed of the Spice Girls — Scary, Baby, Sporty, Posh and Ginger. She handed them to Hannah.
"Fretta."
Hurry.
We ran for a bus, splashing and dodging umbrellas, trying to keep the posters dry. I told Hannah we'd make it. She was dubious but smiled. It felt like we were riding through a Fellini movie with an impassive driver, chattering passengers and a Gypsy boy selling roses on a wet night of undetermined fate that spread across a windshield glowing with cupolas and the slippery wings of angels. We hopped off, hurried a few blocks, took a wrong turn, found our way and arrived at the marquee, lighted and glorious: "Spice World."
I have seen many movies in foreign lands over the years. I watched a pirated copy of "Titanic" with Buddhist monks in a tent in the Himalayas, was pummeled by "Any Given Sunday" in Bulgaria, sat amid war ruins in Sarajevo for an outdoor showing of a drama whose name escapes me, caught "Avatar" in Cairo in the months before revolution, crammed into a small theater in Vienna for "American Beauty" and marveled at "Cloverfield" in Baghdad, where the destruction on screen was no match for the real peril beyond the blast walls.
Those faraway theaters were cocoons, confessionals, dark, quiet places alive with stories and slivers of light.
— Jeffrey Fleishman
Those faraway theaters were cocoons, confessionals, dark, quiet places alive with stories and slivers of light, and of languages at once indigenous and universal. No matter what nationality I was seated with, we became a communion of souls connected by our capacity to wonder. To put worries aside and examine life through new prisms, if only for a couple of hours to wander through the scary, exotic, funny, mysterious, provocative and sensual. To be human.
Many of those experiences taught me a lot about my country and the narratives we send into the world. We're often brash and loud, certain but with a shade of doubt, technologically clever, morally suspect even in our virtue, wonderfully rich and strangely optimistic. Hollywood markets our shiny exteriors, our glittering gadgets, our impossible, insufferable superheroes. This, in an exaggerated sense, is how much of the planet sees us, trying to decipher who we are among our fictions, politics and realities.
Many times in films I glimpsed the souls of other lands. One was in the Yemen movie "The Losing Bet," the tale of security forces trying to defeat Al Qaeda in one of the world's most troubled nations. It was overwrought and impossibly patriotic. Portraying the opposite of what was happening in real life, it allowed a strange, redemptive and fleeting escape. People loved it, but not Jamal Jubran Thawi, a film critic and a bit of a brooder.
"The government couldn't defeat Al Qaeda in reality, so they did it in a fantasy film," Thawi said as we sipped tea in an alley in the capital of Sana while men jammed khat leaves into their mouths for the collective buzz that overtakes the city every afternoon. "It's dangerous propaganda and the product of the nation's security agencies. The irony is, Al Qaeda doesn't even watch movies."
Once, on a snowy day in Berlin, with candles burning in café windows, I ducked into a theater not far from the line that for much of last century divided East from West. The film was "Capote," starring Philip Seymour Hoffman as Truman Capote researching the Kansas murders that would lead to the author's masterwork "In Cold Blood." The theater was packed; when it was over the crowd left in silence, dispersing through the gray streets that led to the Reichstag and across the grounds of a terrible history.
That history changed the world and cinema. German composers, writers and filmmakers, including Billy Wilder and Ernst Lubitsch, fled the Nazis and brought sophistication and noir to Hollywood. It was striking to contemplate while walking past Hitler's bunker decades later after watching "Capote" in a theater not far from a film museum that showed clips of "Metropolis" and Marlene Dietrich in "The Blue Angel." It all seemed symmetrical, like peeking back to see forward.
Perhaps that's overthinking it. In his 2015 memoir "Keepers: The Greatest Films — and Personal Favorites — of a Moviegoing Lifetime," the late critic Richard Schickel wrote: "I just like to be there in the dark watching something — almost anything, if truth be known. In this habit — I don't know if it is amiable or a mild, chronic illness — I have been indulged by wives, girlfriends, just plain friends and children. Of course, a lot of the time I'm alone, unashamedly killing an evening, no questions asked."
The scene of Hannah and me in Italy bordered on farce. When the Spice Girls movie filled the screen, I felt relief. We had made it. The small theater had a velour curtain and was nearly empty. We settled in, a bag of popcorn between us. Then. A glitch. The first theater we had gone to was known for "version originale," which meant films were shown in their original language. But this theater was not, and suddenly the Spice Girls sounded like Italian sisters on a shopping spree or a jaunt to the beach. Hannah looked at me. Annoyed yet amused.
The songs, mercifully or not, were in English. Night saved. The bus ride home was less Fellini than Rossellini. The rain had stopped. Silver clouds flashed against the moon. The images on the sidewalks were clear: men at a newsstand, a café closing, a couple arm in arm, laborers with tools on their way to the late shift. The whispers and rituals of an ancient city.
We arrived home. Hannah went to her room, leaned her posters against the wall, closed the door. Slept. I thought about the woman in the ticket booth and the unexpected kindnesses in real life and in film.
You wish they weren't so fleeting. But people grow, screenplays change. Hannah no longer lives in my house. We still talk a lot about movies, though. It is a thing that binds us. I like to think that much of it had to do with that theater in the rain many years ago in a faraway place.
See the most-read stories this hour »
Twitter: @JeffreyLAT
ALSO
Wild, brash and funny Jon Gabrus takes on Hollywood's bruising world of comedy
A Romanian father-daughter tale about the moral failings of post-Communist Europe
Get our L.A. Goes Out newsletter, with the week's best events, to help you explore and experience our city.
You may occasionally receive promotional content from the Los Angeles Times.