L.A. movie openings, Feb. 4, 8: ' Everybody Knows' with Penélope Cruz and more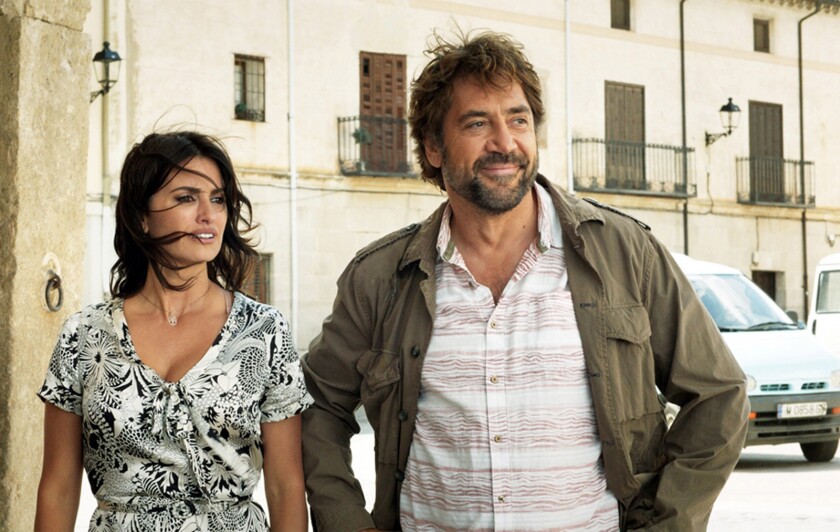 Feb. 4
Farinelli
Re-release of the 1994 period drama about the famed 18th-century castrati singer. With Stefano Dionisi. Written by Andrée Corbiau, Gérard Corbiau, Marcel Beaulieu. Directed by Gérard Corbiau. (1:51) R.
Feb. 8
The Amityville Murders
A man is driven by voices to kill his whole family in this movie based on the real-life murders that inspired the 1979 horror film. With John Robinson, Chelsea Ricketts, Paul Ben-Victor, Diane Franklin. Written and directed by Daniel Farrands. (1:37) NR.
Beneath the Leaves
An imprisoned child-murderer escapes and attempts to resume his dark vocation. With Doug Jones, Mira Sorvino, Paul Sorvino. Written by Naman Barsoom, Daniel Wallner, Mark Andrew Wilson; story by Adam Marino. Directed by Marino. (1:30) NR.
Berlin, I Love You
Romantic-comedy anthology features 10 tales set in the German capital. With Keira Knightley, Helen Mirren, Jim Sturgess, Diego Luna, Luke Wilson, Jenna Dewan, Mickey Rourke, Hayden Panettiere, Dianna Agron. Various writers and directors. (2:00) R.
Chokehold
A woman enters the world of underground fighting to find the Russian mobsters who killed her father. With Casper Van Dien, Locklyn Munro, Melissa Croden. Written by Brian Skiba, Craig Michael Hall. Directed by Skiba. (1:38) NR
Cold Pursuit
Liam Neeson plays a snowplow driver seeking revenge against the criminals responsible for his son's death. With Laura Dern, Emmy Rossum. Written by Frank Baldwin; based on a screenplay by Kim Fupz Aakeson. Directed by Hans Petter Moland. (1:58) R.
The Divorce Party
A newly-single 20-something seeks a fresh start. With Thomas Cocquerel, Matilda Lutz, Claire Holt, Katrina Bowden. Written by Mark Famiglietti, Lane Garrison. Directed by Hughes William Thompson. (1:33) NR.
Everybody Knows
Penélope Cruz stars as a woman who returns home to Spain for her sister's wedding, only to have her daughter abducted. With Javier Bardem. Written and directed by Asghar Farhadi. In Spanish, Catalan and English with English subtitles. (2:12) R.
High Flying Bird
A sports agent tries to shake up the system during a basketball lockout in director Steven Soderbergh's drama. With André Holland, Zazie Beetz, Melvin Gregg, Sonja Sohn, Zachary Quinto, Kyle MacLachlan, Bill Duke. Written by Tarell Alvin McCraney. (1:30) NR.
The Isle
Shipwreck survivors in 19th-century Scotland encounter the supernatural. With Conleth Hill, Alex Hassell. Written by Matthew Butler-Hart, Tori Butler-Hart. Directed by Matthew Butler Hart. (1:36) NR.
The Lego Movie 2: The Second Part
Aliens from outer space attack in this sequel to the computer-animated 2014 comedy. With the voices of Chris Pratt, Elizabeth Banks, Will Arnett, Tiffany Haddish. Written by Phil Lord, Christopher Miller, Matthew Fogel, Raphael Bob-Waksberg; story by Michelle Morgan, Dominic Russo. Directed by Mike Mitchell. (1:46) PG.
The Man Who Killed Hitler and Then the Bigfoot
A WWII veteran with a colorful history is tasked with taking out a Sasquatch. Sam Elliott, Aidan Turner, Ron Livingston, Caitlin FitzGerald, Larry Miller, Ellar Coltrane. Written and directed by Robert D. Krzykowski. (1:38) NR.
Never Look Away
A young artist who fled East Germany is haunted by memories of his life under the Nazi and Communist regimes. With Tom Schilling, Paula Beer. Written and directed by Florian Henckel von Donnersmarck. In German and Russian with English subtitles. (3:08) R.
One Million American Dreams
Documentary about Hart Island, a massive cemetery for unclaimed bodies in New York City. Narrated by Sam Rockwell. Directed by Brendan Byrne. (1:30) NR.
Pinsky
Setbacks force a young woman to move in with her overbearing Russian Jewish grandmother. With Rebecca Karpovsky, Alan Blumenfield. Written by Karpovsky, Amanda Lundquist. Directed by Lundquist. (1:13) NR.
The Prodigy
A woman fears her young son may be possessed by dark forces. With Taylor Schilling, Colm Feore. Written by Jeff Buhler. Directed by Nicholas McCarthy. (1:40) R.
St. Agatha
A pregnant young woman finds horrors in a convent in 1950s Georgia. With Sabrina Kern, Carolyn Hennesy. Written by Andy Demetrio, Shaun Fletcher, Sara Sometti Michaels, Clint Sears. Directed by Darren Lynn Bousman. (1:30) NR.
To Dust
A Hasidic cantor seeks solace in science following his wife's untimely demise. With Géza Röhrig, Matthew Broderick. Written by Jason Begue, Shawn Snyder. Directed by Snyder. (1:45) R.
Under the Eiffel Tower
A man having a midlife crisis joins his best friend's family on a vacation to France. With Matt Walsh, Judith Godrèche, Reid Scott, Michaela Watkins, David Wain, Gary Cole. Written by Godrèche, Archie Borders, David Henry. Directed by Borders. (1:27) NR.
Untogether
Two sisters face different challenges in life and love in Los Angeles. With Jamie Dornan, Jemima Kirke, Lola Kirke, Ben Mendelsohn, Billy Crystal, Scott Caan, Alice Eve, Jennifer Grey. Written and directed by Emma Forrest. (1:38) R.
A Violent Man
An MMA fighter is accused of murdering a woman with whom he had a one-night stand. With Thomas Q. Jones, Isaach De Bankole, Chuck Liddell, Bruce Davison, Denise Richards. Written by Matthew Berkowitz, Justin Steele. Directed by Matthew Berkowitz. (1:47) NR.
What Men Want
Taraji P. Henson plays a sports agent who can hear men's thoughts in this gender-switched take on the Mel Gibson comedy. With Aldis Hodge, Wendi McLendon-Covey, Tracy Morgan, Max Greenfield, Kellan Lutz, Shaquille O'Neal, Richard Roundtree, Erykah Badu. Written by Tina Gordon Chism, Peter Huyck, Alex Gregory; story by Jas Waters, Tina Gordon Chism; based on the screenplay for "What Women Want" by Josh Goldsmith, Cathy Yuspa, Diane Drake. Directed by Adam Shankman. (1:57) R.
The Wild Pear Tree
An aspiring writer returns to his home village hoping to get his career started. With Aydin Doğu Demirkol, Murat Cemcir. In Turkish with English subtitles. Written by Akin Aksu, Ebru Ceylan, Nuri Bilge Ceylan. Directed by Nuri Bilge Ceylan. (3:08) NR.
---
UPDATES:
An earlier edition of this post incorrectly listed Hayden Panettiere as one of the stars of "Berlin, I Love You." She does not appear in the film.
---
From the Emmys to the Oscars.
Get our revamped Envelope newsletter, sent twice a week, for exclusive awards season coverage, behind-the-scenes insights and columnist Glenn Whipp's commentary.
You may occasionally receive promotional content from the Los Angeles Times.