At 21, Bella Thorne has 4 movies out, 18 million Instagram followers, 19 cats and the will to survive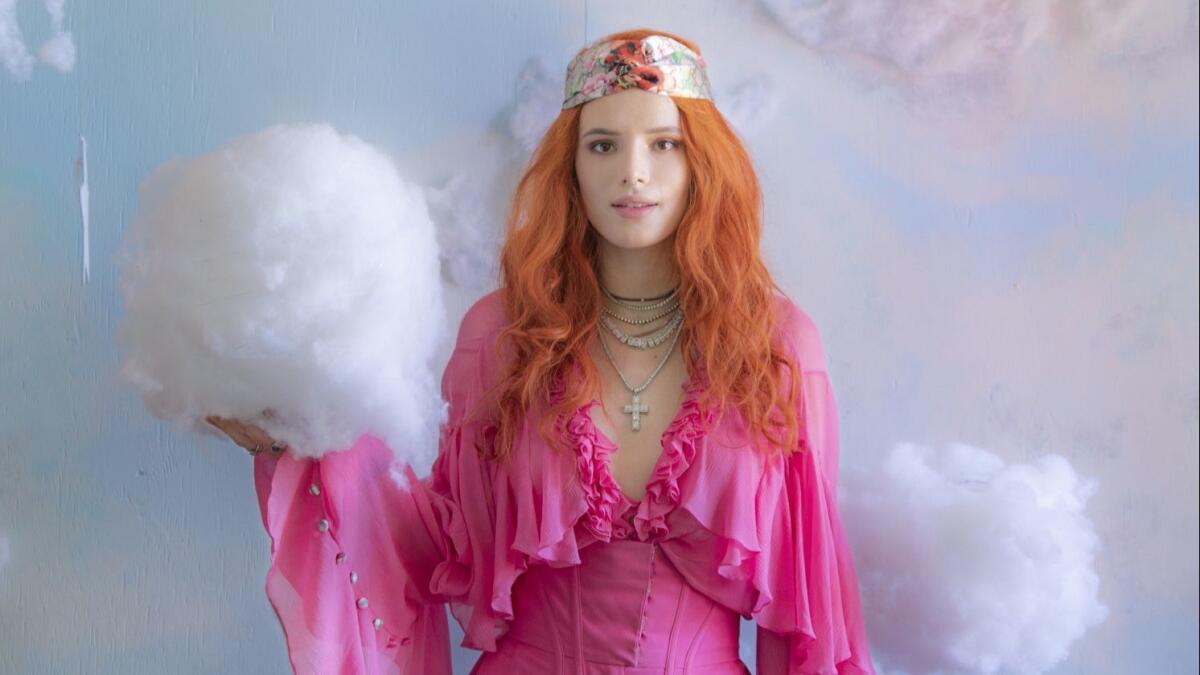 "Come upstairs with me," Bella Thorne says. She takes off, racing up the neon-lit steps she has painted — every one a different color of the rainbow — to her bedroom, above which iridescent pink bulbs warn: "[f—] off."
She waves me in anyway, past her bed — a mattress on the floor, encased by a teepee — and into the bathroom. There are stacks of clear acrylic drawers on every surface, all filled with hundreds of different makeup products. She puts down the blunt she has been smoking and picks up a pencil, dotting beauty marks onto her face. This is one of the ways she deals with her acne, she explains — highlighting her freckles to distract from the blemishes on her face.
Downstairs, two publicists, an assistant, a stylist, a makeup-artist, a photographer and — inexplicably — the director of one of the movies she is currently in are waiting for Thorne to touch up her face. She had been in the midst of a photoshoot when, after reviewing some of the images, she grew self-conscious about her skin.
When it is bad, she says, tabloid magazines insinuate she's on drugs.
"The Daily Mail will be like, 'Bella must have been out partying last night' because they got a photo of me not wearing makeup with acne," she says. "They're like, 'She looks really tired out. Maybe the drugs are really wearing on her skin.' … I get so mad. So are you telling every kid with cystic acne that they must be a heroin addict? I think they think I take serious drugs, and I'm just smoking weed."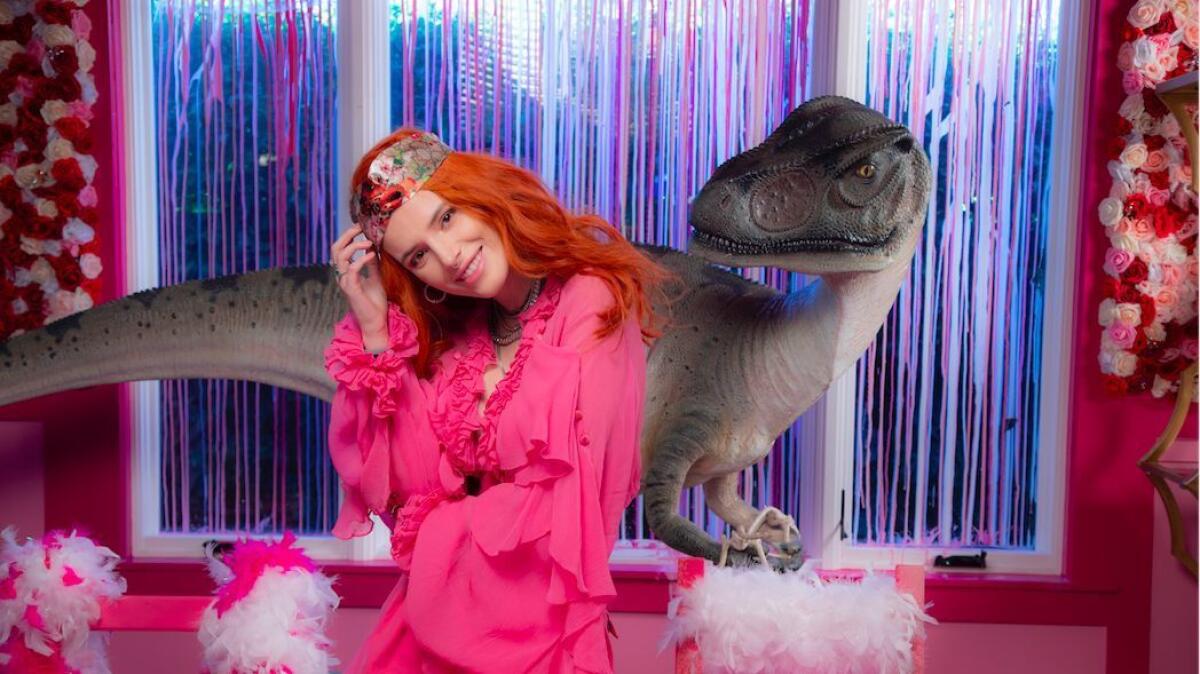 As she finishes touching up, I take a look around her bathroom. Like every room in her house, which she purchased two years ago for $2 million, it's a craft store hodge-podge. Her shower is covered with a wall of faux ivy, and inspirational notes she's written to herself hang from the ceiling: "Follow your instincts, Bella."; "Your worst mistake is your best advice."
Thorne's home appears to be her canvas — the medium she uses to express herself, be it through her hand-painted 12-foot unicorn statue, the hundreds of felt roses she's glued to the wall or the castle she created for her 19 cats. (She didn't want her first cat, Lola, to be spayed because she thought it was barbaric, and now there are four generations of cats living here: Nuzzling against your knee, crawling up the screen windows, tearing down metallic streamers.)
The abode — the exterior of which Thorne immediately had painted a loud violet — is wildly symbolic of where she is in her life. She bought it with money she made via her Instagram account, where she says she can charge around $65,000 to blast an ad to her 18.2 million followers. It was her first big adult purchase, which she instantly made childlike — a dreamy kind of space that became a manifestation of her evolving identity.
Thorne became Disney Channel-famous on "Shake It Up," a show about a pair of adolescents balancing school with jobs as backup dancers. It wrapped five years ago, and Thorne has been trying to figure out the kind of star she wants to be ever since.
While her "Shake It Up" costar Zendaya has landed major roles in blockbusters such as "The Greatest Showman" and "Spider-Man: Homecoming," Thorne has enjoyed a quieter but remarkably steady career for a former child star. This year, she will have appeared in five movies — four of which are out this fall — and headlined the second season of "Famous in Love," a recently canceled Freeform series about a young woman trying to balance college with the perils of sudden stardom.
And yet Thorne's biggest impact at the moment is on social media, where she documents the exploits that have forged her reputation for being a wild child. She does not hide her affinity for marijuana — her Instagram includes pictures of her with clouds of smoke coming out of her mouth. Pictures of her topless. Pictures of her with red hair and orange hair and pink hair. Pictures of her kissing her boyfriend and her girlfriend. (Her boyfriend, Mod Sun, is a heavily tattooed "hippy hop" star who has been known to serenade Thorne's vagina during his concerts. Her girlfriend, Tana Mongeau, is a YouTube star whose vlogs include such content as "I GOT ARRESTED AT COACHELLA…storytime?" and "3 girls, 1 bath.")
But she's also serious about acting in a way most people probably don't realize. Every year, she says she makes a new vision board, and it always includes her desire to win an Oscar. This fall, she had a small role as a cheerleader in the Sundance buzz movie "Assassination Nation," plays a girl who sees ghosts in the horror flick "I Still See You," fights for her life in the rideshare-gone-wrong thriller "Ride" and stars as a teen who coaxes her boyfriend to commit suicide in Lifetime's "Conrad & Michelle."
When he hired her on "Ride," director Jeremy Ungar was slightly unsure of which Thorne he was going to get — the young woman who's been working for over half her life, or the exhibitionist she appears to be on Instagram.
There's this sense that she has this crazy, wild side — and that is a part of her — but there's another layer to Bella ... there's kind of a purity.
— Jeremy Ungar, director of "Ride," on Bella Thorne
"But she was a consummate professional," the filmmaker said. "She is really passionate about delivering the best possible performance. We'd cut and she'd be like, 'Are you sure? Is there anything else I can give to make this work?' There's this sense that she has this crazy, wild side — and that is a part of her — but there's another layer to Bella that I think there's kind of a purity to."
Still, it's entirely possible that more of her fans will watch her Instagram stories than any of the independent films she is currently in.
Social media has become vital to her livelihood, and she knows it. Despite working on "Shake It Up" for three years, she says that when she turned 18, she had $200 to her name. When I ask her where the money went, her voice turns serious: "You know where it went." I reply I do not, but she declines to elaborate. (Per the Coogan Law, employers must withhold 15% of a minor's gross wages, preventing income from going entirely to kid actors' guardians.)
When she realized how dire her financial situation was at 18, she was forced to move in with her then-boyfriend, another Disney Channel star named Gregg Sulkin. She could never pay for their meals when they went out to dinner, which embarrassed her, because her dad had always taught her to be the first to put down her credit card.
"I didn't think things were going to go down like that," she says, continuing to speak obliquely about the missing money. "And then half of me is like, 'Come on, Bella. Look at your whole life. Don't be naïve. You knew somewhere deep down inside things were not right.' "
By now, we are sitting on her couch. After fixing her makeup, Thorne finished the photoshoot and her various handlers all left. She then poured herself a beer and asked me if I wanted her to roll us a spliff.
"You're OK with tobacco?" she asks, grabbing some rolling papers from an area of the kitchen entirely devoted to marijuana. "I used to be super, super against weed. When I was 16, my boyfriend smoked weed and I would get so upset. I thought it was the devil's lettuce. I was always the really good two-shoes — the one that was the teacher's pet in that annoying sense."
That changed when, at age 16, she was working on a movie that required her to cry. She said she would get so into the character's emotional headspace that once she started crying, she couldn't stop. On the drive home from the set, her mom would have to turn up the music just to drown out her daughter's wails. She was so upset she couldn't sleep. So one night, she went into her brother's room — he was a stoner, she says — and begged him to give her some of his pot to help her sleep.
I can't leave myself alone too long. My mind goes to a weird place if I'm not at work all the time.
— Bella Thorne
Thorne, whose father died in a motorcycle accident when she was 9, has also spoken publicly about her depression. Last month, on the night "Conrad & Michelle" aired, she posted on Instagram that her emotions "are always all over the place," encouraging fans to call the suicide hotline if they were having "sad thoughts."
"My mind," she tells me now, "is a scary place."
That's why she spent all of 2017 working, either on "Famous in Love" or a movie set.
"I can't leave myself alone too long," she says. "My mind goes to a weird place if I'm not at work all the time."
Like many people her age, Thorne spends a lot of time contemplating what people think of her. When people look at her Instagram, for instance, who do they see? We pull up her account, and I scroll through some of the images.
"I mean, OK, this girl, she's showing off her body. She's got armpit hair," she says, taking my phone in her hands. "That's just my boobs looking huge. And that's a photo I like because I have no makeup on. But people say, 'She's crazy. She's probably giving it up all the time. That girl's a ho.' "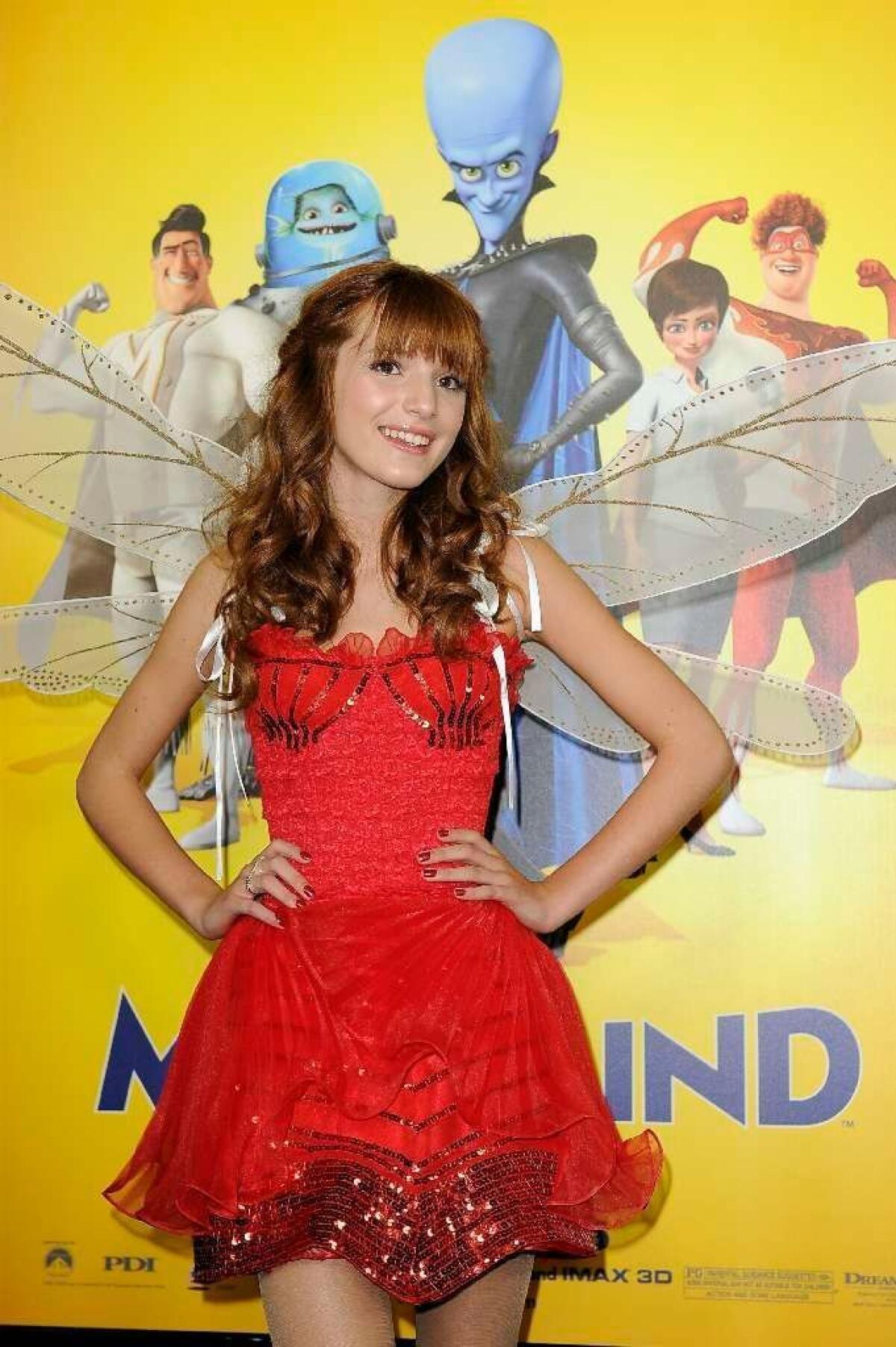 But Thorne isn't like most people her age; as a Disney star, she was famous young, which meant people have long felt they could comment on how she looked. When she was 13, she and Zendaya went to the beach and posted a photo of Thorne in a black bikini. Perez Hilton wrote a post saying he'd "really be more comfortable if she would just cover up."
"Excuse us, Bella? WHERE IS YOUR MOTHER???" the 2011 post read. "Does she know you own this outfit? Please don't tell us she bought it for you??"
The post caused such an uproar, Thorne says, that Disney Channel executives "tried to fire me."
A Disney Channel spokesperson responded that Thorne's "job was not threatened and would not be jeopardized merely over her bathing suit choice."
The spokesperson did say , however: "[W]e discussed with the Thornes how they envisioned Bella's personal brand image and career goals and whether, at age 13, her immediate plans were compatible with a Disney-branded show for viewers as young as age 6."
It was this disconnect between brand expectation and reality that led to Thorne revealing the even greater battle she had been fighting in secret. Last December, when someone on Twitter trolled her with the message: "What did Disney do this girl?! I think she was molested." Thorne replied: "Yeah I was. So it wasn't Disney."
From the age of 6 to 14, she subsequently wrote on Instagram, she was sexually abused by an older man in her home.
Maybe I am this way because I was molested and raped when I was younger.
— Bella Thorne
"I used to think of myself like Marilyn Monroe a little bit," she says now. "Everyone thought Marilyn Monroe was this sex symbol and she was always perfect and beautiful, but she was dying on the inside. I go back to that tweet, and maybe, in some [messed] up way, it's right. Maybe I am this way because I was molested and raped when I was younger."
Thorne has never named her abuser and says she has resisted reporting the molestation to the authorities because she does not want to relive the traumatic memories.
"And I guess that makes me selfish," she says, her voice growing quiet. "I could do it. I should do it. You should tell every girl to go after her attacker. You should tell every girl that she has the right to go out there and speak her truth.
"But then you don't. Then you can't even [speak out]. I always want to be a good person. And that makes me qualify as not as good of a person."
She starts to cry, and I put my hand on her shoulder to comfort her. Suddenly, she lies down on the couch and puts her head on my lap and details the abuse. Most of the time, she says, she acted like she was asleep while it was taking place. And she feels guilty about that.
"I always think, 'Maybe you could have done something,' " she says, still crying. "It kind of makes me mad, because I read these stories that are really awful — I mean, really awful ... it's really something getting ripped and taken from you. At least those girls tried. I just laid there, comatose."
Later, Thorne's older sister, Dani, tells me that she only learned of Bella's alleged abuse "recently." "I think the day that she did open up about it, it was a weird sense of — not, like, relief — but holy [crap], this is real," said Dani, who is four years Bella's senior. "Really, that was the first step to leading her to where she is today."
Where she is today, Thorne says, is first on the scene. "If anything happens, it's Bella who's the first one downstairs with a bat," she says. "That's me. I watched my life stand still for so long, and now it's moving."
She has reason to know it. A few weeks before the interview, there was a burglary at Thorne's home. She was watching a movie with her sister on the the couch, and when she heard a noise at her front door, she initially thought it was one of her cats. Then, she noticed a masked figure trying to break in a front window.
"I was immediately on my phone calling the police, not even waiting for a beat," she says," because I'm just never, ever going to stay still again."
The burglars were scared off but returned when Thorne was not home and made off with $150,000 in loot. Since then, she's been staying at her boyfriend's place and plans to buy a new house that's less accessible from the street.
She and Mod Sun, 31, spend nearly all of their time together. He's adventurous, which she likes: Recently, they both got tooth jewelry — crystals semi-permanently attached to their teeth. At first, she got a "disco ball" tooth but had to scale it down to three crystals because they started to fall out in her food when she was eating at Chili's.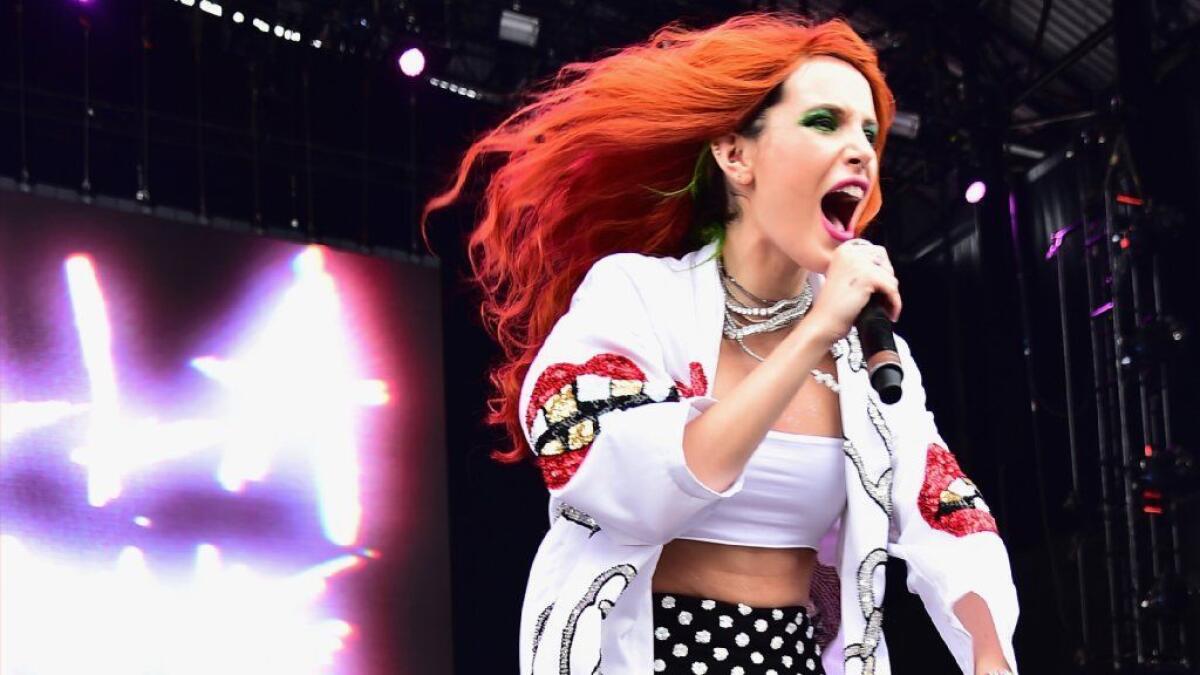 He also encouraged her to pursue music, and she's recently started rapping. She started her own label, Filthy Fang Records, and has released a few singles, the sexually explicit "B*TCH, I'M BELLA THORNE" and "Pussy Mine."
Music has taken on a higher priority in the wake of the "Famous in Love" cancellation, which was accompanied by some dramatic headlines. Thorne dismisses reports that she and showrunner King ever had any issues, and King herself tweeted that she and the actress "had, and have always had, a friendly and professional relationship." But, Thorne says, Freeform viewed her as "uncontrollable and crazy," and believes the network called her a diva "because they were scared I was going to go running my mouth if I was upset."
Running her mouth about what, exactly?
"Feminist issues, other things, bullying," she says hesitantly. "It's coming out of my mouth and I know you're going to print it. But it was — there were some things — there were some comments made that — I don't know. I'm trying to find a way around it. One issue is when you have a girl, a young girl who is on your show, you can't tell her that she's ugly or she's fat or she's this or she's that because that's going to make her feel bad."
"Wait," I ask, "who called you ugly?"
"The network," she says. "In e-mails, and there was another thing that was in front of everyone on set. After, the cast was texting me, 'Oh, my God, Bella. I am so sorry. That was so awkward. I feel so bad. Do you want me to come over to your room?' 'Oh, my God, I can't believe they did that.' It was all supposed to change on Season 2, and it didn't."
Freeform declined to comment.
Thorne has always struggled to fit in on sets, she says. She is usually closer with the crew than she is her fellow actors. She vividly recalls how, while filming the 2015 film "The Duff," her costar Mae Whitman was the first actress to ask her to hang out outside of work.
"I remember saying to my mom, 'She thinks I'm awesome. She actually wants to hang out with me,' " Thorne says. "My first moment of seeing a female in power was her on that set. That was my first time ever experiencing the right and the wrongs of feminism. That's just not the way things were growing up in my household. I just never really learned 'Be a woman,' and 'Be a boss,' and all these things and what the feminist movement is about. I never learned that until I got on that set with Mae."
After "Shake It Off," Thorne says her agents saw her emulating Rachel McAdams and transitioning to romantic dramas and comedies. She diligently took roles in broad commercial films with family appeal such as "Blended" and "Alexander and the Terrible, Horrible, No Good, Very Bad Day." But she was really interested in darker fare — the kind of stuff she's doing now.
"I grew up loving 'The Grudge' and 'The Shining,' " she says. "Horror is the thing that most keeps my eyes on the screen, so I don't think about myself or whatever I'm going through."
It's getting dark, and I suggest I should leave because I've probably been here too long and I can also no longer pretend I'm not allergic to her inter-generational family of cats.
"Hey, Bella, one more thing," I say. "Do you ever wonder if it would be easier to be in an industry where there isn't so much judgment aimed at you?"
"No," she replies without hesitation. "Because I like my life. All of the things that are awful — especially all of the things that happened growing up — I've always looked at it as: 'Why me?' Because I am strong enough. Because it has gotten me here. I don't even know what Bella Thorne would look like if she hadn't been molested growing up, or her father hadn't died. I don't know that I like that girl."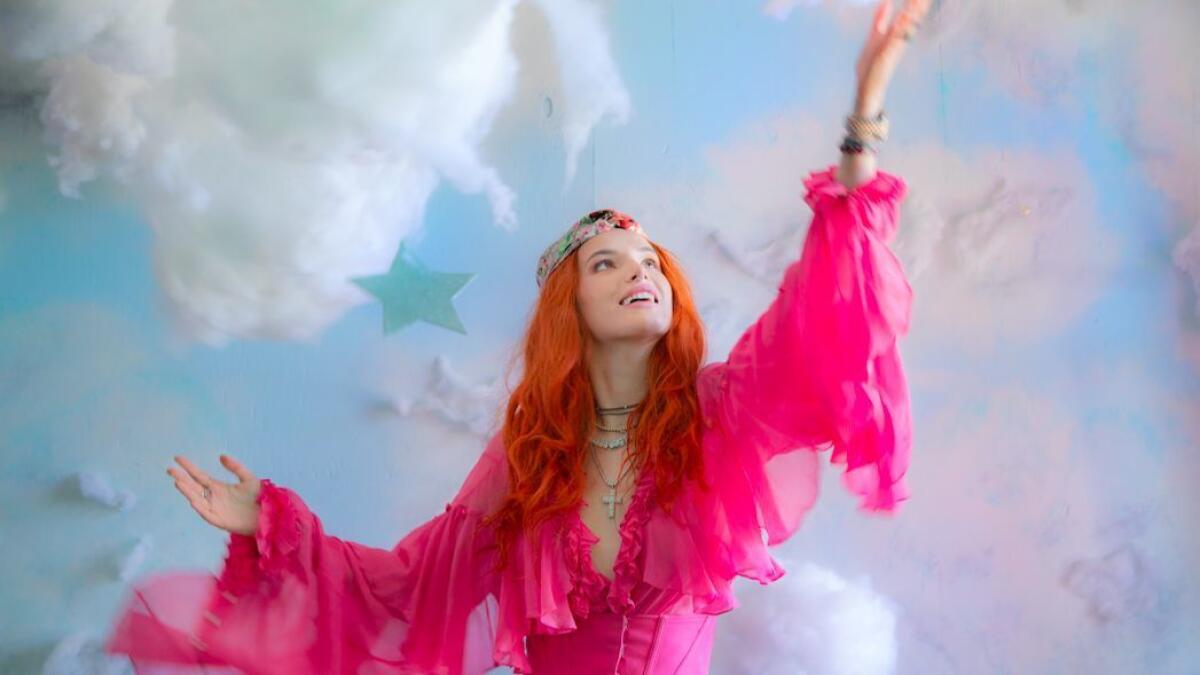 Follow me on Twitter @AmyKinLA
Get the Indie Focus newsletter, Mark Olsen's weekly guide to the world of cinema.
You may occasionally receive promotional content from the Los Angeles Times.