How 'Blockers' dad John Cena and his on-screen daughter Geraldine Viswanathan became this year's comedy breakouts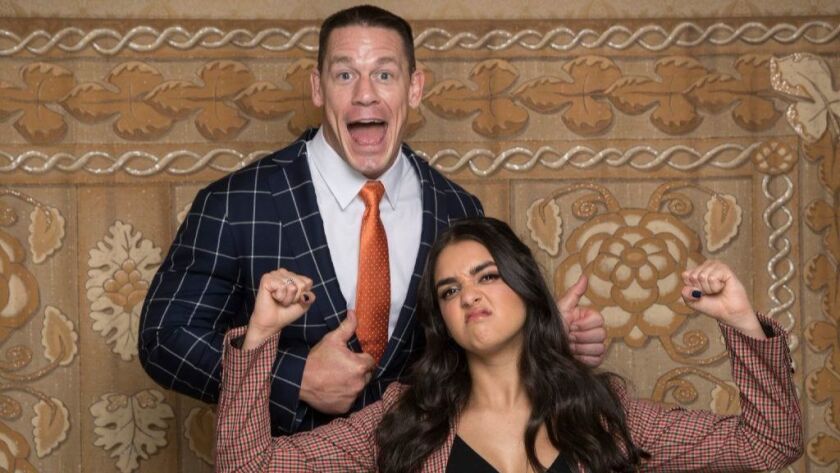 WWE superstar John Cena and Australian newcomer Geraldine Viswanathan walk into a bustling brasserie for lunch on a rainy spring day in Beverly Hills, cosmically and accidentally twinning in patterned suits to talk "Blockers," their heartwarming new R-rated comedy about teen sexuality, parental anxieties and a phenomenon known as ... well, we'll get to that in a bit.
In the comedy, opening April 6 from Universal after premiering to warm reviews at the South by Southwest Film Festival last month, Viswanathan shines with natural charisma as Kayla, the all-American star athlete whose confidence leads a trio of teenagers (including Kathryn Newton and Gideon Adlon) into every overprotective parent's worst nightmare: a sex pact to lose their virginity on prom night.
Cena, one of wrestling's biggest names, has built his ring career around an unwaveringly tough good guy act. But here he unleashes the comedy chops glimpsed in supporting roles in "Trainwreck" and "Sisters" as Mitchell, Kayla's stay-at-home dad who's given to outsized outbursts of emotion, tears and many of the film's more outrageous (and skin-baring) body humor gags.
Together they ground an outrageous comedy in a relatable parent-child dynamic: He's the perennial dad-coach training his daughter to be strong and confident in sports terms, the only language he knows, and she's a self-possessed young woman developing a curiosity for life experiences beyond the goal posts.
In person the two share a warm mutual admiration from the nearly three-month Atlanta shoot last year, and Viswanathan's ebullience softens Cena's more serious-leaning stoicism. But there are many things the "Blockers" breakouts are still learning about each other as they slide into a booth and nosh on squid ink pasta (her) and breakfast for lunch (him).
For starters: Their most-used emojis.
"I use the top hat a lot, and the baby," says Viswanathan, checking her phone. "The snowman, the emoji with glasses, the flame – and the eggplant, actually."
"I only use that because I did a movie called 'Eggplant Emoji!'" she's quick to add in her warm Aussie accent, laughing at the look on Cena's face. "I've never used it in a deeper sense … for the record!"
"I'm like a level-one emoji ninja," offers Cena, whose emoji leanings are, seemingly like him, straightforward and to the point. "I use the generic smiley face, the thumbs down, the thumbs up, the strong arm, the middle finger. That's it."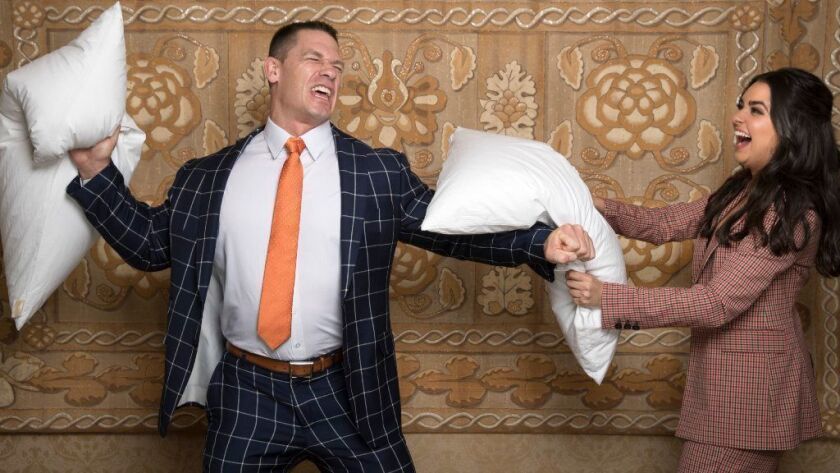 The two were cast separately for their roles by director Kay Cannon — known as a writer on projects from "30 Rock" to the "Pitch Perfect" franchise — who makes her helming debut with the Universal comedy. Cannon wasn't exactly an avid WWE fan watching Cena lay smackdowns on his opponents every week on live TV; seeing him dip his toe into comedy films like "Trainwreck" opposite Amy Schumer landed him on her radar.
She was even more impressed watching his personality and charisma peek out while hosting the ESPYs and in a 2016 anti-bigotry PSA. "And I watched 'Total Divas,'" she says over the phone, referring to the reality series he appeared on with his fiancée and fellow wrestler Nikki Bella. "I feel like he's America wrapped up in a flag. Everybody connects to him, from all walks of life."
For the role of Kayla, "I was definitely trying to find a woman of color," says Cannon, "and what I liked about Geraldine is that she can play that cocky, fun, strong, funny lady, but then can also take it down a little bit."
I'm like a level-one emoji ninja, I use the generic smiley face, the thumbs down, the thumbs up, the strong arm, the middle finger. That's it.
— John Cena
While raunchy comedies have historically treated women as one-dimensional objects, "Blockers" is about destigmatizing sex and enabling young women to assert ownership of their own bodies and choices. It's the kind of messaging teenage girls almost never get in mainstream movies. "[Kayla] just wants to let loose and have a night to remember, and I think she gets a little ahead of herself," says Viswanathan. "There are so many movies that are in this vein but they're from the male perspective."
Because Cannon sought to cast the role inclusively, Kayla became a biracial character — and a prominent one at that, among a cast Cannon wanted to reflect a realistically diverse setting. "I didn't want this to be — to be frank — a bunch of white people," Cannon explains. "I set the movie in Chicago, and that's not what Chicago looks like."
Viswanathan says it's about time for an inclusive, sex-positive studio film that gives agency to young female protagonists. "Even being part of a biracial family, that's hard to come by and it's not made a meal out of — it just is," she says of the role. "I think it's empowering and it's exciting."
Over lunch the gentle and generous dynamic between Viswanathan and Cena emerges. He wants to hear about how she bonded with Newton and Adlon in the week of rehearsals before the "Blockers" shoot, and praises her selflessness. At her request he expounds on his thoughts on the pitfalls of iPhone-age communication, one aspect of intergenerational parent-kid relationships that's mined for laughs in "Blockers."
"Texts often can be taken out of context because it's very difficult to get emotional emphasis from writing. So texts save you time, but can often cause chaos," he explains.
Does Cena text with his fellow WWE superstars, I ask — envisioning his phone blowing up in GIF-filled group chats with folks like Dwayne Johnson and Triple H.
Well of course he does, he says, a look of mock-disbelief flickering across his face as Viswanathan grins in amusement. "They're human beings! I'm a human being. I do things most like everyone else."
Viswanathan, 22, grew up in the small beach town of Newcastle, Australia, a competitive horse rider. She caught the acting bug by binge-watching "Friends."
"That is probably what sparked my love of comedy; it planted the seed of my lust for America and wanting to live here at some point, and all the characters — especially the women — I was so inspired by," says Viswanathan, who was also inspired by her mother, a stage actress, to try performing. "I was like, 'I want to do that.'"
She didn't know much about Cena's day job when she was cast in "Blockers." But she did watch him propose to Bella on live television at last year's WrestleMania. "That's what I do," he deadpans. "Every single week I just ask a different person to marry me."
"Ah, so that's what it is! Maybe I'd be into it? That sounds cool!" she teases.
"I got into wrestling because it beat working for a living," he quips. But like Viswanathan, Cena can trace his career in entertainment to his childhood fascinations. It was growing up in a small town in Massachusetts watching wrestling with his brothers that planted the seed for his WWE stardom.
"We were one of the first in town with cable TV and my next-door neighbor lived acres away, so you had to use your imagination," he says. "I grew up with four brothers and we made these crazy imaginative worlds out of thin air. I guess I never lost that, which is why I can get so wrapped up in WWE."
A lot of Shakespeare's stuff at the time was much more built for the masses than the elites. It is modern-day Shakespeare.
— John Cena on professional wrestling
He falls back into dad-coach mode, prepping Viswanathan for her first hypothetical wrestling match. "WWE is sport and entertainment so we rely on the audience to drive the performance. The audience does something and we react. It's pretty cool."
He lights up at the suggestion that — as one former wrestling superstar once told me, with pure love for the sport in his eyes — pro wrestling is like Shakespeare: High drama with operatic stakes, performed in the biggest ways imaginable and in front of enormous arenas filled with live spectators.
"A lot of Shakespeare's stuff at the time was much more built for the masses than the elites," Cena agrees. "It is modern-day Shakespeare."
But the Shakespearean exploits of life inside the metafictional squared circle have their limits. Cena tells Viswanathan that his character development in the WWE is beholden to the storylines the company dictates and that he doesn't yet know if, on April 8, he'll be facing off against wrestling icon The Undertaker at WrestleMania, the Super Bowl of WWE.
"We operate on short and long term story arcs," he explains, blurring the lines between his real career and his ring persona. "I am at, probably, the sunset of my career. If I get this match it's a wonderful showcase of my talent and much more of an attraction. If I have to go to the event as a fan, my story arc then becomes an intrinsic look at myself to see if I still have what it takes — because in my battle up to this point, I haven't been doing well. I've been losing. We have this crowd of new gifted performers that are bigger, faster, stronger, more precise – so I begin to then say, 'Well, I'm 40. Maybe I should rest now.'
"I don't know," he continues, conjuring the Bard. Both options could be fun, he muses. "I am ready for whatever… To fight or not to fight, that is the question."
Opportunities in Hollywood to play against type in comedies like "Blockers" have offered something wrestling could not: the chance to expand and stretch as an actor.
"I think we all like to laugh. I'm a live performer. I've been in live performance moments that are serious, that are sad, happy, angry, and the one thing that's very difficult to do in our line of live performance is make somebody laugh," he says, "so I guess that was kind of the one thing I was missing."
His most infamous scene in "Blockers" threatens to steal the entire movie, and it involves a move he hasn't had the opportunity to attempt in wrestling: an obscene and thankfully obscure frat boy party trick known as "butt-chugging."
"The 'Jackass' guys tried it," Cannon explains of the feat, which Mitchell reluctantly attempts as he and fellow concerned parents Lisa (Leslie Mann) and Hunter (Ike Barinholtz), infiltrate a teen party (imagine a person beer-bonging suds in reverse). "I didn't want to hire anybody who wasn't willing to do that scene because I feel like that scene is so funny," Cannon adds of the script written by brothers Brian and Jim Kehoe. "To me it represents, 'How far will you go?'"
"I only did two takes of the beer shooting into Ike's face, and the first take was the winner," she adds proudly. "It looked great. It was really fun to shoot. At one point it was 2 in the morning and I stepped outside of myself and looked at what I was doing, and I had this moment: This is what you're doing for a living. I couldn't stop giggling."
"I was there!" Viswanathan says, even though her character is not involved. "There was no way I wasn't going to be behind the monitors for that scene."
Cena, for his part, seems to enjoy defying expectations — and anyway, wrestling has prepared him for anything. "I thought that was fun because everybody else felt uncomfortable, except me."
While Cena contemplates his wrestling future and cultivates a side career in Hollywood, Viswanathan is just beginning — and she's off to a strong start, following "Blockers" with roles in the aforementioned "Eggplant Emoji," a Netflix comedy produced by Ben Stiller, and "Hala," an indie drama about a Muslim teen coming of age directed by Minhal Baig and executive produced by Jada Pinkett Smith.
She also just wrapped the TBS comedy series "Miracle Workers," and after a post-"Blockers" stint in Los Angeles, is giving New York a try. "I have two suitcases right now," she smiles. "That's my life, so I'll see where I end up."
Cannon describes a moment during filming when Cena joined Viswanathan at a piano between takes and her instinct to cast them as father and daughter was fully validated. "He started to play — and he plays beautifully — and she said, 'I'm just not very good at it.' And he goes, 'If you just practice one hour a day, in 30 days you'd get this — and you'd be great at it.' I'm watching him parenting her! Even when the camera wasn't rolling, the same dynamic existed between the two of them."
While he shares top billing with Mann and Barinholtz, Cena is quick to put the spotlight back onto Viswanathan, Newton and Adlon — names audiences will get to know much better once "Blockers" hits theaters. "We were the clowns falling out of the car doing all the stupid stuff," he says of the parent characters. "Without these girls, this movie falls. They are the stars of the movie and they never once acted like it."
Viswanathan beams across the table, getting emotional. "I made John a hat. It says '#1 Movie Dad.'"
He smiles back. "It was awesome."
---
The complete guide to home viewing
Get Screen Gab for weekly recommendations, analysis, interviews and irreverent discussion of the TV and streaming movies everyone's talking about.
You may occasionally receive promotional content from the Los Angeles Times.