Stubborn? Arrogant? Irrelevant? The 2018 Cannes Film Festival weathers the storm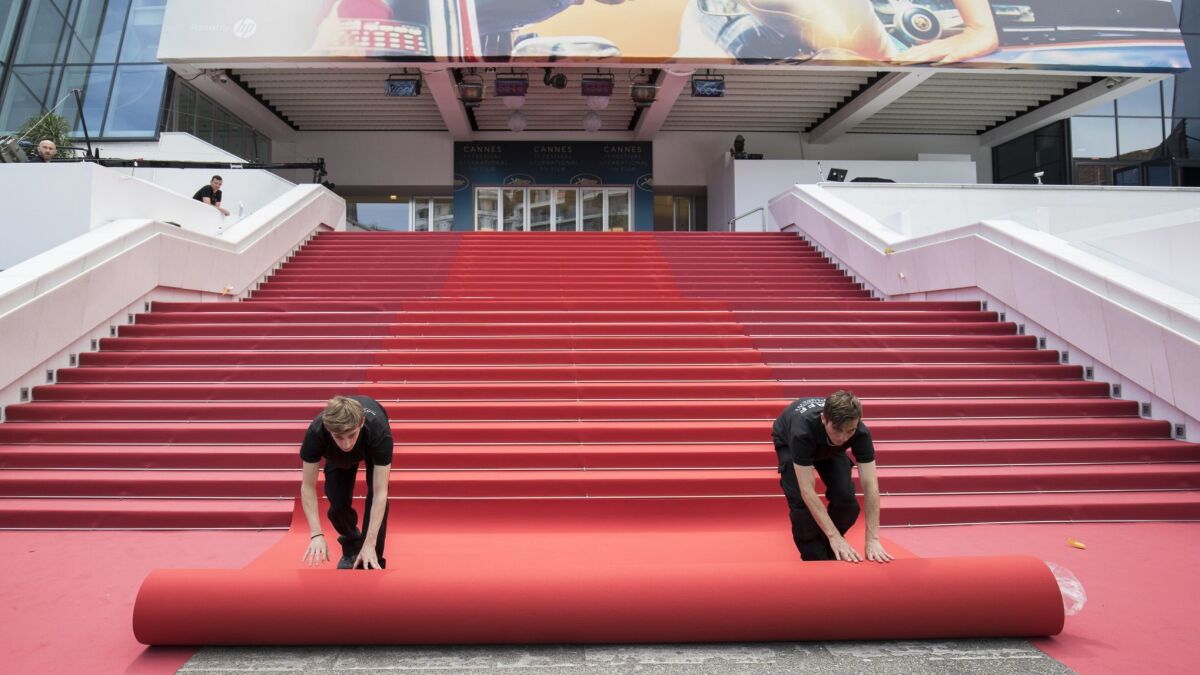 Film Critic
The 71st Cannes Film Festival is underway (May 8-19), and L.A. Times critic Justin Chang is there, seeing as many movies as possible and writing about it for a day-by-day, film-by-film diary. This is one in a series of entries spanning from the opening festivities to closing night. For more entries and reviews, click here.
In May 1968, Jean-Luc Godard and a few of his French New Wave contemporaries famously brought the Festival de Cannes to a halt, an act of solidarity with striking students and workers who were taking France by storm.
Fifty years later, Godard still looms large at Cannes, quite literally. The official poster for the 71st festival is graced with the immortal image of Jean-Paul Belmondo and Anna Karina kissing in the director's 1965 classic, "Pierrot le Fou." This year, the 87-year-old Godard will likely limit his disruptive gestures to the unveiling of his new movie, "The Image Book," which promises to shake up the main competition; it's said to be a characteristically unorthodox reflection on the modern Arab world.
The festival itself, which opened Tuesday night with the world premiere of Asghar Farhadi's "Everybody Knows," shows no signs of coming to a premature conclusion, though there are some who probably wish it would. In my own previous 12 years of attending, I can't remember the last time Cannes commenced under such a cloud of grumbling, suspicion and all-around anxiety or any time the festival took such a widespread beating in the media before it even had a chance to roll out its famous (if now selfie-free) red carpet.
With headlines such as "Has Cannes Lost Its Luster?," the Hollywood Reporter and Variety bemoaned the absence of much-anticipated new films by major world auteurs, the festival's highly publicized clash with Netflix and the relative dearth of Hollywood stars on the carpet, the presence of "Solo: A Star Wars Story" and a Cate Blanchett-led competition jury notwithstanding.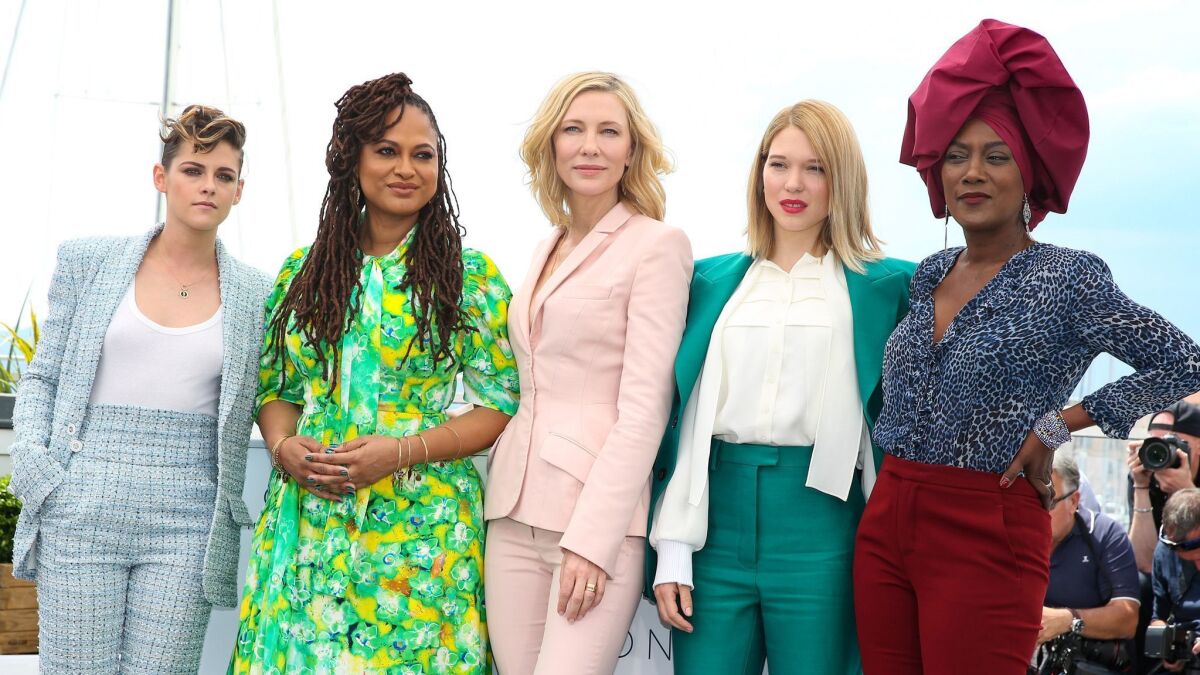 READ MORE: Cannes jury speaks out on the first festival of the #MeToo era »
These and many other pieces echoed the growing fear in the film industry that Cannes, due to its position on the calendar, has become a less attractive destination for high-profile Oscar-hopefuls. Films angling for an awards-season run increasingly prefer the fall festivals — Venice, Telluride and Toronto. Notably, this year's best picture Oscar winner, "The Shape of Water," began its much-laureled run by winning the Golden Lion at the Venice Film Festival, Cannes' biggest European rival.
Meanwhile, by taking such a firm stance on l'affaire Netflix, Cannes has positioned itself at the center of an existential crisis in the movie industry. While the festival and the streaming giant are said to be having amicable ongoing discussions, for now, Cannes is upholding a requirement that all Palme d'Or contenders must have French theatrical distribution. As a result, Netflix bypassed the festival altogether: Neither Alfonso Cuarón's "Roma," which the festival had been eyeing for a competition slot, nor Orson Welles' long-unfinished "The Other Side of the Wind," which would have been shown out of competition, will be screening on the Croisette.
In other contentious developments, the festival plans to close with the world premiere of Terry Gilliam's endlessly delayed, years-in-the-making "The Man Who Killed Don Quixote," though whether that screening takes place depends on the outcome of a lawsuit between Gilliam and producer Paulo Branco, to be announced Wednesday.
And well before closing night, the festival will mark the long-awaited return of the Danish provocateur Lars von Trier, whose ill-considered jokes about being a Nazi at his post-"Melancholia" press conference led the festival to declare him "persona non grata" in 2011.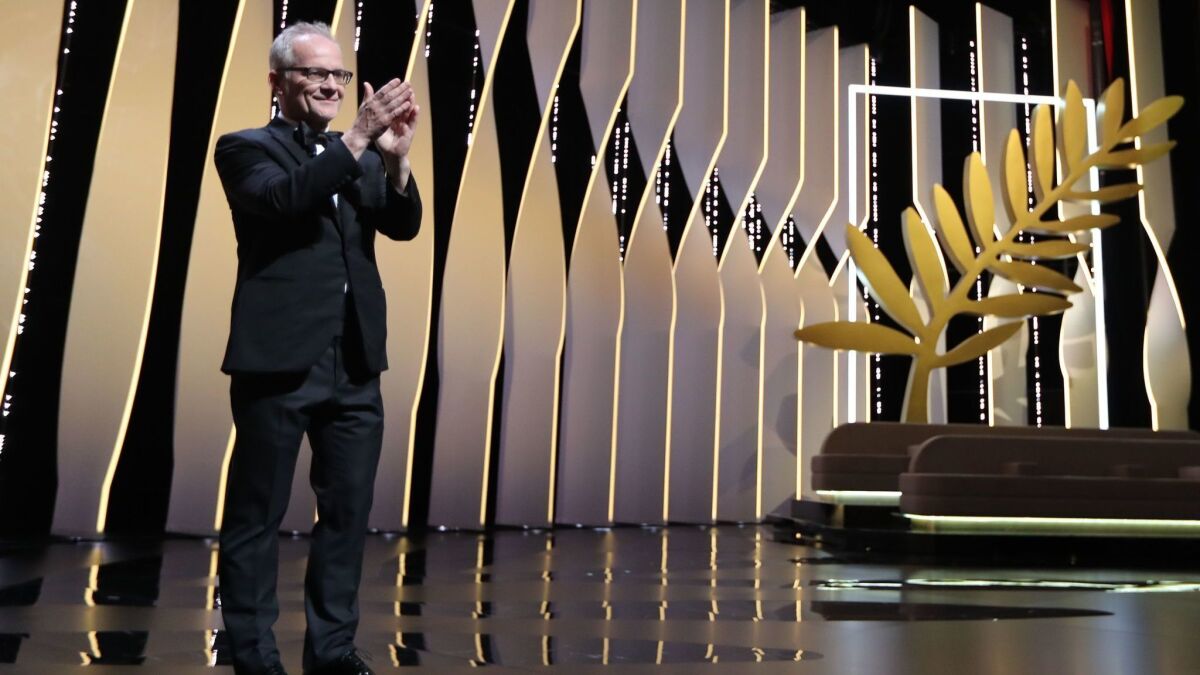 READ MORE: A kiss is not just a kiss at Cannes, where the mood is edgy this year »
The sheer range of potential Cannes-troversies has been so unprecedentedly dizzying this year that Monday, the festival's delegate general and longtime artistic director, Thierry Frémaux, took the rare step of holding a press conference. Sitting alone on the dais, somehow resembling both a monarch greeting his subjects and a prisoner facing a firing squad, Frémaux veered between diplomacy and defensiveness as he held court on subjects ranging from his attitude toward the press ("We need the press, we love the press") to the festival's new sexual harassment hotline.
How would the festival, routinely criticized for not programming enough female-directed films in competition, address issues of gender parity, in the wake of the #MeToo movement — a movement that has notably drawn significant backlash from French celebrities? Now that Roman Polanski had been kicked out of the motion picture academy, would his Palme d'Or for "The Pianist" be revoked? (Frémaux's reply: Non.) And what of the festival's 4,200 accredited journalists, who have long been accustomed to seeing films in advance, but would now have to attend press screenings held during or after the public premieres — a move intended to delay potentially buzz-killing reviews and reactions?
It's easy to look at just about every issue plaguing Cannes this year and conclude that this is a festival that keeps stumbling on its own stubbornness. Hamstrung by tradition and protocol, it appears either unable or unwilling to adapt to the shifting winds — in technology, in distribution, in financing and in representational diversity — that are presently sweeping the industry.
Even the recent banning of selfies on the red carpet, the most frivolous of Cannes' many rules, provides a curiously revealing metaphor. Here is a festival that, true to its French cultural roots, insists on some modicum of elegance and dignity in the face of technological change.
The irony, of course, is that every year, Cannes takes an unintentional selfie of its own, and the image it's projecting to the world is one that many find wanting.
Beset on all sides by so much criticism, what is the world's most important and prestigious film festival to do? The only thing it can: Show some damn good films and maybe even a few great ones. And it is on this point that, despite my own disappointment over some of the conspicuous absences from this year's lineup (starting with Claire Denis' hotly anticipated science-fiction drama "High Life," which will now likely make its debut in Venice) I find myself urging a spirit of optimism and open-mindedness toward the program that Frémaux and his selection committee have assembled.
As Frémaux said at his press conference, journalists have long complained that Cannes favored "the usual suspects" — the same respected auteurs, year after year while this year's competition lineup is being criticized for doing just the opposite. The absence of bigger names makes room for a number of lesser-known filmmakers, among them Japan's Ryûsuke Hamaguchi, France's Eva Husson and Yann Gonzalez, Russia's Kirill Serebrennikov and a first-time director, Egypt's A.B. Shawky. (The usual suspects are on hand as well, including stalwarts such as Godard, Farhadi, Nuri Bilge Ceylan, Matteo Garrone, Hirokazu Kore-eda, Jia Zhangke and Lee Chang-dong.)
Is this shift a sign of Cannes' waning relevance? Only the movies themselves will tell, but I would venture to suggest the opposite. Whether or not these new filmmakers represent the next generation of world-class auteurs, it is Cannes' unique power to galvanize the attention of the global film world that implores us to take this selection seriously. Or, at the very least, to grant these films the courtesy of our undivided attention rather than our hasty, premature dismissals.
Only a person fundamentally incurious about world cinema — which is to say, a person who has no real business attending Cannes in the first place — would argue otherwise. No, this festival probably won't be a major awards-season launchpad, and thank God for that.
The proper appreciation of the movies can only improve when you don't have the constant din of Oscar buzz ringing in your ears.
---
The man of Cannes
The pall that greeted me as I arrived in Cannes this past weekend was far different, and more sobering, than what I'd expected. On Sunday, two days before the festival was set to begin, the news broke that Pierre Rissient, the most important name in movies you've possibly never heard of, had died in Paris at age 81.
"It is not enough to like a film. You must like it for the right reasons," Rissient was fond of saying, a belief that cut to the heart of his passionate, sometimes dogmatic but always bracing cinephilia. A filmmaker, a scout, a historian, a publicist and above all an advocate, he spent his career behind the scenes of the industry, working tirelessly to discover great filmmaking talent and bring it to the attention of the press and the public. If you have ever seen a film directed by Mike Leigh, Jane Campion, Clint Eastwood, Abbas Kiarostami, Hou Hsiao-hsien and countless other world-cinema titans, whether you know it or not, you are in Pierre Rissient's debt.
His was the great, invisible guiding hand of world cinema, though at film festivals the world over, from Telluride, Colo., to Busan, South Korea, he was anything but invisible. He was enormous in every way. I still remember Todd McCarthy, then chief film critic at Variety, bringing me to my first Cannes in 2006 and introducing me to the man himself on day one. Pierre's personal kindness and generosity toward this fledgling reviewer were hardly unique. If you loved movies and happened to find yourself in his company, there was no warmer, more knowledgeable or more irrepressible companion.
I have my own treasure trove of memories of Pierre. Piling into the Salle Buñuel at Cannes in 2007 for the premiere of McCarthy's lively, affectionate documentary portrait "Pierre Rissient: Man of Cinema." Receiving a DVD box set of Maurice Tourneur crime pictures in the mail from Pierre, including "Justin de Marseille" (1935), which became his nickname for me thereafter. Having lunch with him at Chinese restaurants (always, always Chinese restaurants) in Paris and Toronto, which he began, as he did most conversations, with the same inquiry: "What new pictures have you seen?" Running into him at Cannes in 2014, mere minutes after the mind-blowing world premiere of Godard's 3D marvel "Goodbye to Language." "Did you like it?" he asked. When I told him I had, he said, "It's funny, isn't it?"
Rissient's death will cast a long shadow over this festival, particularly since his fingerprints are all over it. Mere days before his passing, he emailed several critics a passionate endorsement of the competition entry "Burning," whose director, Lee Chang-dong ("Secret Sunshine," "Poetry"), he has long championed.
Another Rissient-promoted title, this one playing in the festival's Un Certain Regard program, is "Long Day's Journey Into Night," from the innovative Chinese filmmaker Bi Gan ("Kaili Blues"). "Five and the Skin" ("Cinq et la Peau"), a 1982 French drama that Rissient himself directed, will screen in the festival's retrospective Cannes Classics sidebar, an event that he was planning to intend, and which will now serve as one of his many upcoming memorials.
It is for such occasions, the celebration of cinema old and new, that Cannes exists. And the festival's particular strategy this year — to shed light on a surprising new wealth of filmmaking talent from all over the world — seems particularly consistent with what Rissient's advocacy accomplished year after year. Perhaps it's worth revisiting and even revising his most famous dictum: It is not enough to like a film festival. You must like it for the right reasons.
---
Get the Indie Focus newsletter, Mark Olsen's weekly guide to the world of cinema.
You may occasionally receive promotional content from the Los Angeles Times.