Must Reads: What it's like to walk the red carpet on Cannes opening night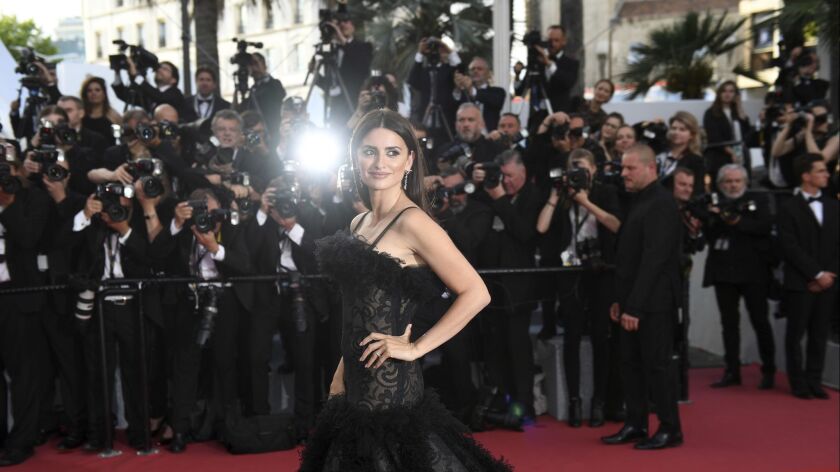 Reporting from CANNES, France —
From afar, the red carpet at the Cannes Film Festival always appeared to be one of the most glamorous places on Earth. Sure, there are plenty of red carpets in Hollywood -- I'd venture to guess one is literally rolled out somewhere in Los Angeles every night -- but the ones in Cannes looked like nothing I'd ever experienced.
If you're anything like me, you spend far too many hours every May rapidly clicking through photo galleries from the festival, judging beautiful people in outfits you could never afford. Every movie premiere seemed like its own miniature Met Gala, replete with haute couture, dramatic trains and millions of dollars worth of diamonds.
So this year, when I was given the green light to head to the south of France for the first time, I was disappointed to read a slew of articles decrying the death of all things glitzy at the festival. With just two American films competing for the Palme d'Or, fewer big-name celebrities would head to the two-week event.
Because festival organizers did not allow Netflix productions to vie for the top prize, the streaming platform pulled out of Cannes entirely -- meaning no bashes thrown by them. Vanity Fair and Amazon decided not to host any parties either, while the annual amFAR bash -- where Harvey Weinstein was a massive presence -- will no doubt be indelibly changed in the wake of the disgraced mogul's history.
And yet in the weeks leading up to my departure, the party invites kept flowing into my inbox from brands like Chopard, Magnum, Grey Goose and Kering. I kept seeing names of models completely unrelated to the film industry -- a.k.a. a Cannes staple -- mentioned: Kendall Jenner, Bella Hadid, Naomi Campbell. And many of said black-tie affairs were to take place on yachts. Was this not business as usual?
Judging by the opening night, anyway, Cannes does not appear to have lost an ounce of glamour. OK, so I don't exactly have a point of comparison -- but I've been to all of the major awards shows in Los Angeles. And what I experienced on the Croisette on Tuesday night felt way fancier than the Academy Awards.
So if, like me, you've always wondered what it's like to walk the red carpet at Cannes, allow me to be your guide.
The opening-night film at the festival this year was "Everybody Knows," a Spanish-language thriller starring Penélope Cruz and Javier Bardem, directed by Oscar-winning filmmaker Asghar Farhadi. In the film, Cruz plays a mother whose daughter is mysteriously kidnapped at a family wedding in Spain, and she enlists her ex-lover (Bardem) to help track down her child.
As you may have heard, selfies -- and amateur photos of any kind, really, have been banned at the festival this year. Thierry Fremaux, the festival's artistic director, called such photos "grotesque," saying they tripped people on the carpet and never came out well anyway. In other words: Anyone hoping to snap a picture of Cruz or Bardem was out of luck.
Stubborn? Arrogant? Irrelevant? The 2018 Cannes Film Festival weathers the storm »
As I arrived at the entrance of the carpet -- begrudgingly wearing high heels, another frustrating Cannes dictum -- it was clear the festival was not kidding around with this new rule. Simply holding my phone in my hand with its screen illuminated was a problem, as an usher immediately noticed and told me to turn it off. I did not see anyone even attempt to take a photo of themselves.
But there were still plenty of people being photographed. At Cannes, the red carpet is lined with photographers only -- none of us pesky reporters camped out seeking sound bites from the talent. This allows stars to pose in their full glory, which is important, since many have been paid by designers to wear specific jewelry or gowns.
Just a few hours after the event, I received a press release that Brazilian "global style influencer" Camila Coelho -- she has 7.1 million followers on Instagram -- had walked the carpet in an outfit worth upwards of $1 million. Apparently, the look took 500 hours to complete and included a "hand-appliquéd asymmetric, 7ft silk organza frill train" and a necklace with 79 carats of diamonds.
I, meanwhile, was just hoping I wouldn't be reprimanded for wearing pants.
After Coelho and others of her ilk had bypassed the shutterbugs, the heavy-hitters came out: the eight-member jury, headed this year by Cate Blanchett, walked down the carpet holding hands. Martin Scorsese, who is receiving a special prize from the festival, was there too. And Cruz and Bardem were literally the last to walk up the stairs. Each star's arrival is given an added importance because the carpet has a mysterious emcee who announces the names and brief resumes of everyone, scored to lovely French Europop.
You can't actually hang out on the red carpet to watch all of these fine individuals with your own eyes of course -- I was ushered into the Palais rather quickly. But inside, a massive screen plays live footage from the carpet, which was unfortunate for one woman who tripped and had her fall broadcast to an entire theater full of strangers.
When Cruz and Bardem made their way to their seats, the crowd stood to applaud. And thus began an opening presentation unlike, well, anything I've ever seen. Edouard Baer, a French actor, served as the master of ceremonies. He launched into a monologue entirely in French while a piano played in the background. There was no translation, despite the fact that many in the audience did not speak French, including Benicio Del Toro, whom Baer awkwardly singled out: "Mr. Del Toro, you're not into French talking. Why not?" he kidded.
Baer then moved on to introducing the jury, each of whom had their important film credits mentioned before they walked out onto the stage as if in a beauty pageant. The jury members, including Kristen Stewart and Ava DuVernay, then sat on the side of the stage on couches for the rest of a presentation, which included a career reel of Blanchett.
"I'm extremely proud to be president of the jury this year," Blanchett said as she walked out to a standing ovation. "I hope we can open our hearts and minds and check our agenda and preconceptions and expectations at the door."
Scorsese then emerged to join Blanchett in "officially" launching the ceremony, commencing the festival as if it were a ribbon-cutting.
Then things took a less glamorous turn. The stars walked off stage and dozens of crew members emerged to break down the set. This wasn't just moving a piano -- this was roughly 40 minutes of loud, construction-like work, replete with drills and vacuum cleaners. All while the audience in their gowns and tuxedos -- including attendees like Julianne Moore and Ryan Coogler -- sat waiting.
The film finally began at around 8:45 -- about 90 minutes after the evening ceremony had commenced -- meaning moviegoers poured out onto the Croisette around midnight. Farhadi's film received a warm, if muted response, but by morning news had already emerged that Focus Features acquired the movie for distribution.
Eight films to watch out for at the 2018 Cannes Film Festival »
At a press conference the following morning, Cruz and Bardem praised the Iranian director's dedication to the project, with the actress noting he even moved to Spain two years ago to immerse himself in the culture and language.
"He produced one of the most Spanish films a director could make -- even more Spanish than a film by a Spanish director," Bardem insisted. "It's very gratifying to see in the cinema that you can have someone from outside, from a totally different country, to do such a wonderful piece of work. What is important is people — and people know no borders."
After praising his married costars -- whom he referred to as the "very symbol of a happy couple" -- Farhadi took the opportunity to note that he felt odd being at the festival when another Iranian director in the competition had been banned from attending. Jafar Panahi, whose film "Three Places" is also playing in Cannes competition this year, is unable to leave Iran due to a 2011 ruling barring the filmmaker from making "propaganda" -- any movie -- for 20 years. (Panahi has managed to make four features since the decision was made seven years ago.)
"I spoke to him yesterday," Farhadi told journalists at Wednesday's press conference, asking for his microphone back after the moderator had ended the event. "I would like to send out this message: I hope that the decision will be taken for him to be allowed to come. ...What's important for him is not to be able to catch a flight, but for him to be able to see how spectators view his film. … It's a very strange feeling for me to be able to be here whereas he cannot be here. This is something that I have difficulty living with. It's wonderful that he's continued his work in the face of such adversity."
Given the gravity of Panahi's situation, the mood on the "Three Places" red carpet on Saturday will no doubt be far different than the one at "Everybody Knows." But that will likely be the exception rather than the rule. Even in her opening remarks, Blanchett noted that Cannes is "not a political festival," saying she and her other jurors would try their best to separate current affairs from the films they were watching.
In other words: The fantasy world of Cannes hasn't gone anywhere. But we are all far more keenly aware of how it's just a dream.
Follow me on Twitter @AmyKinLA
---
Get the Indie Focus newsletter, Mark Olsen's weekly guide to the world of cinema.
You may occasionally receive promotional content from the Los Angeles Times.