'Captain Marvel' directors bring feminism, the '90s to the Marvel Cinematic Universe
Directors Anna Boden and Ryan Fleck had a lot of fun pouring a dizzying array of zippy zingers and sci-fi action into "Captain Marvel," the 1990s-set Marvel Cinematic Universe prequel starring Oscar-winner Brie Larson that marks the 21st installment in Marvel Studios' multibillion-dollar comic-book franchise.
For starters, the pair mined the '90s setting for a bounty of nostalgic needle-drops and references — enough to make those who recognize them feel downright ancient — from the painstakingly replicated Blockbuster video store that Larson's titular outer space hero crash-lands into in Los Angeles circa 1995, to the Game Boys and grunge music she encounters wandering the '90s MCU like a super-powered alien fish out of water.
They auditioned several cat actors before casting an uncannily expressive four-legged thespian named Reggie as Goose, the scene-stealing furry feline companion to future S.H.I.E.L.D. boss Nick Fury (Samuel L. Jackson sporting a digital facelift, de-aged 30 years to suit the "Avengers" prequel timeline).
"We just knew," joked Boden, seated next to Fleck in a Beverly Hills hotel during a recent press stop, of the pivotal moment they cast their Goose. "He had star power."
Three other orange tabbies who share the role with soon-to-be fan favorite Reggie, she noted, were more like "stunt doubles." "There should have been an arbitration for credit on that," added Fleck.
But it was the relatable and feminist qualities of Captain Marvel's journey that initially hooked the writer-directors on the story of Carol Danvers, a character with ties to the Avengers canon who made her comic-book debut in 1968.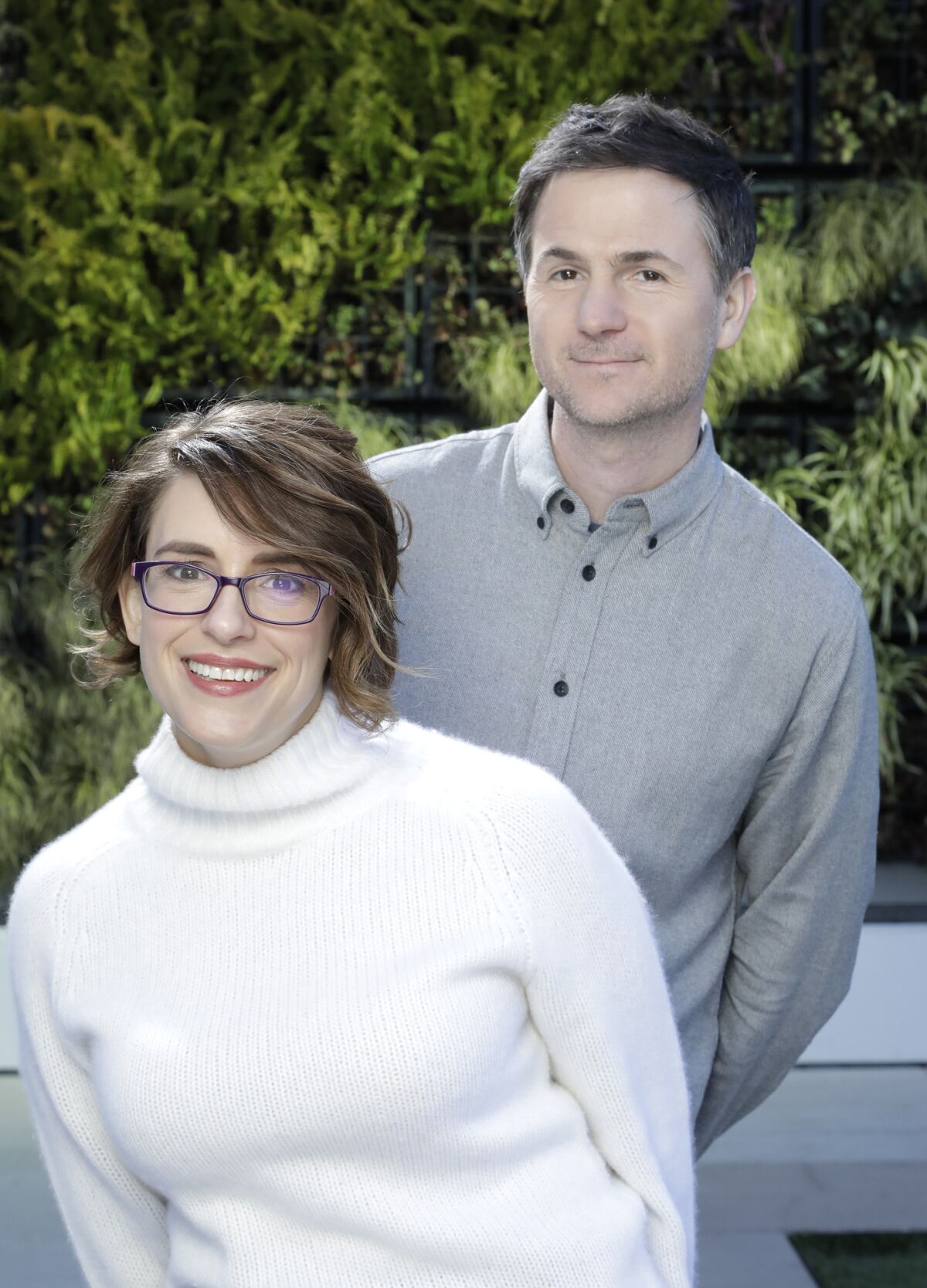 "Captain Marvel," written by Boden, Fleck and Geneva Robertson-Dworet (who also share "story by" credits with Nicole Perlman and Meg LeFauve), takes its cues from Kelly Sue DeConnick's celebrated 2012 Marvel Comics run, which reintroduced the character as an Air Force fighter pilot who becomes Captain Marvel.
Unlike many of her predecessors in the MCU with introductory origin stories, Danvers, played by Larson (who segues effortlessly from indies such as "Room" to franchise fare such as "Kong: Skull Island"), arrives on the big screen already a super-being.
When the film opens — in space! — she boasts the ability to shoot powerful energy blasts from her fists, and is more than happy to make use of them as a soldier caught in a war between the militaristic alien Kree and their shape-shifting enemies, the Skrulls.
Rather than discovering powers she could never have imagined, Danvers instead has to rediscover what makes her human.
Returning to an Earth she doesn't remember, she lands on the radar of government agent Fury, faces off with the Skrull leader Talos (Ben Mendelsohn) and reconnects with erstwhile BFF Maria Rambeau (Lashana Lynch), a friendship Larson calls the film's real love story.
"Captain Marvel" is, notably, a film in which a woman overcoming her harshest, and primarily male, critics — the ones who have said her entire life that she's too emotional and can't possibly make it on her own — is key to her self-actualization.
"That's something that was really meaningful for me," said Boden, "because when you're doing something that you really care about and you put all you have into it, you experience a lot of emotions: self-doubt, fear, all of these things. It was so lovely to be making a movie about a character who learns to embrace all that."
"Captain Marvel" is, not insignificantly, the first in the Marvel Cinematic Universe's 11-year reign to center on a female superhero. And with "Captain Marvel," Boden is now the first woman to direct a Marvel movie.
Marvel Studios head and Oscar-nominated "Black Panther" producer Kevin Feige, who also produced "Captain Marvel," says that inclusion has been a very long time coming to the MCU — both onscreen, in the form of the heroes who get to carry their own movies, and behind the camera.
"I really do think that the talent was always there, but the talent wasn't always, to be honest with you, on the lists that we were going through," said Feige, speaking by phone days before the 91st Academy Awards, where "Black Panther" was nominated for best picture — another first for the company and a rarity for the genre.
"That has completely changed today. Not only because, with 'Captain Marvel,' we said, 'We must hire a woman to direct it' internally, but also because the entire world has changed. And there will be many more announcements to come. Put it this way," he said enigmatically: "it's only the beginning."
According to Feige, Marvel will continue to look to hire inclusively, adding that it "also makes for better movies."
"People have asked me, 'There's a lot of diversity in front of and behind the camera — was that a one-off, or will you continue that?' Well, of course we're going to continue that," he said, "because that is the shape of the world, the representation of the world, and that's what we want up on our screens."
"Captain Marvel" is a major step toward that future, a standalone spotlight for a new female character who fans already anticipate will figure prominently in April's epic superhero mash-up "Avengers: Endgame."
'Captain Marvel': A brief history of Marvel heroine Carol Danvers »
It's also a huge leap in scale for Boden and Fleck from the smaller-budget movies and television shows they've written or directed together since establishing their partnership over a dozen years ago.
In 2006, their debut film, "Half Nelson" (which they co-wrote and Fleck directed), propelled then-breakout star Ryan Gosling to an Academy Award nomination. They co-wrote and co-directed the 2008 baseball drama "Sugar," casting then-unknown Algenis Pérez Soto, who also appears in "Captain Marvel," in the tale of a Dominican ballplayer recruited to play in the U.S.
Quirky teen rom-com "It's Kind of a Funny Story" followed in 2010 — it remains their highest-grossing film at just over $6 million domestic. Then came 2015's gambling drama "Mississippi Grind," starring Mendelsohn, whom they cast in "Captain Marvel."
By the time they had their first meetings with Marvel, Boden and Fleck were known exclusively for small-scale, intimate, character-driven movies — not exactly the typical blockbuster helmers in line to direct a big-budget superhero adventure.
It was during a meeting with Feige that the creative intention of "Captain Marvel" came into focus, said Fleck. "We were banging our heads against the wall and we had all the comic-book art on the wall and Kevin gets up and he points to one particular image of a little girl in a Captain Marvel costume flying, with a ginormous smile on her face. He says, 'This is what we need this movie to be.' "
It became clear that, 'Yes, that is important, and this movie needs to be for that girl.'
— Ryan Fleck
"I don't think we came into it feeling like it needed to be for little girls," he added. "I don't think that was the ultimate goal at the beginning. But from that moment on it became clear that, 'Yes, that is important, and this movie needs to be for that girl.'"
In interviews, the writing-directing team have an easy way of finishing each others' sentences. On sets, they share directing duties — and their longstanding rapport came in handy on the massive Marvel production, which sometimes required them to write and shoot at the same time.
The "Captain Marvel" production took the New Yorkers from the swamps of Louisiana to Fresno's Shaver Lake to Edwards Air Force Base and sunny L.A., filming extensively on location from the mountains to the desert to the beach to El Segundo to the ubiquitous strip malls.
Re-creating the now-defunct Blockbuster video chain for the film was particularly strange for Fleck. In 1995, the year the film is set, the Bay Area native was working ... at a Blockbuster video store.
"There was definitely a lot of sense memory coming back to me," Fleck said with a laugh. "I was getting anxious about stacking tapes. But it was fun to re-create. The whole crew was roaming around that set going, 'Hey, remember this movie?'"
Back then, Boden was a teen in the suburbs of Massachusetts wearing Roxy-style wide-leg pants, she recalled, and "listening to music that couldn't make it into this movie because nobody knew it existed."
"Six people would be, like, 'I love this band!' " joked Fleck. Instead, Danvers adventures through "Captain Marvel" to period songs by Nirvana, Hole, Garbage, TLC and more instantly recognizable, and largely female-dominated, artists of the era plucked off of long reference lists that the directors compiled.
The hardest throwback to replicate from beyond the sands of time? "Trying to get accurate representations of the little error messages that popped up on PCs back in the '90s and what sounds they made," said Boden.
Nostalgia aside, the directors hope for a sincere reaction to their film's inspirational and emotional moments of can-do triumph. If people cry, "that means it's working," Fleck said with a smile.
And that's how they see "Captain Marvel" fitting into a distinctly indie-minded filmography. Each of their films, they hope, inspires viewers to reflect on the world around them.
"This is a movie about a woman whose journey is to find her own humanity," Boden said, "but it's not just her own humanity that she finds. She finds humanity in other people she didn't necessarily see it in before — and that is a really important theme for us, of inclusion and understanding."
Now, the filmmakers say, they're eager for fans to see the film they've spent many, many months in a darkened room finishing.
"It's about the people who are dressed up as Ms. Marvel and the people who are so excited to see this movie," Boden said. "I can't wait for it to truly become theirs."
---
Get our L.A. Goes Out newsletter, with the week's best events, to help you explore and experience our city.
You may occasionally receive promotional content from the Los Angeles Times.