From 'Clockwork' to 'Mozart in the Jungle,' Malcolm McDowell's wonderful screen life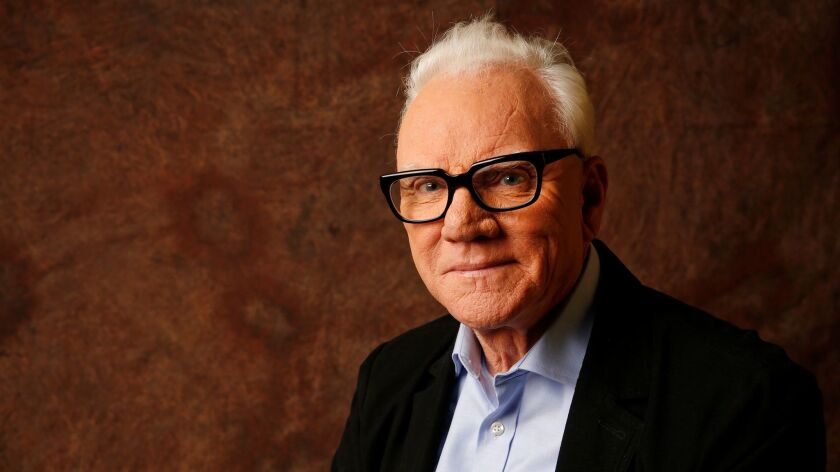 Malcolm McDowell was performing at London's prestigious Royal Court Theatre in a modern-day dress version of Shakespeare's comedy "Twelfth Night" nearly 50 years ago.
While appearing in the hot-ticket production, McDowell received a call that would forever change his career. It was to read for noted film and theater director Lindsay Anderson ("This Sporting Life") for the film "If …" for the role of Mick Travis, the rebellious upperclassman who leads a revolution at his staid public school.
During their meeting, they discussed "Twelfth Night."
"It was crazy, but not a great production," recalled McDowell recently. "We just wore different clothes, but all the young actors of that period that were on their way up were in it. It was fun to do."
Anderson, however, wasn't impressed, telling the young actor that the production sounded pretentious.
"He kept going on ribbing everybody at the Royal Court," said McDowell, 74, who in turn started to make fun of the theater in hopes that it would help him get the role. "Then there's a lull in the conversation and he said, 'Of course, you do realize I'm a director at the Royal Court.' I said, 'I suppose I'm not going to get this part then, am I?' He goes, 'Not necessarily."'
Not only did he get the part, McDowell became an overnight star epitomizing the anger and rebelliousness of the youth of that era. Charismatic and dangerous, McDowell brought a James Cagney bravado and swagger to his performance. Three years later, he starred in one of cinema's most iconic roles as the amoral, bowler hat wearing Alex, the leader of the Droogs, in Stanley Kubrick's "A Clockwork Orange."
Though many of McDowell's peers have faded away, McDowell is a busy working actor. He's about to go into his fourth season of Amazon's award-winning comedy series, "Mozart in the Jungle." He plays Thomas, a womanizing veteran conductor of a New York symphony forced to give up the baton when Gloria (Bernadette Peters), the president of the orchestra, hires Rodrigo (Gael García Bernal), a handsome and eccentric young conductor.
"To be pushed upstairs because he's reached a certain age is shameful," said McDowell. "I'm getting back because I'm sleeping with Gloria, who is the one who shoved me upstairs. That's an interesting take."
It's doubtful that anyone would try to push McDowell upstairs because of his age. Despite a shock of white hair and glasses, McDowell is a bundle of energy during a recent interview at a West Hollywood hotel. His youngest of five children, 8-year-old Seamus, had accompanied his father down from their Ojai home and was eagerly awaiting the chance to go shopping for T-shirts. (His oldest son, Charlie, with ex-wife Mary Steenburgen, is a director ("The One I Love, " "The Discovery").
"He's always had this incredible mind and drive and charisma," said Mike Kaplan, who met McDowell when he was a marketing executive on "Clockwork Orange." Kaplan directed the actor in the film version of "Never Apologize," McDowell's one-man show about his friendship with Anderson.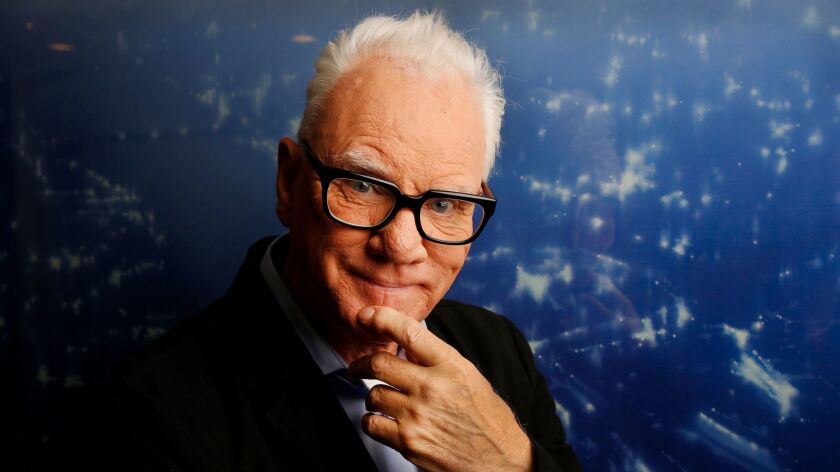 McDowell's skills are not limited to the screen. In person, he's a great storyteller and does marvelous impressions of everyone from John Gielgud to Laurence Olivier, with whom he worked in "The Collection," the 1976 television adaptation of Harold Pinter's drama that also starred Alan Bates and Helen Mirren.
McDowell and Bates came out of a different school of acting from Olivier.
"Alan and I were considered when we did this thing to be the new wave in acting — much more gritty, realistic performances," he noted. "We got to rehearsal and I'm playing a character who is basically Olivier's rent boy — his lover whom he's paying. The whole point of the play is he's supposed to be deeply in the closet. We come to the first read of the play with a hundred people watching and Olivier reads and he does it as if he's in high heels swinging a handbag. Alan and I were like 'We have nowhere to go. There's no play.'"
Every morning, they would approach director Michael Apted if he had asked Olivier to tone down his performance. "Eventually, we were looking through the door at the rehearsal and saw Michael Apted whispering to Olivier. We could only see the back of his head and heard him say, 'But dear boy, I always start big and then bring it in.' Of course, that was his method."
In "Mozart in the Jungle," McDowell's discovered that he and Bernal are of like minds when it comes to acting.
"Even though he's from Mexico and a different culture — actually I think he was trained in London — when we do scenes together he works very similar [to me]," said McDowell. "We throw stuff out and improvise and then come back to the script. He's very at ease doing that, which I love to do if I can find somebody that can do it with me."
Comparing two of his most famous directors, McDowell said that Anderson was more in control, more stylized than Kubrick. "He said you are a very Brechtian actor," McDowell said of Anderson. "It means that you will do something in a certain style and that you'll let the audience know that this is a performance in a piece, but they will believe you anyway."
Kubrick gave him free reign. "When I asked him very early on, have you got any ideas about this, he looked at me incredulously and said, 'Gee, mate, that's why I hired you.' I was like 'What? Stanley, look at the call sheet. It says here 'S. Kubrick, director.' How about a bit of direction?' He just went, 'You're getting it.'"
Though McDowell and Anderson were close friends until the filmmaker's death in 1994, his friendship with Kubrick ended at the completion of "Clockwork Orange."
"I could not understand," he reflected "But then, I was a young, naïve actor and I thought we were friends. I gave him everything I had in my soul practically and so I thought my God, we'd touch something about each other. I have a feeling I got to know him a bit too well or something."
---
Inside the business of entertainment
The Wide Shot brings you news, analysis and insights on everything from streaming wars to production — and what it all means for the future.
You may occasionally receive promotional content from the Los Angeles Times.