Q&A: 'Color Purple' nominee Margaret Avery sees same Hollywood bias three decades later
Long before #OscarsSoWhite, the Academy of Motion Picture Arts and Sciences was embroiled in a similar controversy after Steven Spielberg's 1985 film, "The Color Purple," received 11 Oscar nominations but took zero golden statues. The Hollywood-Beverly Hills branch of the NAACP called it a "blackout" and a "slap in the face."
Margaret Avery was among those nominated, getting a nod for her supporting role as blues singer Shug Avery (the Oscar ended up going to Angelica Huston for "Prizzi's Honor"). "The Color Purple," which also starred Whoopi Goldberg, Danny Glover and Oprah Winfrey, was based on a bestselling novel and spanned 40 years in the life of Celie (Goldberg), a black woman in the South who survives sexual abuse and bigotry.
#OscarsSoWhite: Full coverage of the boycott and Hollywood's reaction
Avery, who now stars on BET's "Being Mary Jane," became a member of the academy as a result of her nomination. Ahead of Sunday night's Academy Awards, she spoke with The Times in her Hollywood Hills home to discuss the controversies surrounding "The Color Purple," #OscarsSoWhite and the academy's latest efforts to improve diversity.
Take us back to the moment you found out the film had 11 Oscar nominations and you had one of them.
It was exciting. It was a rush. The night of the awards, we were picketed, or the awards themselves were. But I said to myself, "This is my moment. I'm not going to let any negativity spoil this because this comes once in a lifetime."
Black films are marketed differently. We get less money for pay. What's up with that?
Margaret Avery
How did you all approach filming? It was an adaptation of Alice Walker's book of the same name that addressed taboo topics like sexual abuse and lesbianism?
I think we all were so full of love for the project. We wanted to really just please Alice Walker, and everyone was out to do his or her personal best. It was essentially everyone's first. It was Whoopi's first, my first major film. So we just wanted to do well. As far as the taboo stuff, there was a homosexual relationship between Celie and Shug. Steven [Spielberg] purposely played that down because he said, at that time — we're talking about 1985 — he didn't want it to only get played in the artsy theaters.
So when the Oscar nominations came through, was it seen as historical, like you were representing the race?
I think we were just glad to be part of a Class A project. As far as representing other people, [there was a] discrepancy in what the film was about. So many [black] people at that time wanted the film to represent them because we hadn't had a film in five years, [since] "Sounder" with Cicely Tyson and Paul Winfield. But our people at that time were hungry to see our images on film, and we wanted those images to represent ourselves.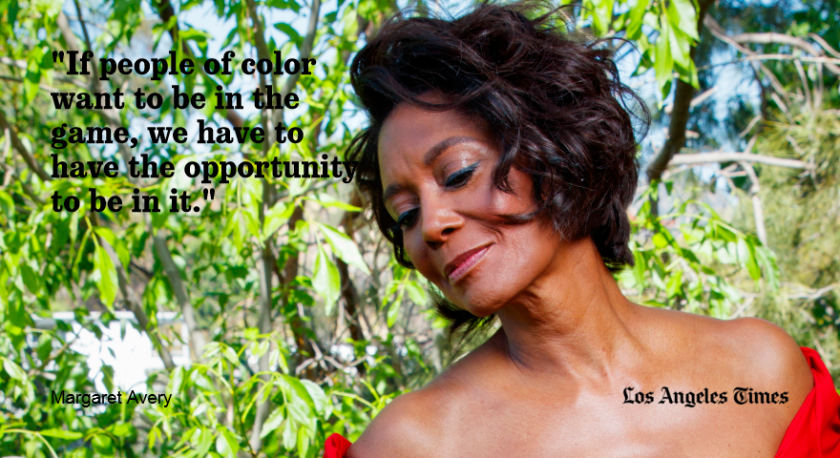 The academy is at the center of the diversity conversation again. Is the #OscarsSoWhite criticism warranted?
Yes. When you look at the Oscars and there are films where you see no people of color in them nominated, what does that say? We can't just put our heads in the sand. We've been doing that for decades, but it's time to change. My whole thing is that if people of color want to be in the game, we have to have the opportunity to be in it. Viola Davis [in her Emmy acceptance speech] said it best. If you don't have films that allow us that opportunity, where are we?
Blame has been tossed to either the academy or Hollywood studios.
The academy is only showing the movies out there. It's higher than the academy, at the studios. We need to be able to greenlight different kinds of films. They say it's all based off box office — they want to make money. But there are "black films" that make money, and once something makes money that they thought wouldn't, you can't make it stop. ... But if it's five men making the decisions and they're all in the same camp, it's going to be all of the same kind of films [in the theaters].
An oft-repeated belief is that films with black leads don't sell or travel to international markets, even though there are examples that say otherwise. It seems like the industry has yet to catch on.
To that I want to say B.S. I don't think they want to catch on. So many films [with diverse casts, like "Star Wars: The Force Awakens" or "Straight Outta Compton"] did well. So what is their argument? It boils down to maybe they just don't want to. So we've got to change the game. Black films are marketed differently. We get less money for pay. What's up with that? That's why I like being in white projects, because I get more money. [laughs]
We rarely hear talk of the pay gap between white actresses and black actresses. Why?
Well, one thing about it is you don't go around saying, "I got this much for a film." It's kind of a personal thing. I don't know what anyone else makes, but any time actresses of color get a lead role, I always think, "Well, I hope she's getting at least what the white actress would get."
What then is the solution to all of this?
I hate to use the word that Bernie Sanders uses — and I'm not saying I'm going to vote for him or anything — but that word is "revolution." There are a lot of things that just have to be changed, and change doesn't always come easy, but we have to make the change. One thing I know is that people of color are spending a lot of money at the box office. Are they tired of it?
What are your thoughts on the academy's newly announced changes?
I think it's a step, and I know there are probably some glitches, but they'll get those straightened out. The academy wants to be fair. One thing I read was that people who are no longer in the profession [will have their membership evaluated] to see what they are doing to remain current to say their vote has validity. I think that's a good thing.
Some other members worry that diversifying the membership will reduce the caliber of films recognized.
That's what diversity is. Everybody's not going to like the same thing, and it's good to be able to recognize the good in things. The academy membership should be different people who like different things and [they should] give different [films] the equal opportunity to be voted on. We can't play God and say one kind of thing is better than the other.
What were the films you enjoyed this year?
I liked some of the foreign films, but you've got to read their subtitles. But I get tired of seeing the money films get all of the play. I almost feel like we've got a little Congress in our industry being paid off. There is other stuff out there to see, but it's only the ones that get the big money that are really pushed for the to public see.
You're doing television right now, a space said to be the prototype for the film world. What can the film industry learn from TV?
And music, absolutely. That's how we know there are some little hands trying to control what's going on with the film industry. They're behind the times.
There are plenty of ideas out there [for scripts that would diversify the industry], but they don't get the green light. We need people in the position to be able to give that greenlight, and that's at the studios.
Twitter: @TrevellAnderson

ALSO:
91% white. 76% male. Changing who votes on Oscar won't be easy.
How TV beats film in giving women and minorities greater opportunities on screen
Oscar diversity: It's been 54 years since a Latina took home an Academy Award
---
The complete guide to home viewing
Get Screen Gab for weekly recommendations, analysis, interviews and irreverent discussion of the TV and streaming movies everyone's talking about.
You may occasionally receive promotional content from the Los Angeles Times.