Noah Baumbach, Dustin Hoffman, Ben Stiller and Adam Sandler make 'The Meyerowitz Stories' a family affair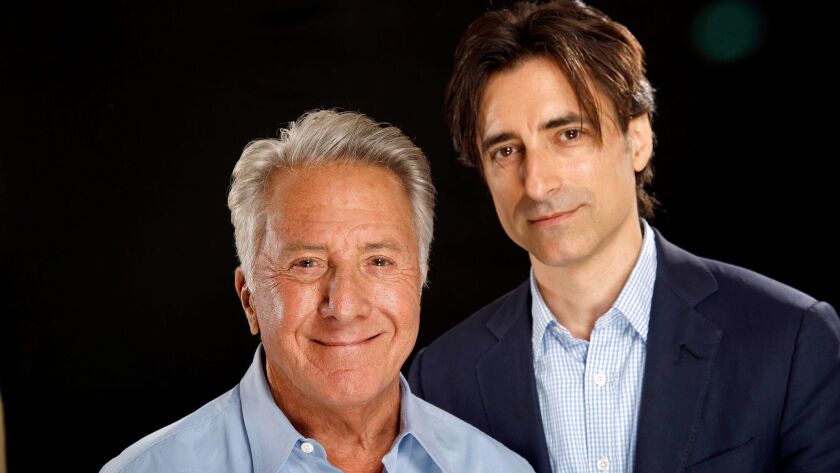 The dynamics of family, the connections that do and do not bind people together, have long been a preoccupation for filmmaker Noah Baumbach. After exploring them in films such as "The Squid and the Whale," "Margot at the Wedding," "While We're Young" and "Mistress America," Baumbach pushes further into the unknown territories of someone else's family in his latest, "The Meyerowitz Stories (New and Selected)."
And making the movie brought together an unusual family of its own. The project marks the third collaboration between Baumbach and leading man Ben Stiller, who co-stars with Adam Sandler. Stiller and Sandler have known each other for many years and have long looked to find a project they could do together.
"The Meyerowitz Stories" began after a few conversations among the three men, in which it was decided that the actors should play brothers and that there should be a physical fight between them. Baumbach went off and wrote the script, adding in additional ideas.
When it came time to think about who could play their father, only one name seemed right. Both Stiller and Sandler had relationships with Oscar-winning veteran Dustin Hoffman, and Baumbach sent him the script.
"I turned it down after I read it. I've done that for about 50 years," said Hoffman, sitting with Baumbach for a recent interview.
"It puts me in very good company," said Baumbach. "He turned down Ingmar Bergman."
Hoffman was eventually persuaded to participate, and his spry, quixotic performance is, like the movie itself, both comic and deeply felt.
In the film, Harold Meyerowitz (Hoffman) is an aging sculptor who has never been as successful or as celebrated as he thinks he should have been. Sons Danny (Sandler) and Matthew (Stiller) have each responded to life in his shadow in different ways. Danny is a talented musician but without much success, while Matthew is a very successful business manager. Harold's daughter Jean (Elizabeth Marvel) is largely pushed aside in wake of their unspoken rivalries.
The cast also features Emma Thompson as Harold's current wife, Candice Bergen as one of his ex-wives and Grace Van Patten as Sandler's daughter, who is just off to college at Bard, where Harold previously taught.
In conversation, Hoffman still seems jazzed about acting, both as a craft and an art form, but also as a means to explore the contours of the human condition.
"Truthfully, I'm jazzed about being alive," Hoffman said. "Behavior means it's the emotional information of the person. And we just do it. It's a corny thing to say, but to answer the question about acting, you're changing. Or you should be. I'm … 80 years old. What does that feel like? That's new information for me. And that has to affect somehow how I work or what I do."
Baumbach is known for being a rather exacting filmmaker, being extremely specific about the words in his scripts and their rhythm, the choreography of the actors and the camera and for shooting many, many takes. In an unlikely way, Hoffman's eternal questioning and Baumbach's rigorous exactitude are made for each other.
"His engagement in acting is he sees everything. Even when you think he doesn't," said Baumbach. "He's a great collaborator on the movie as a whole. He'll point things out, and he sees behavior, and you think you're getting away with something, and he'll notice. It's partly why he is the actor he is; both intellectually [and] intuitively, he understands behavior in others and in himself."
It's partly why he is the actor he is; both intellectually but also intuitively, he understands behavior both in others and in himself.
— Noah Baumbach on Dustin Hoffman
The unusual structure of "Meyerowitz Stories" keeps Stiller and Sandler from appearing on-screen together until relatively late in the story.
"There were a lot of false starts and different ways I tried to write it," said Baumbach. "I think when I thought of it as short stories that were connected and had maybe been anthologized later, that helped me."
Baumbach said he wanted to explore the "compartmentalization" that happens in certain families, "particularly in the case here where there are different marriages and [the siblings] have different moms.
"And making a movie with Ben and Adam and not having them appear in the same [scenes] for a while, there was something maybe perverse but also interesting about that."
Stiller found that the ongoing collaboration with Baumbach allowed him to push further every time in exploring both the humor and the drama in the story.
"He writes in such a specific cadence, his dialogue, it's kind of natural, but also has a rhythm to it that's intentional," Stiller said in a separate interview. "He's not worried about trying to make it funny all the way across the board, he just wants to tell the story and put the characters out there. He's unapologetic with his characters, showing both the good and the bad."
The picture premiered this year at Cannes, the first time Baumbach has been part of the festival's prestigious main competition slate, and also recently played at the New York Film Festival. Released by Netflix, it is scheduled for a limited theatrical release and will also be available on the streaming platform starting Oct. 13.
While Baumbach has at times been cagey about what is and isn't drawn from his own life and the lives of his family in his earlier work, with "The Meyerowitz Stories," he is quite open that Harold Meyerowitz is based on his paternal grandfather, Harold Baumbach, some of whose paintings can be seen in the film.
"I think one of the things the movie was about for me was, 'What is success?,'" said Baumbach. "And that's the case for all the people in the family, who are all measuring their own success by artistic success. Ben is wealthy but feels like a failure, Adam is not a failure as an artist but isn't a successful artist, so he feels like a failure, but he's a wonderful father. And it's all because Harold has set the dial. It's defined by him."
Much like the way in which Harold Meyerowitz has distinct relationships with his two sons, so too does Hoffman have distinct relationships with his two main costars. Stiller and Hoffman had worked together on the successful "Fockers" franchise. Hoffman and Sandler first met more than 20 years ago under very different circumstances: After Hoffman's children saw "Billy Madison," they asked him to invite Sandler over for dinner.
"They said, 'We've never asked you to invite someone over for dinner, but we want to meet Adam Sandler,'" said Hoffman. "I said, 'Who's that?'"
Sandler shared his memories of the evening during a recent Q&A session after a screening of the film in Los Angeles: "I got there and I was scared, so I sat in my car for an hour. But Dustin was great to me, and he has always been very friendly."
Having that pre-existing relationship allowed Sandler to focus more fully on creating his own version of Danny. "I think I had 30 different thoughts on my character before we zeroed in on how I should do this guy," Sandler said. "I talked to Noah and I was a nervous wreck and I didn't want to ruin something I thought was so incredible, so we all dug in very hard."
Hoffman pointed out something he thought he saw Sandler doing in his performance.
"You don't like to talk to another actor about what they're doing because they get self-conscious," Hoffman said during the same Q&A. "Since Adam and I know each other, I said, 'Adam, I think I know what you're doing.' And he said, 'What?' And I said, 'If you're doing it consciously, it's a very brave thing. I think you're playing yourself as if you had been a failure.' He was hitting close to himself. I think that's what he's doing, and I was moved by it day to day."
In response, Sandler said simply, "I keep it private, and I really don't know."
For Sandler, the role marks another in his occasional forays into melding his comedy work with something much more deeply emotional. Asked if he approaches his work in films like "The Meyerowitz Stories" or "Punch-Drunk Love" or "Funny People" different from the broader comedies on which he staked his fame, he said, "Absolutely.
He added, "I mean, one thing in common is I work as hard as I can possibly work. I believe in everything I do. My process is just a lot of hours. I'm consumed with making sure I don't feel any regret at the end of a work day. And of course you do, you go home and think, 'Oh, I should have done this or that,' but I go in with full intent to do my best.
"But with this particular movie and working with Noah, and knowing what it meant to Noah and how deeply it affected me reading it and my fellow actors, I just knew it was a special moment."
Follow on Twitter: @IndieFocus
ALSO
Noah Baumbach on why he cast Adam Sandler for the role that's earning the actor new respect
Ben Stiller draws from his experiences as both a father and a son in two new character-driven films
---
Get the Indie Focus newsletter, Mark Olsen's weekly guide to the world of cinema.
You may occasionally receive promotional content from the Los Angeles Times.