'We're proud of each other': For Norman Lear and his son Ben, the moving picture spans generations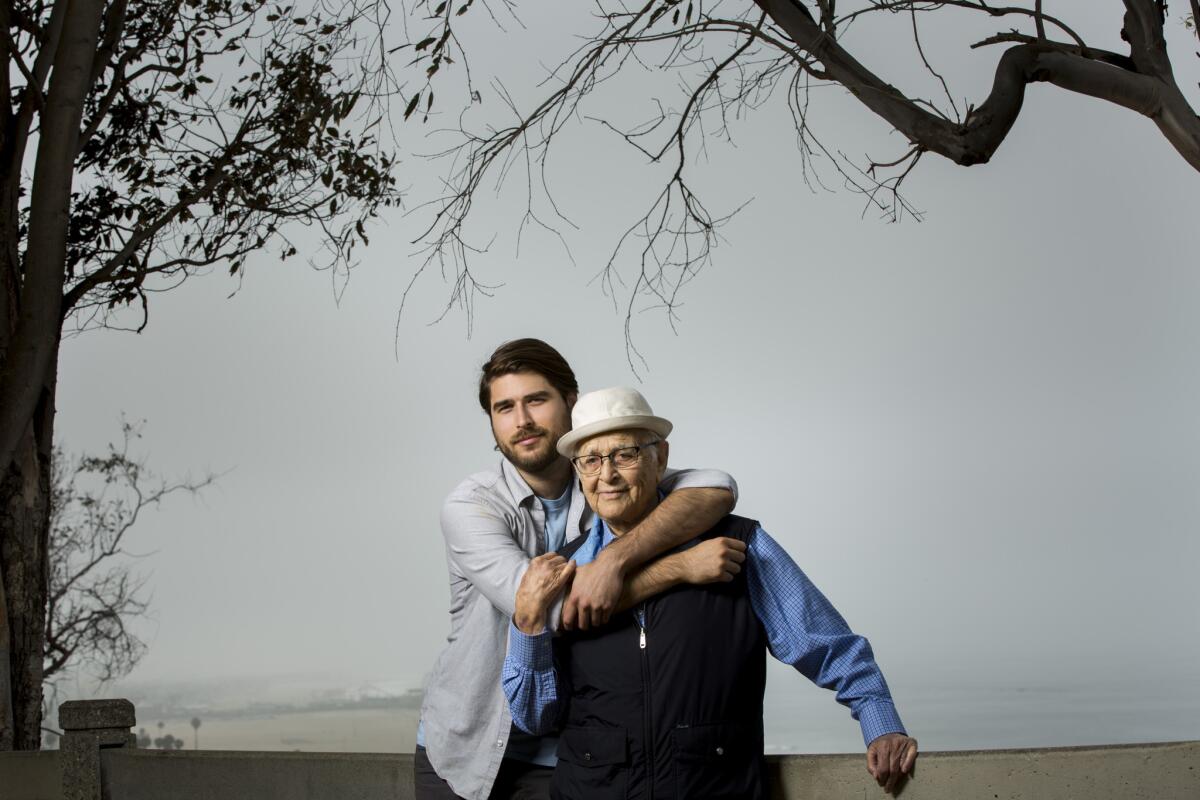 When he was growing up, Ben Lear had a general sense that his dad was a big deal. He just wasn't entirely clear on why.
The trailblazing TV sitcoms that Norman Lear had produced in the 1970s – shows such as "All in the Family," "Good Times" and "Maude" – were all long off the air before Ben was even born.
"I knew he was a pretty big-time guy from very early on, but it had already been a whole generation since those shows were filling the airwaves," Ben Lear, 27, said on a recent morning as he shared breakfast at a Brentwood cafe with his father, who is 93. "I knew the characters. I had seen scenes of them. I could feel his humor and perspective in them. But I hadn't really dug in."
Instead, Ben has fond memories of bonding with his dad over episodes of "South Park." "That was the 'All in the Family' for us," he said.
The elder Lear smiled and nodded. "For me, too."
These days the Lears have something very different to bond over. Ben is making his directorial debut with the new documentary "They Call Us Monsters," a wrenching and thought-provoking look at the lives of three juvenile offenders that premiered at the Los Angeles Film Festival earlier this month. Meanwhile, his father is the subject of the forthcoming documentary "Norman Lear: Just Another Version of You," directed by Heidi Ewing and Rachel Grady, which premiered in January at the Sundance Film Festival and will begin rolling out in theaters next month.
"The fact that I'm putting my first thing out and they're both documentaries – there's a synergy there that feels really special to me," said Ben, who began making short films when he was in middle school before eventually going on to study music composition at New York University. "We're proud of each other."
The younger Lear is the fourth of Norman Lear's six children – his mother, Lyn, is Lear's third wife, to whom he's been married for nearly 30 years – and was born when his father was 66 years old. With such a vast difference in age, it would be easy to imagine some unbridgeable Archie Bunker-and-Meathead generation gap between the two. But for Norman Lear, who credits yoga and a penchant for eating salad for breakfast in part for his continued good health, age has always been a relative thing.
I feel I'm the peer of whoever I'm talking to. If I'm with a 6-year-old, that's the level I'm dealing with. So I was kind of growing up with my kids.
— Norman Lear
"I didn't feel my age at all – I didn't think I was 66 the way I hear other people who are turning 60 carry on," said the elder Lear. "I feel I'm the peer of whoever I'm talking to. If I'm with a 6-year-old, that's the level I'm dealing with. So I was kind of growing up with my kids."
That's not to say Ben wasn't keenly aware growing up that he had an elderly dad. "I have a cousin who's the same age as me, and my uncle would be like, 'Let's hop in the speedboat and we'll jet ski,' " he said. "I remember thinking, 'Man, I wish my dad drove a speedboat and took us inner-tubing and stuff.' But then I'd quickly come back around to: Would I trade it? And the answer was always no."
Speedboat or no speedboat, as the years have passed, Norman and Ben Lear have found deeper ways to commune with each other.
"In the course of writing my book [the 2014 memoir 'Even This I Get to Experience'], I went into therapy to help me dig as deep as I could and I grew up a lot," Norman said. "Ben and I were both growing up at the same time. One of the great secrets is that the journey to adulthood never ends."
His son agrees. "I think we've both reached levels of self-awareness that have allowed us to look at the past with totally clear eyes and have a really authentic relationship," Ben Lear said. "He's 93 and I'm 27 and we can trade stories about, 'Man, I just figured this thing out about myself the other day.' We have a closer relationship now in the last four or five years than we had before."
With that, Ben Lear noticed a small bit of food stuck to his father's chin and reached over to wipe it away.
"That could have happened at 70, too," Norman said wryly.
Ben laughed. "You talk about what it's like having an older dad? I've been doing that all my life."
josh.rottenberg@latimes.com
MORE:
When Norman Lear gets with Chuck Lorre, the laughs are king
Alfonso and Jonás Cuarón on collaboration, passion and 'Gravity'
For father-daughter duo Clint and Alison Eastwood, directing is a family business
LAFF: Ben Lear tackles juvenile offenders in the 'They Call Us Monsters' doc
Get the Indie Focus newsletter, Mark Olsen's weekly guide to the world of cinema.
You may occasionally receive promotional content from the Los Angeles Times.