For father-daughter duo Clint and Alison Eastwood, directing is a family business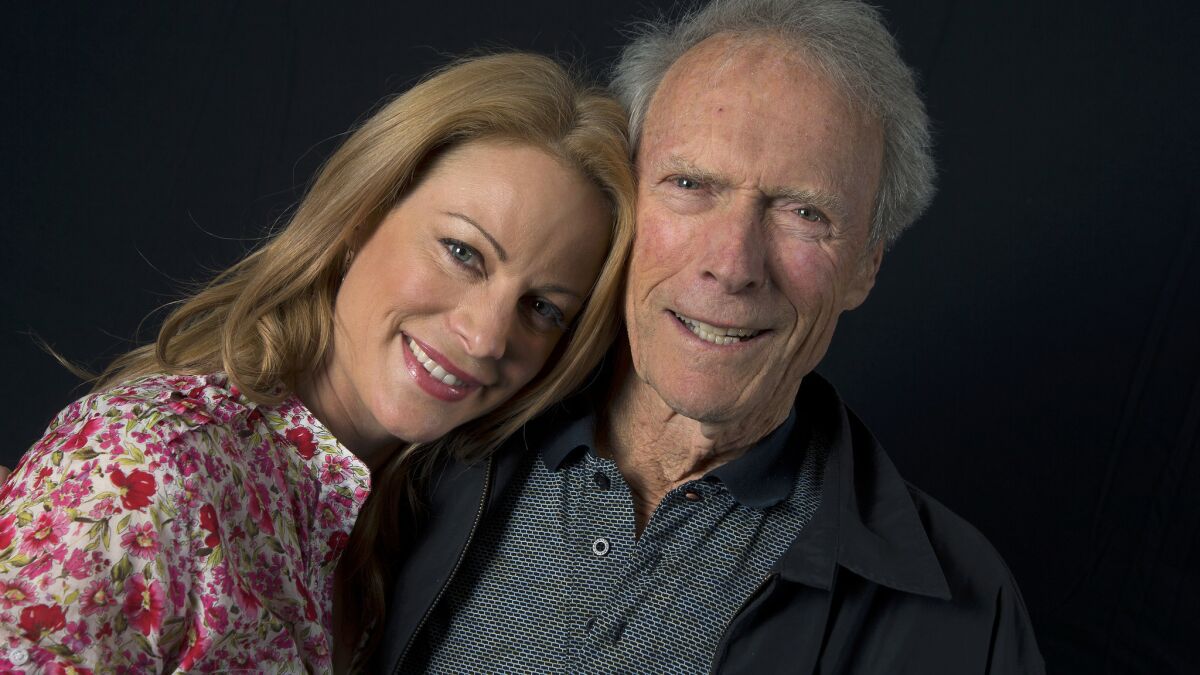 Few people can get away with teasing a man like his daughter can.
On a May afternoon, in a small office at his Malpaso Productions on the Warner Bros. lot, Clint Eastwood and his daughter Alison were discussing the 86-year-old director and actor's career advice to his children.
"I just said, whatever you do, do it well," Clint said. "If you're going to be a phone operator, be the best phone operator."
"Phone operator was my backup career," Alison said, drily, provoking an amused smile from her dad.
"I guess they don't really have phone operators any more, do they?" Clint said.
Instead Alison, 44, entered the family trade. Her second feature as a director, a Mississippi-set drama called "Battlecreek," recently played the Santa Barbara and Newport Film festivals. The movie, which does not yet have a distributor, is based on a script by Alison's childhood friend from Carmel, Anthea Anka, the daughter of singer-songwriter Paul Anka, and stars Bill Skarsgard as a young man with a rare skin disorder that requires him to live his life at night.
Made for $1.5 million and backed by a solo, Texan financier named Michael G. Wallace, "Battlecreek" was a family affair in many respects. Alison's older brother, Kyle, a jazz musician who lives in Europe, composed the score; her husband, sculptor Stacy Poitras, worked on the production design; some of her father's longtime associates, such as editor Gary Roach, helped on the post-production.
The daughter of Clint's first wife, Maggie Johnson, and one of his sprawling brood of eight children, Alison shares some obvious qualities with her father -- they're both long-limbed and unpretentious, and they love animals. When she's not making movies, Alison runs the Eastwood Ranch Foundation, which rescues animals from high-kill shelters. Clint, who hand feeds the squirrels outside the Malpaso offices, briefly and excitedly interrupted the interview to show his daughter a picture of a baby possum that had recently shown up at his building.
Clint Eastwood has come a long way since his stint on the classic TV western "Rawhide," with 2014's "American Sniper" being his latest work as a director. In the decades between, he's left his mark on dozens of films in one of Hollywood's most storied careers. Here are some highlights.
(Robert Gauthier / Los Angeles Times)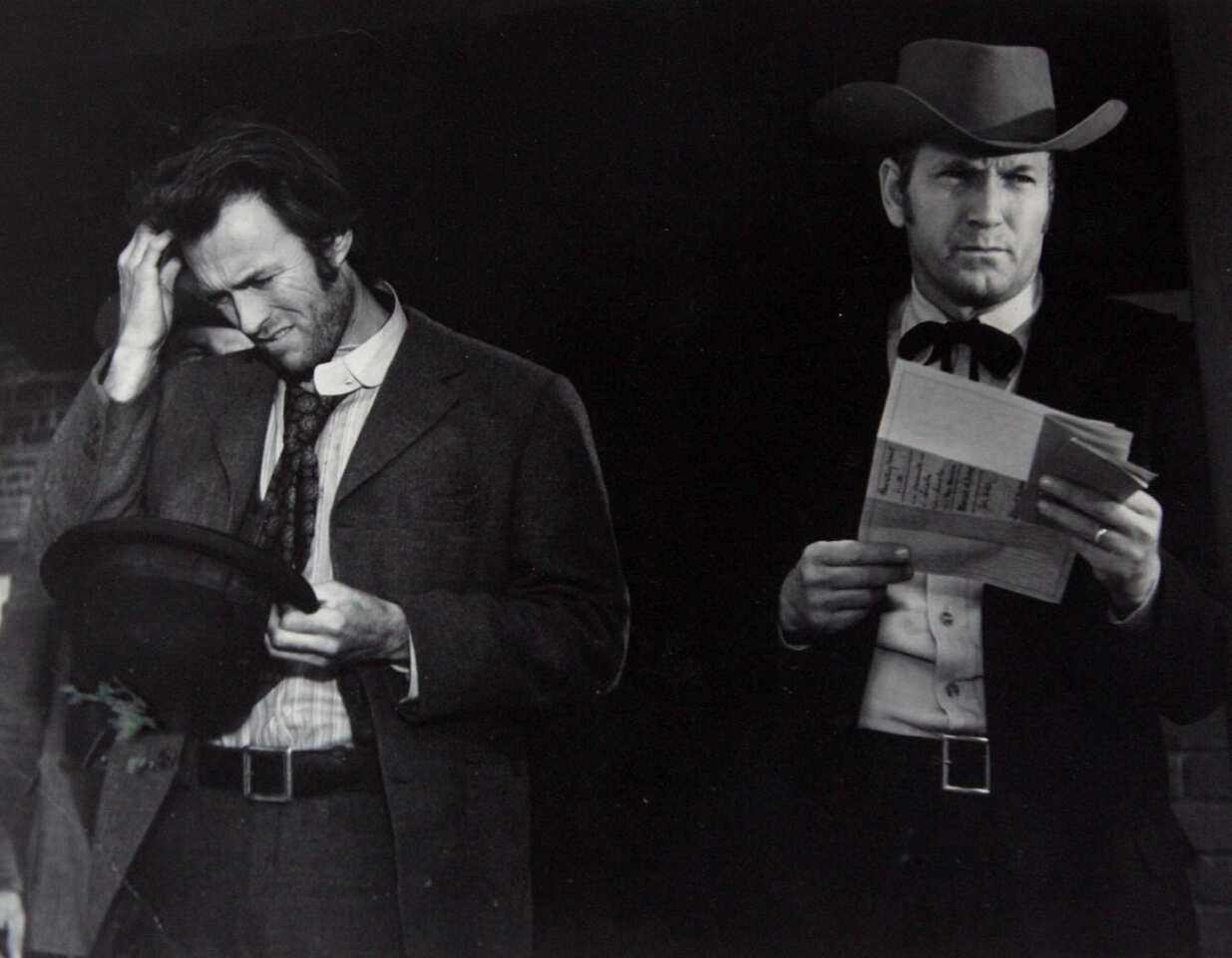 Clint Eastwood, left, and Gregory Walcott on the set of "Joe Kidd," 1972.
(Bob Chamberlin / Los Angeles Times)
"Letters from Iwo Jima," starring Ken Watanabe as Gen. Kuribayashi, was the second of two WII dramas that Clint Eastwood directed in 2006.
(Merie W. Wallace / AP Photos)
Clint Eastwood directed "Jersey Boys" in 2014. From left, Erich Bergen as Bob Gaudio, Vincent Piazza as Tommy DeVito, John Lloyd Young as Frankie Valli and Michael Lomenda as Nick Massi.
(Keith Bernstein / Associated Press)
Eastwood directed 2014's "American Sniper" starring Bradley Cooper as Navy SEAL sharpshooter Chris Kyle. The film earned Eastwood a Directors Guild of America nomination.
(Keith Bernstein / Associated Press)
On this afternoon, Clint was in his office to look at some final visual effects shots on "Sully," his upcoming film starring Tom Hanks as the US Airways pilot who heroically landed a plane on the Hudson River in New York, which Warner Bros. will release in September. It's Clint's first film since 2014's "American Sniper," which set box office records and earned six Academy Award nominations, including best picture.
We are besieged by every type of franchise film -- remakes, sequels. When can we start bringing back real human beings' stories?
— Alison Eastwood
"He still manages to make films about real people, and people go see them," Alison said of her father's work. "We are besieged by every type of franchise film -- remakes, sequels. When can we start bringing back real human beings' stories?"
Clint said he has always avoided giving thought to a film's commercial prospects, a luxury Alison, who is in the midst of meeting with potential distributors for her film, doesn't quite have.
"I didn't know if 'American Sniper' was going to do well," Clint said. "I just thought the story was interesting, the character and the dramatic circumstances. I don't think I've ever made a picture because I thought it was going to make money. If you start by thinking about the end result, you're probably going to end up disappointed."
Alison grew up slapping the clapperboard on her father's film sets and stealing cookies from the craft services truck, and made her screen debut at the age of 7 in her father's movie "Bronco Billy" before going on to play a larger role as Clint's daughter in "Tightrope" when she was 11.
"It's been a great pleasure to grow up in the business and have experiences I never would have had unless he was who he is," Alison said. "I cherish those. It's always difficult not to live in somebody's shadow, but as long as you do your own thing and find your own voice, you can navigate through it."
Navigating that road got harder in adulthood, Alison said, as she appeared in Clint's "Midnight in the Garden of Good and Evil" and a smattering of independent and TV films without finding her niche as an actress. In 2007 she made her directorial debut with "Rails & Ties," a Warner Bros. drama starring Kevin Bacon and Marcia Gay Harden that got mixed reviews and drew little interest at the box office.
"Sometimes [being an Eastwood] gives people a preconceived idea of who you are, which isn't always good," Alison's brother, Kyle, said, talking by Skype from France. "My dad's always given us the advice to be serious about what you do and work hard at it, and Alison has done that."
I want the same thing for them that every parent wants. For them to have a good life, a healthy life. You try to give them ideas about certain things.
— Clint Eastwood
"I want the same thing for them that every parent wants," Clint said, of his kids. "For them to have a good life, a healthy life. You try to give them ideas about certain things. My youngest daughter, Morgan, when I'd drop her off at school, she'd say, 'You can drop me off here. It's OK.' The first couple times it happens you think, 'Hey, they're ashamed of me!'"
The dad-shaming can't be all that bad -- Morgan recently tweeted an old picture of her father at the Oscars with Harrison Ford and Steven Spielberg with the words "squad goals."
"I'm sure I did that too," Alison said, of distancing herself from her famous father as a teen. "But you come back around and think, 'Why would I ever have thought that person was a big dork? I love that person!' It's human nature to create that separation and then you make your way back around."
Follow me on Twitter @thatrebecca.
ALSO:
Clint Eastwood on why 'American Sniper' was so big
Alfonso and Jonás Cuarón on collaboration, passion and 'Gravity'
For Norman Lear and his son Ben, the moving picture spans generations
---
Get our L.A. Goes Out newsletter, with the week's best events, to help you explore and experience our city.
You may occasionally receive promotional content from the Los Angeles Times.