Alfonso Cuarón and son Jonás on collaboration, passion and 'Gravity'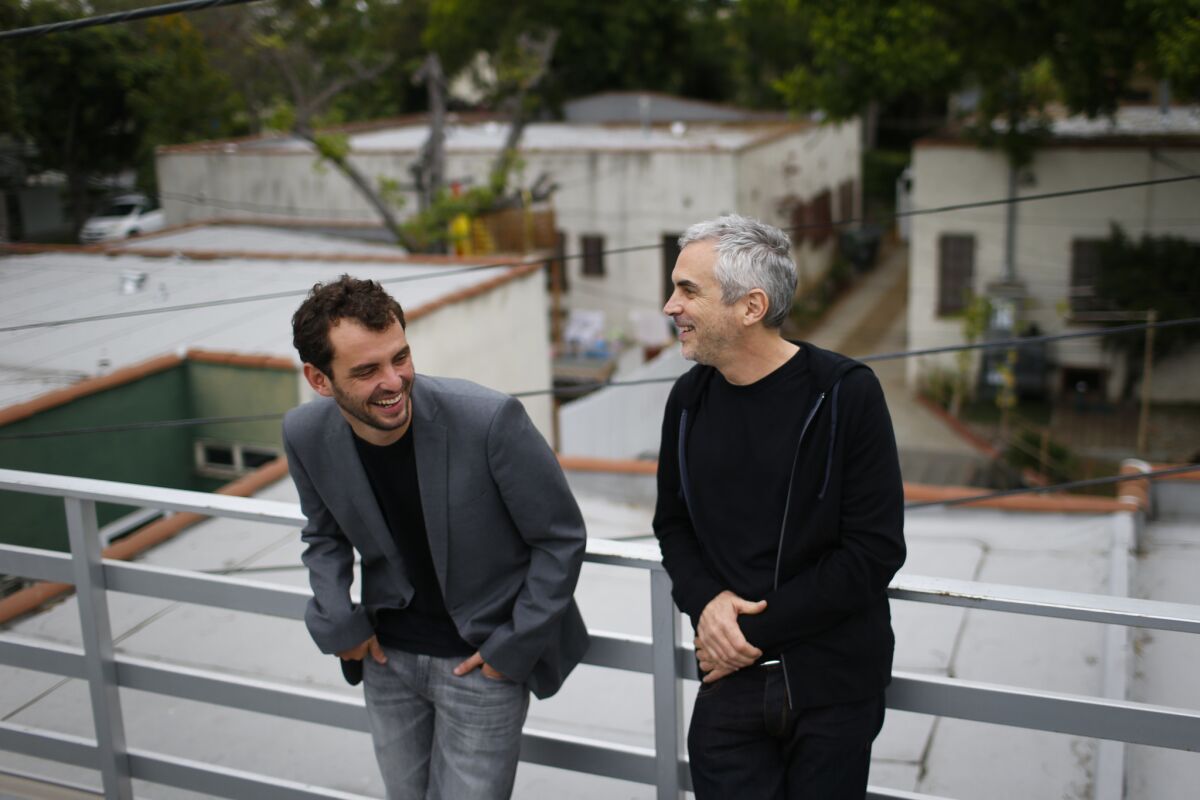 Jonás Cuarón never thought he'd follow in his father's footsteps.
As the son of Alfonso Cuarón, the Mexican director of such films as "Y Tu Mamá También," "Harry Potter and the Prisoner of Azkaban" and "Children of Men," Jonás grew up watching his dad work on movie sets and hearing him continually rave about this or that cinematic classic — none of which held all that much appeal.
"He would pitch me all his scripts to entertain me on car rides," Jonás, 33, recalled one recent afternoon, sitting outside a West Hollywood photo studio beside his father, who is 54. "He kept wanting to show me good cinema, but I didn't want to watch black-and-white movies. I never myself wanted to do cinema."
Well, so much for all of that.
While studying art and English literature at Vassar College in the early 2000s, Jonás became entranced by filmmaking and has since worked to establish himself as a screenwriter and director in his own right.
Jonás made his feature debut with the 2007 drama "Año Uña" and collaborated with his father on the screenplay for the 2013 sci-fi hit "Gravity," which was nominated for best picture and earned the elder Cuarón an Oscar for directing. Now Jonás has directed the upcoming film "Desierto," a brutal, stripped-down thriller starring Gael García Bernal as a Mexican migrant being chased by a sadistic American vigilante (Jeffrey Dean Morgan) who hunts border-crossers for sport.
With the elder Cuarón on board as a producer, "Desierto" is set to be released on Oct. 14, just weeks before the climax of a presidential campaign in which the topic of immigration has been, to put it mildly, a hot-button issue. An allegory about xenophobia and intolerance wrapped in the trappings of a survival horror film, the movie, which was given the closing-night slot earlier this month at the L.A. Film Festival, is certain to spark discussion.
"In the context of the election, it's going to be very interesting," Alfonso said. "It seems that speech of hate has been kind of accepted and dialogue has become: 'You're stupid!' 'No, you're stupid!' This isn't a rhetoric film, but if it can open more of a real dialogue, that is so important."
The elder Cuarón is clearly proud of what his son has accomplished. "I wish my first film had the assurance 'Desierto' has," he said. Still, as a young father raising Jonás, the first of his three children, he admits he had actually hoped at first to steer his son away from a career in cinema. He knew firsthand how difficult it was to make one's way as a filmmaker, and trying to do it under the shadow of a successful father promised to be that much harder.
"I wish he had been a doctor. The reason I was pushing him away from film was love. I was thinking, 'You're a smart guy! You have potential!'
— Alfonso Cuaron
"I kept pushing him into other stuff," Alfonso said. "I wish he had been a doctor. A doctor in the family is always a good thing, you know? The reason I was pushing him away from film was love. I was thinking, 'You're a smart guy! You have potential!' "
For the Cuaróns, however, the benefits of cinematic collaboration have flowed both ways. "I think an important part in any craft is finding a teacher," said Jonás, "and in that sense I was able to skip that whole part because I had such a great mentor right close to me."
For his part, Alfonso believes working with his son has helped to keep his own work vital. "When I started working with Jonás on 'Gravity,' I remember him telling me, 'I like your films. Your films are alright. It's just that you like all this philosophy and stuff – it's a bit boring.' "
He laughed. "My theory is that the older collaborator has to be wise enough to be receptive to what the younger collaborator has to say," he said. "If we as artists are not connecting with the times and with the new generations – that's been the doom of amazing master filmmakers."
josh.rottenberg@latimes.com
MORE:
Catch 'Field of Dreams' at the Crest for Father's Day
For Norman Lear and his son Ben, the moving picture spans generations
For father-daughter duo Clint and Alison Eastwood, directing is a family business
---
Get our L.A. Goes Out newsletter, with the week's best events, to help you explore and experience our city.
You may occasionally receive promotional content from the Los Angeles Times.