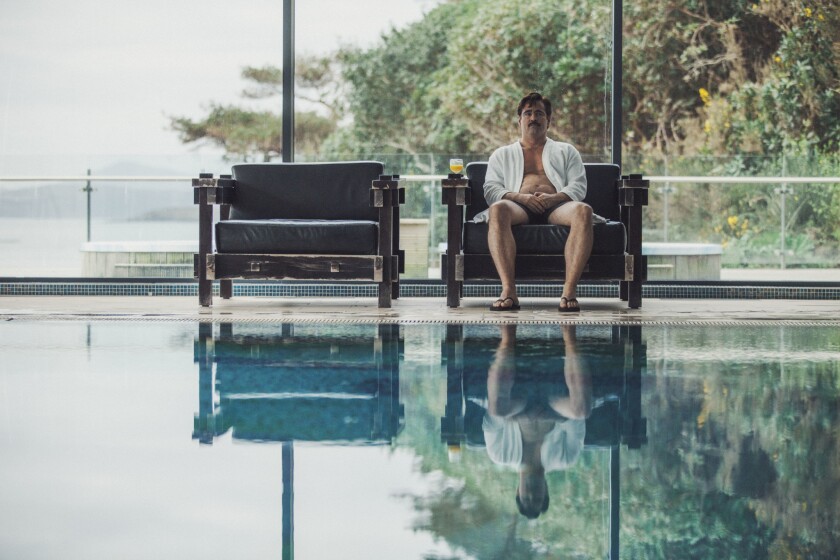 Ask most filmgoers about the summer movie season and the consensus would be that it was a disappointment. Films made from the seemingly surefire formula of sequels and reboots with built-in audiences nevertheless seemed to let down critics and audiences alike week after week.
From "X-Men: Apocalypse" through "Independence Day: Resurgence" to "Suicide Squad," it seemed tentpole movie after movie arrived with outsize expectations and diminished results.
Yet over that same period the story around the corner at the art house has been quite different. From beginning to end the summer was full of fresh, engaging movies, both in the stories filmmakers told and the storytelling with which they told them.
And although none of these films has been a huge crossover hit, there have been some surprise successes, such as the nearly $14 million for Whit Stillman's adaptation of a relatively obscure Jane Austen story in "Love & Friendship" and more than $9 million for Yorgos Lanthimos' dystopian rom-com allegory "The Lobster."
SIGN UP for the free Indie Focus movies newsletter »
These films come from a mix of veterans working with renewed vigor and new talents finding their voices. Do not be surprised if these are titles that hang around in the award season conversation even as the fall's prestige titles are unveiled, acting in a sense as poll-position placeholders stubbornly refusing to be knocked from their perches.
Still, many people say that it's not worth it to go out and see these films in theaters; they prefer to watch them on VOD or a streaming service.
I beg to disagree. With the world and this election feeling particularly tumultuous, the fact is that these indie movies — as strange and jarring as some of them they may be — have all made me feel better, have given me hope. And that definitely seems worth leaving the house for.
So as a recap of the summer – and perhaps to give some a head start in lining up their digital queues to catch up on titles they've missed – here is a run-down of some of the best of what's been multiplex-adjacent this season.
Feeling inventive
The idea of Stillman adapting Jane Austen with "Love & Friendship" sounded so perfect it was hard to believe that he hadn't actually done it already. Austen's acuity with manners and social formalities and the way they shape and inform people's emotions and behaviors was a perfect template for the maker of "Metropolitan" and "The Last Days of Disco."
What was unexpected was the brio and energy he brought to it, as he sharpened the wit of Austen's dialogue and plotting into something both period and modern. Plus, Kate Beckinsale's performance as a social climber fighting against the downward slope revealed sides of the actress long forgotten by many audiences who were more familiar with her "Underworld" sci-fi thrillers..
In a sense, an Austen adaptation was a fresh take on a fairly traditional art-house item, and there were a few other films that also took the expected and turned it on its head. Luca Guadagnino's "A Bigger Splash" was a tale of domestic betrayal drenched in woozy, sun-stroke sensuality, with an undercurrent of critique of privilege and the dazzlingly attractive cast of Tilda Swinton, Ralph Fiennes, Matthias Schoenaerts and Dakota Johnson. Joachim Trier's "Louder Than Bombs" likewise took a family dysfunction drama and shattered its chronology to create something that felt new.
A number of films felt so unusual and disorienting in their storytelling that it could be hard to see how at their core they dealt with basic human emotions and interactions.
"The Lobster" is set in a world where single people are given 45 days to find a new partner or be turned into the animal of their choice. It is a deadpan absurdist essay on love and coupledom that is also deeply romantic, in no small part thanks to the performances of Rachel Weisz and Colin Farrell.
On a not unrelated note, in "Swiss Army Man" Paul Dano plays a suicidal man on a deserted island who comes across a corpse that initially only farts but comes to serve as a multipurpose survival tool and even friend and companion. Written and directed by the team of Daniel Kwan and Daniel Scheinert, credited together as Daniels, the film is deeply moving, about finding purpose and meaning in life through death and flatulence. Ben Wheatley's adaptation of J.G. Ballard's "High-Rise" comes to similar conclusions from something of the opposite direction, as it is a savage, nihilistic vision of human behavior that nevertheless manages to find enough scraps of human kindness, empathy and comfort to make life worth living.
All three of those films are in their own weird ways life-affirming. More straightforwardly so were a number of other films, perhaps the best example being Mike Birbiglia's "Don't Think Twice." A bittersweet comedy-drama about the dashed ambitions of an improv comedy troupe, this might be among the most upbeat movies ever made about failure, about the pain of realizing the path you are on is not the one for you and the relief of discovering something new.
Taika Waititi's "Hunt for the Wilderpeople" is a funny, warmhearted fable about a boy (Julian Dennison) who ends up on the run from the law in the wilderness with a begrudging foster father (Sam Neill), while Chad Hartigan's "Morris From America" is about an African American father and son (Craig Robinson and Markees Christmas), each dealing with feeling out of place in a small German town. Earnest stories of emotions, friends and family still have a place even in our current hyper-aware, ever-meta mentality.
A number of films smartly engaged with genre tropes and found new wrinkles from old cloth. Karyn Kusama's "The Invitation," written by Phil Hay and Matt Manfredi, was a slow-boil freakout horror thriller and also a playful satire of Los Angeles' go-with-the-flow social scene and exploratory spirituality. No one wants to look uncool at their friend's dinner party until it starts to seem maybe the new thing they are into is some kind of death cult.
Nicolas Winding Refn's provocative mystical horror fantasy set amidst the sleek world of the Los Angeles glamour industry, "The Neon Demon" is stylish and enticing, while also purposefully obtuse and full of psycho-magical confusion in its tale of desire, jealousy and revenge. Jeremy Saulnier's "Green Room," on the other hand, is a visceral movie that comes to feel all too real, as a struggling punk rock band takes a last-minute gig at a remote venue that turns out to be a white supremacist stronghold. They soon find themselves locked in a dressing room with a dead body and unsure whether they will ever get out.
The summer has ended with a real sleeper gem in "Hell or High Water," the recent release that seems to be catching audiences off-guard with its alternating currents of anger and sadness and surprisingly political undertone. Directed by David Mackenzie from a screenplay by "Sicario" writer Taylor Sheridan, the film is the story of two brothers (Chris Pine and Ben Foster) robbing small banks to make enough money to save their family ranch from foreclosure (the banks are the real bad guys here), all the while with a Texas Ranger (Jeff Bridges) close behind. The film's contemporary update of classic western tropes of outlaws and lawmen makes for a crackling good crime picture, sharp and satisfying as a pull off a cold Texas beer on a hot afternoon.
And this roll call still leaves plenty of fresh, exciting movies that don't fit within the above framework, such as Anna Rose Holmer's "The Fits," Brady Corbet's "The Childhood of a Leader," Rebecca Miller's "Maggie's Plan," Ira Sachs' "Little Men," Matt Ross' "Captain Fantastic" or Jake Paltrow and Noah Baumbach's documentary "De Palma."
To note the inventory of quality at the art house this summer is to also acknowledge that even as cinema culture seems in a moment of transition, it is not an overall crisis of imagination or inspiration.
Issues of diversity in front of and behind the camera remain genuine concerns, as is the apparent ongoing shift away from theatrical attendance. Yet these movies prove that real filmmakers will always find a way to tell their stories.
Follow on Twitter: @IndieFocus
ALSO
Fall movie guide: 'Sully,' 'Girl on the Train' and more
How director Karyn Kusama got her indie groove back with 'The Invitation'
Chris Pine and Jeff Bridges celebrate the 'cowboy poetry' of modern western 'Hell or High Water'
'It's like we were all possessed': The stars of 'Neon Demon' confront its stylish darkness with director Nicolas Winding Refn
---