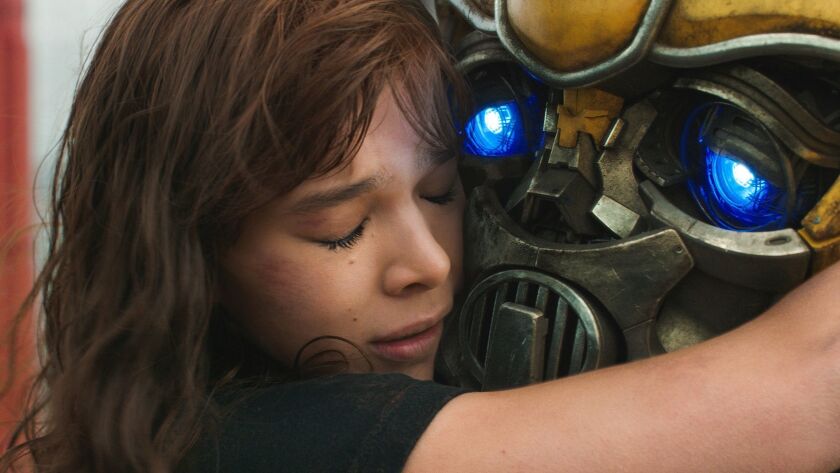 New on Blu-ray
"Bumblebee" (Paramount DVD, $29.98; Blu-ray, $37.99; also available on VOD)
The "Transformers" movies have made billions of dollars at the domestic and international box office but have never really been renowned for their wit, emotion or performances. That all changes with the franchise's latest chapter. This prequel picture, set in 1987, has the feel of an '80s multiplex classic — like "E.T. the Extra-Terrestrial," say, or "WarGames," or "Pretty in Pink." The always superb Hailee Steinfeld stars as Charlie, a California high school gear-head who stumbles across the title character: a rebellious alien robot on the run from his planet's authorities, hiding out on Earth in disguise as a yellow VW Beetle. While Bumblebee, Charlie and her smitten next-door neighbor Memo (Jorge Lendeborg Jr.) flee both the rival 'bots and a covert U.S. government agency, the kids also deal with their adolescent angst and raging hormones. The result is an action film that sports plenty of flashy special effects sequences, but also has the heart of a good teen melodrama.
[Special features: Deleted scenes and featurettes]
Review: 'Bumblebee' is a sweet, refreshingly small-scaled 'Transformers' prequel »
VOD
"The Wind" (available April 5)
The eerie horror-western hybrid stars Caitlin Gerard as a 19th century pioneer living with her family on a vast plain, with only one other home in the vicinity. Gerard, director Emma Tammi and screenwriter Teresa Sutherland emphasize the inherent loneliness of life in the middle of nowhere, such that when the heroine begins to believe that the whipping winds on her homestead are actually evil spirits, the audience wonders whether she's genuinely under attack or just going mad. It's a different kind of genre piece — more subtle than jolting — but it makes great use of its stark setting and jittery lead performance.
TV set of the week
"My Brilliant Friend" (HBO DVD, $49.99)
The anonymous Italian author who goes by the name Elena Ferrante has sold more than 10 million copies worldwide of her four "Neapolitan novels," which together tell the decades-spanning story of two women who become best friends as little girls in the 1950s, then are pulled apart by circumstance and their country's deep socio-cultural divisions. This Italian-American co-production, which ran on HBO in the United States, adapts the first book of the series into eight hour-long episodes, each of which is rich with the kind of detail about friendship and childhood that have made Ferrante's books modern classics.
[Special features: None]
Review: Adapted as a series for HBO, Elena Ferrante's 'My Brilliant Friend' is like Italian opera, soapy but sincere »
From the archives
"The Great Buster: A Celebration" (Cohen DVD, $25.99; Blu-ray, $30.99)
Filmmaker, raconteur and classic cinema scholar Peter Bogdanovich pays homage to one America's greatest comedians and directors in this in-depth look at the life and career of Buster Keaton. The documentary features insightful interviews with fellow Keaton admirers like Quentin Tarantino, Mel Brooks and Dick Van Dyke; and it includes some resonant observations about the comic's more checkered later years, which share some commonalities with Bogdanovich's own at-times rough ride in Hollywood. The best reason to watch the documentary is the generous assortment of clips from Keaton's films, many of which have been recently restored — and have never looked better.
[Special features: Interview with Bogdanovich]
Three more to see
"Archer: Danger Island" (20th Century Fox DVD, $29.98); "The Mule" (Warner Bros. DVD, $19.96; Blu-ray, $35.99; also available on VOD); "Vice" (20th Century Fox DVD, $29.98; Blu-ray, $34.99; also available on VOD)
---