Review: 'Bumblebee' is a sweet, refreshingly small-scaled 'Transformers' prequel
Film Critic
To describe "Bumblebee" as the best "Transformers" movie ever made may sound like such damningly faint praise as to border on the nonsensical. (Do you remember your funniest migraine? Your sexiest root canal?)
For the past decade or so these pictures have existed so completely in their own crass, bombastic universe — one packed with giant fireballs, vacuous characters and orgies of mass demolition — that it has seemed sensible to speak less of quality than of bearability. And few directors have pushed the boundaries of what is bearable like Michael Bay, a visually incontinent action stylist who attacks his big-screen canvases like a Jackson Pollock of pulverized metal.
Mercifully, Bay's wrecking-ball aesthetics are little in evidence in "Bumblebee," which, compared with its bigger, noisier brethren, turns out to be a mercifully short, smooth ride. The movie, a prequel to the "Transformers" saga rather than a continuation, was written by Christina Hodson and directed by Travis Knight, who made his directing debut with the grave and elegant animated feature "Kubo and the Two Strings" (2016). The difference is immediate: You can actually see and follow what's going on for a change when those giant Hasbro robots go at it, as they do in a smoothly executed opening sequence on the distant planet of Cybertron.
As pleasing as it is to hear the sonorous tones of Optimus Prime (voiced once again by Peter Cullen), the real hero of this story is, of course, Bumblebee, that scrappy Transformer with the striking yellow-and-black paint job and a heart of sweetest honeycomb. But before he comes by his Earthling moniker, he is B-127, one of several rebel Autobots waging an intergalactic war on the dastardly Decepticons.
Severe losses conspire to send B-127 to planet Earth circa 1987, where he has the bad luck to crash-land near a U.S. military training base and lose his voice (supplied briefly by Dylan O'Brien) in a violent clash with a Decepticon tracker. But he survives and quickly learns to disguise himself as a battered yellow Volkswagen Beetle in an old Bay Area junkyard. (The souped-up Camaro days are still to come.) There, he is found and driven home by Charlie (Hailee Steinfeld), a teenage car enthusiast who has no idea that her new ride is a centuries-old shape-shifting robot.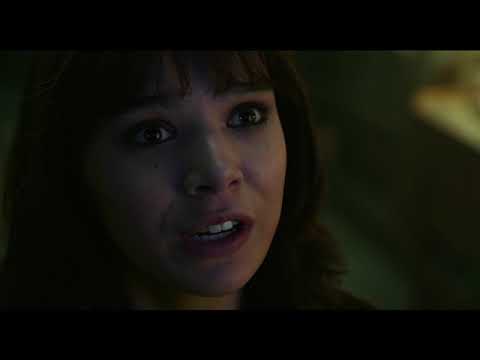 The Autobot Transformer Bumblebee has been through a few transformations. On the run in 1987, Bumblebee finds refuge in a junkyard and Charlie (Hailee Steinfeld) discovers him. They help each other.
She finds out soon enough. And although Bumblebee cannot explain to her what he is and where he came from, his soulful blue eyes and shy, sensitive demeanor — in charming contrast with his clunky, oversized physique — tell her all that she needs to know. At this point "Bumblebee," following the superior models of "E.T." and "The Iron Giant," becomes a sweetly amusing, semi-Spielbergian tale of intergalactic friendship. (Steven Spielberg is credited as an executive producer here, as he is on all the "Transformers" movies.)
Steinfeld, as appealing here as she was in "The Edge of Seventeen" and the "Pitch Perfect" movies, goes some way toward making Charlie more than just a regulation misfit heroine. When we first meet her she is indifferent toward her mom (Pamela Adlon), her stepdad (Stephen Schneider) and her little brother (Jason Drucker), and ruthlessly picked on by the hot guys and mean girls who seem to exclusively constitute her high school's student body. (One exception is her dorky neighbor Memo, played by Jorge Lendeborg Jr., who nurses a hopeless crush from afar.) The family garage has long been her personal refuge, the space where she used to spend hours working on an old convertible with her father before his untimely death.
Now the garage is B-127's refuge as well, and "Bumblebee" gets lovely, low-key comic mileage out of his scenes with Charlie, if also more than its necessary share of era-specific pop-cultural references. Even the most ardent '80s nostalgists may wonder at a certain point how many "Breakfast Club" shoutouts and Smiths T-shirts are enough. Still, the Rickrolling soundtrack does serve a key narrative purpose, as Bumblebee's radio, picking up and shuffling song lyrics across the FM spectrum, in effect becomes his replacement voice.
RELATED: 'Bumblebee' screenwriter Christina Hodson is shaping Hollywood's blockbuster future — and centering female stories »
"Bumblebee," for its part, has just enough wit, playfulness and charm to develop a voice of its own, which is no small thing in the context of a flashy, lunkheaded studio franchise (albeit one whose commercial supremacy is no longer a certainty). The relatively intimate scale of this picture offers a welcome reassertion of the less-is-more principle. It's startling to see the delicacy of the rapport between the two leads — a delicacy thrown into relief by a tense, humorous sequence in which Bumblebee accidentally lays waste to an entire house — and realize just how little the five earlier "Transformers" movies invested in the human element, how rarely they captured the simple wonderment of cross-species bonding.
Which is not to oversell this similarly CG-laden caper, or to misrepresent the boilerplate machinations of the plot. Bumblebee's presence on Earth has not gone unnoticed, and before long, two vicious Decepticons — Shatter (Angela Bassett) and her trigger-happy henchman, Dropkick (Justin Theroux) — show up, wielding big guns and stock declarations of villainous intent. The military, represented here by that handsome, sentient obelisk John Cena, is forced to get involved. Trucks explode, cars flip over and human bodies spontaneously liquefy, occasioning some impressively gooey visual effects.
Along the way, Charlie and Bumblebee will have ample opportunity to learn important lessons, prove their heroism and save the world, even as their efforts point to more apocalyptic adventures on the horizon. The ending packs a lovely surprise, not because you don't see it coming, but because for once you're not simply grateful that it's arrived.
------------
'Bumblebee'
Rating: PG-13, for sequences of sci-fi action violence
Running time: 1 hour, 54 minutes
Playing: Opens Dec. 21 in general release
------------
ALSO
Justin Chang's best movies of 2018: 'Burning' and 'First Reformed' lead a year of mystery
Mark Olsen's best movies of 2018: 'If Beale Street Could Talk' stands out in a year that tried to make sense of madness
Kenneth Turan's best movies of 2018: 'Black Panther' and 'Leave No Trace' top a banner year
FOR THE RECORD (Dec. 13, 2018): This review lists Lenny Jacobson as the actor who plays Charlie's stepdad. The role is played by Stephen Schneider.
justin.chang@latimes.com | Twitter: @JustinCChang
Get our L.A. Goes Out newsletter, with the week's best events, to help you explore and experience our city.
You may occasionally receive promotional content from the Los Angeles Times.