New video: 'It' tapped into Stephen King's special brand of horror
New on Blu-ray
"It" (Warner Bros. DVD/Blu-ray combo, $35.99; 4K, $44.95; also available on VOD)
Although Stephen King's 1986 bestseller, "It," had been previously adapted into a well-received 1990 TV miniseries, various Hollywood filmmakers still spent nearly a decade looking for a way to translate a beloved book to the big screen. The version that hit theaters last September is helmed by "Mama" writer-director Andy Muschietti (working from a team-written screenplay), and solves the problem of the novel's length by chopping it in half, spending its full running time on a group of misfit Maine adolescents who battle an ancient evil that takes the form of a child-abducting clown. The film was such a massive hit that a sequel covering the rest of the saga is already in the works. But the first "It" movie feels satisfyingly complete as is, because of how Muschietti and company tap into King's understanding that growing up can be the most agonizing kind of horror.
[Special features: Deleted scenes and featurettes]
VOD
"The Polka King" (available 1/12 on Netflix)
The true story of a Pennsylvania bandleader and well-meaning bunco artist makes for some highly entertaining comedy in writer-director Maya Forbes' "The Polka King." Jack Black brings all of his boisterous, mischievous energy to the tricky part of Jan Lewan, a regionally popular musician who bilked his elderly fans in what amounted to a pyramid scheme. Slight but sweet, Forbes' film recounts the basic facts of the case, but also finds something distinctly American in this insular community of people, who either perform or support a niche musical genre.
TV set of the week
"Girlfriends: The Complete Series" (Paramount DVD, $55.98)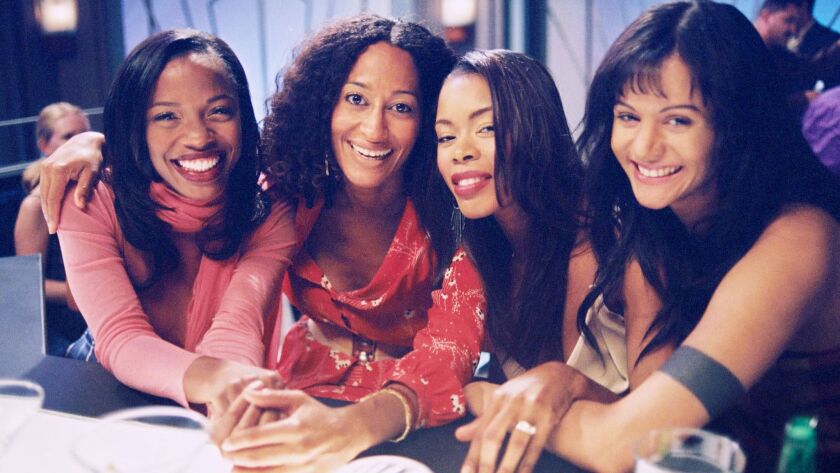 Before Tracee Ellis Ross became an Emmy-nominated and Golden Globe-winning lead actress on the ABC hit "Black-ish," she starred for eight years on the steadily performing UPN sitcom "Girlfriends," playing the over-achieving, micro-managing leader of a group of longtime pals. TV buffs didn't pay enough attention to "Girlfriends" when it was on the air in the early '00s, but perhaps now that Ross has become a critics' darling and fan favorite, a wider audience will take a second look at this funny, well-written, brilliantly acted show.
[Special features: None]
From the archives
"Matinee: Collector's Edition" (Shout! Select Blu-ray, $34.93)
Director Joe Dante has made better movies than the low-key 1993 dramedy "Matinee," and he's certainly had bigger hits. But anyone looking to understand one of the quirkiest and most original filmmakers of his generation should spend some time with this gentle period piece, set in and around a Key West military base during the Cuban Missile Crisis. Though Charles S. Haas wrote the screenplay, Dante's love of old-fashioned showmanship — and his sensitivity to the triumphs and tragedies of children — are woven deep into the story of kids who sweat out the threat of nuclear annihilation while attending the latest gimmicky horror flick by a William Castle-esque huckster (played by John Goodman). Dante and Haas balance the goofy charm of B-pictures with a real sense of how even disposable pop culture can reflect the anxieties of their time.
[Special features: New and vintage interviews and featurettes, plus deleted scenes]
Three more to see
"Mark Felt: The Man Who Brought Down the White House" (Sony DVD, $25.99; Blu-ray, $30.99; also available on VOD); "Marshall" (Universal DVD, $29.98; Blu-ray, $34.98; also available on VOD); "My Little Pony: The Movie" (Lionsgate DVD, $29.95; Blu-ray, $39.99; also available on VOD)
---
From the Emmys to the Oscars.
Get our revamped Envelope newsletter, sent twice a week, for exclusive awards season coverage, behind-the-scenes insights and columnist Glenn Whipp's commentary.
You may occasionally receive promotional content from the Los Angeles Times.