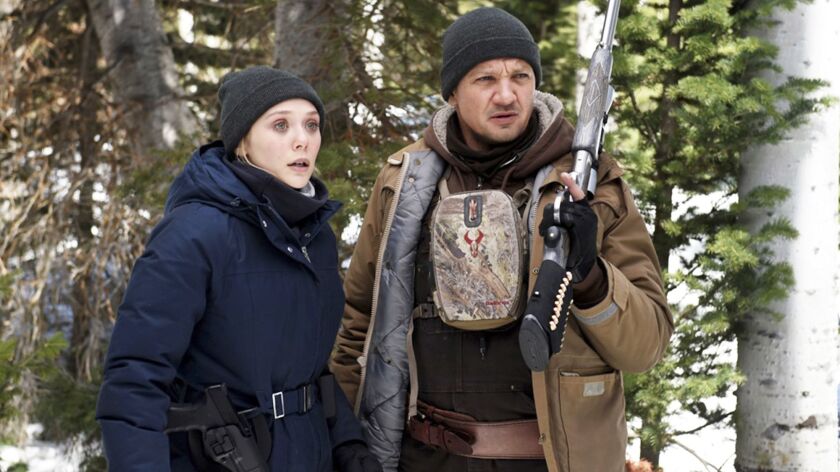 New on Blu-ray
"Wind River" (Lionsgate DVD, $29.95; Blu-ray, $34.99; also available on VOD)
Taylor Sheridan's western/cop hybrid "Wind River" marks the directorial debut of the man who wrote "Sicario" and "Hell or High Water," and firmly establishes him as one of the most vital genre filmmakers working today. A finely crafted big-screen crime novel — and a heartening surprise hit on the art house circuit this past summer — "Wind River" stars Jeremy Renner as a Wyoming animal-control agent who works with the FBI, including an agent played by Elizabeth Olsen, and the local Native American tribal authorities to solve a rape and murder in the snowy mountains. Their trail winds through drug dens and government mining camps, revealing both the hardship and beauty of life in what remains of the American frontier. As attuned to character as he is to setting, Sheridan keeps delivering smart procedurals that work as both crowd-pleasing entertainment and as sophisticated critics' darlings.
[Special features: Deleted scenes]
VOD
"It Happened in L.A." (available Nov. 14)
Actress Michelle Morgan makes an auspicious feature writing and directing debut with "It Happened in L.A.," a genially episodic romantic comedy about modern love in the city of stars. Morgan stars as a bluntly opinionated writer who breaks up with her more successful TV producer boyfriend, then is surprised by how much trouble she has landing a rebound guy. Dree Hemingway plays her best friend, an interior designer who always seems to have her pick of creepy men. The story here is thin, and the movie's take on the shallowness of Los Angeles relationships isn't exactly original. But "It Happened in L.A." is bright and funny, with a refreshing willingness to mock the pretensions of the powerful and the wannabes.
TV set of the week
"DC Follies: The Complete Series" (Shout! Factory DVD, $34.99)
The Sid & Marty Krofft-produced political satire "D.C. Follies" had the misfortune to arrive on TV in 1987, at a time when the daily news out of Washington was far less kooky than it is now. But before the show was canceled — after two seasons and 44 episodes — it provided a solid showcase for hilarious character actor Fred Willard, who plays a bartender serving puppet caricatures of various statesmen and celebrities. Today, "D.C. Follies" is a fascinating look back at what mattered in politics 30 years ago, and at the ways comedians tried to mock it.
[Special features: None]
From the archives
"Gidget" (Twilight Time Blu-ray, $29.95)
In 1957, Austrian-born Hollywood writer Frederick Kohner released the novel "Gidget," a funny and insightful piece of beach-culture anthropology, written in the voice of his teenage daughter. The 1959 movie adaptation stars Sandra Dee as the smart, headstrong "girl midget" who crashes the Malibu surfing boys club, catching the eye of both young hunk Moondoggie (James Darren) and the grizzled Big Kahuna (Cliff Robertson). The film retains as much of the book's underlying adolescent sexual anxiety that the studio censors would allow; but even at its tamest it's a delightful celebration of an overlooked young woman, who makes a space for herself in a world designed for dudes.
[Special features: None]
Three more to see
"Atomic Blonde" (Universal DVD, $29.98; Blu-ray, $34.98; 4K, $44.98; also available on VOD); "Aquarius" (Kino Lorber DVD, $29.95; Blu-ray, $34.95); "Brigsby Bear" (Sony DVD, $25.99; Blu-ray, $30.99; also available on VOD)
---