August Wilson is in good company among posthumous Oscar nominees and winners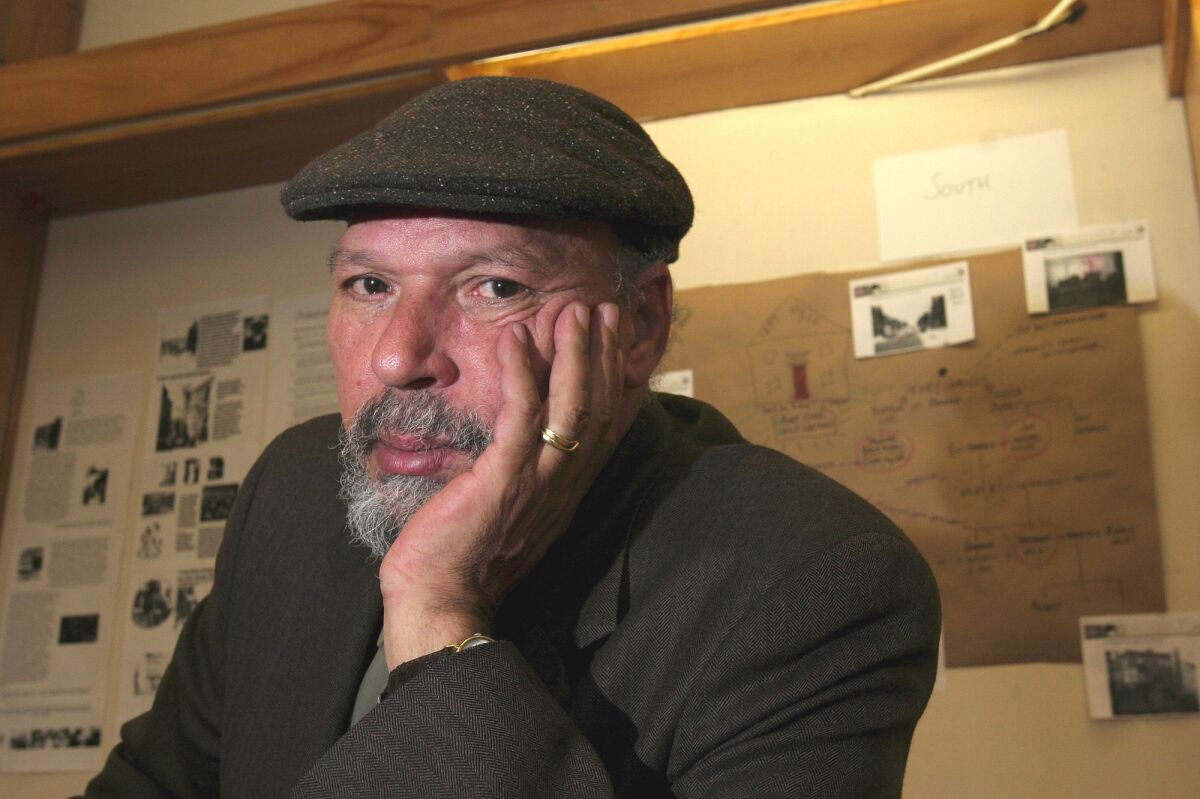 If he wins the Oscar for adapted screenplay for "Fences," the late playwright August Wilson will join an impressive group of posthumous winners and nominees.
Wilson won a Tony Award and a Pulitzer Prize for his 1983 play, which he later adapted into a screenplay. But it took more than 20 years for the movie version of "Fences" to come out; Wilson's death at age 60 in October 2005 was well before the film's 2016 release. The play — one of the 10 works in the African American playwright's famed "Pittsburgh cycle" — revolves around an embittered garbage man in the 1950s struggling to support his family.
Now, the acclaimed film version of his play has Oscar nominations for picture, lead actor for Denzel Washington (who also directed), supporting actress for Viola Davis and adapted screenplay for Wilson.
Full coverage of the 2017 Academy Awards »
If Wilson wins the award — he has strong competition from, among others, Barry Jenkins for "Moonlight" — he will be only the second posthumous screenplay winner.
There have been posthumous nominees since the first Academy Awards in 1929. And though the higher profile nominees and winners have been in the acting categories — including lead actor winner Peter Finch for 1976's "Network" and supporting actor winner Heath Ledger for 2008's "The Dark Knight" — posthumous winners and nominees have also come from such categories best film, music, art director, editing, documentary, sound, short film and cinematographer.
Here's a look at some of the posthumous winners and nominees over the years.
The first
Gerald C. Duffy received a nomination for title writing for the first Academy Awards in 1929 for the 1927 silent drama "The Private Life of Helen of Troy." Duffy was a well-known short story writer and editor of Redbook magazine who became a scenario and title writer in 1919. He was only 32 when he died suddenly while dictating a script on June 25, 1928.
The 'Limelight'-ers
A Wilson win would come 11-plus years after his death. But it wouldn't come close to shattering this record: Larry Russell won an Academy Award nearly two decades after his death, for original dramatic score for "Limelight," in 1973. A win he shared with Ray Rasch and Charlie Chaplin.
The film was actually released in 1952. But when Chaplin went to England for the premiere, his re-entry permit was revoked amid questions about his politics and his private life. Though the film did open in New York and San Francisco, rabid anti-Chaplin sentiment caused those engagements to be curtailed. Because the movie was not released in Los Angeles until 1972 — the same year Chaplin returned to the U.S. to receive an honorary Academy Award — it was not eligible for Oscar consideration until then.
Russell was only 40 when he died Feb. 14, 1954. Rasch died at age 47 on Dec. 23, 1964.
The writers
Sidney Howard was the first posthumous screenplay winner, for his adaptation of the 1940 best picture winner "Gone With the Wind." He died on Aug. 23, 1939, at age 48 — four months before the epic opened — when he was crushed by a tractor on his farm.
Other notable posthumous writing nominees include Robert Alan Aurthur, who also got a nod as producer of 1979's "All That Jazz." He died of lung cancer at age 56 on Nov. 20, 1978.
Actor-writer Massimo Troisi was nominated for lead actor and for his screenplay for "Il Postino," which had been released in the U.S. in 1995. Just 12 hours after completing the film, he died of a heart attack at age 41 on June 4, 1994. And one of the best picture nominee's producers, Mario Cecchi Gori, died Nov. 5, 1993, at age 73.
Producers
Sam Zimbalist, who won an Oscar for producing the 1960 best picture winner "Ben-Hur," died of a heart attack on Nov. 4, 1958, at age 54 while he was in Rome during the film's production. He is the only person to win a posthumous best picture Oscar.
Walt Disney, who died of cancer on Dec. 15, 1966, at age 65, won his 22nd competitive Oscar for the 1968 animated short "Winnie the Pooh and the Blustery Day."
Composers
Lyricist Howard Ashman, who died on March 14, 1991, of AIDS-related complications at age 40, earned four posthumous nominations, sharing the original song Oscar with composer Alan Menken in 1992 for the title tune from "Beauty and the Beast." That year, the duo was also nominated for original songs for "Be Our Guest" and "Belle" from the animated classic. The next year, the two were nominated for original song for "Friend Like Me" from "Aladdin."
Composer Victor Young won an Oscar for his score for 1956's "Around the World in 80 Days" and was nominated for song for the title tune from 1956's "Written on the Wind." Ironically, he was nominated for Academy Awards 22 times and didn't win until "Around the World in 80 Days." He died on Nov. 10, 1956, at age 56, a few months before the Oscar ceremony.
Documentarian
Albert Lamorisse, who won an Oscar for his original screenplay of the enchanting 1956 film "The Red Balloon," died in a helicopter crash in Iran on June 2, 1970, at age 48 while making "The Lovers' Wind." His wife and son completed the film based on his production notes and released it in 1978. It earned an Oscar nod for documentary feature.
Other posthumous winners:
Gil Friesen, producer of the 2013 documentary feature "20 Feet From Stardom." He died Dec. 13, 2012.
Thomas C. Goodwin, producer of the 1992 documentary short subject "Educating Peter." He died Dec. 11, 1992.
Conrad L. Hall, won for cinematography for 2002's "Road to Perdition." He died Jan. 4, 2003.
William H. Horning won art direction Oscars for 1958's "Gigi" and 1959's "Ben-Hur" and was nominated for 1959's "North by Northwest." He died March 2, 1959.
Eric Orbom won for art direction for 1960's "Spartacus." He died May 23, 1959.
Geoffrey Unsworth won for cinematography for 1979's "Tess." He died Oct. 28, 1978.
Get our L.A. Goes Out newsletter, with the week's best events, to help you explore and experience our city.
You may occasionally receive promotional content from the Los Angeles Times.