Why the Oscars won't be the same without their ringmaster, Harvey Weinstein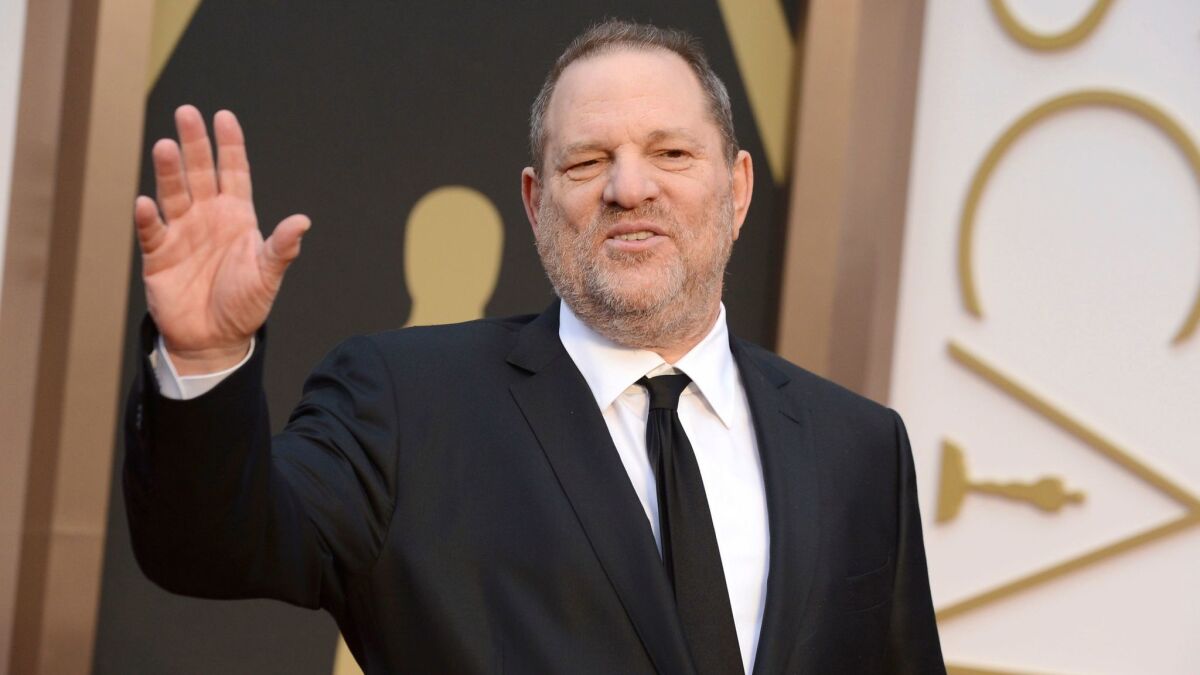 Even the customary Oscar gift bags given to top nominees before Sunday's Academy Awards ceremony indicated that this year's celebration would be anything but show business as usual.
The assortment of enviable swag included the usual decadent fare — a "conflict-free" diamond necklace, a 14-day Tanzanian excursion, face cream made of crushed unicorn horn (or something equally as rare) — but it was two smaller gifts that spoke directly to the collective mental state of the industry. Inside the collection of carefully curated goodies sent to A-listers like Meryl Streep and Frances McDormand was an 18-minute session of phobia-relief therapy and an elegantly designed tube of pepper spray.
Heal your wounds and live to fight another day, it seemed to say. Even the most vapid of Hollywood traditions can't avoid being colored by the traumatic events of the last few months kicked off by the allegations of decades of sexual misconduct by the ringmaster of the Oscar circus, Harvey Weinstein.
Call it the Weinstein Effect. Even in his absence, the disgraced movie mogul still holds sway over the Oscars.
Complete list of the 2018 Academy Award nominees »
Referred to earlier this year by Golden Globes' host Seth Meyers as "the elephant not in the room," the Miramax Films co-founder and former Weinstein Co. head was consistently the show's most referenced and recognizable non-celebrity next to Oscar himself. There have been other legendary Hollywood studio chiefs — Louis B. Mayer, Jack Warner — but Weinstein's fame was linked not so much to movies but to the Oscars themselves.
"Harvey" was personally thanked or praised by award winners such as Matt Damon, Gwyneth Paltrow and Renée Zellweger in at least 34 Oscar speeches from 1993 to 2016, and no last name was required. According to one analysis of nearly 1,400 Oscar speeches, the man behind films such as "Pulp Fiction" and "The King's Speech" was thanked more often than God.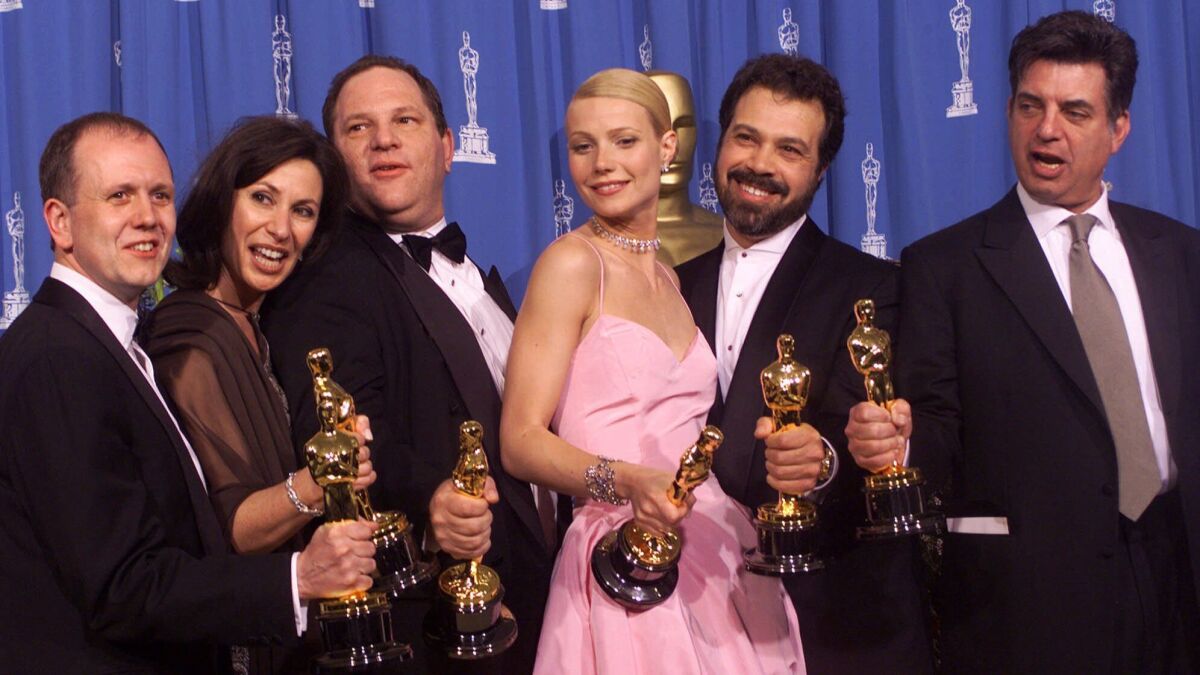 He'd sit up front, the camera seemingly always on him, a burly, unshaven king among his beautiful subjects, beaming at his winners, semi-abashedly shrugging off the accolades.
Even irreverent Oscar hosts name-checked Weinstein in their monologues. referring to the behind-the-scenes businessman as if he was a household name tantamount to George Clooney (who, no doubt, has also thanked Weinstein once or twice).
The praise kept coming, even as the man known for making and breaking the careers of Hollywood's brightest stars was paying millions in hush money to women who'd accused him of sexual misconduct. It was an alleged pattern of abuse that's since been described as "an open secret" in Hollywood.
Now as the Oscar red carpet's being unfurled atop the grime of Hollywood Boulevard, and the shame of Weinstein is still too fresh to sweep under the proverbial rug, rain is hardly the awards show's biggest concern. From "Who are you wearing?" red carpet interviews to teary acceptance speeches at the winner's podium, Hollywood will be openly grappling to find equilibrium between the rage and guilt left in Weinstein's wake.
What now?
It's been less than five months since Weinstein was banished from the industry, the academy and, ostensibly, the human race after numerous women — some famous, some not — came forward. Nearly 85 accusers have leveled claims against Weinstein since the New York Times published that first exposé in October, triggering a #MeToo tsunami that's taken down men once considered too powerful to fall.
2018 Oscar host Jimmy Kimmel will inherit a room very different from the one presided over last year, when President Trump's name was the one (mostly) not spoken, though POTUS' impact was implicit in comments about supporting immigrants and resisting systemic racism. But Trump was an outsider, Weinstein was the ultimate insider, which makes dealing with him during the show all the more tricky.
If the recent Globes and SAG Awards were any indication, 2017's industry-wide focus on diversity and resistance has been recast to include the issues underpinning the Time's Up campaign and its big sister, the #MeToo movement.
Where that leaves the traditional jocular banter between the Oscars male hosts and their go-to personalities in the audience like James Franco and Kevin Spacey is anyone's guess. But it's likely Kimmel won't turn to Dustin Hoffman for the customary host-ribs-celebrity repartée.
Chris Rock set a fearless example of how to tackle progressive Hollywood's embarrassingly non-progressive culture when he hosted the 2016 Oscar awards. He approached the studio system's lack of diversity straight on, suggesting that the 88th Oscars, in which no people of color were nominated in the acting categories, be called the "White People's Choice Awards."
Rock went on to explain why it had taken so long for the #OscarsSoWhite protests to gain steam: "We had real things to protest. We were too busy being raped and lynched to care about who won best cinematographer" and continued to make the room laugh, and squirm, with jokes that hit close to the bone. "This year, in the In Memoriam package, it's just going to be black people that were shot by the cops on their way to the movies."
Kimmel would likely have a harder time selling a joke about the indignity of being groped by Weinstein, or that as a woman, he's 75 times less likely to be chosen as a film's director than his male competition.
Women will set the tone of this year's Oscars, however, with their acceptance speeches. The few major awards shows that have arrived since Weinstein's downfall became makeshift platforms for women to herald a new day in Hollywood and address the changes they want to make happen. Much less time was spent rattling off the usual list of people they'd like to thank, of which Harvey was never going to be a part again.
Nicole Kidman and Elisabeth Moss used their stage time at the Golden Globes to point out how Hollywood is waking up and expressed their hopes for a more equitable future.
Oprah Winfrey brought many in the audience to tears with her Lifetime Achievement Award acceptance speech, which ended with: "I want all the girls watching here, now, to know that a new day is on the horizon! And when that new day finally dawns, it will be because of a lot of magnificent women, many of whom are right here in this room tonight, and some pretty phenomenal men, fighting hard to make sure that they become the leaders who take us to the time when nobody ever has to say 'Me too' again."
The list of this year's Oscar nominees, however, speaks to an industry that's still overwhelmingly male.
"Lady Bird's" Greta Gerwig is only the fifth female director ever to be nominated. Kathryn Bigelow, who was the last woman to be nominated in the category, was the first and only female to win the award. "Mudbound's" Rachel Morrison is the first woman to be nominated for cinematography.
The uncomfortable dance between the reality of a business built by powerful men like Weinstein and the glaring realization that things have to change is the new monster in the room at the Oscars. Harvey's name may be shorthand for the sexism and pervasive culture of misogyny that still permeates most every workplace, but he's gone and it's now up to those who are left to push the ball forward.
No pressure, Oscars. All you have to do Sunday is sort your dirty laundry in public, while entertaining those same masses, while staying on the right side of history, while advocating for positive change without sounding too pat or strident. Perhaps that Oscar swag bag should have included a dose of Adderall.
Get our L.A. Goes Out newsletter, with the week's best events, to help you explore and experience our city.
You may occasionally receive promotional content from the Los Angeles Times.