Peter Bogdanovich still loves old Hollywood — he's just funny that way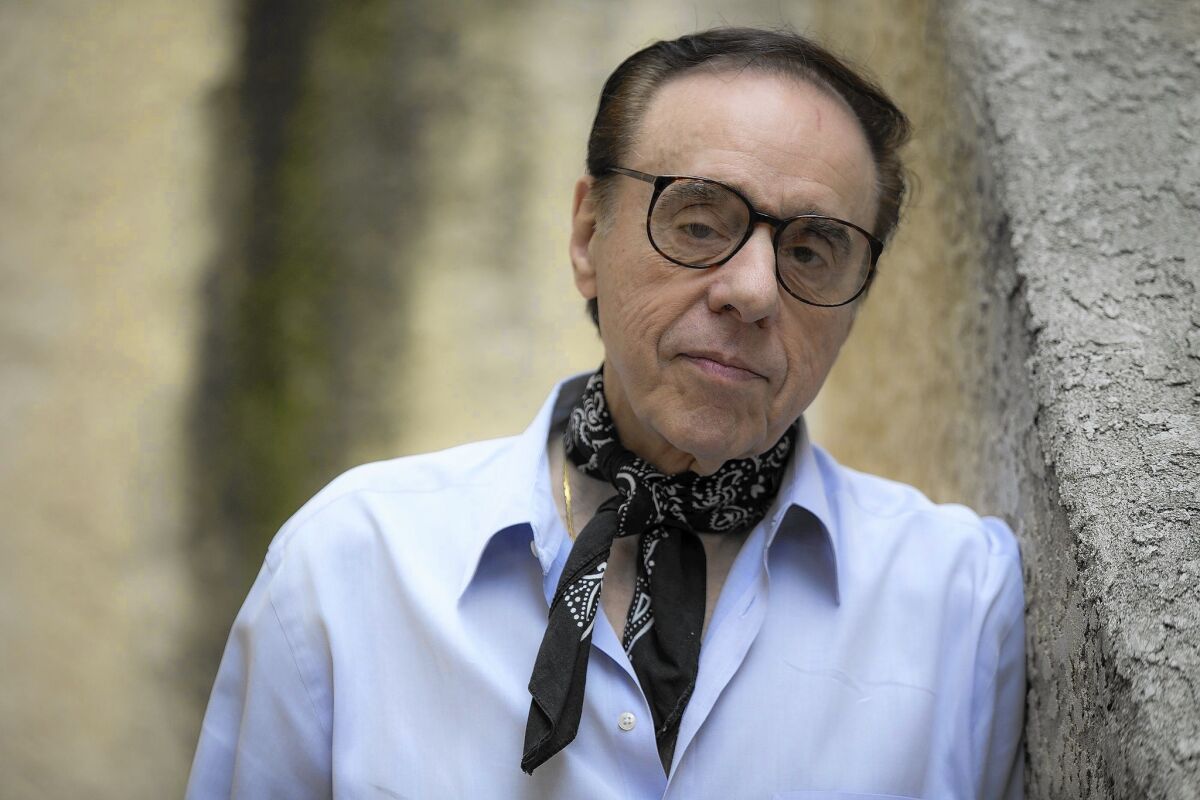 Peter Bogdanovich has countless stories, and he tells them with the sort of flair you'd expect from a man who wears a neck scarf. Over the years, the director befriended an array of Hollywood legends — including John Ford, Cary Grant, Alfred Hitchcock and Howard Hawks — and though they're nearly all gone now, he keeps their memories alive by recounting these anecdotes, peppering them with uncannily accurate impressions.
On a bright afternoon, Bogdanovich sat in the dining room of ex-wife Louise Stratten's apartment in the San Fernando Valley. His hair neatly combed, his eyes slightly melancholy behind large glasses, he was reminiscing about a period in the mid-1970s when he was riding high off a string of early hits and living in a lavish Bel-Air home with then-girlfriend Cybill Shepherd. Orson Welles was a frequent houseguest.
SIGN UP for the free Indie Focus movies newsletter >>
------------
For the record, 12:05 p.m. Aug. 14, 2015: An earlier version of this post said that Bogdanovich has no children. He has two daughters, Sashy and Antonia, from his first marriage to late production designer and producer Polly Platt. Antonia also serves as a co-executive producer on "She's Funny That Way."
------------
"Orson was very funny," Bogdanovich said, speaking in the languid, refined tone that became familiar to viewers who watched him as a therapist on HBO's "The Sopranos." "He had a little wing to himself, and to get to the TV room, he would go through my office. He'd be tiptoeing through not to disturb me and he'd whisper, '"Dick Van Dyke" is on.' He loved 'Dick Van Dyke' reruns, and he loved the one with Telly Savalas with the lollipop, 'Kojak.' He loved his chutzpah."
Bogdanovich's own story has been a remarkable if often tumultuous one — a story not entirely unlike Welles' own in its extremes of success and failure. Bogdanovich rocketed to fame in his 30s with a trio of beloved classics — "The Last Picture Show," "What's Up, Doc?" and "Paper Moon," all of which were steeped in an adoration for Hollywood's past — and then saw his career plummet to Earth in the late '70s after a string of bruising flops. He was eventually forced to declare bankruptcy and move out of the Bel-Air estate.
He suffered personal tragedy when his then lover, Playboy playmate-turned-actress Dorothy Stratten, was killed by her estranged husband in 1980, then faced public scandal when he later married her younger sister, Louise.
"It's been a very up-and-down kind of existence," Bogdanovich said, sounding somewhat weary but not beaten down.
But even with all he's been through, the filmmaker has never stopped working, driven by a passion for the cinema that stretches back as far as he can remember. Now, at age 76, he is returning to the big screen with "She's Funny That Way," his first feature movie in 14 years. The Lionsgate Premiere release — which boasts a surprisingly starry cast considering its modest budget, a testament to many actors' desire to work with a director of Bogdanovich's stature — opens in limited release and VOD on Aug. 21.
A throwback to the screwball comedies of Hollywood's golden era, the fast-paced farce centers on a prostitute-turned-actress (Imogen Poots) who becomes entangled with a philandering Broadway producer (Owen Wilson), a foul-mouthed therapist (Jennifer Aniston) and an obnoxious matinee idol (Rhys Ifans), among other colorful characters, on her way to fame.
The film was co-produced by Wes Anderson and Noah Baumbach, both of whom have been deeply influenced by Bogdanovich's work. "The three of us became friendly, and at some point they started calling me Pop, so I said, 'OK, then you're my sons,'" said Bogdanovich, who is currently unmarried and has two daughters, Sashy and Antonia, from his first marriage to the late production designer and producer Polly Platt. Antonia also serves as a co-executive producer on "She's Funny That Way."
"She's Funny That Way" was greeted with a rousing standing ovation at last year's Venice Film Festival; since then, critics have been divided, with some finding it charming and funny and others deeming it overly old-fashioned. As a scholar of film history — the kind of dyed-in-the-wool cinephile who can tell you that the term screwball comedy "was coined by Variety back in 1937 in describing the performance of Carole Lombard in 'My Man Godfrey'" — Bogdanovich is well aware that he's working in an antiquated genre. But as he sees it, classics like Preston Sturges' "The Miracle of Morgan's Creek" or Ernst Lubitsch's "The Shop Around the Corner" are as worth trying to emulate today as they were more than 40 years ago when he directed "What's Up, Doc?"
SIGN UP for the free Classic Hollywood newsletter >>
Reflecting on the kinds of comedies major studios make today, Bogdanovich makes no effort to hide his scorn. "I don't like to insult anybody, but I think it's no great piece of witticism if a joke depends on somebody having sperm in their hair or getting their equipment caught in a zipper," he said. "I'm sorry, it just isn't funny. It may be funny to some people because it's shock humor — and I'm not saying these people are stupid — but they just don't know any better. It's like you eat a certain kind of food and you think that's filet mignon."
Granted, to some Bogdanovich might sound like a cranky old man. But among contemporary filmmakers, his devotion to Hollywood's golden age runs as deep as anyone's, if not deeper — and if that has sometimes meant being out of step with current fashions, so be it.
"If you look at Martin Scorsese, he has adapted constantly to this climate and this era — he had Kanye West in the 'Wolf of Wall Street' trailer," says Poots. "But with Peter, there's more of a sense of, 'No, the films of the '20s and the '30s were the best. They really don't make them like they used to — so I'm going to try to do that.' His sense of humor and his grace as a filmmaker feels very old-timey, and if you're romantic at all about that era, it's a dream to work with him."
Surprisingly for such a light, frothy comedy, "She's Funny That Way" had its roots in a particularly trying time in Bogdanovich's life.
He began writing the film with Louise Stratten in 2000, when their marriage was falling apart. "Louise and I were having a very tough time," said Bogdanovich, who has an apartment in New York but stays with Stratten when he's in Los Angeles. "We were broke. I was working, but it was not an easy time for us. And we just said, 'Let's write a comedy.'"
Working on the film helped the pair survive that difficult stretch. "Our marriage was toward the end, and we didn't want to completely admit it," Stratten said. "But writing this movie, we were making each other laugh. It really got us through that time." The two divorced in 2001 but remain close friends.
Growing up in New York in the 1940s, the son of immigrant parents from Austria and Serbia, Bogdanovich recognized early that movies had a special ability to help people transcend their everyday troubles. Throughout his childhood, he would see up to 400 movies a year, studiously recording his opinions of each one on a note card. He began his career programming films for the Museum of Modern Art and writing about movies for Esquire before moving to Los Angeles in the late 1960s and breaking into the business.
"Movies used to be something powerful," Bogdanovich said ruefully. "It's been a bit ruined now. I don't know if we can get it back — I think we can. But it's lost its innocence. The interesting stuff has moved to TV, and movies have become more like, 'What can I blow up next?' There's a terrible cancer at the heart of that."
As he sees it, James Cameron's 1997 "Titanic" marked a critical turning point. "Moviemaking is out of control thanks to Jim Cameron," he said. "Everybody was saying, 'My God, he's going to spend $150 million! This movie is going to flop! Is he out of his mind?' Then the picture was a huge hit, and everyone said, 'That's the solution: Spend $150 million.'" He sighs. "It's become so boring."
Although "She's Funny That Way" is Bogdanovich's first feature film since the 2001 period drama "The Cat's Meow," he is quick to point out that he has hardly been idle. Since the mid-'90s, he has published two well-regarded books, "Who the Devil Made It" and "Who the Hell's In It," collecting his conversations with great filmmakers and actors of the past. He also found a surprising measure of fame in front of the camera as Dr. Elliot Kupferberg on "The Sopranos." (Long before he directed, Bogdanovich studied acting with Stella Adler.) He directed a number of TV movies and a four-hour documentary about Tom Petty.
"Directing for TV is the same thing," he said. "It's just for less money and with less time."
Still, there's no question that film remains Bogdanovich's first love. He has a number of movies he's hoping to make, including a comedy about an aging filmmaker called "Wait for Me" that he began writing shortly after Dorothy Stratten's death. "I really need to make that picture," he said. "I think it's the best thing I ever wrote."
Over the years, Bogdanovich has experienced both soaring success and crushing failure. It's safe to say he preferred the former. But what really matters most in the end, he says, is simply trying to connect with that moviegoer sitting out there in the dark.
"My mother used to say to me, 'If you have a thousand people watching your movie and one of them understands what you're trying to do, you're lucky,'" he said. "That sounds almost pretentious, but I know what she meant."
Twitter: @joshrottenberg
ALSO:
'Ten Thousand Saints' recalls violent clash of cultures in 1988 New York
'Fantastic Four': Josh Trank and the Storm-y world of upstart directors
Uggie dies: 'The Artist' dog had that intangible star quality
Get our L.A. Goes Out newsletter, with the week's best events, to help you explore and experience our city.
You may occasionally receive promotional content from the Los Angeles Times.