Uggie dies: 'The Artist' dog had that intangible star quality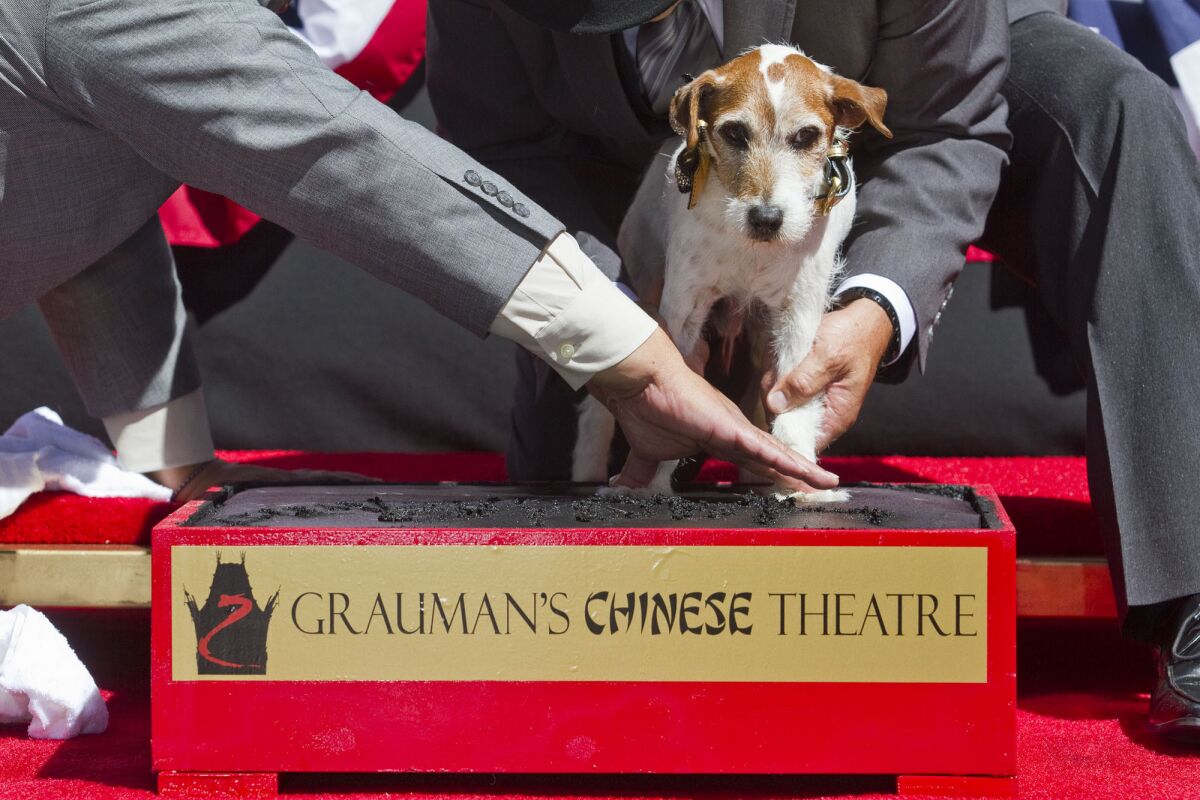 It's a sad day for animal lovers. The beloved canine star Uggie has died at age 13.
Uggie stole the hearts of moviegoers in the Oscar best-picture winner "The Artist" (2011) as the adorable and trusted sidekick of the film's star, played by Jean Dujardin.
The plucky Jack Russell terrier soon became a sensation, appearing on red carpets and such award shows as the Golden Globes and the Academy Awards. He won such awards as The Palm Dog, got his own app, cast his paw prints at the Chinese Theatre and barked his autobiography "Uggie: My Story." I had the opportunity to interview Uggie for that book and found that, besides being a high-energy pooch, he was capable of a number of tricks while also being a great kisser.
Here's my interview with Uggie and his owner and trainer Omar von Muller from 2012.
Though Jean Dujardin received the lead actor Oscar for this year's Academy Award-winning best picture, "The Artist," it was the silent film's scene-stealing Jack Russell terrier, Uggie, who won the hearts of moviegoers around the world.
"Nobody told him he's a dog," said Wendy Holden, who collaborated with the 10-year-old pooch on his breezy new autobiography, "Uggie — My Story," which is being published by Simon & Schuster.
INDIE FOCUS: Sign up for Mark Olsen's newsletter about film
"He's just a star," Holden said over the phone from the publisher's headquarters in New York City. The British-based writer previously worked with Goldie Hawn and Barbara Sinatra on their autobiographies. "It's a coincidence that he happens to be a star in a dog's body. He fills the room with his terrier presence. He's amazing."
And he has the awards to prove it. Uggie won the Palm Dog during the 2011 Cannes Film Festival, the first Golden Collar Award and the American Humane Assn.'s Pawscar for best scene-stealer. His legion of fans are known as Uggie Huggers.
Uggie, who also had a funny cameo this summer in "The Campaign," had his paw prints immortalized in June at Grauman's Chinese Theatre. He is a spokesdog for PETA's adoption campaign and has his own app. He even attended the White House Correspondents' Assn. dinner, where he got to reconnect with his "Water for Elephants" costar Reese Witherspoon. (His book is dedicated to the actress: "For Reese, my life, my light").
But he doesn't live like a star. No Hollywood mansion for this canine, who was a high-strung, untrained, 9-month-old puppy slated for the pound when he was adopted by animal trainer Omar von Muller. Uggie shares a cozy house on a quiet street in Panorama City with Von Muller, his wife and daughter, six other dogs, two cats and assorted birds.
Though Von Muller, 50, acknowledges that Uggie has been spoiled lately with all the attention, he isn't given special treatment at home. Uggie follows the same routine as the other six dogs, which includes morning walks and training. "They sleep with us," Von Muller said of the four-legged brood.
Like a lot of Hollywood stars, Uggie looks smaller in person than he does in the movies. But he certainly knows how to work a room. Bounding into the living room, he runs around, sniffing his visitors, sticking his nose into a purse — undoubtedly looking for food — and proffering wet kisses on hands and noses.
As soon as Von Muller grabs a pouch of treats, Uggie begins performing the tricks he did in "The Artist" — rolling over, standing on his hind legs, barking, pretending to die after being shot and hiding his head in his front paws in mock embarrassment.
Every so often, his right front legs begin to shake. Uggie has White dog shaker syndrome, which affects small dog breeds. Though the shaking has led to his official retirement from major acting gigs, Uggie is oblivious to it and isn't in any pain, Von Muller says.
It was dog-lover Holden who pursued Von Muller about writing Uggie's autobiography.
"I saw the film and fell in love with Uggie," she said. "I found Omar on Facebook and I emailed him straight away."
Uggie is currently on a book tour that includes TV appearances and book signings. In Santa Monica last week, more than 100 people showed up for a paw-tographed copy of the book and a chance to have photos taken with him.
"Omar is diligent that he has a lot of time off in between appearances," Holden said. "He makes sure he has fresh water and plenty of rest. Uggie right now is in the publisher's office curled up on the sofa. He'll wake up the moment there's food, of course."
Twitter: @MyMackie
MORE:
Uggie steals the show at Abercrombie & Fitch rising stars launch
Do cats really give better on-screen performances than dogs?
---
Get our L.A. Goes Out newsletter, with the week's best events, to help you explore and experience our city.
You may occasionally receive promotional content from the Los Angeles Times.