After 14 long years, 'Incredibles 2' picks up with its family of suburban superheroes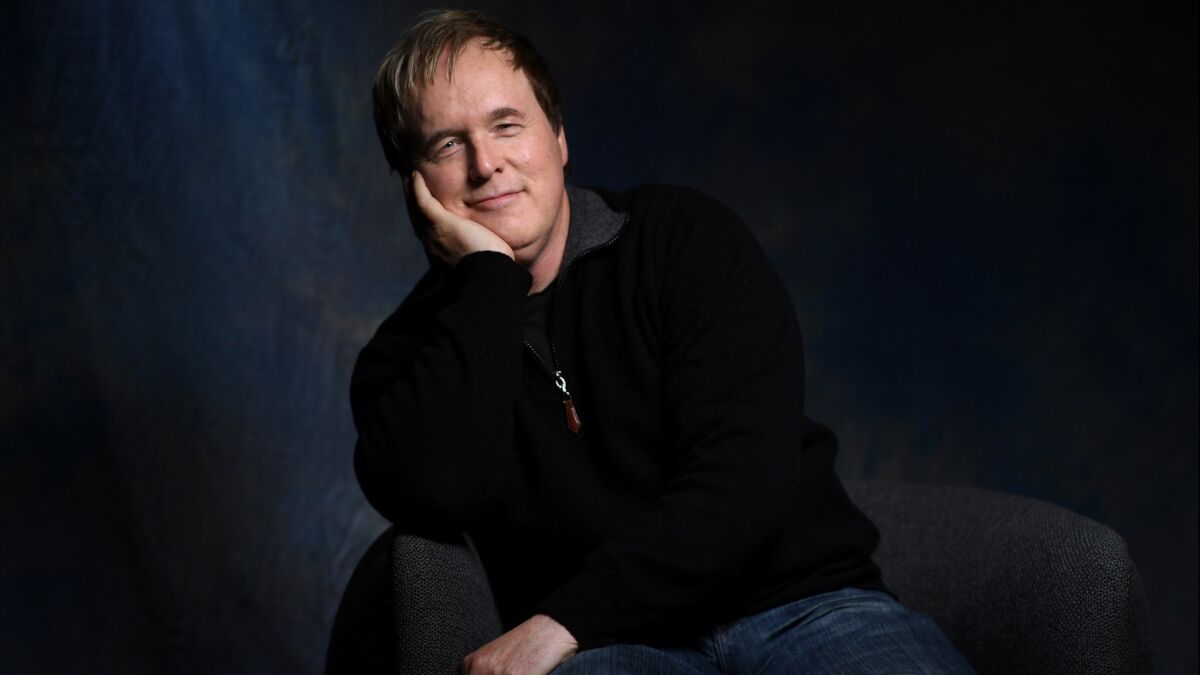 Brad Bird stood in front of a full orchestra on the Barbra Streisand Scoring Stage on the Sony Pictures lot, his leg bouncing to the beat, a big grin on his face.
At a recent scoring session for Pixar Animation Studios' superhero sequel "Incredibles 2," the film's writer-director watched as dozens of musicians brought composer Michael Giacchino's jazzy, '60s-inflected score to life. For a die-hard cinephile like Bird, the hallowed history of this particular scoring stage — which has been used to record the music for films like "The Wizard of Oz," "Gone With the Wind" and "Lawrence of Arabia" not to mention the first "Incredibles" — only added to his delight. "The ghosts in the room are the highest-quality film ghosts you can get," he said.
When "Incredibles 2" arrives in theaters on June 15, the action will pick up immediately after the events of the first film, with the superhero Parr family — parents Bob/Mr. Incredible and Helen/Elastigirl and kids Violet, Dash and Jack-Jack — ready to battle evil as if not a minute had passed. For the film's cast and crew as well as the moviegoing audience, though, it's been 14 long years since the original film. And for much of that time, it wasn't clear this moment would ever come.
The super-powered superhero family is back in "The Incredibles 2."
There's a weird assumption now that right after you do a movie that is a success, that the next thing you should do is a sequel to that movie.
— Brad Bird
In November 2004, "The Incredibles" – the story of a family of superheroes forced to hide their powers and try to blend into suburbia – opened to rapturous reviews, going on to earn $633 million in global box office receipts. Critics and audiences alike fell in love with the film's all-too-human do-gooders – including Mr. Incredible (voiced by Craig T. Nelson), Elastigirl (Holly Hunter) and Frozone (Samuel L. Jackson) – who struggle to balance the mundane problems of marriage and child-rearing with saving the world.
Bird, who'd been inspired to conceive "The Incredibles" out of his own boyhood love of spy films and comic books, capped the film's success by taking home the Oscar for animated feature. But rather than dive straight into a sequel, as many filmmakers would have, he moved on to other projects, directing 2007's Pixar hit "Ratatouille," 2011's "Mission Impossible: Ghost Protocol" and 2015's sci-fi adventure "Tomorrowland."
"There's a weird assumption now that right after you do a movie that is a success, that the next thing you should do is a sequel to that movie," Bird said. "I don't have a problem with sequels; some of my favorite movies are sequels. But people are almost slightly indignant that I haven't made [another 'Incredibles' film] until now — and that part I don't understand. Sequels are fine but I think they're in danger of taking up too much of the cultural bandwidth of movies."
Still, for Bird, "The Incredibles" – which had vaulted him to success after the box office failure of his critically lauded 1999 directing debut, "The Iron Giant" – has always held a special place in his heart. "The most fun experience I've had yet making a movie was the first 'Incredibles,' " he said. "It seems on the outside like a really hyper-commercial movie, but it's strangely personal to me. It's all the stuff I liked blended in with my own family, who I love. It's got its own flavor."
FULL COVERAGE: 2018 Summer Movie Sneaks »
The original "Incredibles" had seemed tailor-made for a sequel, ending on a cliffhanger in which the Parrs, having vanquished a villain named Syndrome, prepare to do battle with a new baddie called the Underminer. As the years went on and no follow-up seemed to be on the horizon, many fans were perplexed.
"People were asking, 'Where is it? How come you guys haven't done another one?' " Nelson said. "I think in Brad's head it was just a question of: How are you going to tell the story? What's going to be the hook here?"
Bird had actually concocted the initial germ of a sequel around the release of the first film, with a story that would see Helen pushed to the forefront of the action while Bob stayed home with the kids, including baby Jack-Jack, whose superpowers have begun to reveal themselves. "I liked the fact that that would put the characters in uncomfortable or revealing places," he said. "How would Helen feel about going back? How would Bob handle not being the one chosen? How would the kids feel about it? It just seemed to be kind of juicy and fun."
But while Bird was aware that executives at Pixar and its corporate parent, the Walt Disney Co., were eager for him to make a follow-up, for years the project remained only half-formed. "The rest of the story – the sort of superhero plot part — was always, unendingly shifting," he said. "It almost wore me out as a writer because I kept having to redo it to get it balanced."
Hunter says at a certain point the notion of a sequel fell off her radar. "I wasn't tracking it," said the actress. "I just kind of felt like if something was going on, we would know about it. And something wasn't going on for so long that I stopped thinking that it ever would. I mean, 14 years is a long time."
Complicating the challenge was the fact that, in the wake of "The Incredibles," the cinematic landscape had changed dramatically around Bird, as superhero films began sucking up an ever-growing share of the oxygen in Hollywood.
"When we made 'The Incredibles,' there were only two active superhero franchises: 'X-Men' and 'Spider-Man,' " Bird said. "Otherwise it was a pretty clear field and pretty green and watered and not too tromped on." He laughed. "Right now it's a dried-up soccer field that's got giant gopher holes in it, you know? So it's a different thing to coax life out of."
In a world now awash in ever-splashier comic-book movies, Bird knew that trying to compete in that arms race would be folly. Rather than stuff the sequel with more eye-popping spectacle in an effort to top the original, he thought, it was better to keep the focus squarely on the core strength of the franchise: its characters.
"If people have a planet exploding in one movie, they try to have three planets explode in the next one – and it just doesn't work that way," he said. "That's not spectacular. What's spectacular – and very hard to do – is make people care. I love great special effects as much as anybody. But it's hard to worry about a fireball if you don't care about the person running from it."
In "Incredibles 2," Helen Parr/Elastigirl finds herself recruited by a pair of business-owning siblings (voiced by Bob Odenkirk and Catherine Keener) in a campaign to bring superheroes back out of the shadows. "It's fun for her competitive edge to be fully out, no apologies," Hunter said. "So often, I think subconsciously in the culture it's better if women don't compete. It's not quite as acceptable, even now. So it was quite fun to play an unabashedly competitive woman who loves to win."
Beyond that, Bird – who had to speed up plans for the film when Pixar swapped its release with "Toy Story 4," moving it up by a year – won't divulge much about the plot. "Wackiness ensues," he said with a wry smile. "It's going to be big. Popcorn will be munched." (Asked if the film's main villain is the mass-hypnotizing Screenslaver, who is teased in the trailer, he remained coy: "Yeah, enter the theater thinking that. See where it takes you.")
After such a long wait, expectations for the film, both critically and commercially, are undeniably super-sized. But with the release still weeks away, Bird isn't feeling any major jitters just yet. "We survived this killer schedule and people are still talking to me and they're proud of their work," he said. "There's peace in the kingdom at the moment. I'm sure I'll get anxious but right now I'm just kind of enjoying it."
Over the years, as he was struggling to crack the "Incredibles" sequel, Bird was approached a number of times with the opportunity to direct a live-action superhero film. But, while some would consider that the ultimate brass ring in today's Hollywood, he never went for it. For Bird, it was hard to imagine anything in the superhero realm being more incredible than "The Incredibles."
"I was tempted because they put a lot of resources into those films and it's like a toy set that you can play with," he said. "But on the other hand, I felt like, I've already got my superheroes. I like my superheroes. It's like family. You say, 'Who would I like to go home to tonight? Well, I'd like to go home to my family.' "
READ MORE: See the full list of summer release dates »
Twitter: @joshrottenberg
Get our L.A. Goes Out newsletter, with the week's best events, to help you explore and experience our city.
You may occasionally receive promotional content from the Los Angeles Times.