After a decade in the public eye thanks to her wildly successful music career, Lady Gaga (a.k.a. Stefani Joanne Angelina Germanotta) is betting big on her acting career with a starring role in Bradley Cooper's remake of "A Star Is Born."
But while this may be her biggest role to date, it's far from her first. Her onscreen appearances date back to 2001 — a full seven years before "Just Dance" turned her into a household name.
As with her genre-crossing songs, each of her past TV and film appearances has managed to show different sides beyond the Lady Gaga persona.
Before "A Star Is Born" hits theaters on Oct. 5, see where it all began.
RELATED: Lady Gaga lets go and finds her acting plutonium in Bradley Cooper's 'A Star Is Born' »
'The Sopranos,' 2001
When she was just 15, Germanotta made her acting debut on a 2001 episode of "The Sopranos." In the ninth episode of the third season, titled "The Telltale Moozadell," she makes an uncredited appearance as a classmate of A.J. Soprano's (Robert Iler) seated by the swimming pool and smoking a cigarette while A.J. and some other classmates take an after-hours dip in the school pool. One thing leads to another and the kids end up throwing furniture and other school equipment in the pool and smashing a glass trophy case.
'Boiling Point,' 2005
The same year Germanotta dropped out of NYU, she made an appearance on an MTV reality TV show that gives unwitting participants money after subjecting them to patience-testing situations. As a patron in a restaurant, Gaga was the first of three contestants to lose their cool when the food they ordered was taken away and returned with a raunchy plate of food. Sadly, she didn't last the 14 minutes needed to win the money.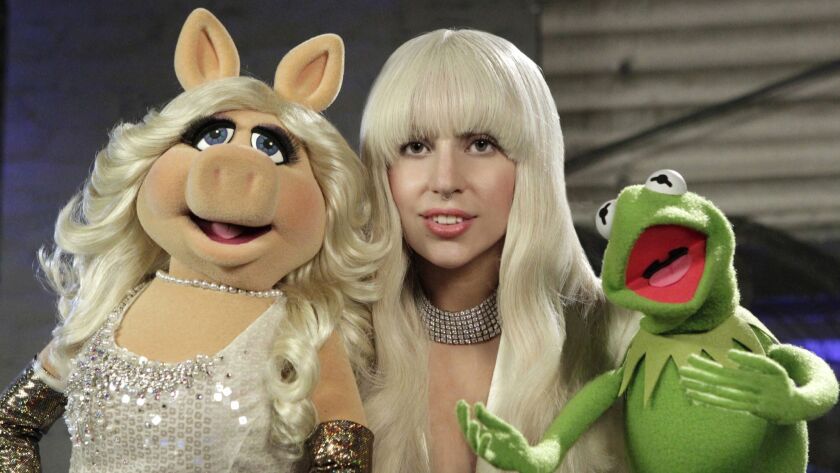 FULL COVERAGE: 2018 fall movie preview »
'Lady Gaga & the Muppets' Holiday Spectacular,' 2013
After her planned appearance in 2011's "The Muppets" was cut for time, Lady Gaga teamed with Kermit & Co. for a variety show-like holiday special at ABC. She got a little help from her famous friends, including Elton John, Joseph Gordon-Levitt, Kristen Bell and RuPaul. They combined forces to sing seasonal favorites and a few hits from the singer-songwriter herself like "Applause" and "Manicure." She later teamed with the Muppets again, making a cameo in 2014's "Muppets Most Wanted" alongside frequent collaborator Tony Bennett.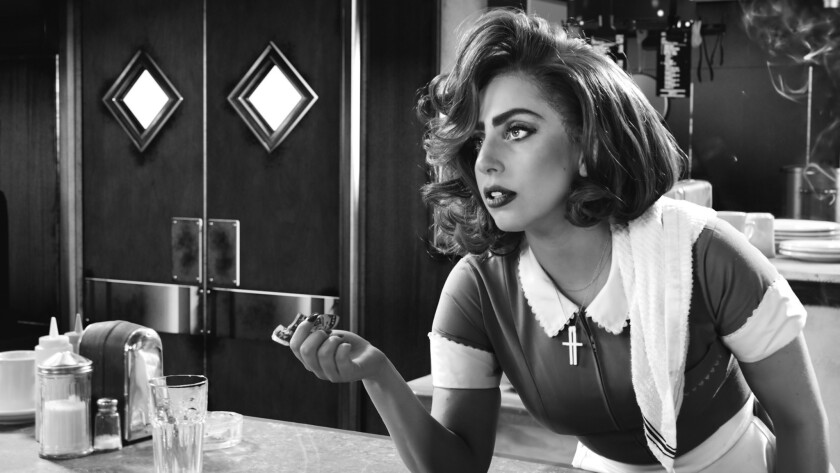 'Sin City: A Dame to Kill For,' 2014
Lady Gaga played a waitress named Bertha in a scene with a beaten up Johnny (Joseph Gordon-Levitt), who mysteriously pops up at the diner where she works. She gives him a glass of water and, because he doesn't "stink of anything I don't like" and reminds her of an old boyfriend, she gives him a few dollars to help him on on his way.
'American Horror Story: Hotel,' 2015-16
In her largest acting role to date, Gaga joined the fifth season of Ryan Murphy's FX anthology "American Horror Story." She went on to win a Golden Globe for best actress in a limited series or TV movie for her sultry portrayal of the Countess. Gaga returned to the show the following season, playing a woodsy witch in "American Horror Story: Roanoke."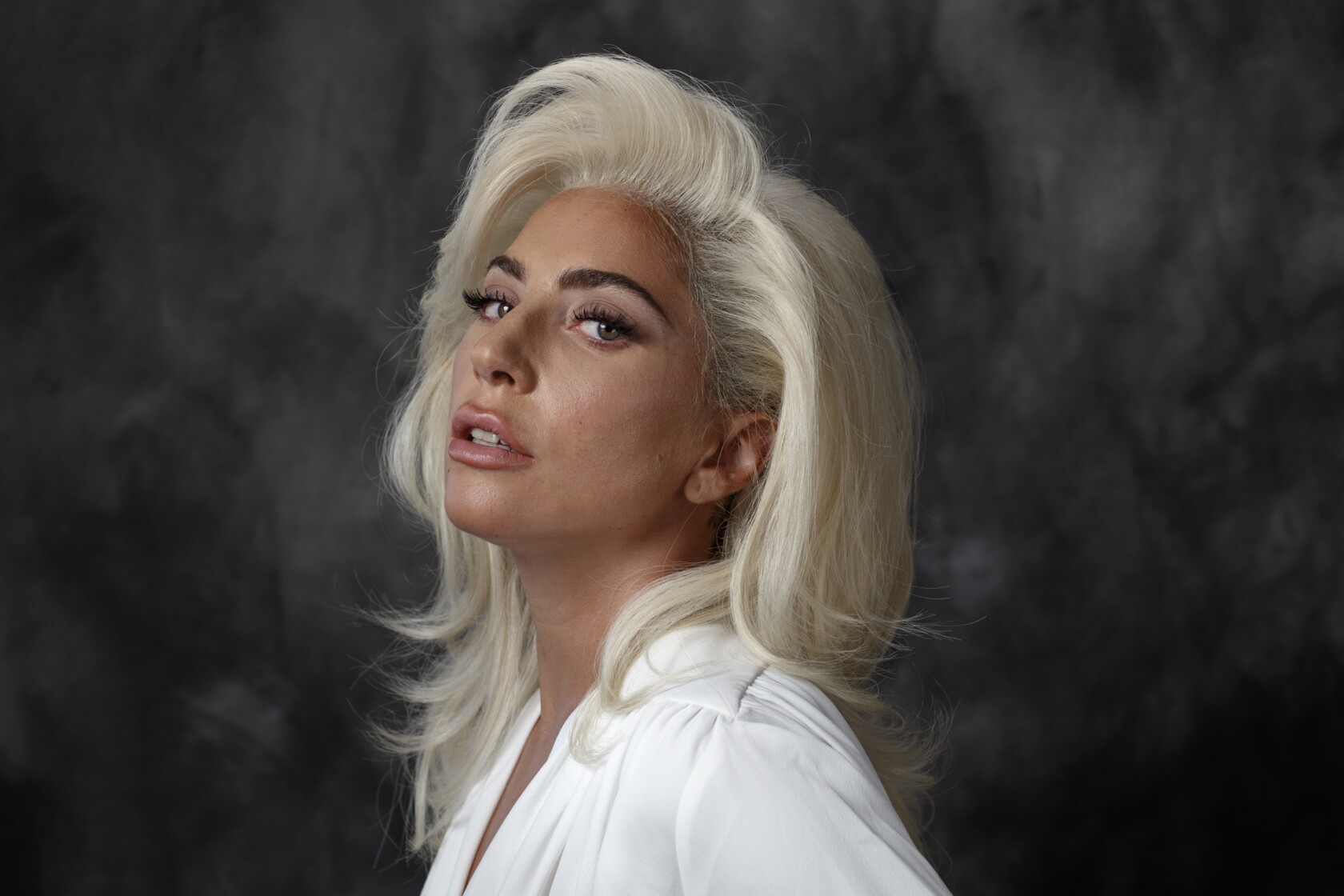 Pop star and Golden Globe-winning actress Lady Gaga is photographed in advance of her new film, "A Star Is Born."
(Jay L. Clendenin / Los Angeles Times)
In addition to her Golden Globe win, Lady Gaga has won six Grammy awards dating back to 2010.
(Jay L. Clendenin / Los Angeles Times)
In "A Star Is Born," Lady Gaga follows in the footsteps of Janet Gaynor, Judy Garland and Barbra Streisand.
(Jay L. Clendenin / Los Angeles Times)
Lady Gaga's previous film credits include a small role in 2014's "Sin City: A Dame to Kill For."
(Jay L. Clendenin / Los Angeles Times)
Principal photography for "A Star Is Born" began at the Coachella Valley Music & Arts Festival in 2017, the same year Lady Gaga performed at the annual festival.
(Jay L. Clendenin / Los Angeles Times)
"A Star Is Born" marks Bradley Cooper's directorial debut and he also stars opposite Lady Gaga. The film will premiere at the Venice Film Festival before hitting theaters in October.
(Jay L. Clendenin / Los Angeles Times)
Last year, Lady Gaga was the subject of the Netflix documentary "Five Foot Two."
(Jay L. Clendenin / Los Angeles Times)
---