'Black Panther,' 'Annihilation' and 'Isle of Dogs' highlight films due this Winter and Spring
Below are the films opening theatrically through April 20. Release dates and other details as compiled by Kevin Crust, are subject to change.
Jan. 19
D'Inked: A Tattoo Removal
Documentary. Indie Rights
Dance Baby Dance
Drama. Indie Rights
Delirium
Horror. Gravitas Ventures
Den of Thieves
Action with Gerard Butler. STX Entertainment
Django
Biographical drama. Under the Milky Way
The Final Year
Political documentary. Magnolia Pictures
Forever My Girl
Country music drama with Alex Roe, Jessica Rothe. Roadside Attractions
Freak Show
Comedy-drama with Alex Lawther, Bette Midler. Directed by Trudie Styler. IFC Films
Humor Me
Comedy with Jemaine Clement, Elliott Gould. Shout! Studios
Kangaroo: A Love-Hate Story
Documentary. Abramorama
Mary and the Witch's Flower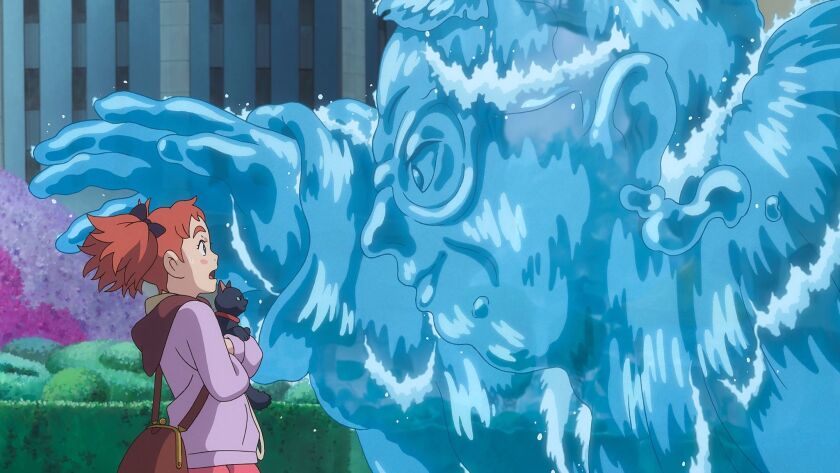 Animated fantasy directed by Hiromasa Yonebayashi. GKids
The Midnight Man
Horror with Robert Englund, Lin Shaye. Directed by Travis Zariwny. IFC Midnight
Mom and Dad
Horror comedy with Nicolas Cage. Momentum Pictures
My Art
Drama starring and directed by Laurie Simmons. Film Movement
The Revival
Religious drama. Breaking Glass Pictures
The Road Movie
Russian documentary directed by Dmitrii Kalashnikov. Oscilloscope Laboratories
Showdown in Manila
Action with Alexander Nevsky. ITN Distribution / Hollywood Storm
Small Town Crime
Crime thriller with John Hawkes. Saban Films / Lionsgate
Step Sisters
Competitive dance drama. Directed by Charles Stone III. Netflix
This Giant Papier-Mâché Boulder Is Actually Really Heavy
Comedy sci-fi. Parade Deck Films
12 Strong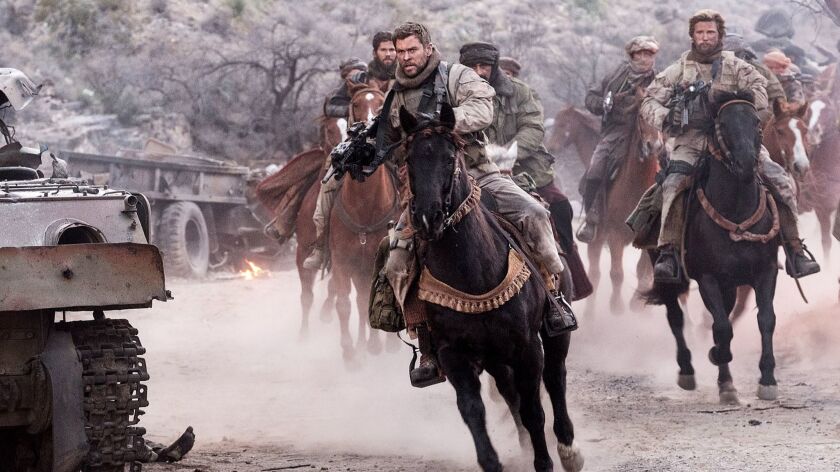 War drama with Chris Hemsworth, Michael Shannon. Warner Bros.
Jan. 26
American Folk
Road drama. Good Deed Entertainment
The Campus
Horror. Gas Money Pictures
The Clapper
Romantic comedy with Ed Helms, Amanda Seyfried. Momentum Pictures
The Competition
Romantic comedy with Thora Birch, Chris Klein. Gravitas Ventures
Desolation
Thriller. Gravitas Ventures / Parade Deck Films
A Futile and Stupid Gesture
Comedy with Will Forte. Directed by David Wain. Netflix
Kickboxer: Retaliation
Action adventure. Well Go USA
Like Me
Thriller. Kino Lorber
Lover for a Day
French drama directed by Philippe Garrel. Mubi
Maze Runner: The Death Cure
Action adventure with Dylan O'Brien. 20th Century Fox
The Neighbor
Dramatic thriller with William Fichtner. Vertical Entertainment
Padman
Indian comedy-drama. Sony Pictures Entertainment
Please Stand By
Drama with Dakota Fanning, Toni Collette. Magnolia Pictures
Vazante
Brazilian drama directed by Daniela Thomas. Music Box Films
Feb. 2
A Ciambra
Italian coming-of-age drama directed by Jonas Carpignano. Sundance Selects
Braven
Action-thriller with Jason Momoa. Saban Films / Lionsgate
The Cage Fighter
Martial arts documentary. Directed by Jeff Unay. Sundance Selects
Driving While Black
Comedy. Artists Rights Distribution
A Fantastic Woman
Chilean drama with Daniela Vega. Directed by Sebastián Lelio. Sony Pictures Classics
Have a Nice Day
Chinese neo-noir animation. Directed by Liu Jian. Strand Releasing
A Lesson in Cruelty
Comedy-drama. Indie Rights
The Lucky Man
Action with Jesse James. Indican Pictures
The Music of Silence
Drama directed by Michael Radford. AMBI Distribution
On Body and Soul
Hungarian drama directed by Ildikó Enyedi. Netflix
Scorched Earth
Action/sci-fi with Gina Carano. Cinedigm
Wastelander
Action. Indican Pictures
Winchester
Gothic thriller with Helen Mirren, Jason Clarke. Directed by the Spierig Brothers. CBS Films
From 'Black Panther' to 'Ready Player One': Hollywood places big bets on spring blockbusters »
Feb. 9
Basmati Blues
Musical romantic comedy with Brie Larson. Directed by Danny Barron. Shout! Studios
Becks
Drama with Lena Hall, Mena Suvari. Blue Fox Entertainment
Bomb City
Dramatic thriller. Gravitas Ventures
Entanglement
Romantic comedy with Thomas Middleditch, Jess Weixler. Dark Star Pictures
Female Brain
Comedy starring and directed by Whitney Cummings. IFC Films
The 15:17 to Paris Drama with Anthony Sadler, Alek Skarlatos, Spencer Stone. Directed by Clint Eastwood. Warner Bros.
Fifty Shades Freed
Erotic drama with Dakota Johnson, Jamie Dornan. Directed by James Foley. Universal Pictures
Monster Family
Animated. Viva Pictures
The Next Big Thing
Action-adventure. Indie Rights
Oscar Nominated Shorts
Live action, animated, documentary. Shorts HD
Permission
Romantic comedy with Rebecca Hall, Dan Stevens. Good Deed Entertainment
Peter Rabbit
Live-action and animated with Rose Byrne, Domhnall Gleeson. Columbia Pictures / Sony Pictures Animation
Domhnall Gleeson and Rose Byrne star in the trailer for "Peter Rabbit."
The Ritual
Horror. Directed by David Bruckner. Netflix
Still/Born
Horror thriller. Vertical Entertainment
When We First Met
Romantic comedy with Adam Devine. Netflix
Feb. 14
Double Lover
Thriller directed by François Ozon. Cohen Media Group
Feb. 16
Black Panther
Superhero adventure with Chadwick Boseman, Michael B. Jordan. Directed by Ryan Coogler. Marvel Studios / Disney
Chadwick Boseman stars in the latest trailer for Marvel's "Black Panther."
Animated comedy directed by Nick Park. Summit Entertainment
Golden Exits
Drama with Emily Browning. Vertical Entertainment / Stage 6
Hidden Light
Crime drama. Indie Rights
The Housemaid
Horror. IFC Midnight
Irreplaceable You
Romantic comedy-drama with Gugu Mbatha-Raw, Michael Huisman. Netflix
Looking Glass
Thriller with Nicolas Cage. Momentum Pictures
Loveless
Russian drama directed by Andrey Zvyagintsev. Sony Pictures Classics
Nostalgia
Drama with Jon Hamm, Catherine Keener. Bleecker Street
The Party
Dark ensemble comedy with Patrica Clarkson, Kristin Scott Thomas. Directed by Sally Potter. Roadside Attractions
Samson
Biblical epic with Billy Zane. Pure Flix
Feb. 23
Annihilation
Fantasy adventure with Natalie Portman. Directed By Alex Garland. Paramount Pictures
Natalie Portman stars in the trailer for "Annihilation."
Beast of Burden
Action thriller with Daniel Radcliffe. Momentum Pictures
The Boy Downstairs
Romantic comedy-drama with Zosia Mamet. FilmRise
Broken Ceiling
Dramatic thriller. Indie Rights
But Deliver Us From Evil
Horror with Eric Roberts. Indican Pictures
The Chamber
Claustrophobic thriller. Cinedigm
The Cured
Horror with Ellen Page. IFC Films
Curvature
Sci-fi thriller. Screen Media Films
Days of Power
Horror with Eric Roberts. Gravitas Ventures
Every Day
YA romantic fantasy with Angourie Rice. Orion Pictures
Game Night
Action comedy with Jason Bateman, Rachel McAdams. Warner Bros. / New Line Cinema
Half Magic
Comedy starring and directed by Heather Graham. Momentum Pictures
The Lodgers
Horror thriller. Epic Pictures
November
Estonian romantic fantasy directed by Rainer Sarnet. Oscilloscope Laboratories
7 Guardians of the Tomb
Action adventure with Kelsey Grammer. Gravitas Ventures
Survivors Guide to Prison
Documentary featuring Danny Trejo. Gravitas Ventures
The Young Karl Marx
Biographical drama directed by Raoul Peck. The Orchard
February TBD
Above & Beyond Acoustic: Giving Up the Day Job
Music documentary directed by Paul Dugdale and Myles Desenberg. Abramorama
Chasing Great
Rugby documentary. Abramorama
March 2
Death Wish
Revenge thriller with Bruce Willis. Directed by Eli Roth. MGM
Don't Talk to Irene
Comedy. Gravitas Ventures
Foxtrot
Israeli drama directed by Samuel Maoz. Sony Pictures Classics
Journey's End
World War I drama. Good Deed Entertainment
Midnighters
Thriller. IFC Midnight
Red Sparrow
Spy thriller with Jennifer Lawrence. 20th Century Fox
Jennifer Lawrence stars in "Red Sparrow."
March 9
Bent
Crime thriller with Karl Urban. Lionsgate
The Death of Stalin
Dark comedy with Steve Buscemi, Jeffrey Tambor. Directed by by Armando Iannucci. IFC Films
The Forgiven
Political thriller with Forest Whitaker, Eric Bana. Directed by Roland Joffé. Saban Films
Goldstone
Australian neo-western noir. Directed by Ivan Sen. Lightyear Entertainment
Gringo
Dark comedy action-drama with David Oyelowo, Charlize Theron. Amazon Studios / STX Films
The Happys
Romantic comedy-drama. Indican Pictures
Leaning Into the Wind: Andy Goldworthy
Art documentary. Magnolia Pictures
The Leisure Seeker
Drama with Donald Sutherland, Helen Mirren. Directed by Paolo Virzi. Sony Pictures Classics
Our Blood is Wine
Vinification documentary directed by Emily Railsback. Music Box Films
Return to Nuke 'Em High a.k.a. Vol. 2
Comedy-horror directed by Lloyd Kaufman. Troma Entertainment
The Strangers Prey at Night
Horror with Christina Hendricks. Aviron Pictures
Thoroughbreds
Dramatic thriller with Olivia Cooke, Anya Taylor-Joy. Focus Features
A Wrinkle in Time
Fantasy adventure with Oprah Winfrey, Reese Witherspoon. Directed by Ava DuVernay. Walt Disney Pictures
Oprah Winfrey, Reese Witherspoon and others star in the trailer for "A Wrinkle in Time."
March 16
Allure
Romantic thriller with Evan Rachel Wood. Samuel Goldwyn Films
Apartment 212
Horror. Gravitas Ventures
Augie
Documentary on fitness entrepreneur Augie Nieto's search for ALS cure. Virgil Films
Beauty and the Dogs
Tunisian drama directed by Kaouther Ben Hania. Oscilloscope Laboratories
Benji
Dog drama directed by Brandon Camp. Netflix
Dear Dictator
Comedy with Odeya Rush, Michael Caine. Cinedigm
Demon House
Horror documentary. Freestyle Digital Media
Flower
Dark comedy with Zoey Deutch. The Orchard
Furlough
Comedy with Tessa Thompson, Melissa Leo. IFC Films
I Can Only Imagine
Christian music drama. Roadside Attractions
Josie
Thriller. Screen Media Films
Romantic drama with Nick Robinson. 20th Century Fox
7 Days in Entebbe
Political thriller with Rosamund Pike, Daniel Brühl. Focus Features
Souvenir
French drama with Isabelle Huppert. Strand Releasing
Tomb Raider
Action-adventure with Alicia Vikander as Lara Croft. Directed by Roar Uthaug. Warner Bros./MGM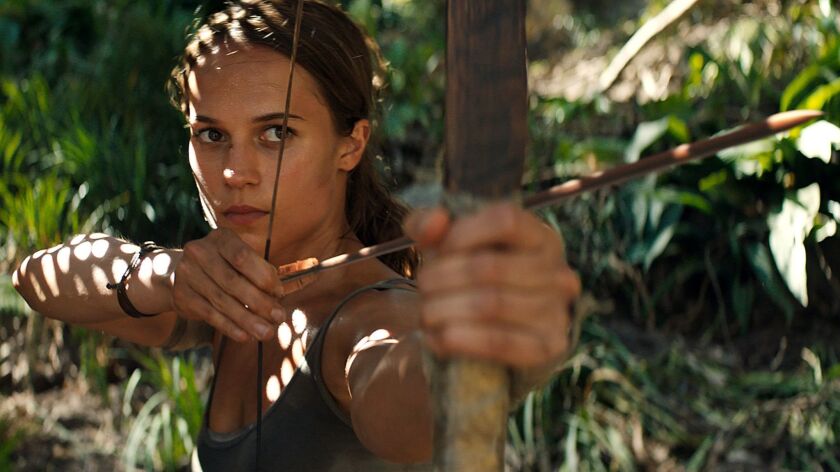 Us and Them
Thriller. The Orchard
March 23
The Endless
Sci-fi horror. Well Go USA
Final Portrait
Drama with Geoffrey Rush, Armie Hammer. Directed by Stanley Tucci. Sony Pictures Classics
Gabriel and the Mountain
Brazilian drama. Strand Releasing
Game Over, Man!
Comedy with Adam Devine. Netflix
I Kill Giants
Adventure fantasy with Zoe Saldana. RLJE Films
Isle of Dogs
Animated adventure directed by Wes Anderson. Fox Searchlight
Edward Norton, Bill Murray, Bryan Cranston, Liev Schreiber and Tilda Swinton are among the stars who lend their voices to Wes Anderson's "Isle of Dogs."
Izzy Gets the … Across Town
Comedy-drama with Mackenzie Davis, Carrie Coon. Shout! Studios
Keep the Change
Romantic comedy. Kino Lorber
Madame
Comedy with Toni Collette, Harvey Keitel. Blue Fox Entertainment
Midnight Sun
Romantic drama with Bella Thorne. Open Road
Pacific Rim Uprising
Sci-fi adventure epic with John Boyega. Universal Pictures
John Boyega stars in the "Pacific Rim: Uprising" trailer.
Pyewacket
Supernatural horror with Laurie Holden. IFC Midnight
Sherlock Gnomes
Animated sequel. Paramount Pictures
Unsane
Dramatic thriller with Claire Foy. Directed by Steven Soderbergh. Fingerprint Releasing / Bleecker Street
March 28
Paul, Apostle of Christ
Biblical drama with Jim Caviezel. Affirm Films / Sony Pictures Releasing
March 30
Acrimony
Drama with Taraji P. Henson. Directed by Tyler Perry. Lionsgate
Bad Samaritan
Crime thriller with David Tennant. Directed by Dean Devlin. Electric Entertainment
Caught
Horror. Cinedigm
The China Hustle
Financial crime documentary. Magnolia Pictures
Finding Your Feet
Comedy with Imelda Staunton. Roadside Attractions
God's Not Dead: A Light in Darkness
Faith-based drama. Pure Flix
Ismael's Ghosts
French drama with Mathieu Amalric, Marion Cotillard, Charlotte Gainsbourg. Directed by Arnaud Desplechin. Magnolia Pictures
Lean on Pete
Drama with Charlie Plummer. Directed by Andrew Haigh. A24
Lou Andreas-Salomé: The Audacity to Be
European drama. Cinema Libre Studio
Love After Love
Drama with Andie MacDowell, Chris O'Dowd. Sundance Selects
Outside In
Drama with Jay Duplass, Edie Falco. Directed by Lynn Shelton. The Orchard
Ready Player One
Sci-fi action-adventure with Tye Sheridan, Olivia Cooke, Ben Mendelsohn. Directed by Steven Spielberg. Warner Bros.
Cast of "Ready Player One" at Comic Con.
March TBD
Back to Burgundy
French comedy-drama directed by Cédric Klapisch. Music Box Films
The Big Bad Fox & Other Tales
French animated anthology. Written by Benjamin Renner and Jean Regnaud, based on the book by Renner. Directed by Renner and Patrick Imbert. GKids
Roxanne Roxanne
Hip-hop drama with Mahershala Ali, Nia Long. Netflix
The Test
Documentary. Abramorama
Trouble
Comedy-drama with Anjelica Huston. Directed by Theresa Rebeck. Paladin
What We Started
Electronic music documentary. Abramorama
April 6
Birthmarked
Comedy with Matthew Goode, Toni Collette. Vertical Entertainment
Blockers
Comedy with Leslie Mann. Universal Pictures
Chappaquiddick
Suspense drama with Jason Clarke, Kate Mara. Entertainment Studios Motion Pictures
A Quiet Place
Horror with Emily Blunt, John Krasinski. Directed by Krasinski. Paramount Pictures
Spinning Man
Mystery thriller with Guy Pearce, Pierce Brosnan. Lionsgate Premiere
Spiral
Documentary on fear and intolerance. Directed by Laura Fairrie. Cohen Media Group
Sweet Country
Australian western thriller with Bryan Brown. Samuel Goldwyn Films
You Were Never Really Here
Drama with Joaquin Phoenix. Directed by Lynne Ramsay. Amazon Studios
April 13
Aardvark
Drama with Zachary Quinto, Jon Hamm. Great Point Media
Beirut
Political thriller with Jon Hamm, Rosamund Pike. Bleecker Street
Come Sunday
Religious drama with Chiwetel Ejiofor. Netflix
Jet Trash
Action. Indican Pictures
Miracle Season
Inspirational sports drama with Helen Hunt, William Hurt. LD Entertainment
The New Mutants
Sci-fi horror with Anya Taylor-Joy. 20th Century Fox
Watch the trailer for "The New Mutants."
The Rider
Drama directed by Chloé Zhao. Sony Pictures Classics
Submergence
Romantic thriller with Alicia Wickander, James McAvoy. Directed by Wim Wenders. Samuel Goldwyn Films
10x10
Thriller. Vertical Entertainment
April 20
Big Fish & Begonia
Chinese animation. Shout! Studios
The House of Tomorrow
Drama with Ellen Burstyn. Shout! Studios
Overboard
Comedy with Eugenio Derbez, Anna Faris. MGM / Pantelion Films / Lionsgate
Rampage
Action adventure Dwayne Johnson. Warner Bros.
Super Troopers 2
Sequel to 2001 Broken Lizard comedy. Fox Searchlight
Tully
Comedy with Mackenzie Davis, Charlize Theron. Written by Diablo Cody. Directed by Jason Reitman. Focus Features
Untitled Cloverfield Movie
Sci-fi horror with David Oyelowo. Paramount Pictures
Zama
Argentine drama directed by Lucretia Martel. Strand Releasing
April TBD
Ghost Stories
Horror with Martin Freeman, Alex Lawther. IFC Midnight
Lowlife
Thriller. IFC Midnight
Trouble is My Biz
Neo-noir. Random Media / The Orchard
------------
See the most-read stories in Entertainment this hour »
---
Inside the business of entertainment
The Wide Shot brings you news, analysis and insights on everything from streaming wars to production — and what it all means for the future.
You may occasionally receive promotional content from the Los Angeles Times.