Virtually every film coming out this fall
We've compiled a list of films set to premiere this fall, from September 7 through November 2.
Sept. 7
Age of Summer
For the record:
7:10 a.m. Aug. 30, 2018An earlier version of this article incorrectly listed a documentary about musician John Lydon as "The Public Image Is Limited." The film is actually titled "The Public Image Is Rotten." Aug. 30, 10:30 AM: An earlier version of this article incorrectly listed two films as "Everday Act of Life" and "Tea With Dames." The films are titled "Every Act of Life" and "Tea With the Dames."Aug. 30, 8:15 p.m.: An earlier version of this article incorrectly attributed the screenplay for "A Private War" to director Matthew Heineman. The film was written by Arash Amel, based on an article by Marie Brenner.
Coming-of-age comedy with Percy Hynes White. Freestyle Digital Media
Alright Now
Comedy with Cobie Smulders. Gravitas Ventures
The Apparition
The Vatican recruits a journalist to investigate a young woman's vision of the Virgin Mary. With Vincent Lindon, Galatéa Bellugi, Patrick d'Assumçao, Anatole Taubman, Elina Löwensohn. Written and directed by Xavier Giannoli. Music Box Films
The Breeding
Thriller with David J. Cork. Breaking Glass Pictures
Diane
Crime thriller written and directed by Michael Mongillo. Random Media
Edge of Obedience
Documentary on Malaysian artist Ahmad Zakii Anwar pushing the boundaries of taboos in his homeland. Director Jin-Theng Craven. Indie Rights
God Bless the Broken Road
A military widow raises her daughter solo after her husband is killed in Afghanistan. With Lindsay Pulsipher, Andrew W. Walker, Jordin Sparks, LaDainian "LT" Tomlinson, Makenzie Moss, Kim Delaney, Robin Givens. Written by Harold Cronk, Jennifer Dornbush, Liam Matthews. Directed by Cronk. Freestyle Releasing
Inventing Tomorrow
Documentary on the International Science and Engineering Fair. Directed by Laura Nix. Fishbowl Films
Kusama — Infinity
The painting, sculpture, installation art, performance art, poetry and novels of Japanese artist Yayoi Kusama, creator of the Infinity Mirrored Rooms, are explored in this documentary. Directed by Heather Lenz. Magnolia Pictures
FULL COVERAGE: 2018 fall movie preview »
Lost Fare
Drama with Alexis Rosinsky. Indie Rights
Mara
Horror with Olga Kurylenko. Saban Films
The Nun
A troubled priest and a novitiate sent by the Vatican to investigate a suicide and an abbey in Romania are confronted by the same malevolent force from "The Conjuring 2." With Demian Bichir, Taissa Farmiga, Jonas Bloquet, Charlotte Hope, Ingrid Bisu, Bonnie Aarons. Written by by Gary Dauberman, story by Gary Dauberman, James Wan. Directed by Corin Hardy. Warner Bros. / New Line Cinema
Painless
Thriller directed by Jordan Horowitz. Indican Pictures
Peppermint
Jennifer Garner stars in the revenge-minded "Peppermint."
Jennifer Garner plays a mother who transforms herself into a vigilante after her family is brutally murdered. With John Ortiz, John Gallagher Jr., Juan Pablo Raba. Written by Chad St. John. Directed by Pierre Morel. STXfilms
The Ranger
Soft horror directed by Jenn Wexler. Glass Eye Pix & Hood River Entertainment
Susanne Bartsch: On Top
Documentary on the fashionista. Featuring Bartsch, RuPaul, Amanda Lepore, Bill Cunningham. Directed by Anthony&Alex. The Orchard
Sept. 13
Alleged Gangster
Crime drama written and directed by and starring Andrew M. Pressman. Hungry Lion Films
Sept. 14
American Chaos
Filmmaker James D. Stern sought out Donald Trump supporters in 2016 in a bid to understand the then-presidential candidate's baffling appeal in this documentary. Sony Pictures Classics
The Angel
Middle Eastern espionage tale based on true story. Directed by Ariel Vromen. Netflix
Another Time
Romantic thriller with Justin Hartley. Gravitas Ventures
Armed
Action thriller written and directed by and starring Mario Van Peebles. With Ryan Guzman, Columbus Short, Jemma Dallender, Laz Alonso, William Fichtner. GVN Releasing
The Basement
Horror with Mischa Barton. Uncork'd Entertainment
Bel Canto
Drama with Julianne Moore, Ken Watanabe. Written by Anthony Weintraub, Paul Weitz. Directed by Weitz. Screen Media
Blaze
Director Ethan Hawke explains why he purposely avoided showing violence in "Blaze." He was at a panel discussion with Ryan Hawke, Ben Dickey and Alia Shawkat at the L.A. Times Studio at Chase Sapphire on Main. FULL COVERAGE: Sundance Film Festival 2
The story of Blaze Foley, an influential member of the Texas Outlaw music movement. With Benjamin Dickey, Alia Shawkat, Charlie Sexton, Josh Hamilton, Richard Linklater, Alynda Segarra, Sam Rockwell, Steve Zahn, Kris Kristofferson. Written by Ethan Hawke, Sybil Rosen, based on Rosen's memoir. Directed by Hawke. Sundance Selects
A Boy. A Girl. A Dream.
Romance with Omari Hardwick, Meagan Good and Jay Ellis. Directed by Qasim Basir. Samuel Goldwyn Features
The Children Act
A British High Court judge balances her role in ruling on the welfare of minors and an increasingly challenging relationship with her husband. With Emma Thompson, Stanley Tucci, Fionn Whitehead. Written by Ian McEwan. Directed by Richard Eyre. A24 / DirecTV
Danger One
Action comedy with Tom Everett Scott, James Jurdi, Angélica Celaya. Directed by Tom Oesch. Freestyle Digital Media
The Dawn Wall
Adventure documentary featuring Kevin Jorgeson and Tommy Caldwell. The Orchard
Don't Leave Home
Horror with Anna Margaret Hollyman. Written and directed by Michael Tully. Cranked Up Films
e-Demon
Horror directed by Jeremy Wechter. Dark Cuts
Final Score
Action with Dave Bautista, Pierce Brosnan. Saban Films
Four Hands
Thriller with Frida-Lovisa Hamannm, Friederike Becht, Christoph Letkowski. Directed by Oliver Kienle. Cleopatra Entertainment
Hal
Documentary on iconoclastic 1970s filmmaker Hal Ashby, director of "Harold & Maude," "Shampoo" and "Coming Home." Featuring Lee Grant, Jane Fonda, Alexander Payne, Norman Jewison, Robert Towne. Directed by Amy Scott. Oscilloscope Laboratories
Hot to Trot
Documentary on competitive same-sex ballroom dancing. Directed by Gail Freedman. First Run Features
I Am Not a Witch
Satire on witchcraft in modern-day Zambia. Writtten and directed by Rungano Nyoni. Film Movement
I Think We're Alone Now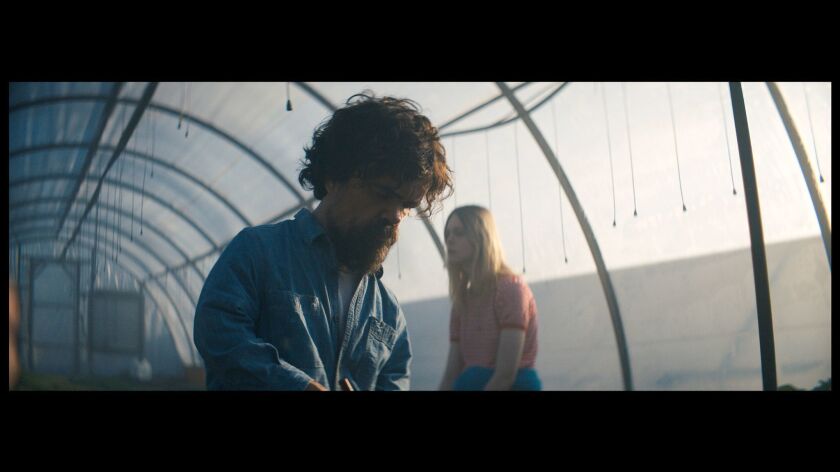 Peter Dinklage stars as a man whose idle as the presumed last soul on Earth is interrupted by the arrival of a young woman. With Elle Fanning. Written by Mike Makowsky. Directed by Reed Morano. Momentum Pictures
Interference
Thriller. Indie Rights
The Land of Steady Habits
Newly retired with his sons' college tuition paid off, a Connecticut man leaves his wife and embarks on a mission of self-discovery. With Ben Mendelsohn, Edie Falco, Connie Britton, Elizabeth Marvel, Thomas Mann, Bill Camp. Written and directed by Nicole Holofcener, based on the book by Ted Thompson. Netflix
Letter From Masanjia
Human rights documentary. Ammo Content
Lizzie
Chloë Sevigny and Kristen Stewart star as the infamous ax-wielder and the housemaid for whom she falls while living under the claustrophobic roof of her misogynist father. With Jamey Sheridan, Fiona Shaw, Kim Dickens, Denis O'Hare and Jeff Perry. Written by Bryce Kass. Directed by Craig William Macneill. Roadside Attractions / Saban Films
Lost Child
Mystery. Breaking Glass Pictures
Mandy
Action thriller with Nicolas Cage. RLJE Films
MDMA
At a San Francisco university in 1984, a working-class girl finds an ingenious, if illegal, solution to her financial aid problems. With Annie Q., Francesca Eastwood, Pierson Fodé. Written and directed by Angie Wang, based on her own experiences. Shout! Studios
Nelly
Drama about French Canadian sex worker-turned-novelist Nelly Arcand. With Mylène Mackay, Mickaël Gouin, Catherine Brunet. Written and directed by Anne Émond. Cinema Libre Studio
Patient Zero
Pandemic thriller with Natalie Dormer, Stanley Tucci, Matt Smith. Vertical Entertainment
The Predator
A young boy inadvertently prompts the return to Earth of the now-genetically enhanced killing creatures. With Boyd Holbrook, Trevante Rhodes, Jacob Tremblay, Keegan-Michael Key, Olivia Munn, Sterling K. Brown. Written by Fred Dekker, Shane Black; based on the characters created by Jim Thomas, John Thomas. Directed by Black. 20th Century Fox
The Public Image Is Rotten
Documentary follows John Lydon (a.k.a. Johnny Rotten) through his decades-long challenge to lift his 1980s band Public Image Ltd. out of the shadow of his former group, the Sex Pistols. Featuring Flea, Ad-Rock, Thurston Moore. Directed by Tabbert Filler. Abramorama
Rodents of Unusual Size
Documentary on the effect of the invasive nutria on post-Katrina New Orleans. Narrated by Wendell Pierce. Directed by Chris Metzler, Jeff Springer. Tilapia Film
A Simple Favor
Anna Kendrick stars as a mom blogger who investigates the disappearance of her best friend. With Blake Lively, Henry Golding, Andrew Rannells, Linda Cardellini, Jean Smart, Rupert Friend. Written by Jessica Sharzer, based upon the novel by Darcey Bell. Directed by Paul Feig. Lionsgate
Unbroken: Path to Redemption
Continues the story of Olympic runner and World War II hero Louie Zamperini as he battles PTSD and discovers his faith. With Samuel Hunt, Merritt Patterson, Bobby Campo, Vanessa Bell Calloway, David Sakurai, Gary Cole, Will Graham. Directed by Harold Cronk. Written by Richard Friedenberg, Ken Hixon; based on the book by Laura Hillenbrand. Pure Flix Entertainment
Where Hands Touch
World War II drama with Amandla Stenberg, George MacKay, Abbie Cornish, Christopher Eccleston. Vertical Entertainment
White Boy Rick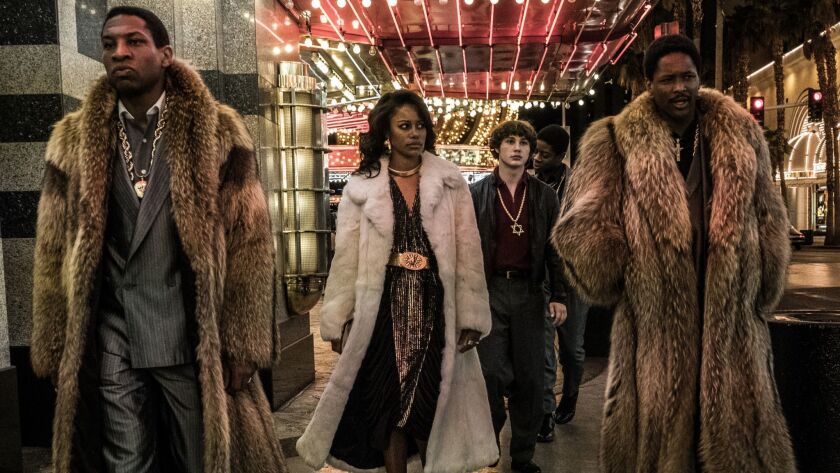 A teenage boy works as a police informant before being cut loose and sent to prison in 1980s Detroit. With Matthew McConaughey, Richie Merritt, Bel Powley, Jennifer Jason Leigh, Bruce Dern, Piper Laurie. Written by Andy Weiss, Logan Miller, Noah Miller. Directed by Yann Demange. Columbia Pictures / Studio 8
Sept. 21
American Dresser
Motorcycle road trip drama with Tom Berenger. Cinedigm
Antonio Lopez 1970: Sex Fashion & Disco
Documentary on the influential fashion illustrator. Directed by James Crump. Film Movement
Assassination Nation
Falsely accused of a data hack that plunges the town of Salem into a night of horror, a high school girl and her three besties fights to survive. With Odessa Young, Suki Waterhouse, Hari Nef, Abra Anika, Noni Rose, Colman Domingo, Maude Apatow, Bill Skarsgard, Joel McHale, Bella Thorne. Written and directed by Sam Levinson. Neon
Beyond the Sky
Sc-fi thriller directed by Fulvio Sestito. RLJE Films
Colette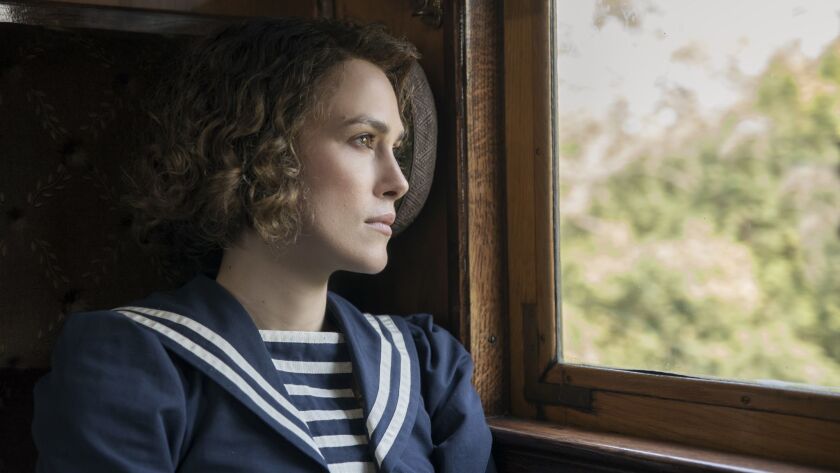 Keira Knightley stars as the mononymous writer who overcame patriarchy and sexism to become one of France's most acclaimed literary figures. With Dominic West, Denise Gough, Fiona Shaw, Robert Pugh, Eleanor Tomlinson. Written by Richard Glatzer, Wash Westmoreland, Rebecca Lenkiewicz. Directed by Westmoreland. Bleecker Street / 30 West
Fahrenheit 11/9
Provocative filmmaker Michael Moore explores the Trump era of American politics in this documentary. Briarcliff Entertainment
First Lady
Urban crime drama. Indie Rights
Hale County This Morning, This Evening
Documentary follows five years in the lives of two African American men from rural Alabama. Directed by RaMell Ross. Cinema Guild
A Happening of Monumental Proportions
Career Day at an elementary school triggers a series of darkly comic events for an accountant, his family, co-workers. With Common, Bradley Whitford, Allison Janney, Rob Riggle, Storm Reid, Anders Holm. Directed by Judy Greer. Great Point Media
The House With a Clock in its Walls
The magical adventure "The House With a Clock in Its Walls" is expected to open with $18 million to $25 million in box office sales in the U.S. and Canada this weekend.
A quiet town is magically shaken when a young boy unleashes a secret world of witches and warlocks. With Jack Black, Cate Blanchett, Owen Vaccaro, Renée Elise Goldsberry, Sunny Suljic, Kyle MacLachlan. Written by Eric Kripke; based on the children's book by John Bellairs, illustrated by Edward Gorey. Directed by Eli Roth. Universal Pictures
Intelligent Lives
Documentary challenging the perception of those with intellectual disabilities. Narrated by Chris Cooper. Directed by Dan Habib. Like Right Now Movies
Life Itself
The romance, marriage and parenthood of a young New York couple affects generations and spans continents. With Oscar Isaac, Olivia Wilde, Olivia Cooke, Annette Bening, Laia Costa, Sergio Peris-Mencheta, Mandy Patinkin and Antonio Banderas. Written and directed by Dan Fogelman. Amazon Studios
Little Italy
Romantic comedy set against the backdrop of warring pizzerias. With Hayden Christensen, Emma Roberts, Alyssa Milano. Written by Steve Galluccio, Vinay Virmani. Directed by Donald Petrie. Lionsgate
Love, Gilda
Documentary on the late "Saturday Night Live" comic performer. Featuring Melissa McCarthy, Amy Poehler, Bill Hader. Directed by Lisa D'Apolito. Magnolia Pictures
Quincy
Documentary on music industry stalwart Quincy Jones. Directed by Rashida Jones and Alan Hicks. Netflix
Science Fair
Documentary on teens from around the world competing at the International Science and Engineering Fair. Directed by Cristina Costantini and Darren Foster. National Geographic Documentary Films
The Sisters Brothers
Siblings are hired to kill a prospector in this comedic western. With Joaquin Phoenix, John C. Reilly, Jake Gyllenhaal, Riz Ahmed. Written by Jacques Audiard, Thomas Bidegain, based on a novel by Patrick Dewitt. Directed by Audiard. Annapurna Pictures
The Song of Sway Lake
Romance with Roy Culkin, Robert Sheehan, Isabelle McNally. The Orchard
The Storyteller
Family drama. Indie Rights
When You Read This Letter
Juliette Gréco plays a young woman who leaves the convent to care for her sister and run the family business in Jean-Pierre Melville's 1953 drama. With Philippe Lemaire. Rialto Pictures
Sept. 28
All About Nina
A New York comedian takes a chance on herself and moves to L.A. With Mary Elizabeth Winstead, Common, Chace Crawford, Clea DuVall, Kate del Castillo, Beau Bridges. Written and directed by Eva Vives. The Orchard
At First Light
Sci-fi romance with Stefanie Scott. Gravitas Ventures
Bad Reputation
From the Runaways through "I Love Rock 'n' Roll" and a decades-long career, rocker Joan Jett is profiled in this documentary. Directed by Kevin Kerslake. Magnolia Pictures
Bisbee '17
Documentary on an Arizona town facing its dark history. Directed by Robert Greene. 4th Row Films
Black 47
A 19th century Irishman is enraged to discover his country stricken by famine after he deserts the British army. Written by Lance Daly, PJ Dillon, Pierce Ryan, Eugene O'Brien. Directed by Daly. With Hugo Weaving, James Frecheville, Jim Broadbent, Stephen Rea, Freddie Fox. IFC Films
Call Her Ganda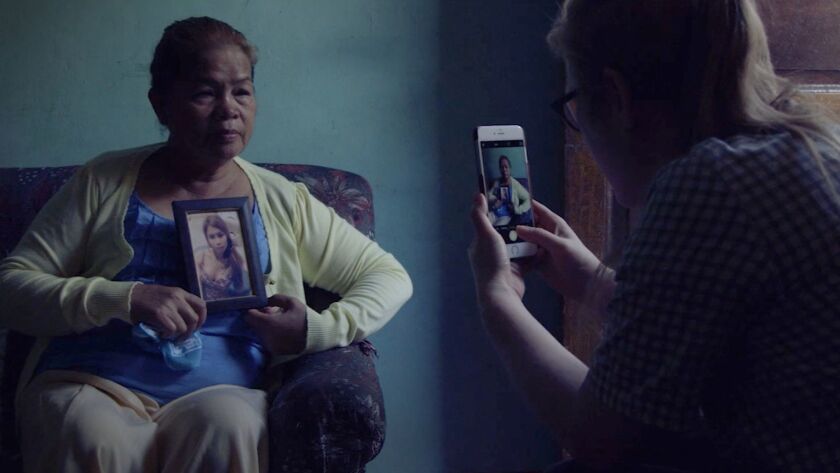 Documentary on the murder of a transgender woman by a U.S. Marine in the Philippines. Directed by PJ Raval. Breaking Glass Pictures
Cruise
1980s-set romance with Spencer Boldman, Emily Ratajkowski. Vertical Entertainment
Free Solo
Adventure documentary. Directed by Elizabeth Chai Vasarhelyi and Jimmy Chin. National Geographic Documentary Films
Hell Fest
A traveling Halloween-themed amusement park becomes a literal playground of horror when a masked killer terrorizes its guests. With Amy Forsyth, Reign Edwards, Bex Taylor-Klaus. Written by Seth M. Sherwood, Blair Butler, story by William Penick & Chris Sey. Directed by Gregory Plotkin. CBS Films / Lionsgate
Hold the Dark
A naturalist helps an Alaskan mother after her son is killed by a pack of wolves, but the return of the woman's husband from Iraq leads to violent consequences. With Jeffrey Wright, Alexander Skarsgård, James Badge Dale, Riley Keough, Julian Black Antelope. Written by Macon Blair. Directed by Jeremy Saulnier. Netflix
The Last Suit
Argentine drama directed by Pablo Solarz. Outsider Pictures / Strand Releasing
Maggie Black
Drama. Indie Rights
Matangi / Maya / M.I.A.
The Sri Lankan-born musical artist is profiled in this documentary. Directed by Steve Loveridge. Abramorama
Maximum Impact
Action-comedy with Alexander Nevsky, Kelly Hu, Tom Arnold, Danny Trejo, William Baldwin, Eric Roberts. Directed by Andrzej Bartkowiak. Unified Pictures
Monsters and Men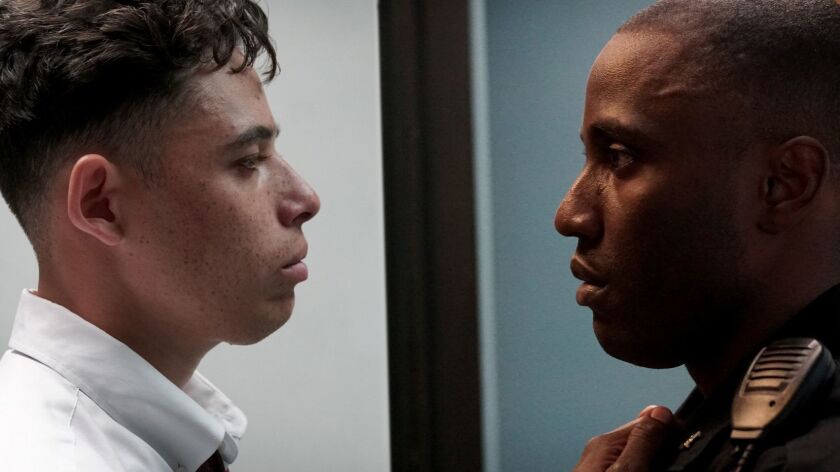 Tensions rise in Bed-Stuy, Brooklyn, after a father witnesses the police shooting of an unarmed black man. With John David Washington, Anthony Ramos, Kelvin Harrison Jr., Chante Adams, Jasmine Cephas Jones, Cara Buono, Rob Morgan, Nicole Beharie. Written and directed by Renaldo Marcus Green. Neon
Museo
Ne'er-do-well 30-somethings in Mexico City stage a daring cultural artifacts heist. With Gael García Bernal, Leonardo Ortizgris, Alfredo Castro, Simon Russell Beale. Written by Manuel Alcala, Alonso Ruizpalacios. Directed by Alonso Ruizpalacios. Vitagraph Films
Night School
Adult dropouts must attend evening classes with the slim hope they can pass the GED. With Kevin Hart, Tiffany Haddish, Rob Riggle, Taran Killam, Romany Malco. Written by Hart, Harry Ratchford, Joey Wells, Matt Kellard, Nicholas Stoller, John Hamburg. Directed by Malcolm D. Lee. Universal Pictures
Related: Tiffany Haddish times three in 'Night School,' 'The Oath' and 'Nobody's Fool'
The Old Man & the Gun
Robert Redford stars as a septuagenarian who escapes from San Quentin and pulls a string of capers while eluding law enforcement and charming the masses. With Casey Affleck, Danny Glover, Tika Sumpter, Tom Waits, Sissy Spacek. Written and directed by David Lowery; based on an article by David Grann.Fox Searchlight
The Padre
Drama about an exorcism-performing con man. With Tim Roth, Nick Nolte, Luis Guzmán. Vertical Entertainment / Sony Pictures Home Entertainment
Scaffolding
Drama with Asher Lax. Breaking Glass Pictures
Smallfoot
A yeti discovers a creature previously thought to be mythical — a human — in this animated twist on the hairy legend. Voices by Channing Tatum, James Corden, Zendaya, Common, LeBron James, Danny DeVito, Gina Rodriguez, Yara Shahidi, Ely Henry, Jimmy Tatro. Written by Karey Kirkpatrick, story by John Requa, Glenn Ficarra, Kirkpatrick, based on a book by Sergio Pablos. Directed by Kirkpatrick.Warner Bros. / Warner Animation Group
Tea With the Dames
British acting royalty and longtime friends Eileen Atkins, Judi Dench, Joan Plowright and Maggie Smith swap gossip and stories in this documentary. Directed by Roger Michell. Sundance Selects
Oct. 5
Above and Beyond: NASA's Journey to Tomorrow
Filmmaker Rory Kennedy chronicles the U.S. space agency's 60-year history of exploration, aeronautics and aerospace research in this documentary. Written by Mark Bailey, Don Kleszy. Discovery
Bayou Caviar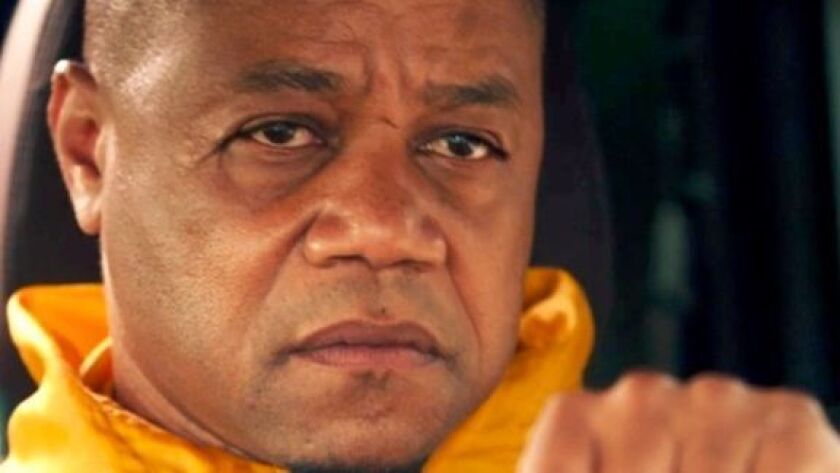 Louisiana-set thriller starring and directed by Cuba Gooding Jr. With Richard Dreyfuss, Famke Janssen. Gravitas Ventures
Chasing the Blues
Comedy with Grant Rosenmeyer, Jon Lovitz. Ammo Content
A Crooked Somebody
Comedy with Rich Sommer, Clifton Collins Jr., Joanne Froggatt. Directed by Trevor White. Vertical Entertainment / DirecTV
Heavy Trip
Finnish comedy written and directed by Jukka Vidgren, Juuso Laatio. Doppelganger Releasing
Knuckleball
Horror with Michael Ironside. Freestyle Digital Media
L'Atalante
Restored version of Jean Vigo's 1934 comedy-drama about the romance between a barge captain and a naive country girl. With Jean Dasté, Dita Parlo. Janus Films
Living in the Future's Past
Documentary featuring Jeff Bridges. Trafalgar Releasing
Morning, Noon & Night
Addiction drama written and directed by Josh Becker. Panoramic Pictures
Private Life
A middle-aged couple with fertility issues welcomes the entry of a young woman into their lives. With Paul Giamatti, Kathryn Hahn, Kayli Carter, Molly Shannon, John Carroll Lynch, Denis O'Hare. Written and directed by Tamara Jenkins. Netflix
Ride
Thriller with Bella Thorne. RLJE Films
The Samuel Project
Drama about a San Diego teen who gets to know his Jewish grandfather. With Hal Linden, Ryan Ochoa, Liza Lapira, Ken Davitian. in8 Releasing
A Star Is Born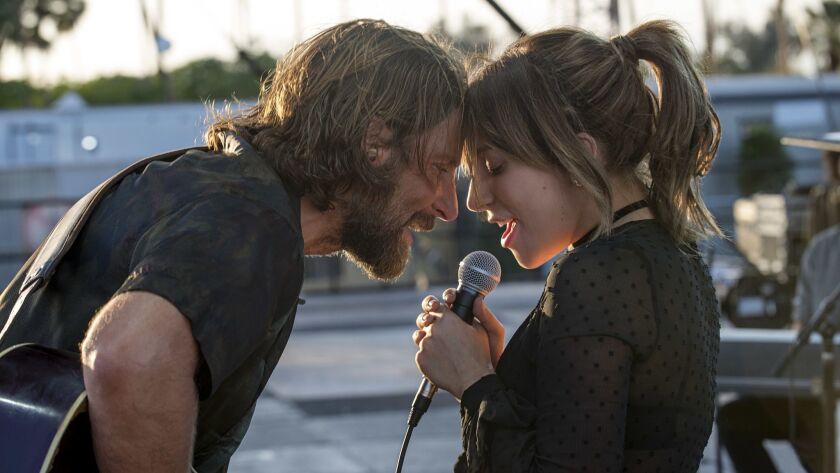 Bradley Cooper headlines with Lady Gaga and makes his directorial debut with this remake of the venerable love story about rising and falling show biz careers. With Andrew Dice Clay, Dave Chappelle, Sam Elliott. Written by Eric Roth, Bradley Cooper, Will Fetters. Warner Bros. / MGM
RELATED: Lady Gaga lets go and finds her acting plutonium in Bradley Cooper's 'A Star Is Born'
Trouble
Comedy-drama with Anjelica Huston, Bill Pullman, David Morse. Written and directed by Theresa Rebeck. Paladin
Venom
Tom Hardy stars as a journalist who becomes the host to an extraterrestrial symbiote giving him superpowers and a terrifying alter ego. With Michelle Williams, Riz Ahmed, Scott Haze, Reid Scott. Written by Scott Rosenberg, Jeff Pinkner, Kelly Marcel, Will Beall; based on the Marvel Comic. Directed by Ruben Fleischer. Columbia Pictures
RELATED: Comedy, horror and an unmasked Tom Hardy: How 'Venom's' director built a fresh 'Spider-Man' spinoff
Viking Destiny
Action-adventure with Terence Stamp. Saban Films / Lionsgate
Welcome to Mercy
Afflicted with the stigmata, a young woman struggles to avoid becoming the antichrist. With Lily Newmark, Eva Ariel Binder, Eileen Davies, Kirsten Ruhlin, Victoria Sokolova, Danis Grube, Toms Liepajnieks, Sophia Massa, Ieva Seglina. Written by Kristen Ruhlin. Directed by Tommy Bertelsen. IFC Midnight
Oct. 10
The Happy Prince
Rupert Everett stars as Oscar Wilde in his final days looking back on his life. With Colin Firth, Colin Morgan, Edwin Thomas, Emily Watson. Written and directed by Everett. Sony Pictures Classics
22 July
Dramatization of the aftermath of the 2011 car bombing and shooting by a far-right extremist in Norway that left 77 people dead and a nation reeling. With Anders Danielsen Lie, Jon Øigarden, Jonas Strand Gravli, Isak Bakli Aglen, Maria Bock, Torbjørn Harr, Seda Witt, Ola G. Furuseth. Written and directed by Paul Greengrass, based on the novel by Åsne Seierstad. Netflix
Oct. 11
MFKZ
Animated collaboration between French comic artist Guillaume "Run" Renard and Japanese animation house Studio 4°C. GKIDS
Oct. 12
After Everything
Romantic drama with Jeremy Allen White, Maika Monroe. Good Deed Entertainment
All Square
Drama with Michael Kelly. Vertical Entertainment
Bad Times at the El Royale
A decrepit Lake Tahoe hotel plays host to seven strangers, each with a past they're looking to leave behind. With Jeff Bridges, Cynthia Erivo, Dakota Johnson, Jon Hamm, Cailee Spaeny, Lewis Pullman and Chris Hemsworth. Written and directed by Drew Goddard. 20th Century Fox
Beautiful Boy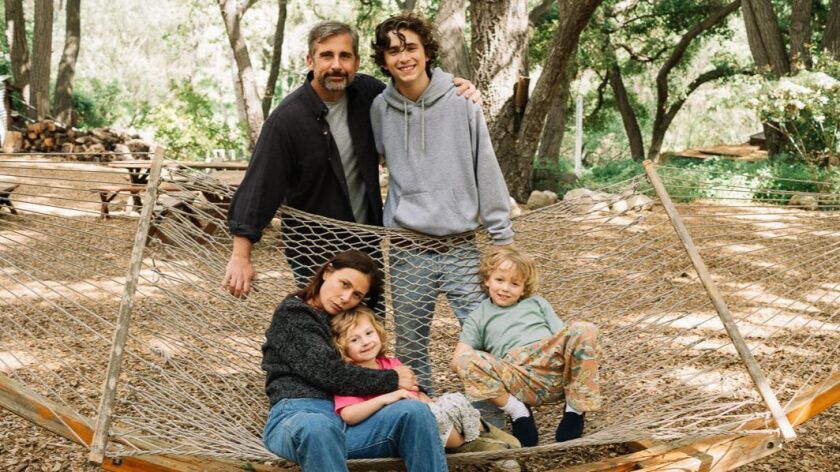 A family deals with addiction. With Steve Carrell, Timothée Chalamet, Maura Tierney, Amy Ryan. Written by Luke Davies, Felix Van Groeningen, based on memoirs by father and son David and Nic Sheff. Directed by Felix Van Groeningen. Amazon Studios
Bigger
Bodybuilding drama with Tyler Hoechlin, Julianne Hough, Aneurin Barnard, Victoria Justice and Robert Forster. Directed by George Gallo. Freestyle Releasing
Feminists: What Were They Thinking?
Documentary directed by Johanna Demetrakas. Netflix
First Man
"La La Land" star Ryan Gosling and director Damien Chazelle reunite for the story of NASA astronaut Neil Armstrong and his path to being the first person to walk on the moon, in 1969. With Claire Foy, Jason Clarke, Kyle Chandler, Patrick Fugit, Ciaran Hinds, Ethan Embry, Shea Whigham, Corey Stoll, Pablo Schreiber. Written by Josh Singer; based on the book by James R. Hansen. Universal Pictures
Goosebumps 2: Haunted Halloween
The spooky holiday comes to life in this second adaptation of R.L. Stine's popular books. With Wendi McLendon-Covey, Madison Iseman, Jeremy Ray Taylor, Caleel Harris, Chris Parnell, Ken Jeong. Written by Rob Liebere. Directed by Ari Sandel. Columbia Pictures
In Echo Park
Mystery thriller with Bryan Michael Nunez. Indican Pictures
The Kindergarten Teacher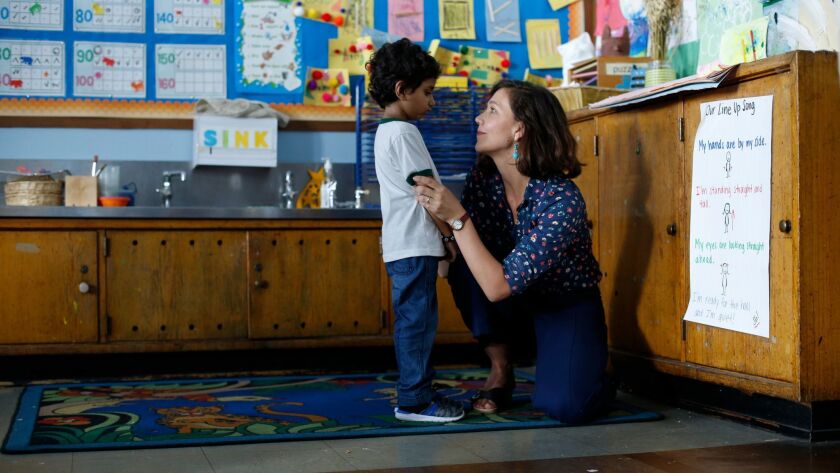 A Staten Island teacher becomes obsessed with a possibly gifted 5-year-old student. With Maggie Gyllenhaal, Parker Sevak, Anna Baryshnikov, Rosa Salazar, Michael Chernus, Gael Garcia Bernal. Written and directed by Sara Colangelo. Netflix
Longing
Drama with Shai Avivi. Breaking Glass Pictures
Look Away
Comedy drama with Aidan Turner, Chloë Sevigny, Matthew Broderick. Vertical Entertainment
Moynihan
Documentary on the longtime Democratic senator from New York, Daniel Patrick Moynihan. Featuring Ta-Nehisi Coates, Eleanor Holmes Norton, George Will, Henry Kissinger. Directed by Joseph Dorman, Toby Perl Freilich. First Run Features
The Oath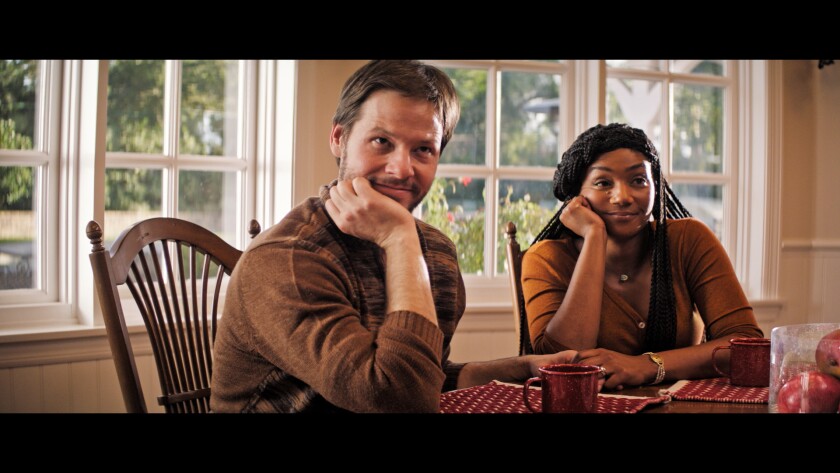 A nationwide loyalty pledge edict from the White House upends a family's Thanksgiving in this political satire. With Ike Barinholtz, Tiffany Haddish, John Cho, Carrie Brownstein, Billy Magnussen, Meredith Hagner, Jon Barinholtz, Nora Dunn, Chris Ellis. Written and directed by Barinholtz. Topic Studios / Roadside Attractions
Related: Tiffany Haddish times three in 'Night School,' 'The Oath' and 'Nobody's Fool'
Sadie
A teenage girl takes extreme measures to protect her military family from an infidelity. With Sophia Mitri Schloss, Melanie Lynskey, John Gallagher Jr., Tony Hale, Keith Williams, Danielle Brooks. Written and directed by Megan Griffiths. Creative Distribution
The Sentence
Filmmaker Rudy Valdez chronicles his sister's incarceration and his family's fight for her release in this documentary. HBO Documentary Films
Stavisky
Director Alain Resnais' 1974 drama stars Jean-Paul Belmondo as a charming con man. With Charles Boyer, François Périer. Written by Jorge Semprún. Music by Stephen Sondheim. Rialto Pictures
Studio 54
The meteoric trajectory of the legendary 1970s disco, founded by Ian Schrager and Steve Rubell, is chronicled in this documentary. Directed by Matt Tyrnauer. Zeitgeist Films
306 Hollywood
Personal documentary on grief and mortality. Directed by Elan and Jonathan Bogarin. Sundance Creative Distribution / El Tigre Films
22 Chaser
Action thriller with Brian J. Smith. Gravitas Ventures
Oct. 19
An Evening With Beverly Luff
Comedy with Aubrey Plaza, Jemaine Clement, Emile Hirsch, Craig Robinson. Universal Pictures Content Group
Can You Ever Forgive Me?
Melissa McCarthy plays 1970s and '80s celebrity biographer Lee Israel, who turns to chicanery when she falls out of step with the times. With Richard E. Grant, Dolly Wells, Jane Curtin, Ben Falcone, Anna Deavere Smith, Stephen Spinella. Written by Nicole Holofcener, Jeff Whitty, based on the book by Lee Israel. Directed by Marielle Heller. Fox Searchlight
Charm City
Documentary on crime, violence and the distrust of police in Baltimore. Directed by Marilyn Ness. PBS Distribution
8 Remains
Thriller. Indie Rights
Galveston
Dramatic thriller with Ben Foster, Elle Fanning, Beau Bridges. Directed by Mélanie Laurent. RLJE Films
The Great Buster: A Celebration
Documentary by Peter Bogdanovich on the revered silent-era star and filmmaker Buster Keaton. Featuring Mel Brooks, Quentin Tarantino, Werner Herzog, Carl Reiner, Nick Kroll, Bill Hader, Johnny Knoxville, Richard Lewis, Dick Van Dyke. Cohen Media Group
The Guilty
A deskbound cop fights to save a kidnapped woman in this Danish thriller. With Jakob Cedergren. Directed by Gustav Möller. Magnolia Pictures
Halloween
Forty years later, Jamie Lee Curtis returns as Laurie Strode for a final showdown with masked killer Michael Meyers. With Judy Greer, Andi Matichak, Will Patton, Virginia Gardner, Nick Castle. Written by Jeff Fradley, Danny McBride, David Gordon Green. Directed by David Gordon Green; based on characters created by John Carpenter, Debra Hill. Universal Pictures
RELATED: 'Halloween,' 'Suspiria,' and the secrets of updating horror classics
The Hate U Give
Witnessing a police officer shoot her childhood best friend upends the life of an African American girl attending a mostly white prep school. With Amandla Stenberg, Regina Hall, Russel Hornsby, Lamar Johnson, Issa Rae, Algee Smith, Sabrina Carpenter, Common, Anthony Mackie. Written by Audrey Wells, based on the book by Angie Thomas. Directed by George Tillman Jr. 20th Century Fox
RELATED: How the deaths of Oscar Grant and Trayvon Martin inspired 'The Hate U Give'
Mid90s
An L.A. teen escapes his unhappy domestic situation with new friends at a Westside skate shop. With Sunny Suljic, Lucas Hedges, Na-Kel Smith, Olan Prenatt, Gio Galicia, Ryder McLaughlin, Katherine Waterston. Written and directed by Jonah Hill. A24
Nigerian Prince
Drama about a Nigerian American teen sent to live in Nigeria by his mother, and his con artist cousin. With Antonio J. Bell. Directed by Faraday Okoro. Vertical Entertainment
On Her Shoulders
Documentary on 23-year-old genocide survivor and human rights activist Nadia Murad. Directed by Alexandria Bombach. Oscilloscope Laboratories
Serenity
The sudden appearance of his ex-wife plunges a fishing boat captain into dangerous moral waters. With Matthew McConaughey, Anne Hathaway, Jason Clarke, Djimon Hounsou, Jeremy Strong, Diane Lane. Written and directed by Steven Knight. Aviron Pictures
The Super
Thriller with Val Kilmer. Saban Films / Lionsgate
Transformer — Strength Beyond Muscle
Bodybuilding documentary directed by Michael Del Monte. Gravitas Ventures
Viral Beauty
Romantic comedy. Indie Rights
What They Had
A woman returns home to Chicago to help her brother deal with her aging parents. With Hilary Swank, Michael Shannon, Robert Forster Taissa Farmiga, Josh Lucas, Blythe Danner. Written and directed by Elizabeth Chomko. Bleecker Street
Wildlife
A woman and her teenage son struggle after her golf pro husband loses his job in 1960s Montana. With Carey Mulligan, Bill Camp, Jake Gyllenhaal, Ed Oxenbould. Written by Zoe Kazan and Paul Dano. Directed by Dano. IFC Films
Wobble Palace
Drama written and directed by and starring Eugene Kotlyarenko. Breaking Glass Pictures
Oct. 26
Air Strike
The Chinese defend against Japanese bombers during World War II. With Bruce Willis, Adrien Brody. Written by Ping Chen. Directed by Xiao Feng. Lionsgate
Border
A border patrol guard with the ability to smell human emotions encounters a man who confounds her powers.With Eva Melander, Eero Milonoff. Written by Ali Abbasi, Isabella Eklof, John Ajvide Lindqvist. Directed by Ali Abbasi. Neon
The Fog
Restored version of John Carpenter's 1980 horror classic with Adrienne Barbeau, Jamie Lee Curtis, Janet Leigh, Hal Holbrook. Rialto Pictures
The Health of Hope
Documentary. Indie Rights
Hunter Killer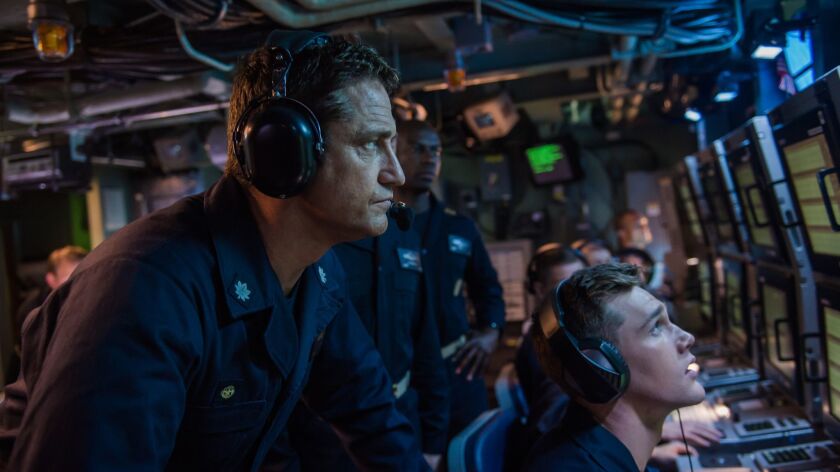 Military thriller with Gerard Butler, Gary Oldman, Common and Linda Cardellini. Directed by Donovan Marsh. Summit Premiere / Lionsgate
Indivisible
True-life, faith-based drama about a U.S. Army chaplain and his wife facing deployment to Iraq and its aftermath. With Sarah Drew, Justin Bruening, Jason George, Tia Mowry, Madeline Carroll. Written by David Evans, Cheryl McKay, Peter White. Directed by Evans. Provident Films
Johnny English Strikes Again
Rowan Atkinson returns as Britain's most addled secret agent. With Olga Kurylenko, Ben Miller, Jake Lacy, Emma Thompson. Written by William Davies. Directed by David Kerr. Focus Features
Killer Kate!
Horror. Freestyle Digital Media
Madness Farewell
Comedy. Indie Rights
Marfa Girl 2
Drama written and directed by Larry Clark. Breaking Glass Pictures
Mobile Homes
A woman, her 8-year-old son and her boyfriend struggle to get by, moving from hotel room to another, until they stumble upon a different way to live. With Imogen Poots, Callum Turner, Callum Keith Rennie. Written and directed by Vladimir de Fontenay. Dark Star Pictures
1985
Texas-set AIDS drama. With Cory Michael Smith, Virginia Madsen, Michael Chiklis, Jamie Chung. Written and directed by Yen Tan. Wolfe Releasing
The Price of Everything
Documentary on the economics of the contemporary art world. Featuring Jeff Koons, Gerhard Richter and Njideka Akunyili Crosby. Directed by Nathaniel Kahn. HBO Documentary Films
Shirkers
L.A. novelist Sandi Tan returns to Singapore where she was a zine-creating teen and documents a 1992 film she made with friends that was stolen by an American collaborator. Netflix
Sicilian Ghost Story
A girl refuses to accept the mysterious disappearance of a classmate she loves. With Julia Jedlikowska, Gaetano Fernandez. Written and directed by Fabio Grassadonia and Antonio Piazza. Strand Releasing
Silencio
A mother must find a mystical stone in Mexico to save her son's life. With John Noble, Rupert Graves, Melina Matthews, Michel Chauvet, Hoze Meléndez. Written and directed by Lorena Villarreal. Tulip Pictures
Suspiria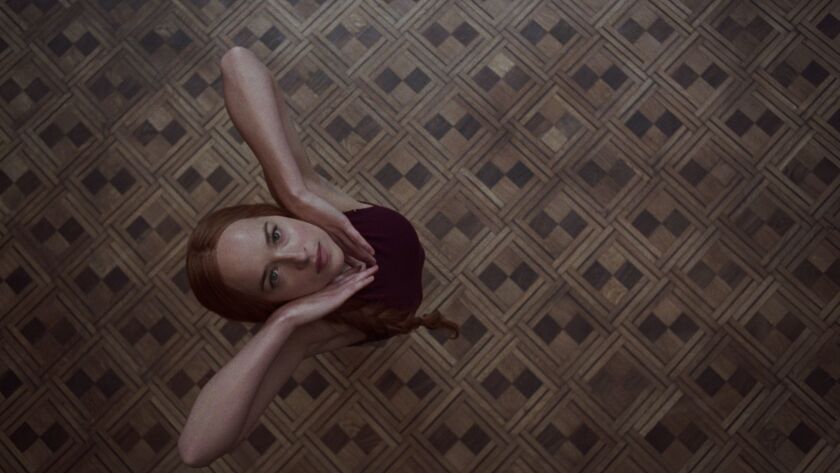 A dark force encompasses an elite dance company. With Dakota Johnson, Tilda Swinton, Mia Goth, Lutz Ebersdorf, Jessica Harper and Chloë Grace Moretz. Written by David Kajganich. Directed by Luca Guadagnino. Amazon Studios
RELATED: 'Halloween,' 'Suspiria,' and the secrets of updating horror classics
Viper Club
An ER nurse works clandestinely with an underground network of journalists to free her son, a foreign correspondent held captive by terrorists. With Susan Sarandon, Matt Bomer, Lola Kirke, Julian Morris, Sheila Vand, Adepero Oduye and Edie Falco. Written by Maryam Keshavarz and Jonathan Mastro. Directed by Keshavarz. YouTube Premium / Roadside Attractions
October TBD
Await Further Instructions
Horror-thriller with David Bradley. Dark Sky Films
The Big Bad Fox & Other Tales
French animated anthology. Written by Benjamin Renner and Jean Regnaud, based on the book by Renner. Directed by Renner and Patrick Imbert. GKIDS
Brewmaster
Documentary on beermaking. Directed by Douglas Tirola. The Orchard
Of Fathers and Sons
Documentary on a radical Islamist family and the raising of their two sons. Directed by Talal Derki. Kino Lorber
Nov. 2
Bodied
Controversy erupts when a grad student chooses battle rap as his thesis subject and becomes obsessively competitive. With Calum Worthy, Jackie Long, Rory Uphold, Jonathan Park, Walter Perez, Shoniqua Shandai, Charlamagne Tha God, Dizaster. Written by Alex Larsen. Directed by Joseph Kahn. Neon
Bohemian Rhapsody
Rami Malek stars in the trailer for "Bohemian Rhapsody."
Rami Malek stars as Freddie Mercury, the late lead singer of the British rock band Queen. With Lucy Boynton, Gwilym Lee, Ben Hardy, Joseph Mazzello, Aidan Gillen, Tom Hollander, Allen Leach, Mike Myers. Written by Anthony McCarten; story by Peter Morgan Anthony McCarten. Directed by Bryan Singer. 20th Century Fox
Boy Erased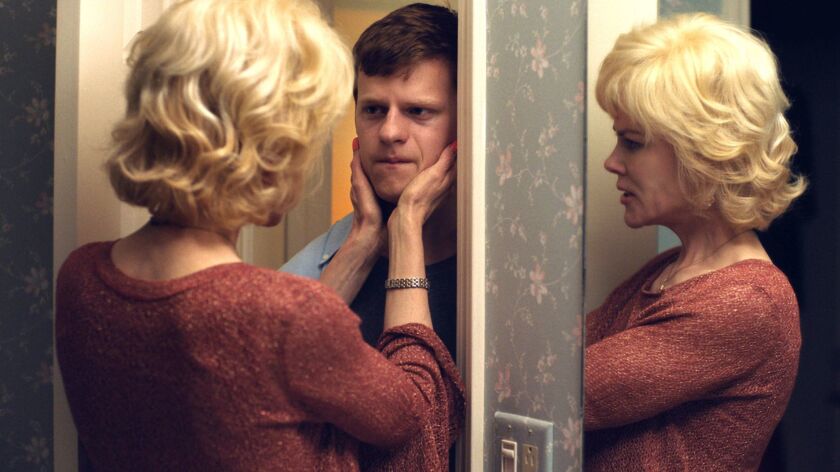 A Baptist pastor's son in Texas is outed as gay and forced to choose between a conversion therapy program or being ostracized by his family and friends. With Lucas Hedges, Nicole Kidman, Russell Crowe, Joel Edgerton, Cherry Jones. Written and directed by Edgerton based on a memoir by Garrard Conley. Focus Features
Burning
Korean drama. With Ah-In Yoo, Steven Yeun, Jong-seo Jeon. Directed by Chang-dong Lee. Well Go USA
Daughters of the Sexual Revolution: The Untold Story of the Dallas Cowboys Cheerleaders
Documentary directed by Dana Adam Shapiro. Gravitas Ventures
Every Act of Life
Documentary on playwright Terrence McNally. The Orchard
In Harm's Way
A Chinese widow hides a U.S. Army Air Force commander when his plane makes an emergency landing in Zhejiang province shortly after Pearl Harbor. With Crystal Yifei Liu, Emile Hirsch. Written by Greg Latter. Directed by Bille August. Shout! Studios
In Search of Greatness
Documentary featuring Wayne Gretzky, Jerry Rice and Pele. Directed by Gabe Polsky. Art of Sport
Life and Nothing More
A working-class mother worries her teenage son will end up in prison like his father. With Regina Williams. Written and directed by Antonio Méndez Esparza. CFI Releasing
Maria by Callas
Documentary on the legendary opera singer. Written and directed by Tom Volf. Sony Pictures Classics
Monrovia, Indiana
Documentarian Frederick Wiseman turns his observational gaze on the small Midwestern town. Zipporah Films
Nobody's Fool
A hard partying young woman turns to her straight arrow sister for help. With Tiffany Haddish, Tika Sumpter, Omari Hardwick, Mehcad Brooks, Amber Riley, Whoopi Goldberg. Written and directed by Tyler Perry. Paramount Pictures
Related: Tiffany Haddish times three in 'Night School,' 'The Oath' and 'Nobody's Fool'
The Nutcracker and the Four Realms
In this reinvention of the classic fairy tale, a teenage girl must brave a magical and dangerous parallel world where she discovers strange characters and unexpected events. With Keira Knightley, Mackenzie Foy, Eugenio Derbez, Matthew Macfadyen, Richard E. Grant, Misty Copeland, Helen Mirren, Morgan Freeman. Directed by Lasse Hallström, Joe Johnston. Walt Disney Pictures
RELATED: A world of fantastical costumes fills Disney's new take on 'The Nutcracker'
The Other Side of the Wind
Orson Welles' long unreleased final project about an exiled movie legend's return to Hollywood to work on his own comeback. With John Huston, Peter Bogdanovich, Oja Kodar, Robert Random, Lilli Palmer, Edmond O'Brien, Cameron Mitchell, Mercedes McCambridge, Susan Strasberg, Norman Foster, Paul Stewart, Dennis Hopper. Written by Welles and Oja Kodar. Netflix
Postcards From London
A British teen's good looks lead him through an unusual series of occupations. With Harris Dickinson. Written and directed by Steve McLean. Strand Releasing
A Private War
Dramatic thriller follows war correspondent Marie Colvin on the frontlines and the toll it takes with her personal life. With Rosamund Pike, Jamie Dornan, Stanley Tucci, Tom Hollander. Written by Arash Amel, based on an article by Marie Brenner. Directed by Matthew Heineman. Aviron Pictures
They'll Love Me When I'm Dead
Filmmaker Morgan Neville's documentary on the last 15 years of Orson Welles' life as he struggled to revive his career with "The Other Side of the Wind" (also launching this week). Netflix
------------
See the most-read stories in Entertainment this hour »
---
The complete guide to home viewing
Get Screen Gab for weekly recommendations, analysis, interviews and irreverent discussion of the TV and streaming movies everyone's talking about.
You may occasionally receive promotional content from the Los Angeles Times.