Movie Sneaks: 'Trumbo's' Dean O'Gorman plays Kirk Douglas and earns praise from the legend
When Dean O'Gorman was cast in the plum role of Kirk Douglas in "Trumbo," the new biopic about blacklisted screenwriter Dalton Trumbo, he decided to ask the legendary actor if he wouldn't mind offering up a few tips on how to play him.
"I wrote him a letter," said O'Gorman, 38, by phone from his home outside of Auckland, New Zealand.
SIGN UP for the free Classic Hollywood newsletter >>
And Douglas, now 98, wrote him back. "He was very nice," said O'Gorman, best known as the dwarf Fili in Peter Jackson's "The Hobbit" trilogy. "He said, 'Don't worry about being me too much, just play the role, play the scene." I thought it was a great answer. I think it was Kirk Douglas' way of saying no one but me is me."
Bryan Cranston in "Trumbo."
(Hilary Bronwyn Gail / Bleecker Street)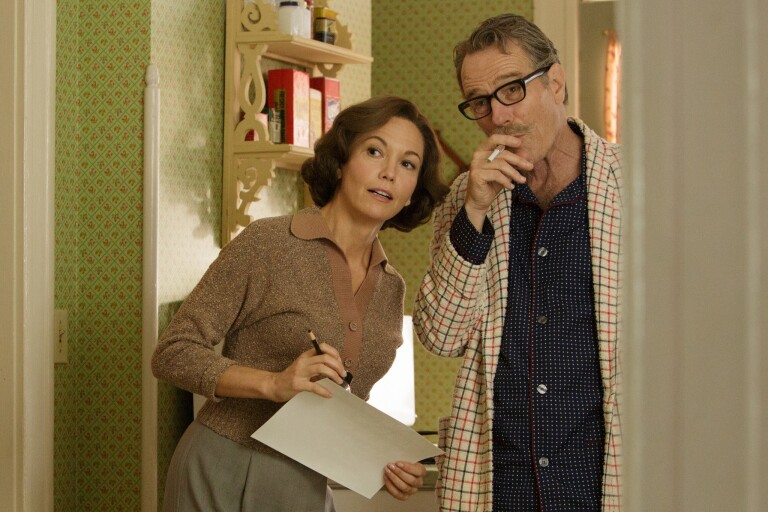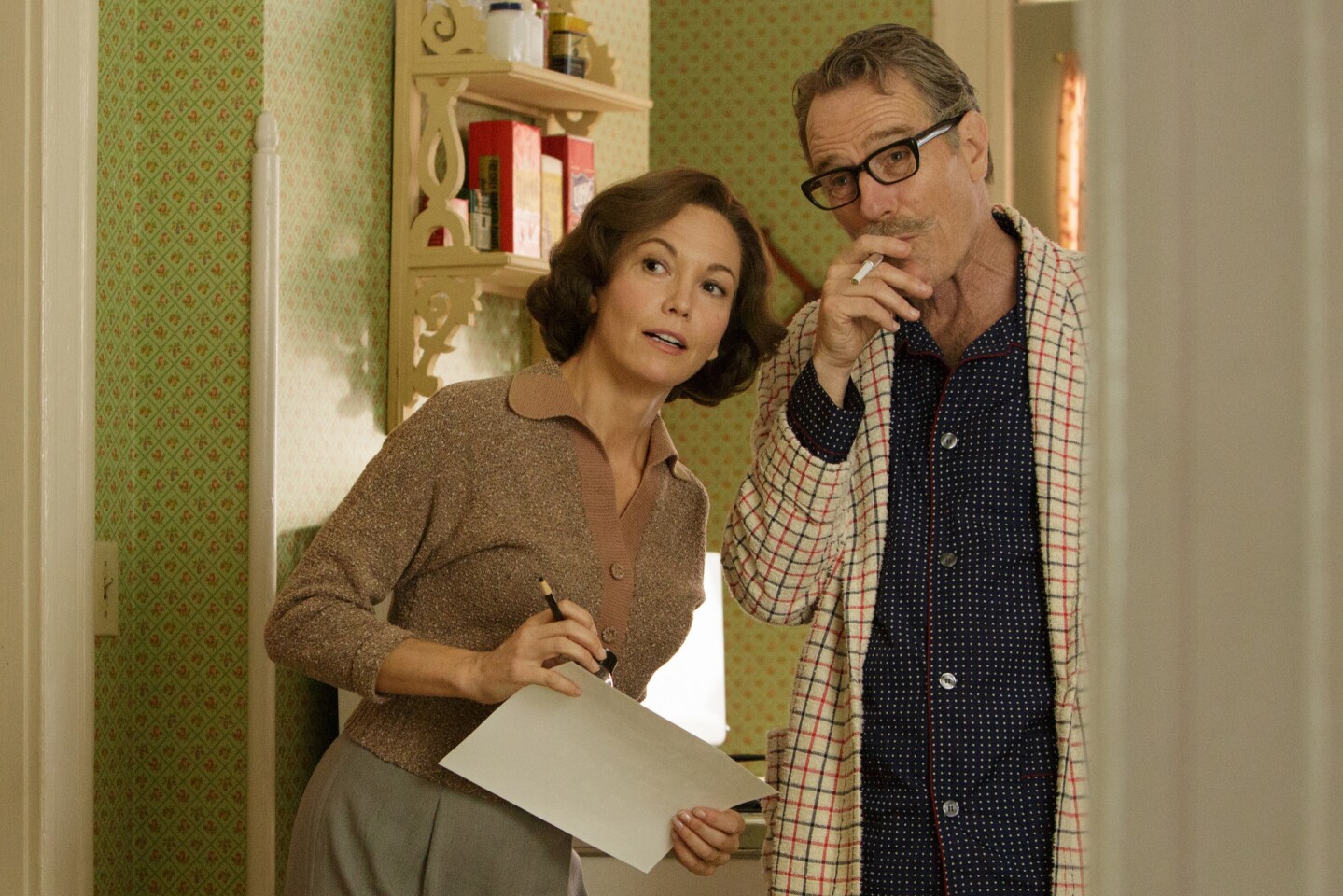 Diane Lane as Cleo Trumbo and Bryan Cranston as Dalton Trumbo in the Hollywood blacklist drama "Trumbo."
(Hilary Bronwyn Gail / Bleecker Street)
Elle Fanning as Nikki Trumbo in "Trumbo."
(Hilary Bronwyn Gail / Bleecker Street)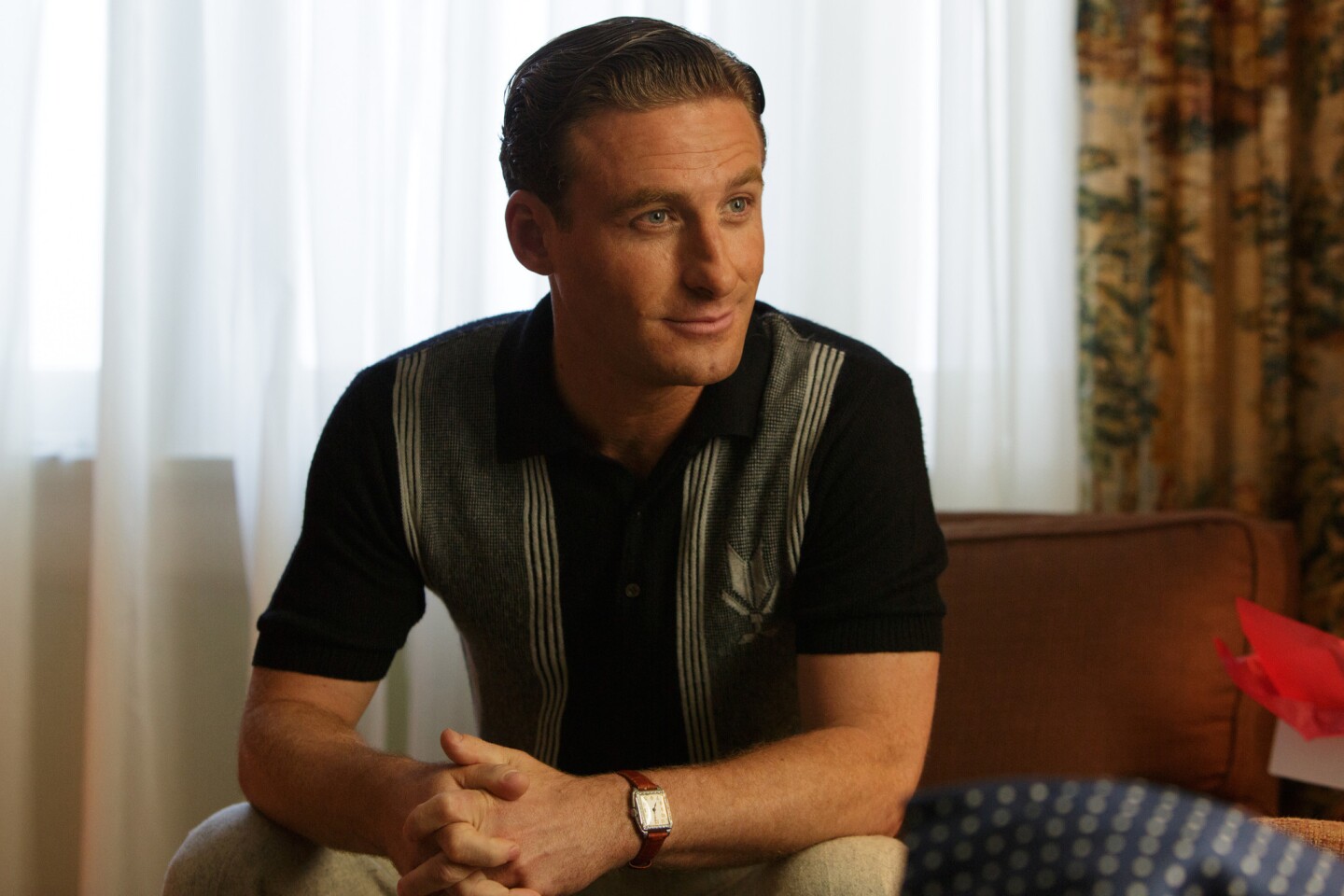 Dean O'Gorman portrays real-life legend Kirk Douglas in "Trumbo."
(Hilary Bronwyn Gail / Bleecker Street)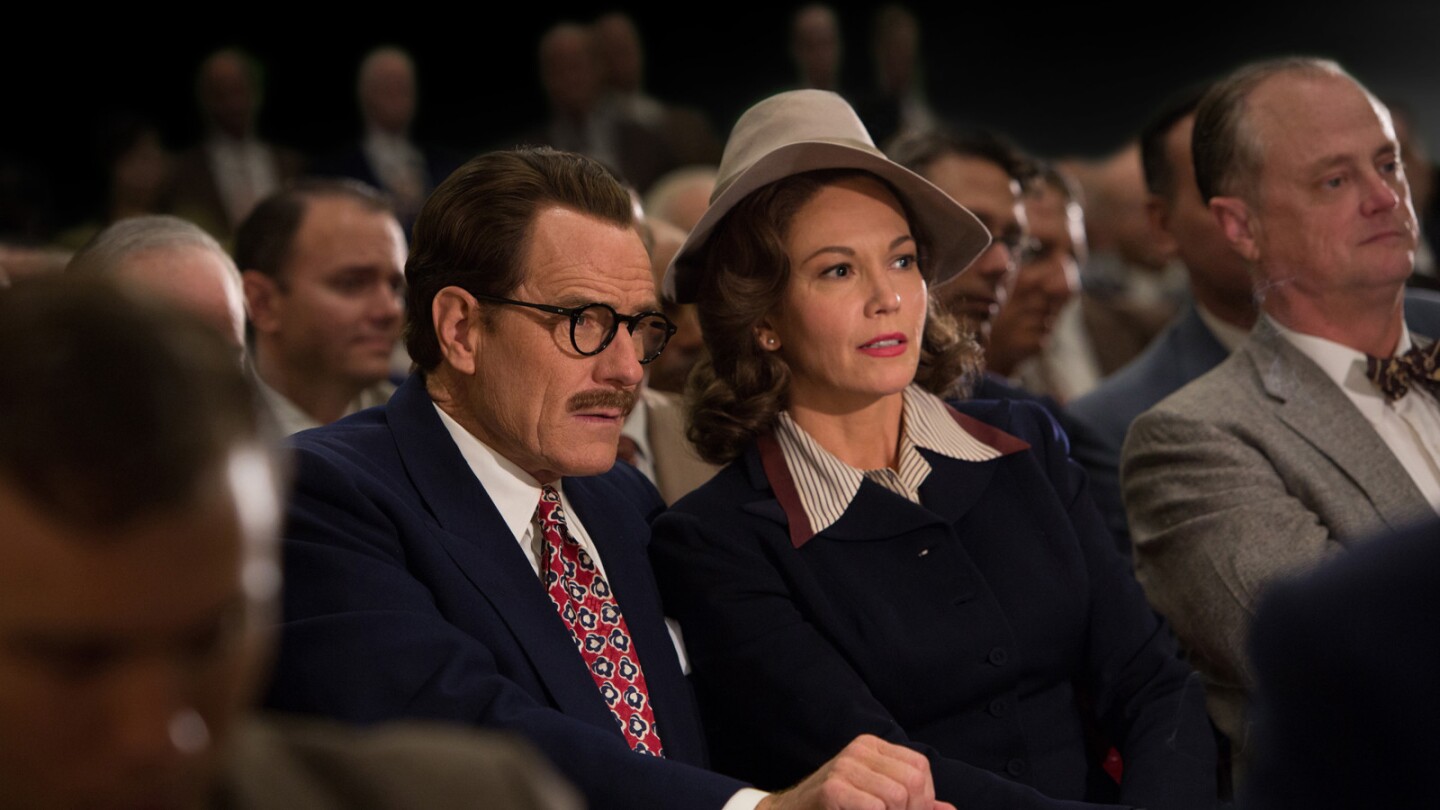 Bryan Cranston stars as Oscar-winning screenwriter Dalton Trumbo and Diane Lane is his wife Cleo in "Trumbo."
(Hilary Bronwyn Gayle / Bleecker Street)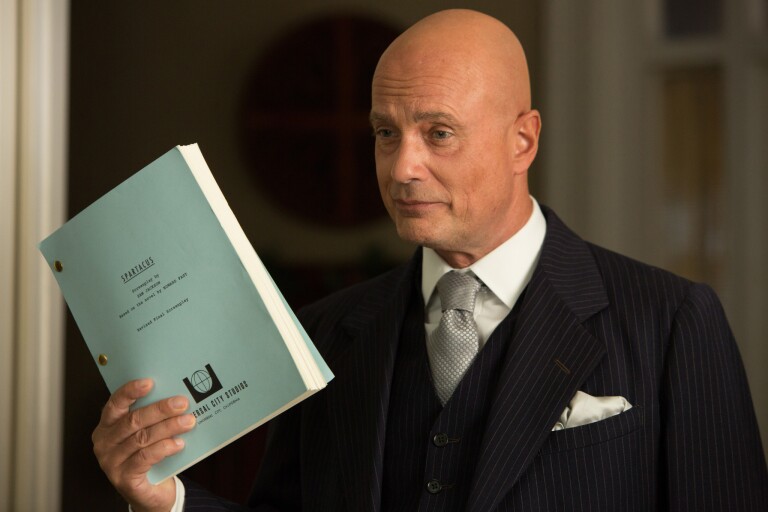 Christian Berkel is Otto Preminger in "Trumbo."
(Hilary Bronwyn Gail / Bleecker Street)
Diane Lane as Cleo Trumbo in "Trumbo."
(Hilary Bronwyn Gail / Bleecker Street)
Louis C.K., left, and Michael Stuhlbarg in "Trumbo."
(Hilary Bronwyn Gail / Bleecker Street)
John Goodman plays Frank King in "Trumbo."
(Hilary Bronwyn Gail / Bleecker Street)
Helen Mirren stars as Hedda Hopper and Bryan Cranston is Dalton Trumbo in "Trumbo."
(Hilary Bronwyn Gayle / Bleecker Street)
Dean O'Gorman stars as Kirk Douglas in "Trumbo."
(Hilary Bronwyn Gail / Bleecker Street)
Helen Mirren is Hedda Hopper in "Trumbo."
(Hilary Bronwyn Gail / Bleecker Street)
Louis C.K. is Arlen Hird in "Trumbo."
(Hilary Bronwyn Gail / Bleecker Street)
Dalton Trumbo (Bryan Cranston) hugs daughters Nikki (Elle Fanning) and Mitzi (Becca Nicole Preston) in "Trumbo."
(Hilary Bronwyn Gail / Bleecker Street)
When Douglas enters Trumbo's (Bryan Cranston) life in the late 1950s, the screenwriter had long been forced to churn out screenplays under various pseudonyms. As a young actor and producer, Douglas hired the writer to adapt Howard Fast's novel "Spartacus," the 1960 epic he was producing and starring in as a Roman slave who leads a revolt. Despite threats that publicly using Trumbo would ruin his career, Douglas insisted he get screen credit on the film directed by Stanley Kubrick, helping to break the lengthy blacklist against Trumbo and other writers.
Douglas, said O'Gorman, has admitted that had he been older at the time he may have been more hesitant to use Trumbo's real name in the credits. But being so young, O'Gorman added, he was a little more headstrong. "One thing he has said is that he hated being told what to do. He was really inspired by the injustice of it. He could have lost a lot, and he was really nervous about the outcome of it."
O'Gorman had long been a fan of Douglas. "I read his autobiography, 'The Ragman's Son,' when I was a teenager," he said. "I always thought he was a fascinating force of nature."
Though he was aware of the Hollywood blacklist, O'Gorman didn't know the full story until he began work on the film. "It was quite shocking to find out these people who were deemed to be a threat to the nation were — only two years prior — sort of being revered as these incredible artists. And they were pushed aside."
O'Gorman, who looks strikingly like the young Douglas, heeded the advice of the veteran actor and "Trumbo" director Jay Roach not to do an impression. So there is no muscular posturing or "I'm KIRK DOUGLAS!" proclamations.
In an email interview, Roach noted, "Dean's interpretation of Mr. Douglas required more overlap of Dean's own heart and soul with the essence of Kirk Douglas. If Dean had tried to mimic Douglas, the iconic mask might have gone more opaque. What Dean did is much more like channeling Douglas through his own face and body."
A selection of films through the holiday season until 2016.
(Handout)
Saoirse Ronan stars as a young Irish immigrant making her way in 1950s Brooklyn but torn between her new home and romance and the pull of her past. With Domhnall Gleeson, Emory Cohen, Jim Broadbent and Julie Walters. Written by Nick Hornby, based on the novel by Colm Tóibín. Directed by John Crowley. Fox Searchlight Pictures
(Kerry Brown / Twentieth Century Fox Film Corpo)
A cryptic message from his past sends secret agent James Bond on a trail to uncover a sinister organization. With Daniel Craig, Christoph Waltz and Lea Seydoux. Written by John Logan, Neal Purvis and Robert Wade. Directed by Sam Mendes. Columbia Pictures / MGM
(Jonathan Olley / MGM/Columbia Pictures)
The lovable loser Charlie Brown and his daring beagle, Snoopy, embark on fateful adventures. With the voices of Noah Schnapp, Hadley Miller and Alex Garfin. Written by Craig Schulz, Bryan Schulz and Cornelius Uliano. Directed by Steve Martino. In 3-D. 20th Century Fox
(Twentieth Century Fox & Peanuts)
In the 1940s, screenwriter Dalton Trumbo's successful career comes crashing down as he and other Hollywood figures are blacklisted for their political beliefs. With Bryan Cranston, Elle Fanning and Diane Lane. Written by John McNamara. Directed by Jay Roach. Bleecker Street
(Hilary Bronwyn Gail / Bleecker Street)
A fact-based drama about the Boston Globe's months-long investigation of a cover-up of abuse in the Catholic Church. With Michael Keaton, Mark Ruffalo, Rachel McAdams and Liev Schreiber. Written by Tom McCarthy and Josh Singer. Directed by McCarthy. Open Road Films
(Kerry Hayes / Open Road Films)
Four generations gather for their annual Christmas Eve festivities, which are upended by unexpected guests and a surprising turn of events. With Alan Arkin, John Goodman, Ed Helms, Diane Keaton and Olivia Wilde. Written by Steven Rogers. Directed by Jessie Nelson. CBS Films
(Suzanne Tenner / CBS Films)
This documentary profiles the heiress and cultural empresario who championed such artists as Max Ernst, Jackson Pollock, Alexander Calder and Marcel Duchamp. Directed by Lisa Immordino Vreeland. Submarine Deluxe
(Roloff Beny/National Archives of Canada / Submarine Deluxe)
Dramatic telling of the 2010 Chilean mine disaster, when an international team raced the clock to rescue 33 miners trapped 200 stories below ground. With Antonio Banderas, Rodrigo Santoro, Juliette Binoche, James Brolin, Lou Diamond Phillips and Gabriel Byrne. Written by Mikko Alanne, Craig Borten and Michael Thomas, based on the screen story by José Rivera and the book "Deep Down Dark" by former Times staffer Hector Tobar. Directed by Patricia Riggen. Warner Bros.
(Warner Bros. Pictures)
Angelina Jolie Pitt writes, directs and costars with husband Brad Pitt as an American writer and his wife attempting to repair their failing marriage in a quiet seaside resort in 1970s France. With Mélanie Laurent, Melvil Poupaud, Niels Arestrup and Richard Bohringer. Universal Pictures
(Universal Pictures)
Documentary explores the changing lives of several Pakistani classical musicians when their new album earns them international accolades and a concert at Lincoln Center. With Wynton Marsalis. Directed by Sharmeen Obaid-Chinoy and Andy Schocken. Broad Green Pictures
(Mobeen Ansari / Broad Green Pictures)
An undersized football player faces unforeseen challenges playing for fabled University of Texas coach Darrell Royal. With Finn Wittrock, Aaron Eckhart, Sarah Bolger and Robin Tunney. Written and directed by Angelo Pizzo, based upon the book "Courage Beyond the Game: The Freddie Steinmark Story" by Jim Dent. Clarius Entertainment
(Van Redin / Clarius Entertainment)
Mistaken identity at London's Waterloo Station leads to a madcap evening of emotional risk-taking for the romantically challenged Lake Bell and the newly divorced Simon Pegg. With Olivia Williams. Written by Tess Morris. Directed by Ben Palmer. Saban Films
(Giles Keyte / Saban Films)
Jennifer Lawrence is back for the fourth and final film in the YA franchise, which pits Katniss and friends against President Snow as they attempt to liberate the citizens of Panem. With Josh Hutcherson, Liam Hemsworth, Woody Harrelson, Elizabeth Banks, Julianne Moore, Philip Seymour Hoffman and Donald Sutherland. Written by Peter Craig and Danny Strong, adaptation by Suzanne Collins, based upon her novel, "Mockingjay." Directed by Francis Lawrence. Lionsgate
(Murray Close / Lionsgate)
In a village in northern Turkey, the youthful exuberance of five adolescent sisters is tempered as they are prepared for more traditional female roles. With Dogba Doguslu, Elit Iscan, Gunes Sensoy, Ilayda Akdogan and Tugba Sunguroglu. Written by Deniz Gamze Ergüven and Alice Winocour. Directed by Ergüven. Cohen Media Group
(Cohen Media Group)
His mother's serious illness forces a young New Yorker to confront his self-indulgent, self-destructive ways. With Christopher Abbott, Cynthia Nixon, Scott "Kid Cudi" Mescudi, Makenzie Leigh, Ron Livingston and David Call. Written and directed by Josh Mond. The Film Arcade
(Matyas Erdely / The Film Arcade)
FBI investigator Chiwetel Ejiofor turns up a new lead in the murder of a young girl, a case that tore apart his team 13 years earlier. With Nicole Kidman and Julia Roberts. Written and directed by Billy Ray. STX Entertainment
(Karen Ballard / STX Productions)
Cate Blanchett stars as a married woman who falls in love with young shopgirl Rooney Mara in 1950s New York, where their relationship is tested by societal conventions. With Sarah Paulson, Kyle Chandler, Jake Lacy and Cory Michael Smith. Written by Phyllis Nagy, based on the novel "The Price of Salt" by Patricia Highsmith. Directed by Todd Haynes. The Weinstein Co.
(Wilson Webb / The Weinstein Company)
The terror of an online game is all too real for a group of privileged suburban tween girls. With Chloe Sevigny, Timothy Hutton, Natasha Lyonne, Balthazar Getty and Taryn Manning. Written and directed by Tara Subkoff. IFC Midnight
(IFC Midnight)
Tom Hardy plays notorious twin gangsters Ronald and Reggie Kray wreaking havoc on the 1960s London underworld. With Emily Browning, David Thewlis, Christopher Eccleston and Chazz Palminteri. Written and directed by Brian Helgeland, based on the book "The Profession of Violence" by John Pearson. Universal Pictures
(Universal Pictures)
Filmmaker Bernardo Ruiz profiles three disparate individuals — a nun, a smuggler-turned-rancher and a Homeland Security official — on the front lines of the U.S.-Mexico drug war. Participant Media
(Antonio Cisneros / Participant Media)
James McAvoy stars, with Daniel Radcliffe as Igor, in this revamp of Mary Shelley's classic tale, in which the doctor's cutting-edge research into immortality goes too far, resulting in terrifying consequences. Written by Max Landis. Directed by Paul McGuigan. 20th Century Fox
(Alex Bailey / 20th Century Fox)
"Fruitvale Station" star Michael B. Jordan and director Ryan Coogler team with Sylvester Stallone as Apollo Creed's son asks his late father's former rival, Rocky Balboa, to return to boxing as his trainer. With Tessa Thompson, Phylicia Rashad and Anthony Bellew. Written by Coogler & Aaron Covington, based on characters from the "Rocky" series written by Stallone. Warner Bros.
(Barry Wetcher / Warner Bros.)
An apatosaurus makes a human friend in a world where dinosaurs did not go extinct in Pixar's latest animated film. With the voices of Jeffrey Wright, Frances McDormand, Steve Zahn, Anna Paquin and Sam Elliott. Directed by Peter Sohn. Walt Disney Pictures
(Pixar / Disney/Pixar)
Eddie Redmayne stars as an artist who discovers her identity as a woman and becomes a transgender pioneer with the help of his wife and fellow artist in 1920s Copenhagen. With Alicia Vikander, Ben Whishaw, Sebastian Koch, Amber Heard and Matthias Schoenaerts. Written by Lucinda Coxon, based on the book by David Ebershoff. Directed by Tom Hooper. Focus Features
(Focus Features)
The life of a beekeeping family in Tuscany is intruded upon by the arrival of a disturbed teenaged boy and a reality television show. With Alba Rohrwacher, Monica Bellucci, Alexandra Lungu, Sam Louwyck, Sabine Timoteo and Agnese Graziani. Written and directed by Alice Rohrwacher. Oscilloscope Laboratories
(Oscilloscope Laboratories)
Agent provocateur Kit Harington teams with the dishonored head of the British intelligence agency to track an escaped terrorist in this spinoff of the BBC spy series "Spooks." With Peter Firth, Jennifer Ehle and David Harewood. Written by Sam Vincent and Jonathan Brackley. Directed by Bharat Nalluri. Saban Films
(DirecTV / Saban Films)
Princesses Elizabeth and Margaret let down their hair and enjoy a night on the town after the end of World War II. With Sarah Gadon, Bel Powley, Jack Reynor, Rupert Everett and Emily Watson. Written by Trevor De Silva and Kevin Hood. Directed by Julian Jarrold. Atlas Distribution Co. & Ketchup Entertainment
(Atlas Distribution Company / Ketchup Entertainment)
After failing to fix the trial of John Gotti, an aspiring mobster goes on a narcotics-fueled revenge binge with his groupie girlfriend. With Vincent Piazza, Patricia Arquette, Michael Imperioli, Domenick Lombardozzi, David Zayas and Nick Sandow. Written and directed by Sandow. Momentum Pictures/Orion Pictures
(Thomas Concordia / Momentum/Orion Pictures)
A family's lack of Christmas spirit triggers the onslaught of a dark force and his minions. With Adam Scott, Toni Collette, David Koechner and Conchata Ferrell. Co-written by Michael Dougherty, Zach Shields and Todd Casey. Directed by Dougherty. Universal Pictures
(Steve Unwin / Universal Pictures)
Maggie Smith reprises her stage role as the title character who parks her vehicle in the driveway of a writer and remains for 15 years. With Alex Jennings, James Corden and Dominic Cooper. Written by Alan Bennett, from his play. Directed by Nicholas Hytner. Sony Pictures Classics
(Nicola Dove / Sony Classics Pictures)
Two teenage Lithuanian girls are united by a love for flying and share a secret romance. With Julija Steponaityte, Aiste Dirziute, Jurate Sodyte, Martynas Budraitis, Laurynas Jurgelis, Nele Savicenko and Inga Salkauskaite. Written and directed by Alanté Kavaïté. Strand Releasing
(Strand Releasing)
Michael Caine and Harvey Keitel play longtime friends, a composer and a screenwriter, reflecting on their lives and art at a Swiss resort. With Rachel Weisz, Paul Dano and Jane Fonda. Written and directed by Paolo Sorrentino. Fox Searchlight
(Gianni Fiorito / 20th Century Fox)
Michael Fassbender and Marion Cotillard star in William Shakespeare's bloody tale of a Scottish general driven by his ambitious wife to seek the throne by any means necessary. With Paddy Considine and David Thewlis. Written by Jacob Koskoff, Todd Louiso and Michael Lesslie, based on the play. Directed by Justin Kurzel. The Weinstein Co.
(Jonathan Olley / The Weinstein Company)
Based on the original recordings of the weeklong 1962 meeting between the two filmmakers, this documentary explores the mysteries of mise-en-scène and the man who directed "Psycho," "The Birds" and "Vertigo." With Martin Scorsese, Wes Anderson, David Fincher, Olivier Assayas, Peter Bogdanovich, Arnaud Desplechin, James Gray, Kiyoshi Kurosawa and Richard Linklater. Directed by Kent Jones. Cohen Media Group
(Philippe Halsman / Cohen Media Group)
Ron Howard directed this epic about the 1820 battle between the whaling ship Essex and a mammoth whale off the coast of New England that inspired "Moby Dick." With Chris Hemsworth, Benjamin Walker, Cillian Murphy and Brendan Gleeson. Written by Charles Leavitt, story by Leavitt and Rick Jaffa & Amanda Silver, based on the book "In the Heart of the Sea: The Tragedy of the Whaleship Essex" by Nathaniel Philbrick. Warner Bros.
(Jonathan Prime / Warner Bros.)
This experimental, wordless animation, fueled by music and color, follows a child's quest to reunite his family. With Marco Aurélio Campos, Vinicius Garcia, Lu Horta. Written and directed by Alê Abreu. GKids
(Gkids)
At Auschwitz-Birkenau in 1944, a Hungarian prisoner discovers a dead boy he believes is his son and endeavors to save the body from the crematorium and give it a proper Jewish burial. Géza Röhrig stars. Written by Lázló Nemes and Clara Royer. Directed by Nemes. Sony Pictures Classics
(Sony Pictures Classics)
Harrison Ford, Mark Hamill and Carrie Fisher return for the latest installment of the space saga as it kicks off another trilogy set in a galaxy far, far away. With Adam Driver, Oscar Isaac, Lupita Nyong'o, Andy Serkis, Domhnall Gleeson, Anthony Daniels, Peter Mayhew and Max Von Sydow. Written by J.J. Abrams & Lawrence Kasdan. Directed by Abrams. Walt Disney Pictures
(Lucasfilm / Lucasfilm)
The high-pitched trio set off for New York City to stop Dave, who they believe is going to propose to his girlfriend and leave them behind. With Jason Lee, Tony Hale, Kimberly Williams-Paisley, Justin Long, Matthew Gray Gubler, Jesse McCartney, Kaley Cuoco-Sweeting, Anna Faris and Christina Applegate. Written by Randi Mayem and Adam Sztykiel, based on the characters Alvin and the Chipmunks created by Ross Bagdasarian and the Chipettes created by Janice Karman. Directed by Walt Becker. 20th Century Fox
(20th Century Fox)
Director Michael Moore turns to Europe and elsewhere looking for ways to cure the U.S.' most serious ills in this globe-trotting documentary. Distributed by Tom Quinn, Jason Janego, Tim League
(Dog Eat Dog Films)
Will Smith stars as a forensic neuropathologist who discovers the first case of CTE, a football-related brain trauma, and challenges the NFL in his battle to reveal the truth. With Alec Baldwin, Gugu Mbatha-Raw, David Morse and Albert Brooks. Written and directed by Peter Landesman, based on the GQ article "Game Brain" by Jeanne Marie Laskas. Columbia Pictures
(Melinda Sue Gordon / Columbia Pictures)
Shortly after the Civil War, an octet of dangerous strangers convenes at a Wyoming stagecoach stopover during a blizzard in writer-director Quentin Tarantino's western. With Samuel L. Jackson, Kurt Russell, Jennifer Jason Leigh and Channing Tatum. The Weinstein Co.
(Andrew Cooper / The Weinstein Company)
The world of milquetoast stepdad Will Ferrell is upended when the children's anarchic biological father, played by Mark Wahlberg, pays a visit. With Linda Cardellini, Thomas Haden Church and Hannibal Buress. Written by Brian Burns and Sean Anders & John Morris. Directed by Anders. Paramount Pictures
(Patti Peret / Paramount Pictures)
Remake of the 1991 surfer crime movie about an FBI agent infiltrating a gang of extreme athletes who use their feats to pull off elaborate capers. With Édgar Ramírez, Luke Bracey, Teresa Palmer, Delroy Lindo and Ray Winstone. Written by Kurt Wimmer, story by Rick King & W. Peter Iliff and Wimmer, based on the 1991 film. Directed by Ericson Core. Warner Bros.
(Warner Bros.)
Leonardo DiCaprio stars as an explorer left for dead in the wilderness, who fights for survival and a return to his family. With Tom Hardy, Domhnall Gleeson and Will Poulter. Written by Mark L. Smith & Alejandro G. Iñárritu, based in part on the novel by Michael Punke. Directed by Iñárritu. 20th Century Fox
(20th Century Fox)
Writer-director David O. Russell reunites with stars Jennifer Lawrence, Bradley Cooper and Robert De Niro in this intergenerational story of a young woman who founds a business dynasty based on a cleaning product. With Édgar Ramírez, Diane Ladd, Virginia Madsen and Isabella Rossellini. Story by Annie Mumolo and Russell. 20th Century Fox
(Merie Weismiller Wallace / 20th Century Fox)
A customer service expert grapples with human connection during a stay in Cincinnati in Charlie Kaufman's emotionally complex stop-motion animated drama. With the voices of David Thewlis, Jennifer Jason Leigh and Tom Noonan. Written by Kaufman, based on his play. Directed by Kaufman and Duke Johnson. Paramount Pictures
(Paramount Pictures)
In 1985 Palo Alto, three fifth-graders navigate the treacherous world of pre-teen suburbia. With James Franco and Henry Hopper. Written and directed by Gabrielle Demeestere. Monterey Media
(Monterey Media)
Despite dire warnings, a young American enters Japan's Aokigahara Forest in search of her missing sister and encounters the malevolent souls of the dead. With Natalie Dormer, Taylor Kinney, Eoin Macken, Yukiyoshi Ozawa. Written by Sarah Cornwell and Nick Antosca, based on an idea by David S. Goyer. Directed by Jason Zada. Focus Features
(James Dittiger / Gramercy Pictures)
See the most-read stories in Entertainment this hour >>
One of the most difficult aspects of playing Douglas was having to wear the form-fitting "Spartacus" duds. "It took a while to get used to wearing little leather undies," O'Gorman said with a laugh.
Douglas, noted Roach, has seen "Trumbo" and went out of his way to compliment O'Gorman's performance. "He said the only guy who could have done better at playing Kirk than Dean was ... Kirk himself," said Roach. "Douglas said he was upset we didn't ask him!"
MORE:
Holiday Movie Guide: 'Spectre,' 'Star Wars,' 'Hateful 8' and more
Sylvester Stallone is back as Rocky Balboa – but this time he's in a fight with mortality
'The Big Short' author says director Adam McKay gets it right about the Wall Street meltdown
---
The complete guide to home viewing
Get Screen Gab for weekly recommendations, analysis, interviews and irreverent discussion of the TV and streaming movies everyone's talking about.
You may occasionally receive promotional content from the Los Angeles Times.