Susan Bay Nimoy's 'Eve' is one of several Sundance films to focus on 'women of age'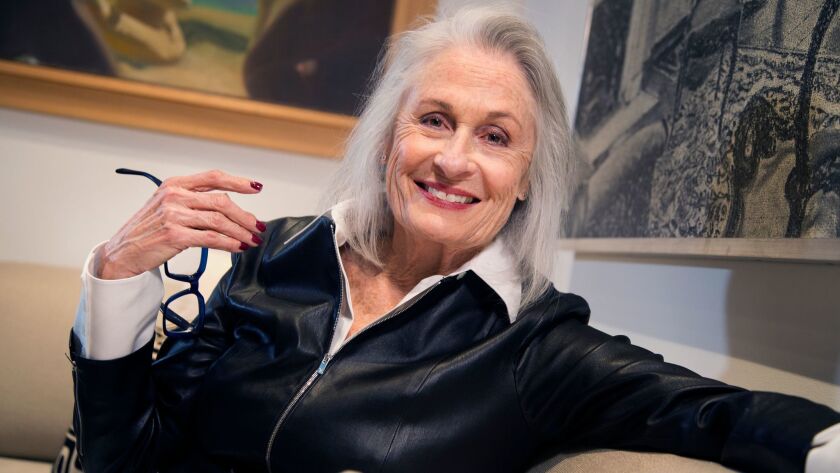 "It's a once in a lifetime thing," says Susan Bay Nimoy, matter-of-fact and convincing. "It came together as if it was meant to be."
Nimoy is sitting in the Bel-Air home she shared for decades with husband Leonard Nimoy talking about "Eve," an honest and quietly affecting short film she wrote, directed and, quite unexpectedly, also starred in that will debut at the Sundance Film Festival.
Nimoy's not talking about getting "Eve" into Sundance, where the odds of being one of the 69 shorts accepted this year out of 8,740 submitted are so long that she just laughs and hits her forehead in mock astonishment when she's asked about it.
And she's not only talking about the way the particulars of the word to screen process came together, from a yearlong good deed by director J.J. Abrams to a fortuitous dinner party meeting that gave her cinematographer Jim Frohna and producer Diana Kunce in one swoop.
FULL COVERAGE: Sundance Film Festival 2018 »
Just as much as those situations, Nimoy is talking about the way the telling of "Eve's" story of the intensely emotional journey of a 74-year-old widow relates to her long-standing commitment to having more women behind the camera and a parallel desire to have increasing visibility for "women of age" front and center on the screen.
In this "Eve" is part of what turns out to be a 2018 Sundance pattern, being one of five films, including documentaries on Supreme Court Justice Ruth Bader Ginsburg and attorney Gloria Allred, that feature women over 70 as their subjects. "Eve" premieres at the festival on Jan. 23.
We don't find women of age attractive. But if you gave them really good roles to play more often, we would feel differently. We just don't see them.
Susan Bay Nimoy
"Stories of women of age can be wonderful," the 74-year-old Nimoy says, enthusiastic about the company she's in. That's not the way society views them, she notes. "We revere men of age, we find them hunky and appealing, but we don't find women of age attractive. But if you gave them really good roles to play more often, we would feel differently. We just don't see them. Maybe these films can open the door a tiny bit and let those stories in."
Low-key, unforced and elegantly made, "Eve" is a poignant examination of things not often explored, from the intensity of grief when a partner of long duration dies to the first steps toward a return to full participation in life.
During her marriage to Leonard she focused on the arts foundation she and her husband co-founded that created residencies for artists and built theaters. Before those years Nimoy had an active life as actor, director and film executive.
As Susan Bay she appeared in shows like "Perry Mason" and "Remington Steele" and was the female lead in the 1967 Jerry Lewis movie "The Big Mouth."
But because "the scripts I was given were not impressive in any way," she became interested in the other side of the camera and ended up directing episodes of Norman Lear's "All That Glitters" and other projects.
That in turn led to her being one of what is now called the Original Six, a group of female DGA members who in 1979 formed the Women's Steering Committee. Armed with statistics provided by a mole inside the DGA ("He let us into the offices in the dead of night"), it was the first group to speak out for gender equality behind the camera.
All this was well in the past when Leonard Nimoy died in early 2015 and Susan Nimoy found herself enveloped in grief. "It's like losing a limb, you can't prepare for it," she says. "Leonard had had COPD; I'd read every book out there about grief. I said, 'It's going to be different for me; I can handle that.' I could not."
Proving unexpectedly helpful was Abrams, who'd become close to the original Spock while directing 2009's "Star Trek" reboot.
"When Leonard died, that's when the emails started," Nimoy says. "He emailed me 365 days in a row, that was his form of kaddish, the daily prayer for the dead. He recognized how wounded I was; he just wanted me to know he hadn't forgotten about me."
Realities of widowhood
Along with emails came the offer of a space to write at Abrams' Bad Robot production company, which Nimoy eventually accepted. "I stayed in my little space and I wrote and wrote and wrote," she says. "I wrote about all the things I was fearful of, facing 75, being a widow.
"Men get casseroles when their wives die, women get nothing," she explained. "You're eliminated from some social circles you enjoyed when you were married. You have to initiate everything; you feel like a backstreet wife. I'm not bitching, I'm just underscoring it."
Although the first part of "Eve" deals with this sadness, the second part, which came out of nowhere for the writer, focuses on a sexual situation.
"I had dinner with a friend of mine, an actor much younger than I am, and I felt something shoot through my body," Nimoy reports. "I felt very female, very sexual, very alive. I thought, 'You are not dead, you are alive.' And I thought, 'What if Eve has this feeling, what would that look like?'"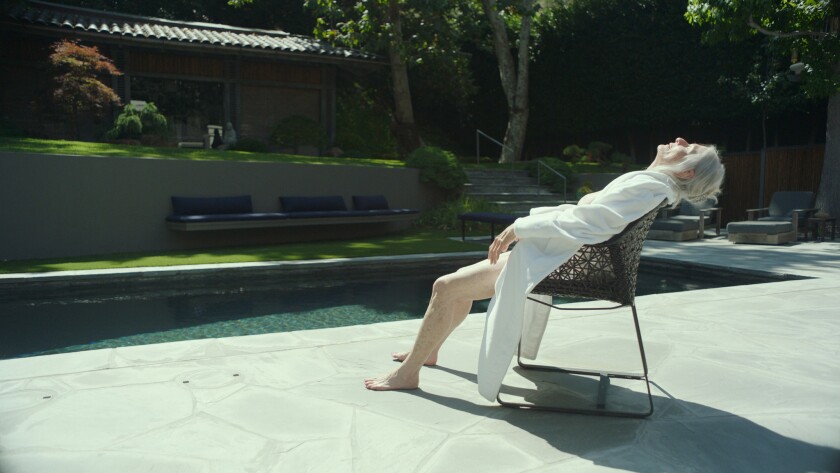 It's important for Nimoy that the erotic encounter depicted in "Eve" is not random, it's connected to her subject's life. "The scene is far less sexual than an emotional catharsis," the filmmaker explains. "And I am in no way suggesting the answer to grief, to how to construct a new life, is hooking up with a younger man."
That episode, however, led to a last-minute crisis over casting, which compounded Nimoy's initial difficulty finding an actress to play Eve. "As casting directors will tell you," she explains, "when you are looking for an actress to play an older woman who has not had facial work done there is not a lot to choose from."
An actress was cast, but "two days before shooting was to start, she bailed. She asked me, 'Do you want me to show my body?' I said, 'At least your breasts' and she said, 'I can't do that.'"
Faced with the choice of "postponing the shoot and recasting or jumping in," Nimoy chose to play the part herself as well as direct. "The nudity was such an important part of the storytelling I felt, yes, I could do it. I didn't think twice."
The finished product turned out so well that a feature-length version is being considered, and Nimoy remembers the shoot as "an altered state, extremely emotional, because it was reliving that feeling of disorientation and overwhelming grief.
"The experience had a sacredness to it. I know that sounds weird, but Leonard was on my shoulder, cheering me on."
---
Get the Indie Focus newsletter, Mark Olsen's weekly guide to the world of cinema.
You may occasionally receive promotional content from the Los Angeles Times.