With 'Searching,' 'Unfriended' and beyond, Timur Bekmambetov seeks a new cinematic language that mirrors our digital lives
A few years ago filmmaker Timur Bekmambetov, one of Russia's top grossing directors of all time, completely shifted his perspective on the language of movies.
The Russian Kazakh filmmaker had been telling stories the traditional way his whole career, breaking out internationally with the boisterous action and daring visuals of the 2004 vampire saga "Night Watch," 2008's "Wanted," 2012's "Abraham Lincoln: Vampire Hunter" and in 2016, the ill-fated big budget remake "Ben-Hur."
But Bekmambetov realized that he, like the rest of us, was spending much of his daily life glued to his devices. We build lives, careers and relationships around them; communicate through them; connect through them; learn about the world from them. We live digitally. Why weren't the movies reflecting our new reality?
"I don't know if it's bad or good, but I feel that half of my life — the most important events of my life — are happening on screen today," said Bekmambetov on a recent afternoon at his Los Angeles office. "I'm finding friends, losing friends, falling in love, losing people I love, making projects, collaborating and fighting and arguing.
"Most importantly," he added, "I make moral choices online, because to tell the truth or to lie is a lot of what is happening online today. And you can't really understand today's world and relate it to the characters of today's world without looking at their screens."
With that revelation came a sharpened focus and a new mission. The result is Bekmambetov's passion project, Screenlife, a developing technology in which stories are told through the lens of our everyday lives via computer screens.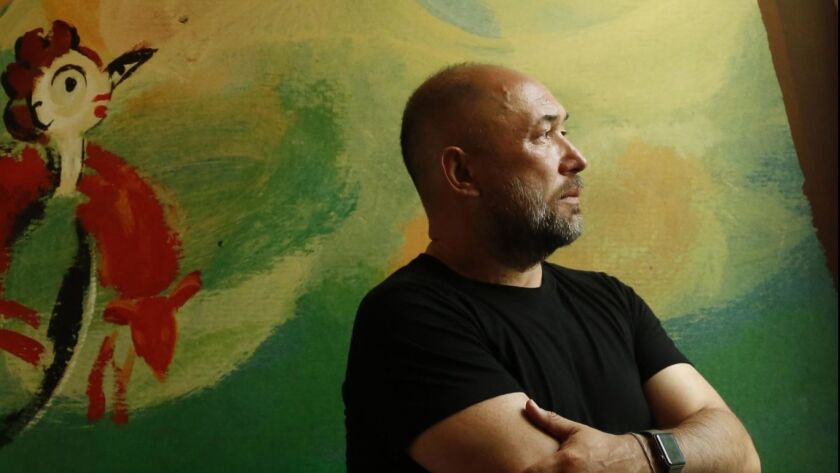 The fascination started in 2014 with the Bekmambetov-produced horror hit "Unfriended," a social media Skype thriller from hit factory Blumhouse Productions set entirely on the screen of a teenager's computer. The film made $64 million off a modest $1-million budget — making Bekmambetov's interest in screen-told stories potentially extremely profitable.
Bekmambetov and his Bazelevs production company have now made seven international narrative feature films using Screenlife, including the sequel "Unfriended: Dark Web" released in July and the Bekmambetov-directed "Profile," based on the true story of a journalist catfishing a potential jihadist source online, which won audience awards at the Berlin and South by Southwest film festivals.
In essence, Screenlife turns a computer screen into an actor's "set," and their dynamic usage of apps, websites, text chats and activity is recorded as "footage."
It's a technique very similar to what audiences will see in Aug. 24's "Searching," directed by Aneesh Chaganty, as a father (John Cho) seen only through a computer screen clicks through his missing daughter's desktop and social media for clues to her disappearance. Emotions run the gamut and crucial information is conveyed in watching how he interacts with the computer.
The thriller premiered at this year's Sundance Film Festival, where it won the audience award in the Next section — devoted to "pure, bold works distinguished by an innovative, forward-thinking approach to storytelling" — and the Alfred P. Sloan prize given to films with science or technology themes.
Although Bekmambetov is a producer on "Searching," Chaganty did not use the specific Screenlife screen-capturing technology for the project. Rather his Silicon Valley-set "Searching" speaks a cinematic dialect of this new film language Bekmambetov is championing.
"We completely live our lives on screens, and the way that screens have been used in storytelling, they've never been used cinematically," Chaganty said. "If you cut to a cellphone it's always this weird user interface or if you cut to a laptop it's a made-up website that no one ever knows… it was always technology as an idea of technology, and not the technology itself."
Chaganty and writer Sev Ohanian resisted making a Screenlife feature until they felt they had a concept that wasn't purely gimmicky. Then they came up with an emotional opening scene that pulls in the viewer and gives context to characters' history by mouse-clicking through a family's shared computer and its contents.
"It's 'Up' meets a Google commercial," said Chaganty of the sequence that helped crack the "Searching" narrative arc, investing the viewer in what will become Cho's character's increasingly distraught quest for answers. As Chaganty discovered: "You don't need to show someone's face. You can just show a cursor to make [the audience] cry."
To learn how to live in this world is really important, but the only way to do it is to tell stories.
— Timur Bekmambetov
Bekmambetov describes Screenlife as the new folktale-telling, an expression of a collective cultural experience all of us as connected online users are only starting to understand. And filmmakers and artists, he says, have the responsibility to reflect and explore the anxieties, lessons and rules that emerge from this time of fast-changing technology. The implications on how we live today are too big to ignore.
"To learn how to live in this world is really important, but the only way to do it is to tell stories," he said. "If you create mythology, tell a story, create a character and deliver the message emotionally, then a lot of people will watch a movie called 'Searching' and they will understand, because of this movie, that parents should pay attention to the world of their kids."
He smiled, unwrapping a chocolate from a bowl of his favorite childhood candies. "I can write it as a sentence: 'Parents should pay attention to how their kids live online.' But nobody will follow. After this movie people are saying, 'Oh my God, I should probably talk to my kids.'"
Once he realized the dominance of screen language in contemporary life — that we all feel the pang of queasy, impatient anticipation watching the dot-dot-dot of a text reply being written, or recognize the second-guessing doubt that a hesitating hover of a mouse can signify — there was no returning to the same conventional Hollywood filmmaking for Bekmambetov.
"I had a feeling that I cannot go back," he explained. "That to make traditional movies is kind of a little boring, because you know how to make these movies. They've been made for a hundred years!"
"Any movie you see in the theater today, you have a feeling that you've seen it before," he continued, pointing out the latest Tom Cruise vehicle, "Mission: Impossible — Fallout," as an example.
"'Mission: Impossible,' I couldn't watch – it's comedy!" he said and laughed. "I've seen the same thing many times and it's a new version – good, very well made, great action, but I've seen it many times. And I know that the people who made it, know how to make it. They knew how to make it five years ago and 10 years ago. It's exactly the same."
He waves it away, smiling. "I'm not saying that traditional cinema will disappear, I'm saying that traditional cinema is not relatable anymore. Today's bank robbery is not the guy with a gun screaming, 'Give me cash!' – there is no cash anymore in the bank. There are digits, numbers. Today's bank robberies are a young boy with an iPhone hacking the bank system."
Writer and director Stephen Susco was tapped to helm "Unfriended: Dark Web" for producers Bekmambetov and Jason Blum. He calls the ability to tell stories through screens "an incredible way to try something brand new with narrative form."
"It was one of the things I was most excited about," he said. "I remember vividly seeing the first movie and having this experience of watching the mouse move across the screen and feeling my fingers moving and realizing I was trying to move the mouse. That was what was so profound about what this new movie did, in producing this new way of telling a story – it tapped into the fact that we all use computers, some of us for 10, 12 hours a day."
Screenlife movies can be made relatively cheaply and with readily available consumer equipment. "Unfriended: Dark Web," which opened July 20, had a modest budget of $1 million.
Filming on the sequel — which follows seven friends terrorized by unseen forces as they gather on a group Skype chat — took place over only eight days in a rented house. Bedrooms were transformed into separate apartment sets and connected by a closed-circuit camera system to simulate the Skype call. Actors sat in front of laptops mounted with GoPros and acted out the story in real time, and even additional shots the filmmakers figured out they needed during the year and a half post-production process were cost-effective.
"We would call up [actor] Colin Woodell and find out he's in Barcelona, and we would ship him his shirt and say, 'Do this over Skype... we need you for 30 minutes,'" said Susco.
Through his Bazelevs production company, which has offices in Los Angeles, Moscow and Beijing, Bekmambetov is encouraging more filmmakers to take a stab. As part of that process, Bekmambetov himself directed what he calls an "experiential" drama, "Profile," to prove that the approach worked for other genres. "My choices on 'Profile' was more like experiencing this reality," he said. "It's just different languages."
Using Bazelevs' Screenlife capture technology, he and actress Valene Kane were in adjacent rooms in London while his other actor, Shazad Latif, was with his assistant director in Cypress, standing in for Syria. The action played out on connected screens with Kane seen on her laptop's webcam, making her own improvised real-time choices using the computer's pre-designed applications, musical playlists and calls with her co-star.
"It was important because it was an experiment in improvisation," said Bekmambetov. "So she was not only the music editor but also the mixer — when she played music sometimes she made it louder or quieter… overall what Screenlife gives you is it puts you inside the character. You are inside your hero — not only visually but emotionally because you're making mistakes, you're deleting and changing your mind."
While a consumer social platform based on the Screenlife technology is also in development, Bekmambetov has a full slate of 14 new movies in the works over the next 18 months including comedies and romantic comedies. Much like James Cameron's devotion to 3-D and Peter Jackson's enthusiasm for high frame rate, Bekmambetov believes he's found the film technology of the future.
"It gives filmmakers freedom to make their own mistakes without being tortured by big studios, scared people," he said. "Because if you risk $100 million, probably there are 10 people in charge making decisions and 10 people never make the right choice; it will be mediocre because 10 people can't invent something."
And when it comes to how we live online — all the dark corners and unexpected beauty we perhaps have yet to fully comprehend — there's plenty of subject matter left to explore.
"Any genre could be reinterpreted in a Screenlife language," Bekmambetov preaches, with the devotion of a pioneer who will keep pushing forward until everyone has heard his message. Our internet lives are inescapable, after all — whether we like it or not. "It's where we live today."
---
Get the Indie Focus newsletter, Mark Olsen's weekly guide to the world of cinema.
You may occasionally receive promotional content from the Los Angeles Times.