How one activist came to learn the answer to the question: 'Whose Streets?'
Trailer for the Magnolia Pictures release "Whose Streets?"
On Aug. 9, 2014, Brittany Ferrell was shaken to her core.
Just a day after arriving in New York City on a trip, the St. Louis native sat on the bed of an Airbnb she was renting, scrolling through Facebook on her phone. She stumbled upon a post from someone from high school.
"The police just killed an 18 year old kid and he's still laying in the street," it read.
Confused, noticing no one else on her feed had posted the information, she closed Facebook and opened Twitter. A user with the handle @TheePharoah was being constantly retweeted onto her timeline. The St. Louis-area rapper was live-tweeting the death of Michael Brown, an unarmed black 18-year-old killed by a white police officer in Ferguson, Mo. He posted a picture of Brown's lifeless body stretched out in the street, where it would stay for four hours.
"This is wild," Ferrell thought to herself.
But death was nothing new for her and her community. She put down her phone only to return later that evening to tweets about people gathering on Canfield Drive. There were photos of police tape and people yelling, and of a guy claiming to be Brown's father holding a sign that read, "Ferguson police just killed my unarmed son!" She watched a live feed where a police officer stood in front of a group of protesters with a barking dog. In another video, a different cop, she said, cocked his rifle and screamed, "I'll kill all you … animals."
"'This is not usual,'" Ferrell recalled saying."'This isn't the type of murder that we've become used to and can call typical.' In that moment I felt chills. I was angry and crying."
She booked a return flight and went home the next day. After landing at 11 p.m., she picked up her 6-year-old daughter from her dad's house and decided the two of them would head to Ferguson the next morning.
What happened, to Ferrell and to Ferguson in the following almost three years is the subject of a new documentary, "Whose Streets?," in theaters Aug. 11. It's a tale of survival and protest, love and loss, strength and resilience from the vantage point of the people who live in the community and packed the streets demanding answers.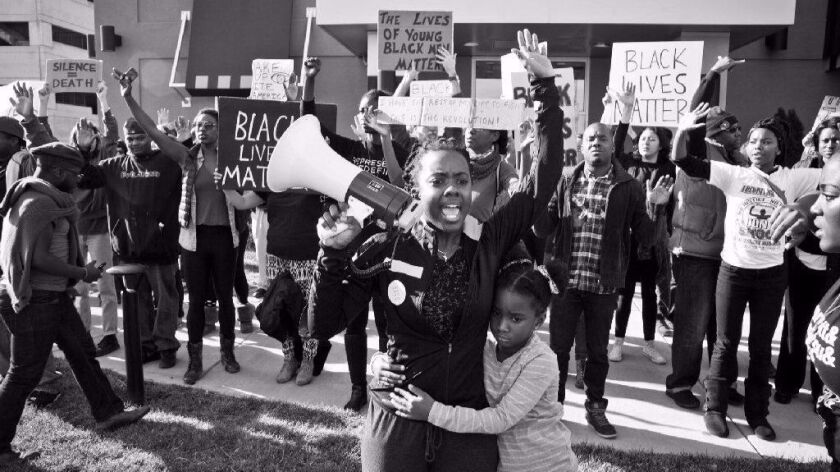 As Ferrell drove to Ferguson with her daughter, who was wearing a floral dress and matching crown, the two revisited a conversation they'd had countless times before that morning "about the black experience and black condition."
"You remember how I taught you about when black people had to fight for what they believed in?" she recalled saying. "We're going to Ferguson right now because the police killed an 18-year-old boy and it wasn't right."
"I couldn't not take her," Ferrell said later. "This happening today is a culmination of … that has happened in the past. She needs to know it and see it and be raised in it. She needs to be well developed in the area of not just activism and organizing but knowing the different layers of the black experience and the black condition and what we must do to get free, to free ourselves.
"Even if I'm fortunate enough to provide her an experience where she doesn't [personally] experience blatant racism, she is no different than the next black woman-child. I feel like I would be doing her a disservice to shield her from that."
The first stop when they arrived in Ferguson was on South Florissant Road, a site across from the police department that became a campground of sorts as the activists awaited word of Officer Darren Wilson's eventual non-indictment. There Ferrell and her daughter linked up with a local business owner who was making sack lunches. They prepared bags and helped pass them out to protesters. Slowly, a new type of activism began to take shape for Ferrell.
Black queer women in leadership has sustained the movement overall.
Brittany Ferrell
"My activism completely transformed after Aug. 9," she said, noting that while an undergrad at the University of Missouri-St. Louis, she was president of the Minority Student Nurses Assn. and focused on food justice and health disparities in black communities. "I had no experience in organizing. It all just came."
Weeks later, Ferrell met Sabaah Folayan, one of the film's co-directors, during an evening demonstration. Folayan said she and her director of photography Lucas Alvarado-Farrar "just wanted to document" what was happening.
A question came to Ferrell's mind: "Do you want to document or are you trying to find a story that you can exploit?" That skepticism was informed by countless instances of people — often white — coming into a community to profit off its pain and resilience.
As Folayan explained in a recent interview, "We had heard that people who are born and raised [in Ferguson] were not having their voices centered, and we wanted to do it differently."
Folayan had already linked up with co-director Damon Davis, an area artist known for his activism around death row inmates. His involvement endeared Ferrell to the project, along with six other locals the "Whose Streets?" team followed in the years after Brown's shooting.
"[This documentary] is not somebody speaking for us or speaking to us, it's us speaking," Davis said. "That was the main thing for me, how these people will be represented, because that's how I will be represented."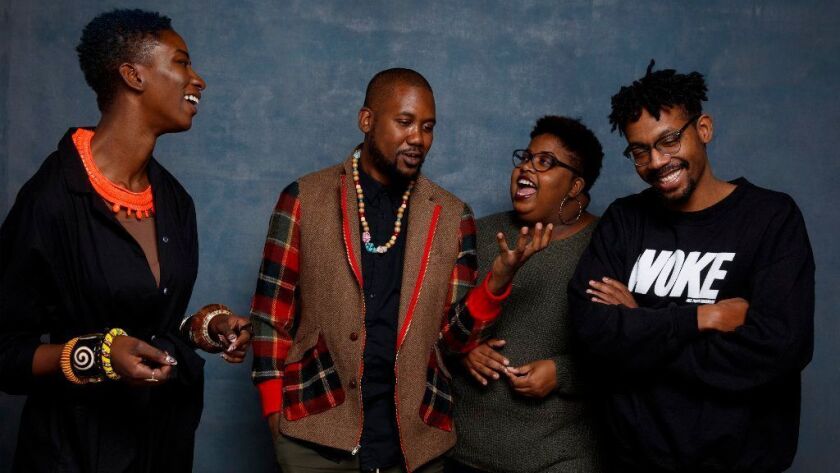 While the goal wasn't to focus on Ferrell's experience — in an effort to show that the movement is "not about a messiah leader but a community coming together," Folayan said — she proved to be the most open of the film's participants. As a result, "Whose Streets?" documents surprisingly personal aspects of Ferrell's life, like falling in love and marrying her wife.
"I felt like I was naked," said Ferrell, laughing about the first time she saw the finished product. "But I understood that with doing this work and humanizing black folks, there has to be a level of vulnerability."
Moreover, Ferrell's story reiterates and re-centers the role of black queer women in the broader Black Lives Matter movement. Two of the movement's three founders — who coined #BlackLivesMatter on social media in the aftermath of the 2012 killing of black teen Trayvon Martin — identify as queer.
"Black queer women in leadership has sustained the movement overall," said Ferrell, "and that's because [we're constantly at] battle on multiple fronts. Black queer women have to bear the brunt of it all."
Folayan agreed noting that "the movement is really upheld by black women and a lot of queer black women." She insists, however, that "this is not some affirmative action type of thing" where Ferrell was chosen as the film's heart because of her identities.
"She was the person who was galvanizing this energy," she said. "It's not a coincidence though she was on the front lines, because living life at those intersections as a black queer woman, you have so much on the line. You can feel her energy through the screen."
Meanwhile, back in Ferguson, the news cameras are long gone but fraught racial ties between the community and police persist. Ferrell is on probation for 2½ more years for blocking a highway during a demonstration. She describes the socio-political atmosphere of the area she calls home simply: "A mess."
Still, she clings to a chant she's committed to memory since taking to Ferguson's streets a full three years ago.
"It is our duty to fight for our freedom. It is our duty to win. We must love and support each other. We have nothing to lose but our chains."
Get your life! Follow me on Twitter (@TrevellAnderson) or email me: trevell.anderson@latimes.com.
With 'Girls Trip,' director Malcolm D. Lee celebrates 'black girl magic'
Black while funny and female: 18 comedic actresses on working in Hollywood
Perspective: Why it's time Hollywood let trans voices tell, and embody, their own stories
---
From the Emmys to the Oscars.
Get our revamped Envelope newsletter, sent twice a week, for exclusive awards season coverage, behind-the-scenes insights and columnist Glenn Whipp's commentary.
You may occasionally receive promotional content from the Los Angeles Times.