Voices of the City: YouTube diva Vidya Vox is busy in L.A. mixing Indian ragas, hip-hop and dance music
Vidya Vox's original videos have nearly 300 million views on YouTube. She wants to use her cyber fame to get a record contract for her fusion of Western hip-hop/dance and Indian ragas. (Video by Myung J. Chun / Los Angeles Times)
Vidya Vox, a mash-up singer of Western electronic dance music and Indian ragas, loaded her crew into cars and ventured into the desert with sun visors from a 99-cent store. The YouTube star was shooting a new video and had packed an array of talents and nationalities to spend two days kicking up dust in Joshua Tree and Palmdale.
Vox met her choreographer, Kavita Rao, an Indian American who lives in West Hollywood, on an earlier shoot. The dancers included a Vietnamese, two women from Delhi, two guys from California, and a hip-hop-jazz man from New York. Vox was as focused on her dance steps as she was her fashion, changing from cut-off shorts to Indian bubble pants and twirling amid women in folkloric dress, as if a bit of Bollywood had bloomed in the scrub-brush and sage.
"I love mixing Indian and Western," said Vox, who for the video teamed up with Arjun, a Sri Lankan-born British singer with a large YouTube audience. "I thought if Coachella happened in Rajasthan [India] or Burning Man happened in Rajasthan how would we all look?"
Vox is at once an ancient heart and a modern confection, slipping between love, abandon and defiance in videos that move in swift rhythms and lyrics that weave English, Malayalam and Tamil. With hybrids that mix the likes of Taylor Swift with Indian composer A.R. Rahman, and a new EP of original music, Vox has tapped into an international vein with nearly 300 million YouTube views and over 3.5 million subscribers on her Vidya Vox channel.
A Twitter-age, multi-culti diva, Vox is an instinctive marketer and a tell-tale face in a globalized music landscape of streaming, pollinations and crossovers. She has found cyber fame by drawing on the Carnatic traditional music she learned as a child in Chennai, India, and the hip-hop and electronic grooves she listened to on a school bus when her family moved to the suburbs of Washington, D.C.
At 27, Vox, whose real name is Vidya Iyer, is surprised by how quickly she found success: "It just grew," she said. "I didn't even have time to think between 1 million and 2 million subscribers."
"There's a shelf life for anybody on YouTube and the question is what do you do when you're at the top. Can you point yourself somewhere else?"
— Shankar Tucker, musician-producer
Sitting the other day in her Silver Lake apartment with her co-writer-producer-boyfriend, Shankar Tucker, who also directs her videos, Vox, in jeans, slippers and a lace shirt, was a woman at a turning point. YouTube delivered her to the world but musicians who become stars on the channel don't often make it in the old-school world of record deals, radio play and a chance for wider artistic and digital success.
"There's no longevity on YouTube. You have to keep pushing boundaries," said Vox, whose first YouTube hit in 2011 was a rendition of the Indian classical song "Nee Nenaindal." "It's all about the balance. Fashion bloggers have done great things with YouTube because they can go out and have their open lines and sign deals with big corporate companies. But for musicians, me personally, you just can't keep doing covers or mash-ups. It would get old pretty fast."
Her new EP release, "Kuthu Fire," which includes six songs co-written with Tucker, is a gambit to resonate beyond the boundaries of YouTube and into a music world greatly changed by iTunes and Spotify. The songs and videos are meant to attract potential producers, managers, concert promoters and record labels with original dance pop that fuses Indian and Western beats. They recently promoted the EP with shows in Boston and Johannesburg and Durban, South Africa.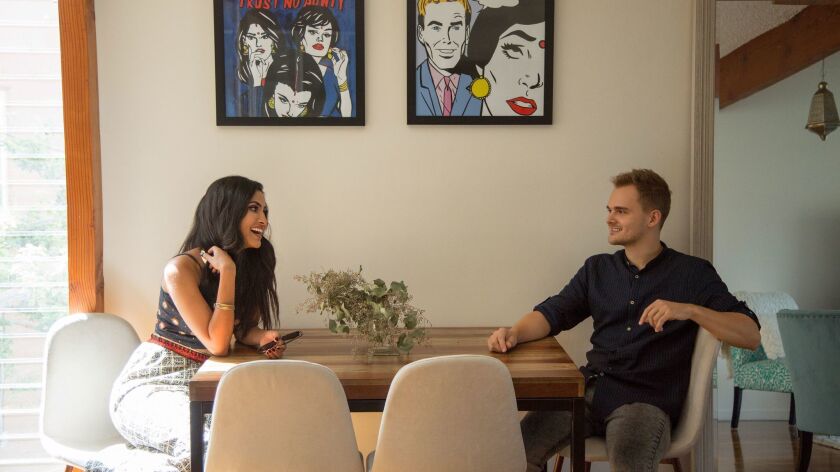 "There's a shelf life for anybody on YouTube and the question is what do you do when you're at the top," said Tucker. "Can you point yourself somewhere else?"
There are cautionary tales, though. Terra Naomi was a YouTube star more than a decade ago when she signed with Universal Island Records, lost her artistic independence and was criticized by her online fans for selling out. She detailed the ordeal in Digital Music News in a 2015 piece headlined: "How Signing a Major Record Deal Nearly Destroyed My Music Career."
"The exposure I built independently on YouTube was more than the record label ever did for me, and I couldn't believe I'd been so willing to hand it over for a long-shot gamble on mainstream stardom," Naomi wrote in the article. "The fact that most artists will never sign a major label deal is actually a good thing. We have countless resources to help get our music out to the world. Grow your business on your own. Find your audience."
Vox and Tucker spoke as a morning cool hung in the hills and sunlight edged across a scrubbed, white kitchen. Vox is the animation and the quick pulse of the relationship. Tucker is more subdued, a clarinetist raised in Massachusetts whose own compositions are soothing, mystical explorations that seem to echo from centuries past.
They chime into each other's sentences and, despite their youth, understand the peculiarities and cruelties of their business, such as when their landlord asked: "You're musicians, can you pay the rent?" Neither wants to sacrifice the Indian component of their sound, a prospect that could arise in future record negotiations.
"People are open to other cultures and other types of music they're not familiar with and now everyone has jumped on board with that production style," said Vox. "I remember those moments listening to 'Where Are U Now' with Justin Bieber on the radio and DJ Snake on 'Let Me Love You' and 'Lean On' by Major Lazer. I feel that when those three broke to the 'mainstream' they weren't like any other songs on the radio. And now if you listen to Katy Perry's new album and all these other albums they all have those influences. It's crazy."
Vox and Tucker chose Los Angeles over New York and London as their base. With video studios, an endless supply of multicultural musicians, producers ("the Major Lazer crowd") and an air of artistic tolerance, the city has become central to their evolution.
"We met a bunch of people here and we said this is it. A gut feeling. All the cool music coming out of here," said Vox. "It's nice to be in a place where people may not understand where you're coming from but they respect it and they're willing to be open to it."
Vox met Tucker while at George Washington University. She graduated in 2012 and was planning to go to medical school. But she was drawn to music and returned to India, where Tucker, a Fulbright scholar, was studying classical styles and had started his ShrutiBox channel on YouTube. Vox and her sister, Vandana, sang classical Indian compositions that Tucker produced. "I thought, oh, this is cool," said Vox, "you can put your music out on YouTube and get messages from all over the world."
The mash-ups followed and Vox's fan base grew, notably in India, which she estimates accounted for 70% of her viewers. Today, about 50% of her followers are Indian, with the rest coming from the U.S., United Kingdom, Canada and Trinidad and other countries. In an effort to connect with the Indian community in the Southland, Vox played a concert in April at the Redondo Beach Performing Arts Center.
Vox has discovered that YouTube celebrity has frustrations. She recently pulled eight videos from the channel after Indian publishing houses raised copyright issues and demanded what she described as exorbitant fees for using songs. Critics of YouTube in the music industry complain that mash-ups and covers of songs on the channel often do not protect copyrights or reward songwriters.
The channel can also unleash angry comments and emails when viewers don't like a rendition of a favorite song. Vox admires Rahman, who composed music for the Academy Award-winning film "Slumdog Millionaire." But her remix of his classic "Taal Se Taal Mila" drew ire. "People said, 'how dare you do this.' The reaction was so horrible," said Vox. "And I was like this is a Bollywood song, please relax. It's not a devotional or religious song. It's a movie song talking about love. I didn't violate anything sacred here.
"I coudn't get out of bed for a day and a half. I was so depressed."
Vox says she's had offers to become an actress and enter the enormous bubble of Bollywood. "People say, 'Oh, you gotta go to Bollywood and sing these movie songs.' That for them is the epitome of achievement. You get a song with any of the composers there and you've made it." But she worries about losing creative control and sacrificing an independent music career. "Maybe it's a mistake," she says, "but I'm not accepting acting offers."
See the most-read stories this hour »Twitter: @JeffreyLAT
ALSO:
Voices of the City: Robin Coste Lewis' fierce and arresting poetry has its roots in Compton
Voices of the City: Bedouine's nomadic spirit finds songs, acclaim and conviction in L.A.
Voices of the City: Muralist Robert Vargas is painting a towering history of L.A. above the traffic
---
The complete guide to home viewing
Get Screen Gab for weekly recommendations, analysis, interviews and irreverent discussion of the TV and streaming movies everyone's talking about.
You may occasionally receive promotional content from the Los Angeles Times.