Lin-Manuel Miranda navigates the Pacific to help send 'Moana' on a daring adventure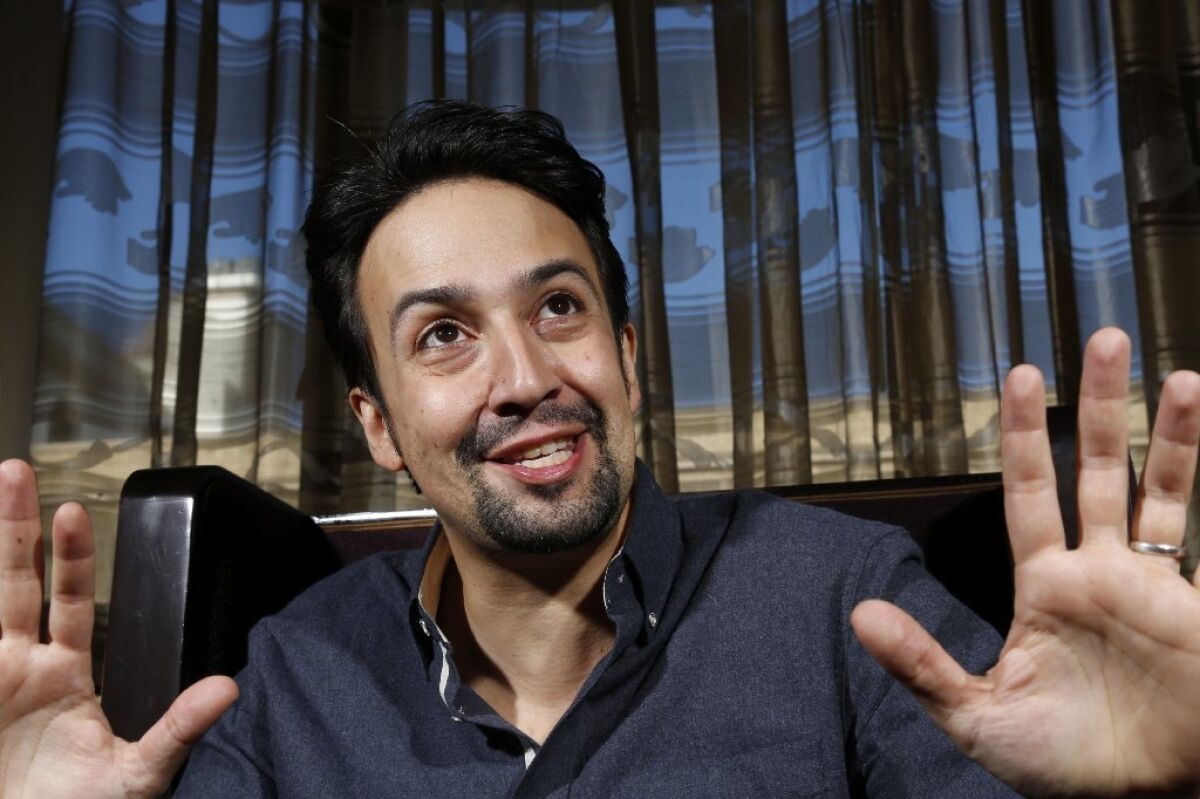 The crowd at a movie premiere is an inherently friendly one. Everyone in the house is either employed by the studio, had a hand in making the movie or is just happy to be at a free movie (that would be the press). And when the film finishes screening, there is always a round of applause for almost every name that floats on the screen.
Disney's premiere for "Moana" was no different. As the names of the principals began to scroll by, directors Ron Clements and John Musker – Disney legends with "The Little Mermaid" and "Aladdin" under their belts — got a round. Disney/Pixar luminary John Lasseter got a round. Dwayne Johnson got a round befitting his star wattage and physical size.
But the biggest whoops and hollers were saved for the guy who co-wrote the songs (along with "Tarzan" composer Mark Mancina and world-music superstar Opetaia Foa'i). The guy who has a Pulitzer on his shelf to keep all those Tonys company. The guy who wrote the book and music for the stage shows "In the Heights" and "Hamilton" and who is cruising toward winning an Oscar to land an EGOT (Emmy, Grammy, Oscar, Tony) with the inevitability of a crippling hangover after New Year's Eve: Lin-Manuel Miranda.
Justin Chang reviews Disney's latest animated movie, "Moana," starring Auli'i Cravalho and Dwayne Johnson. Video by Jason H. Neubert
And of course Miranda would be the belle of this particular Disney ball. It's hard to imagine anyone else who has leaped to the front of the pop-culture stage as quickly, as pervasively and with as much grace as Miranda.
While the decision to draft Miranda for "Moana" duty today seems the biggest of no-brainers, in truth, two and a half years ago, he was just another Tony-winning guy, not a national institution. "I interviewed," said Miranda, who speaks with a voice that always seems on its toes. "It was pre-'Hamilton.' I was just one of several songwriters who auditioned for the job."
The directors were fans of Miranda's "In the Heights" and were looking for someone who could tell story through songs that would bridge two languages and two cultures. "We loved the way the ["Heights"] songs moved effortlessly from Spanish to English. We loved what he did on the Tony Awards with the openings for Neil Patrick Harris," said Musker.
"When we interviewed him in New York, we were struck by his charisma, how full of ideas he is, and how he was willing to collaborate with other musicians, including musicians from the Pacific islands," Musker added. "Not all of the people we interviewed shared the enthusiasm to collaborate."
But collaboration is the stuff of life to Miranda. "I don't know how to do this in solitude," he said. "It's solitude enough to write the thing. When I'm writing a show, I get the immediate gratification in bringing a song in to the director and the music choreographer. With writing for Disney, it was writing a verse and a chorus and bringing that in to the story team.
Collaboration's my favorite part of the process. It's messier, and you break a lot more eggs in making the thing... but it's also much less lonely.
— Lin-Manuel Miranda
"Collaboration's my favorite part of the process. It's messier, and you break a lot more eggs in making the thing, and there's a lot more wrong turns because it's a lot of different ideas, but it's also much less lonely."
"Moana" posed a very unique set of problems for the creative team. While the story treaded in waters Musker and Clements were somewhat familiar with – young woman heeds the call and sets out on a daring adventure, braves the wild and the woolly, to secure the future for the people she loves – it was also telling the story of a culture that hadn't been exposed to the world at large.
"This is true of 'Hamilton' and this is true of 'Moana': The two most important tools in your toolbox are research and empathy. Get the details right," Miranda said of how to thread the needle of cultural appropriation. "Learn as much about the world you're writing about, whether that's American history or the Pacific islands, and then it's your job to put yourself in the character's shoes. That's every writer's job. Be armed with as much information as you can have."
And Disney aggressively sought to engage that culture. "One of the biggest challenges of 'Moana' was our desire to be true and respectful of the amazing cultures of the Pacific islands that we learned about in our many research trips to Samoa, Fiji and Tahiti," Clements said. "It was on our second trip, in March 2014, that we went to Auckland [New Zealand], for the Pasifika music festival. That was the first time that Lin-Manuel Miranda, Opetaia Foa'i and Mark Mancina were all together. We were hoping that these three amazing musical talents would get along with each other and fortunately, of course, they did."
Miranda quickly saw the wisdom of leaning on Pacific Islander Foa'i's musical instincts. "After a certain point, I realized I am not going to write the beat to a song. These rhythms have to sound like this part of the world, and that's where we start. I wrote an early song, and Opetaia was like, 'That's a Caribbean rhythm. An island, but the wrong island. Sounds more like Cuba than Bora Bora.'"
The "Moana" brain trust was also fortunate that the biggest movie star in the world was also (a) in their movie and (b) hails from Hawaii and is a natural ambassador. But having Johnson in "Moana" also presented a problem – namely, he isn't exactly known for his singing voice.
"Most of us are not professional singers. We can carry a tune, but we're not singing a song that requires four octaves," Miranda said. So rather than give Johnson the kind of vocal workout that would suit his "Hamilton" cast, he leaned into the Rock's strongest suit.
Anyone who's got that kind of physical build should not be that impossibly charming on top of it.
— Lin-Manuel Miranda on Dwayne Johnson
"Anyone who's got that kind of physical build should not be that impossibly charming on top of it," Miranda said. "It's incredible how humble and sincere he is. I thought what's the best way to amplify that? So I just thought, what if he just starts with 'You're welcome.' As a hip-hop fan, I love an unsolicited you're welcome. 'My presence is my present,' right?"
And Johnson vibed on how supportive Miranda was during the recording. "It wasn't until we were done with the [recording] session that Lin said, 'Hey, listen. I hope you feel awesome, because you were great,'" Johnson said. "I said, 'Yeah, I feel good. Do you feel good?' He goes, 'I do. Because I want you to know, it's really hard to sing this.' And then he broke it down -- how complex his writing can be, musically. … [If] tradition would be to go to a certain place, he'll go the opposite way — which makes his music inevitably more complex and more interesting."
In the immediate future, Miranda will be taking that music further from the theater: He's currently living in London while he costars in Disney's sequel to "Mary Poppins," opposite Emily Blunt. He's also contributing some new songs to Disney's live-action remake of "The Little Mermaid," which will follow on the heels of the studio's live-action "Beauty and the Beast."
But that's tomorrow. At this moment Miranda was prepping his "Hamilton Mixtape" – the album inspired by that little Broadway show that rekindled a sense of patriotism in a community that too often feels disconnected from and disenfranchised by its government – and venturing forth into an America divided after the presidential election.
"Art and the things we make are a part of our times," Miranda said. "I feel very hopeful. I feel very grateful that we managed to create a Disney heroine who isn't looking for a boyfriend. She's saving her family, she's saving her island, she's saving the world.I'm very proud to be a part of that."
ALSO:
Lin-Manuel Miranda reveals 'The Hamilton Mixtape' track list
Dwayne Johnson gets animated in Disney's Polynesian musical adventure 'Moana'
Review: Disney's gorgeous 'Moana' offers sweet relief to audiences looking for an escape
---
Get our L.A. Goes Out newsletter, with the week's best events, to help you explore and experience our city.
You may occasionally receive promotional content from the Los Angeles Times.