Classic Hollywood: When 'spooktacular' used to mean something
Do you remember the great Onion opinion piece "The Word 'Spooktacular' Used to Mean Something in This Country" from a few years back?
It's the perfect thing to put you in the mood for October — and another special edition of Classic Hollywood. I'm Scott Sandell, and let's take a look at what's coming up.
GOOD GRIEF! 'THE GREAT PUMPKIN' IS 50
Do you believe in the Great Pumpkin? You don't have to answer. As Linus says, "There are three things that I've learned never to discuss with people: religion, politics and the Great Pumpkin."
Nevertheless, October marks the 50th anniversary of "It's the Great Pumpkin, Charlie Brown." The premiere date: Oct. 27, 1966.
Though it was the third "Peanuts" television special created by Charles M. Schulz, directed by Bill Melendez and produced by Lee Mendelson, the show featured a number of firsts, including the first animation of the football gag involving Lucy and Charlie Brown, and the on-air debut of Snoopy as World War I Flying Ace.
ABC will air the Halloween special in October, though the date has yet to be revealed. In the meantime, more than 90 corn mazes across the United States and Canada are marking the occasion with "Peanuts"-themed designs.
If you're worried about getting a rock in your candy bag, it's time to rewatch.
IT'S PRONOUNCED 'FRAHKENSTEEN'
Just last month, we had a sad reason to fondly remember the funny 1974 film "Young Frankenstein," when Gene Wilder died at the age of 83. Wilder shared an Oscar nomination with Mel Brooks for the screenplay of the film and portrayed young surgeon Frederick Frankenstein.
Fathom Events is screening the classic in theaters nationwide on Oct. 5, along with an introduction by Brooks from the 20th Century Fox lot. He might even bring up his new book about the making of the film, written with my colleague, Rebecca Keegan.
SCARY MOVIES
Of course this is the season for scary movies too, and there are a number of events around town. Among a few highlights announced so far: Cinespia will bring back Freddy Krueger in Wes Craven's "A Nightmare on Elm Street" at the Hollywood Forever Cemetery on Oct. 22; the Aero Theatre in Santa Monica will have an "All-Night Horrorthon" on Oct. 29, featuring "The Blob," "Devil Fetus," "Phantasm II" and more; and Cinefamily offers the lobster-shaped-monster flick "The Tingler," presented in the shocking "Percepto!" format that features electric buzzers under some patrons' seats, on Oct. 30.
THE FRIEDKIN CONNECTION
You thought I was going to write about "The Exorcist," right? Well, there is a new TV series of the same name as the 1973 William Friedkin movie. But we're taking a different turn. It's the 45th anniversary of "The French Connection."
The film about a pair of Harlem narcotics squad officers and their investigation into a French heroin smuggling operation won five Academy Awards: best film, director, lead actor (Gene Hackman), editing (Jerry Greenberg) and adapted screenplay (Ernest Tidyman).
"'The French Connection' was actually an independent film," Friedkin told Susan King on the occasion of the film's 30th anniversary. "Aside from the fact it was financed by 20th Century Fox, we had no contact with the studio."
He also said it was filmed in 40 days during a cold New York City winter and used only real locations.
So on Oct. 7, he should have some war stories to tell when he appears for a screening at the film academy in Beverly Hills.
DVD WATCH
As a young editor in the pre-Google days, I have to admit that the name Krzysztof Kieslowski always struck a little terror in me. Our film staff wrote about him frequently enough, though, that I eventually memorized the spelling.
As film critic Kenneth Turan wrote over the summer, the late, great Polish director's 1988 "Dekalog" is one of the greatest films few people remember. It's not one film, though, but rather 10 segments that use the Ten Commandments as thematic source material.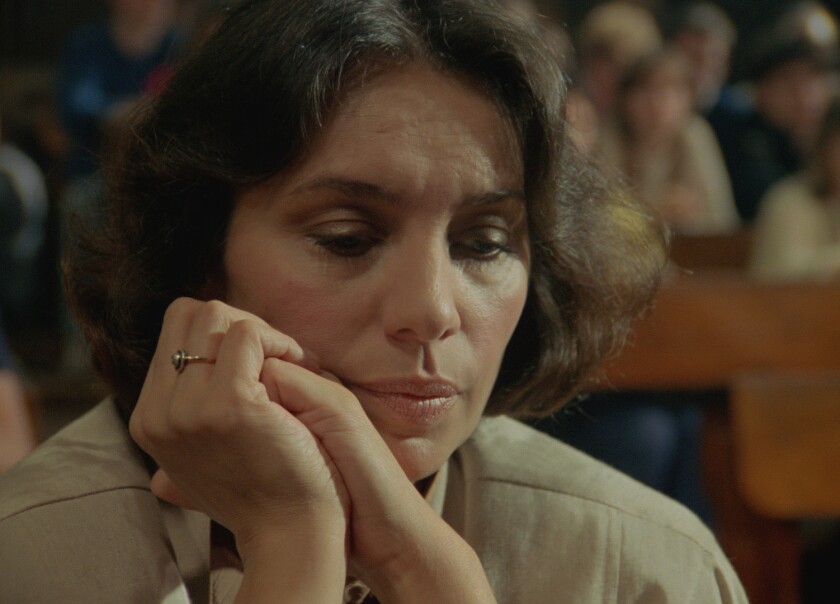 After being in a kind of home video limbo for years, Criterion Collection has just released a DVD and Blu-ray in a new digital transfer from the original 35-millimeter camera negative.
IN CASE YOU MISSED IT
-- "For the Record: Scorsese -- American Crime Requiem" is a live show covering 40 years of music and moments from Martin Scorsese movies. Co-creator Anderson Davis talks about the musical mash-up.
-- Film critic Justin Chang remembers the late Curtis Hanson, a classicist and chameleon among Hollywood directors.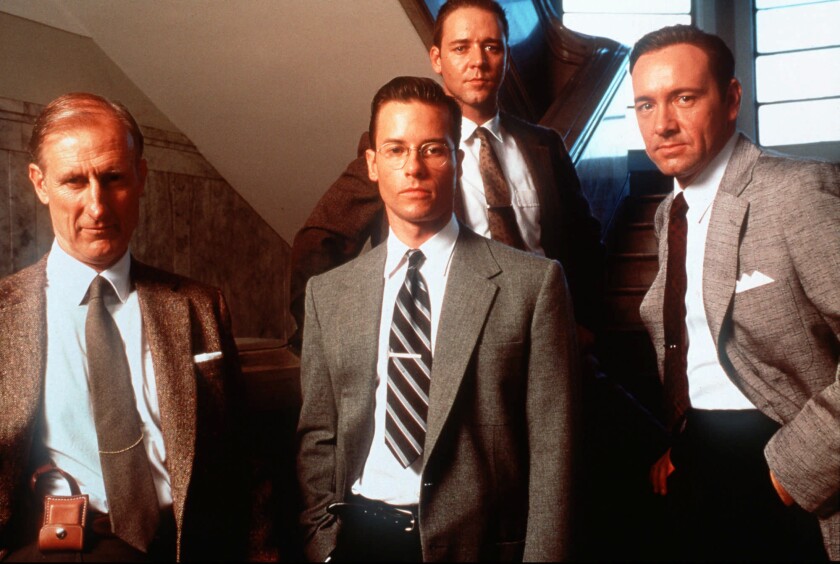 -- Agnes Nixon, who created daytime TV dramas such as "One Life to Live" and "All My Children," died at age 93. "Everyone's life is a soap opera," she said.
-- Turan previews a French film noir series screening at the American Cinematheque.
-- Carolina Miranda looks at a silent film festival in downtown L.A. that sets Charlie Chaplin and Buster Keaton to electronica and indie music.
-- For director Antoine Fuqua's remake of the 1960 western "The Magnificent Seven," one thing popped into his head: "I've got to see Denzel Washington on a horse."
For more vintage Hollywood, go to the Classic Hollywood Los Angeles Times Facebook page.
---
Inside the business of entertainment
The Wide Shot brings you news, analysis and insights on everything from streaming wars to production — and what it all means for the future.
You may occasionally receive promotional content from the Los Angeles Times.