Review: 'The Exorcist' makes demons a frightening force again
"The Exorcist," which premieres Friday, is the Fox network's second series this season to be based on a 20th century film franchise. ("Legal Weapon" debuted Wednesday). It also doubles the number of current Fox shows with a demonic foundation, joining "Lucifer," in which the Devil runs a Hollywood nightclub and solves crimes.
A different, more downbeat brand of devilry is afoot in "The Exorcist," which takes off from William Peter Blatty's bestselling 1971 novel and director William Friedkin's 1973 film. It's not a remake; the events of the original are nodded to, historically, in a briefly seen newspaper clipping. And these characters have different names and particulars. But it mirrors Blatty's basic structure.
As in the book and the movie, there is a woman (Geena Davis) worried about a daughter (Brianne Howey) who has been sullen and strange, and a house full of thumps, noises and eeriness. And there are two priests, one older and battle-tested (Ben Daniels), the other young and uncertain (Alfonso Herrera), who will eventually join forces to investigate, perchance to exorcise.
The series adds a husband (Alan Ruck), suffering fitfully from dementia, and a second daughter (Hannah Kasulka, perky). Neither sister is 12 years old, happily (they are older). And we move from a Washington, D.C., townhouse to a suburban Chicago spread.
This was exotic stuff when it first appeared. The novel spent 57 weeks on the New York Times bestseller list; the movie was nominated for a slew of Oscars and introduced what might be called the Judeo-Christian horror genre. With some exceptions, Lucifer and his subalterns had been portrayed in pop culture as relatively harmless figures of fun — I'm looking at you, Hot Stuff, you diapered devil.
Monsters came from science, or from being bitten by other monsters; religion had little to nothing to do with it. But Blatty, who trusted in the supernatural reality of the 1949 case that inspired his novel, took his good and evil seriously, calling "The Exorcist" an "argument for God."
Though the young priest in the Fox show suggests to the troubled mother that demons are "a metaphor," an "invention of the Church to explain things like addiction, mental illness," the series wastes little time in declaring him wrong: For here is the old priest in a Mexico City slum, battling a demon for the life of a boy in scenes made to remind us of its pedigree: pustular child tied to a bed, speaking to a priest in the voice of an Irishman, levitating. The Old Rotating Head Trick.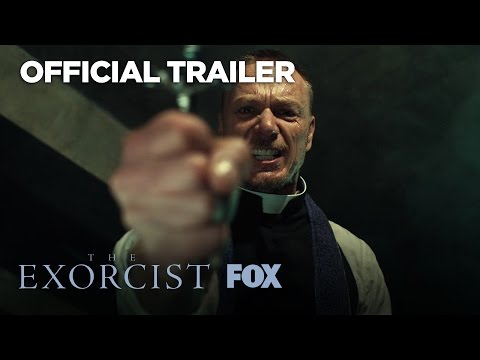 Director Rupert Wyatt ("Rise of the Planet of the Apes") keeps the pilot chilly and drear, not overdoing the shocks and special effects. (Anyone who finds the going slow I would direct to the Friedkin film, which much of the time is positively mopey.) There are tense and spooky moments, to be sure, and a couple of scenes, one featuring a raven and another a rat, I found too disturbing to really watch, though I'm sure no actual animals were harmed during their filming, or possibly used at all.
Daniels has something of the air of the weary gunfighter strapping on his six-shooters, or holy water and crucifix, as the case may be, and Davis, whom you should watch in anything, projects an interesting mix of will and fragility. If nothing else, their presence promises to make the series watchable, but it's a creditable job all around. If you like this kind of thing, you'll likely like this thing of its kind.
Still, just how much exorcism one series (and one family) can bear is an open question. Perhaps the next season, if one comes, will take the priests to some new thrilling case of possession. Or maybe the demons will open a nightclub and solve crime. There's precedent.
'The Exorcist'
Where: Fox
When: 9 p.m. Friday
Rating: TV-14-LV (may be unsuitable for children under the age of 14 with advisories for coarse language and violence)
On Twitter @LATimesTVLloyd
Also:
Haven't we seen this before? TV networks opt for safe bets in the 2016-2017 season
Are you afraid to step inside 'The Exorcist' maze at Universal's Horror Nights?
Get our L.A. Goes Out newsletter, with the week's best events, to help you explore and experience our city.
You may occasionally receive promotional content from the Los Angeles Times.