Denzel Washington, an actor of intricate parts, emerges as a favorite for the Oscar
Denzel Washington strolls in dressed all baggy: ingratiating, sly, a man of eloquence and scat, quiet and crescendo. The bulk of him rises. So many things writ into his characters, saint, conniver, fallen soul, dreamer, and a laugh that comes at you like a roll of thunder.
He steps to a window 18 floors up. Rain falls in the dusk. His shoulders roll like a boxer's. Black cap rides high, shirt untucked. He smiles, smooth, like he could whisper a secret and then turn around and steal it from you. He carries his age like the teenager who wanted to be "Shaft" or "Super Fly" but turned into something bigger, an actor of intricate parts, including his latest, Troy Maxson, the flawed and bitter Pittsburgh sanitation worker in August Wilson's "Fences."
Washington directed the film and has emerged as a late favorite for a best actor Oscar. His Maxson is an angry cauldron of words, a black father entangled as much in the racism of the 1950s as he is in the sins and delusions of his own making. He is a working-class everyman, paunchy and gray, distant from his son, deceitful to his wife (Oscar-nominated Viola Davis), a disillusioned former baseball player writing and preaching his own bible with poetry, fierceness and humor mined from the grit of experience.
Pain is pain, loss is loss, hurt is hurt.
— Denzel Washington
"Pain is pain, loss is loss, hurt is hurt," Washington, who won a Tony Award in 2010 for his portrayal of Maxson on Broadway, said in a recent interview. "You gotta be able to get your mouth around it. It is American Shakespeare. There's a rhythm to it. But if you try to break it down like Shakespeare and make too much of it what does that mean to me? It's music not just language."
Washington first saw the play 30 years ago with James Earl Jones in the lead. When producer Scott Rudin approached him about a film adaptation, his first thought was of Maxson's son, Cory. "I remembered it through the son's eyes because I was younger when I saw it."
But Washington was in his fifties, the same age as Maxson. "I said, 'Wow.' I better hurry." That decision led to a revival on Broadway, the movie and Washington signing with HBO to bring nine other Wilson plays — a searing canon of black life in America — to the screen.
The 62-year-old Washington is perhaps Hollywood's most potent actor. Star and stage actor, craftsman and celebrity, although a private one, he has won two Academy Awards and his films have earned more than $3 billion. He has played Shakespeare's Marcus Brutus and Richard III. But he is known by one name. Denzel. Women back in the day would say it with a purr. Men see parts of his characters in themselves, those places of courage and cool, of rising above the bruises.
He can appear elusive and hard to penetrate in conversation; taking a question, tossing it back, playing with meaning and challenging the intention of each syllable. Like Maxon, he has the hard stare of a long-ball hitter, fixed on the slightest crack. He does not mind silence.
He's a great American actor. There's Brando, George C. Scott and him.
— Producer Scott Rudin speaking of Denzel Washington
"He's a great American actor," said Rudin. "There's Brando, George C. Scott and him. The part (of Maxson) fits him like a glove." He added that Washington has a "capacious knowledge of dramatic literature…. I think he's always wanted to be great. He's been extraordinarily shrewd in what he's done, with remarkably few missteps."
August Wilson was a master, said Washington, at unmasking our imperfections and yearnings and the way a life can be shattered or exalted. One night before the film opened, Washington slipped into a theater for a screening. He sat next to a redheaded white boy. "I could see he was struggling," he said. "The credits roll and I lean over and ask, 'Are you OK?" I said, 'Was that your dad up there?' He said, "Yeah'. I said, 'Were you the son?' 'No', he said, 'it was my brother.'"
In the telling, Washington let 'brother' hang like a bit of brokenness in the air. As much as he can hurl his voice to the back rows of a Broadway theater, he can hush a word till it almost melts. He noted that Wilson's work affects everyone, no matter creed or culture. "As somebody said one night, 'I didn't know August Wilson was Polish,'" he said. "'I didn't know he was Japanese.'"
The Denzel method
A timelessness resides in Washington; he carries multitudes: freed slave in "Glory," rebel in "Malcolm X," sinister cop in "Training Day," alcoholic pilot in "Flight," earnest coach in "Remember the Titans" and many others who can get in your face with a gleam, coax you into their worlds, fold you into their conspiracies. In each is Denzel, the flicker of the genuine. He has had his share of questionable choices — a bad Caribbean accent in "The Mighty Quinn" — and at times he doesn't dissolve into a part so much as graft it onto himself.
"Denzel takes a character and completely makes it his own, but always in a way intended in the screenplay," said Robert Zemeckis, who directed "Flight." Washington, he said, would carry around the original script and question changes. "He would take copious notes. Writing, writing, writing. He never would tell you what he was doing," said Zemeckis. "He'd wear ear buds as he was walking onto the set, listening to music before he stepped onto his mark."
"He never told us what the music was," said Zemeckis.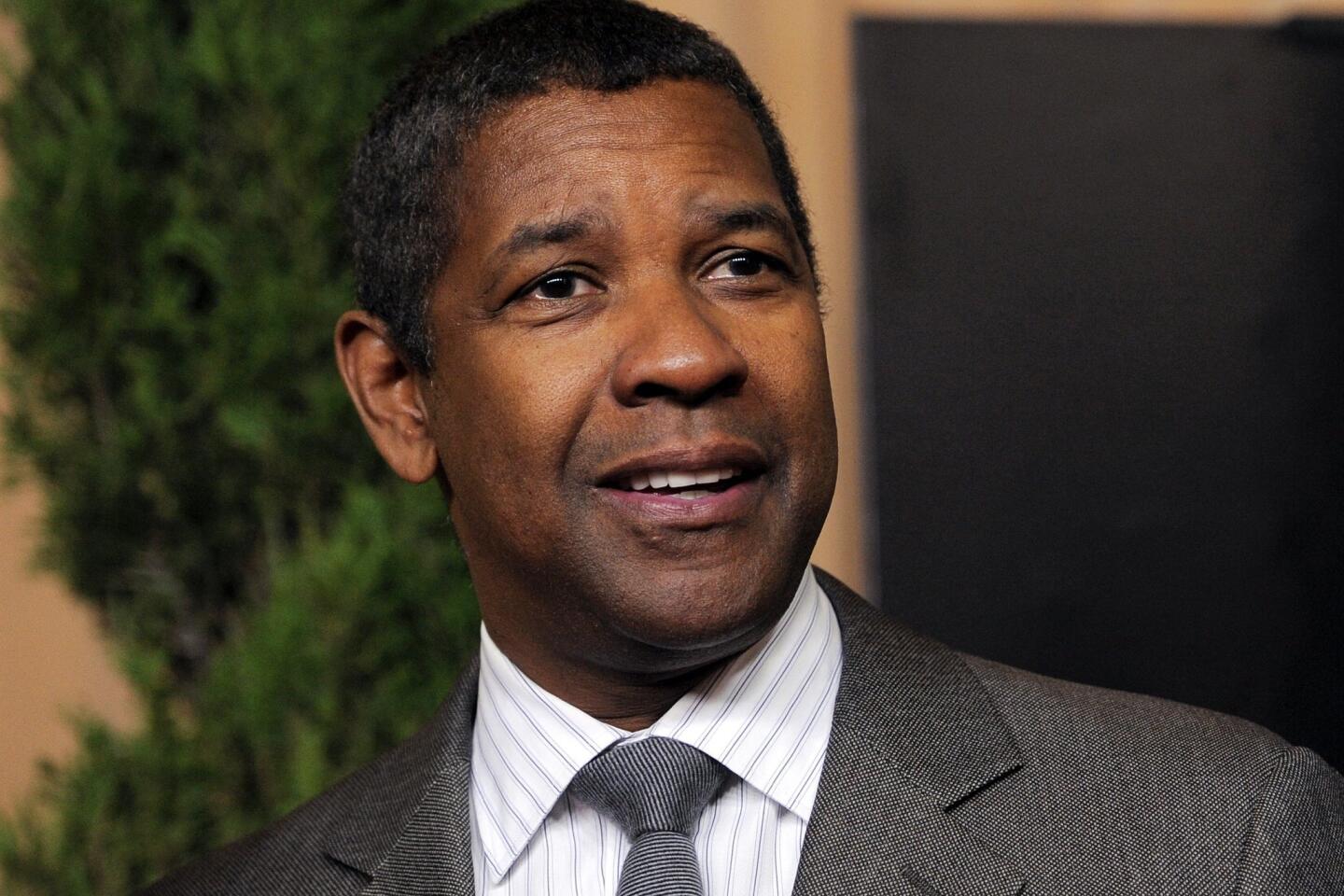 Denzel Washington, seen here in 2013, will receive the Maltin Modern Master Award at the 2017 Santa Barbara International Film Festival for his contributions to the industry.
(Chris Pizzello / Invision / Associated Press)
Washington and Tony Scott collaborated one final time for this thriller in which veteran engineer Frank Barnes (Washington) and a young conductor (Chris Pine) team to halt a runaway freight train. Scott passed away Aug. 19, 2012.
(Robert Zuckerman / Associated Press)
Age has made less fine the angles of Washington's face. But he keeps a furnace inside. He stays in shape by boxing with trainer Terry Claybon. "We spar not so much. You stay quick. I got fast hands." It's the eyes that grab you, narrowing, widening, flashing; winning you over, pushing you away, holding the moment until the voice, which can glide or drop stone-deep, snaps into a laugh that can hit bone. "You're asking for trouble…."
The son of a preacher, a child of neighborhoods around the Bronx, Washington came to prominence as Dr. Philip Chandler in the 1980s TV series "St. Elsewhere." His early film roles, including anti-apartheid activist Steve Biko in Richard Attenborough's "Cry Freedom" and a naval officer in Tony Scott's "Crimson Tide," were noble men against the odds. The prism he was held up to — a black actor with universal appeal — did not refract the meaner sides of nature until Alonzo Harris, his corrupt, rabid, detective in "Training Day" in 2001.
"I just didn't get asked to do those kinds of things. Of course once they saw the results, I got 20 'Training Day' scripts," said Washington, who won an Oscar for his performance. "With 'Training Day' I was like, man, bad guys are fun. I never knew that. Never discovered that. He gets away with anything. He's a sociopath who wants to dominate all the time. But he's having a blast. It was liberating."
An African American actor in a nation unsettled over its racial past, Washington became an iteration of Sidney Poitier, whose roles spoke to racial divides in the civil rights turmoil of 1960s. That history and Poitier's gains allowed black actors like Washington wider breadth. While discussing this lineage, Washington, who a few nights earlier had watched "I Am Not Your Negro," a documentary on essayist and novelist James Baldwin, pulled a phone out of his pocket.
"I want you to see this," he said, standing, slipping on his glasses and holding up the screen. Poitier, who is 89, appears on a couch. Washington, who lives near him, had stopped by for a visit and asked an hour's worth of questions about Hollywood and the past. The scene was resonant; two gifted men in a room winding back time, the older handing the younger his story, the kind of tale that would fit neatly in an August Wilson play.
"The work that he and others did created an environment for me to go," said Washington, who when he won the Oscar for "Training Day" pointed to Poitier in the audience and laughed, "Forty years I've been chasing Sidney." "Sidney was talking about the people who came before. The actor James Edwards and others that led the way for him. Harry Belafonte and all that. The business was where it was when I got to it.
"I grew up the blaxploitation era," he added. "My two favorite movies were 'Super Fly" and 'Shaft'. That was the movies me and my boys went to and everybody wanted to be 'Shaft' or 'Super Fly.' That was the argument when you got back to the park. Are you 'Shaft"? Or are you 'Super Fly'? We had that fantasy. (But) when I was a little boy you didn't know black from white. So you fantasized through whoever. Fred Astaire. Not that I wanted to be him. But it took you to worlds. Escape."
But Washington these days is concerned about the Twitter age and where we're going. "The polarization of the electorate. The meanness of being in your little hovel. Where we headed? Forget about who's in charge. Where are we headed?" he said. "I embrace my inner analog. People used to take my picture, now they want me to be in their picture."
Troy Maxson is what 'Super Fly" grew into. He has coils of gray, bulge of gut, slower gait. He lifts liquor to his lips and spins out fantastical stories in the backyard dirt of a poor Pittsburgh neighborhood. Maxson lives with bitterness, dressing it in torrents of words that hurt and judge and in the end break. "Someone asked me," said Washington, "'How do you feel about playing someone people don't like?' You can't go into a role worrying about who likes it. What's the truth."
See the most-read stories this hour »
Twitter: @JeffreyLAT
ALSO
An Oscar-nominated director caught up in Trump's travel ban and lessons learned on a strange trip to Iran
Realism or cliche? Hollywood struggles to get the working class right
'Guess Who's Coming to Dinner' is 50 and racial tension still a problem in America
Get the Indie Focus newsletter, Mark Olsen's weekly guide to the world of cinema.
You may occasionally receive promotional content from the Los Angeles Times.