The 'Barbershop' writers took great pains to make 'The Next Cut' current and to avoid worn-out tropes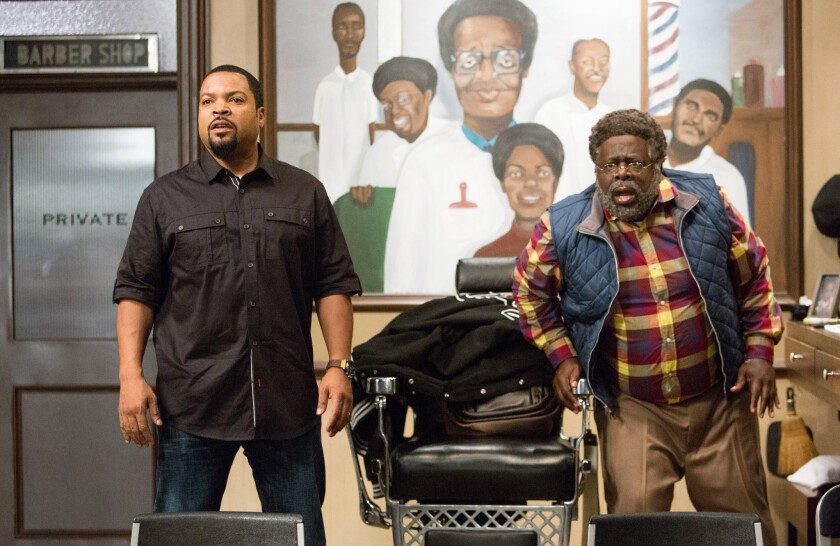 The formula for so-called black films is both specific and ill-defined: Jenifer Lewis, Lynn Whitfield or Loretta Devine lead a mostly black cast, with Taye Diggs or Morris Chestnut in there somewhere; Spike Lee or Tyler Perry is writer, director and star; every character hides their purse around cousin Pookie; and prayer is the only substitute for a doctor's visit. There's often also a "Soul Train" line to Maze featuring Frankie Beverly's "Before I Let Go" and plenty of sassy, neck rolling to go around.
But with "Barbershop: The Next Cut," in theaters beginning Friday, writers Kenya Barris and Tracy Oliver didn't want to follow said formula. They believed that a "black movie" could be more than what it's too often forced to be.
"We wanted to make sure it was a good script, and we weren't phoning it in," said Oliver ("Survivor's Remorse"), who jokingly refers to "The Next Cut" as "the sequel no one is screaming for." "Just because it was 'Barbershop,' we didn't dumb the writing down or try to make it stereotypical comedy. We pushed ourselves in ways we haven't seen some other black comedies do."
"The Next Cut" is the third film of the "Barbershop" franchise. The original, which opened in 2002, introduced the world to Calvin (Ice Cube), who runs the barbershop he inherited from his father. Though the struggling business is first seen as a burden, Calvin comes to adopt his father's vision and embrace the legacy of the shop as a pillar of its South Side Chicago community. Cube's fellow barbers were Cedric the Entertainer, Anthony Anderson, Sean Patrick Thomas and Eve.
In 2004's "Barbershop 2: Back in Business," gentrification threatens the shop's livelihood and the broader neighborhood as the government looks to improve the area. Calvin uses his community role to stand up to the city to no avail, but his barbershop weathers the storm.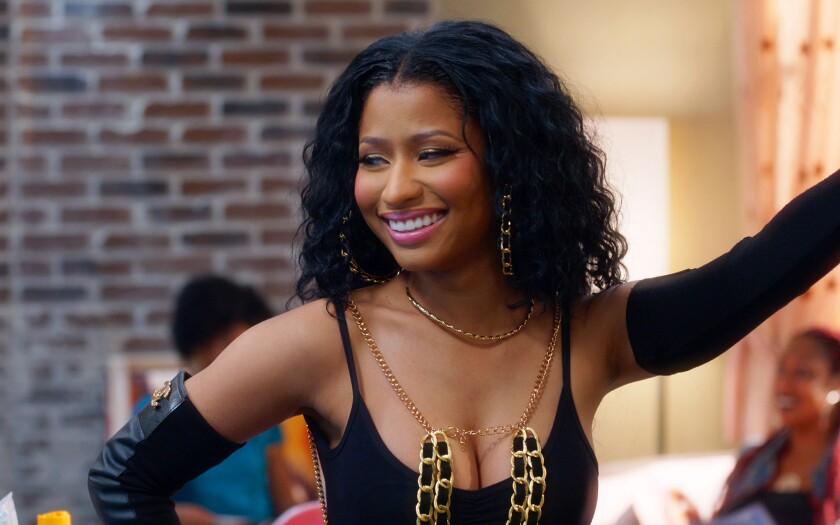 Things are changing, once again, in the latest installment. At the shop, the once male-dominated space is now part beauty salon, and the female stylists (played by Regina Hall, Nicki Minaj and Margot Bingham) are making their voices heard. Outside the shop, the neighborhood has taken a turn for the worse as gangs and guns have taken over the streets.
Most comedies with black casts follow the same formula, said Barris, who created ABC's "black-ish" after working on TV shows that include "The Game," "Girlfriends" and "The Keenen Ivory Wayans Show." Par for the course of "black movies," he said, is to hew closely to what's worked in the past, relying on stereotypes to bring in laughs and box office bucks.
"For so long there was a stagnant movement," said Barris about black film comedies. "We got comfortable doing certain things because they worked. [And they worked] because there weren't enough images out there, so when you put [the stereotypical ones] on screen, people will come. That's not who Tracy was, and that's not what I wanted to do. We wanted to make sure we didn't tread on any tropes."
But current events meant that repudiating stereotypes alone wasn't enough. In a world of Black Lives Matter and untamed gang and gun violence in Chicago, the franchise's backdrop, everyone involved — MGM and New Line included — knew that the film needed to address the social climate but in a way native to it. In fact, that is the only reason Cube signed on. After initially not believing there was a need for one more "Barbershop" film, he stumbled on a news article about a Memphis barber who gave out free haircuts to stop the shootings in his community. That real-life example became "a great reason to do this movie, other than clowning celebrities and the typical …," he said. It was important to Cube, Barris and Oliver for the story line about gang life to be nuanced.
Often, the media perpetuate the idea that fathers are absent in the black community and that such absenteeism leads many youth to find solace in gangs. In "The Next Cut," Calvin's son and his best friend (whose father is played by Common) look to align themselves with a gang, but both come from supportive two-parent households. (Their mothers are played by Jazsmin Lewis and Eve.)
"That's what's cool about the movie," said Cube who also serves as one of the film's producers. "That's reality. We just wanted to make sure we weren't painting that same old, 'He didn't have a mom or a daddy so he's gonna be bad. If he had two parents, he'd be good.' That ain't how it go."
Malcolm D. Lee, the film's director who created "The Best Man" franchise, added: "I've always felt a responsibility to project images about black people that are fuller and more dimensional and nuanced and subtle [as opposed to the] more in-your-face or archetypal portrayals of black people. Here, we have black fathers being active, before it's too late, but at the same time anybody can fall victim to gangs and gun violence."
To be clear, the effort to go against the grain of the "black movie" stereotype is not to reject the importance of films by, for and about black people and their unique cultural experiences. Contrarily, it's to illuminate how that label often limits the commercial success, Oliver said, or deems the film an anomaly if it does well at the box office.
Barris agreed, adding: "The idea of a 'black movie' is narrowing. You don't say a 'white movie.' When you start narrowing, it makes [success] feel smaller than it is. I want my people to support, but I want it to stand up creatively next to 'The Hangover' and others who fit into the ensemble comedy genre."
Because, as Lee said, " 'Black movies' are not a genre."
"Barbershop: The Next Cut" is a comedy. It just so happens to be black.
Twitter: @TrevellAnderson
---
From the Emmys to the Oscars.
Get our revamped Envelope newsletter, sent twice a week, for exclusive awards season coverage, behind-the-scenes insights and columnist Glenn Whipp's commentary.
You may occasionally receive promotional content from the Los Angeles Times.