Cannes: Pablo Larraín takes the road less traveled with 'Neruda'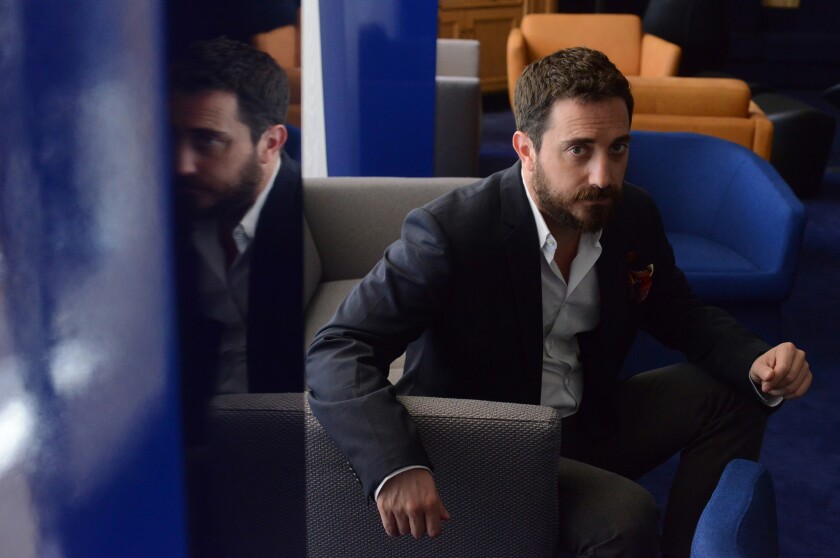 REPORTING FROM CANNES, FRANCE —
For audiences familiar with the award-winning work of Chile's Pablo Larraín, the protean writer-director of films such as "Tony Manero," "No" and "The Club," it will come as little surprise that even one of his more conventional-sounding pictures should turn out to be anything but.
So it is with Larraín's sixth feature, "Neruda," a captivatingly original literary chase thriller that refuses to behave in any traditional sense like a biopic of the poet, politician and diplomat Pablo Neruda (played by Luis Gnecco). The movie has been one of the undersung pleasures of this year's Cannes Film Festival, where it premiered to rousing applause last week in Directors' Fortnight, a parallel program to the official selection.
Shortly after its initial screenings, "Neruda" was acquired for North American distribution by the Orchard in one of the festival's first big sales. It's a heartening outcome for a film so dramatically and structurally free-form that even Larraín was at a loss to summarize it when filling out his Cannes submission form.
"We left [that section] blank," he says. "Is it a thriller, a drama, a comedy? We didn't know. What I do know is that, more than a movie about Neruda himself, it is about the Nerudian — his world, his imaginary space."
Sitting down at the Carlton Hotel in Cannes, Larraín, 39, described "Neruda" as the boldest and, at five years in the making, most time-consuming project he has undertaken. When his brother and regular producer, Juan de Dios Larraín, first suggested a movie about the life of one of the artistic giants of the 20th century, Larraín initially demurred, fearing the result would be "so dangerous and so boring."
But the project gradually came together as Larraín, working with screenwriter Guillermo Calderón ("The Club"), decided to avoid the broad brushstrokes and cradle-to-grave narrative framework beloved by so many biographical filmmakers. Instead, they focused on a narrow period in 1948, when mounting Cold War pressures forced Neruda, already a popular artist as well as a senator for the Chilean Communist Party, to go into hiding.
Armed with the knowledge that Neruda loved reading crime fiction, the filmmakers concocted a fictional character — Oscar Peluchonneau (Gael García Bernal, who also starred in "No"), a police inspector assigned to hunt down the fugitive poet — to serve as his nemesis and the film's co-lead. It is perhaps the most brazenly Nerudian of the film's conceits, especially when Peluchonneau, who delivers the film's near-continual voice-over narration, attempts to assert himself as the hero of his own story.
"We decided at some point that Neruda would create everything in the movie," Larraín says. "Everything was just coming out of his head."
The cat-and-mouse game that ensues dovetails intuitively with the movie's inquiry into the very nature of Neruda's art, and its rich understanding that history is written not only by the victors, but also by the artists who endure.
"Every real artist is always doing something dangerous, at some point," he says. "And if you talk about art and creation, and see that as key to the revolution of the characters … if you really want to use that, then you have to expose yourself. You cannot protect yourself."
Admitting that he can be something of a "control freak," Larraín said he had to adopt a looser, more experimental touch than he typically favors. In one particularly daring move, he decided to shoot almost every scene in the script at least three times in different locations, and then cut freely among them — a surreal technique that exhausted the cast and crew over the course of the film's roughly nine-week shoot in Chilean and Argentinian locations.
Although the movie was shot digitally, Larraín and his director of photography, Sergio Armstrong, worked to achieve a richly cinematic, retro-styled look using a single 35 mm anamorphic lens. The two also integrated other visual techniques — old-fashioned lens flares, deliberately phony-looking rear projection in the driving scenes — to further evoke the mood of the past. And mood, more than anything else, is what Larraín was aiming for.
"The script is essential, [as are] the characters, the locations, the d.p. [director of photography]," he says. "But what really, really matters in the end is the atmosphere. That's when the movie gets into your guts."
Over the past decade, Larraín has steadily risen to become one of the foremost figures in Latin American cinema. After making his directing debut in 2006 with "Fuga," a drama about a tortured musical prodigy, he bounded onto the international stage with a trilogy of distinctive and widely acclaimed films — "Tony Manero" (2008), "Post Mortem" (2010) and "No" (2012) — that amounted to a corrosive critique of life under the Gen. Augusto Pinochet regime.
In 2015, he continued his attack on institutional abuse with "The Club," a grimly accomplished portrait of a group of Catholic priests living in Church-imposed exile following accusations of child molestation. The film won a raft of international prizes, including the Silver Bear Grand Jury Prize at the Berlin Film Festival. All of which has led more than one Cannes attendee this year to wonder why "Neruda" is playing in Directors' Fortnight rather than the main competition — a question that many already were asking about "No" four years earlier.
What perhaps distinguishes "Neruda" most is the non-hagiographic way it regards its title subject, whom Gnecco (known for his work on the Netflix series "Narcos") plays less as an impassioned man of the people than as a great sensualist with a decidedly vain, manipulative streak. Larraín may share a first name with his subject, but the film is content to keep the real Neruda at a playful distance: It shrewdly keeps its focus on the poetry rather than the man, well aware that we would care little about the latter, if not for the former.
"Who was he, really? It's impossible [to say]," Larraín says. "And after investigating a lot, after I've made the movie, I'm still not really sure."
---
From the Emmys to the Oscars.
Get our revamped Envelope newsletter, sent twice a week, for exclusive awards season coverage, behind-the-scenes insights and columnist Glenn Whipp's commentary.
You may occasionally receive promotional content from the Los Angeles Times.