'A Star Is Born': How the new film compares to iterations of the past
Some may consider the number four to be an auspicious number. The little number that lies between three and five is considered a symbol of symmetry and a harbinger for the four cardinal points, the four seasons and even the four primary phases of the moon. If you believe in numerology then maybe the latest, and fourth, remake of the film "A Star Is Born" was written in the stars.
The narrative behind the film "A Star Is Born" is one that Hollywood cathartically likes to tell every few decades. On-screen we see changes that reflect the times we are in, but overall the story remains the same: The male protagonist elevates the career of his struggling romantic interest. Her rise to fame eclipses his star wattage, ergo, exacerbating his already bleak downward spiral. A cautionary tale about fame with a twist of love on the rocks makes for a trope the movie industry keeps coming back to.
The 2018 remake starring Lady Gaga and Bradley Cooper, set to open in theaters Friday, has already got many critics swooning — including The Times' Kenneth Turan — and is positioned for a big opening weekend at the box office. Ahead of Friday's release, we take a look at the prior versions of the film and how their leads stack up against Cooper and Gaga.
RELATED: Lady Gaga on letting go for 'A Star Is Born' and what Bradley Cooper insisted she do before filming »
1937
Synopsis: Esther Victoria Blodgett, a doe-eyed farm girl from North Dakota, arrives in Hollywood with dreams of stardom, a serendipitous encounter places her under the guidance of renowned — yet — fading movie star Norman Maine. The two enter into a tumultuous romantic relationship. Maine struggles with the perils of fame and alcohol addiction, while Blodgett tries to find her footing in the entertainment industry. Audiences see the plight of love happening as one budding star is on her way up, and the other on his way down.
Actors: Janet Gayonr as Esther Blodgett/Vicki Lester and Fredric March as Norman Maine
Director: William A. Wellman
Producer: David O. Selznick
Critical commentary: Critical reviews were very positive. Then-Times critic Philip K. Scheuer wrote in 1937, "Played with feeling by Janet Gaynor and Fredric March, acid with the writing of Dorothy Parker's pen, it is pretty solid both as drama and as truth."
Awards: At the 10th Academy Awards, "A Star Is Born" was nominated in seven categories, and director William A. Wellman won the Oscar for best original story.
Box office numbers: N/A
1954
Synopsis: Esther Blodgett is an aspiring singer who is part of a mid-level band. She crosses paths with Hollywood idol Norman Maine at a function at the Shrine Auditorium. At the time of their encounter, Maine is on the decline both professionally and personally due to alcohol abuse. Blodgett helps save Maine from an embarrassing situation on-stage while he is in a drunken stupor. This interaction is the catalyst that brings the two characters together for a journey of twists and turns, as well as ups and downs. Along the way, we see the recycled Hollywood mythology that prescribes one's ascent to fame directly tied to demolition of another.
Actors: Judy Garland as Esther Blodgett/Vicki Lester and James Mason as Norman Maine
Director: George Cukor
Producer: Sidney Luft
Critical commentary: The film received favorable reviews. Then-Times critic Hedda Hopper wrote in 1954, "Judy Garland runs the gamut of emotions from A to Z in 'A Star is Born,' and gives a fine performance. In one dramatic scene in her dressing room, no one could have topped her."
Awards: The film received a total of 11 major award nominations. Judy Garland and James Mason each won Golden Globe awards for actress and actor, respectively, in a motion picture musical or comedy.
Box office numbers: When adjusted for inflation, the film brought in $89.3 million domestically (IMDbPro's Box Office Mojo)
1976
Synopsis: Bad boy rocker John Norman Howard and hopeful singer Esther Hoffman meet at a bar where Esther is singing. The two form a bond over mutual physical attraction and a deep appreciation for music. The two enter into a tempestuous marriage that is paralleled by the stormy careers of two musicians who swap trajectories.
Actors: Barbra Streisand as Esther Hoffman and Kris Kristofferson as John Norman Howard
Director: Frank Pierson
Producer: Jon Peters
Critical commentary: The 1976 film received mixed if not negative reviews. Then-Times critic Charles Champlin wrote, " 'A Star is Born' rarely stops seeming manufactured; it can't disguise its manipulations or the process of the storytelling. You see the tangled strings, not the puppets."
Awards: The film won the Academy Award for original song for "Evergreen" with the award shared by its songwriters, Streisand and Paul Williams, and was also nominated in the cinematography, sound and original song score categories. Additionally, it won five Golden Globe awards for motion picture musical or comedy, actress in a motion picture musical or comedy (Streisand), actor in a motion picture musical or comedy (Kristofferson), original score (Paul Williams and Kenny Ascher) and original song (Streisand and Williams for "Evergreen").
Box office numbers: When adjusted for inflation, the film brought in a domestic total of $348.2 million (IMDbPro's Box Office Mojo)
2018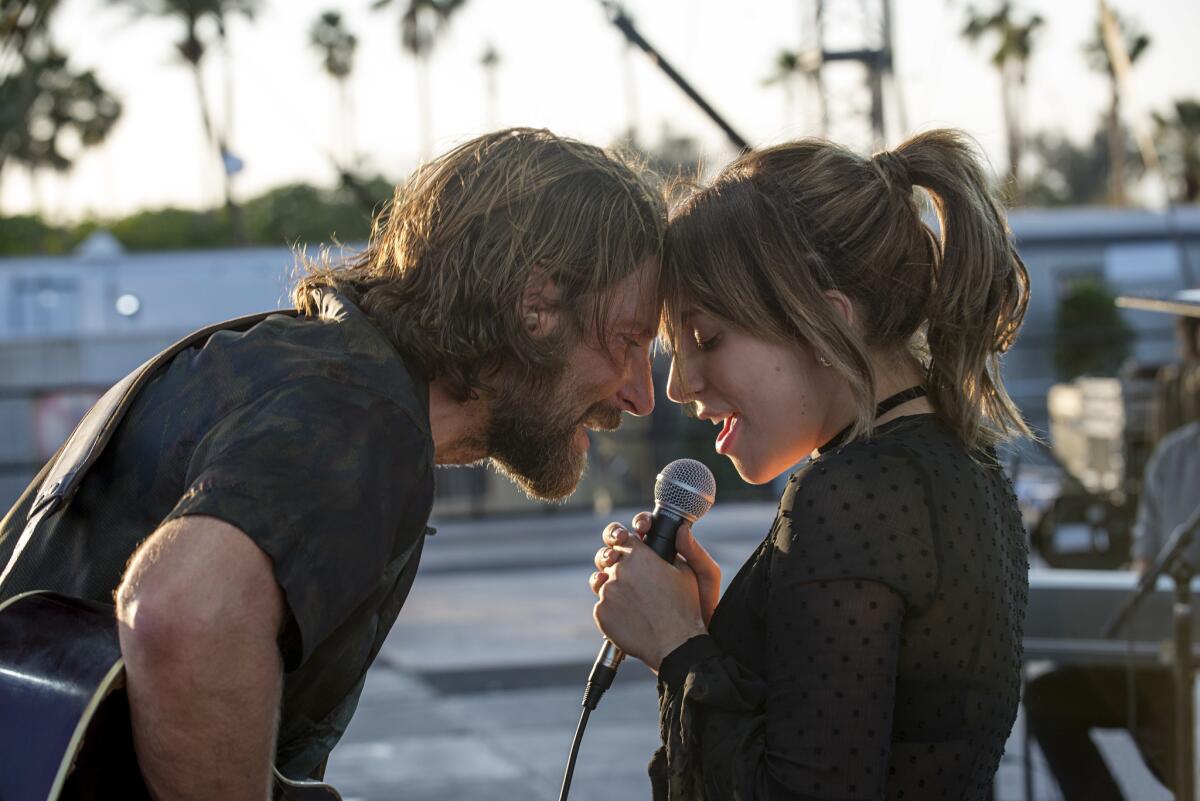 Synopsis: Early trailers and reviews indicate that the plot revolves around rugged and magnetic musician Jackson Maine, who discovers Ally, a talented yet shy singer. The two fall in love and he eventually pulls her into the limelight. Her career begins to take off as he slides further down into darkness, battling his own inner demons. But will the film subscribe to the power dynamics and tropes that its prior films have used?
Actors: Lady Gaga as Ally and Bradley Cooper as Jackson Maine
Director: Bradley Cooper
Producers: Bradley Cooper, Bill Gerber, Todd Phillips and Lynette Howell Taylor
Critical commentary: Early reviews of the film have been extremely favorable. Times film critic Kenneth Turan recently wrote, "Passionate, emotional and fearless, the gangbusters 'A Star Is Born' is poised to become the movie of the moment — the one everyone has to see right now."
Get our L.A. Goes Out newsletter, with the week's best events, to help you explore and experience our city.
You may occasionally receive promotional content from the Los Angeles Times.