Pushing 90, the motion picture academy prepares for a new president and its long-delayed museum
It should have been a moment of catharsis.
After taking dramatic steps to diversify its overwhelmingly white and male membership in response to two years of #OscarsSoWhite furor, the motion picture academy voted to give its highest honor to "Moonlight," Barry Jenkins' tender coming-of-age story about a young black man struggling with his gay identity.
And then … well, you know.
The Oscar-night envelope snafu that initially declared "La La Land" and not "Moonlight" the best picture winner turned a landmark of inclusion into a moment of confusion that played out in front of millions of shocked viewers around the world.
But in a broader sense, that moment symbolized the challenges the Academy of Motion Picture Arts and Sciences faces as it works to give itself a makeover under the glare of the public spotlight — no easy feat for any high-profile institution, let alone one that is pushing 90.
In recent months, the academy's leadership has grappled with an array of thorny near- and long-term challenges — including an ambitious and difficult effort to build an Academy Museum of Motion Pictures in the heart of Los Angeles. As it prepares to select new members of the board of governors this month and a new president later this summer, the venerable organization finds itself at a crossroads.
"There's an idea of change and then there's actually going through change — and sometimes it's harder to go through it," Dawn Hudson, who has served as the academy's CEO since 2011, said in a recent interview at her office. "That's human … It can feel a little scary. But I think overall people see the strides we've made."
Yet that headway — including last year's largest and most diverse class of 683 members, a step toward the academy's goal of doubling the number of women and minority members by 2020 — has come with its share of headaches.
Shortly after the fallout over the envelope blunder abated, scrutiny turned toward the academy's long-delayed museum, which has seen its official budget grow from $250 million to $388 million. Originally slated to open this year, the Renzo Piano-designed project has run into repeated snags and is now expected to open in 2019. And the academy is borrowing heavily to pay for the museum project — according to its most recent annual report, the organization's debt leaped to $354.4 million from $61.6 million the previous year.
Concerns have also arisen over the pace of fundraising, even as Hollywood luminaries like Steven Spielberg and Jeffrey Katzenberg and companies such as the Dalian Wanda Group and Dolby Laboratories have chipped in multimillion-dollar donations.
A recent article in the trade magazine Variety that laid bare frictions within the academy's leadership compared the museum project to notoriously troubled films like "Heaven's Gate" and "Cleopatra."
Some people are like, 'Oh my God, it's big!' Yeah, it's big...it's a big concept.
— Academy president Cheryl Boone Isaacs on the film museum
For academy observers as well as some insiders, this recent tumult, coming on the heels of the #OscarSoWhite firestorm, has stirred questions about the leadership of the organization. "Why is no one giving them advice, like, 'Look, you have to take care of these problems'?" said one longtime member, frustrated over a string of efforts by the academy to do damage control on one issue or another.
At a March 28 meeting, the academy's board of governors voted to renew Hudson's contract through June 2020. In a statement, academy President Cheryl Boone Isaacs, nearing the end of her own tenure, said the board was "confident in Dawn's leadership of the academy, and fully support her as she leads a strong and dedicated team of more than 350 into our ninth decade."
But that public expression of unanimity appeared to mask deeper divisions among the board over Hudson's leadership, with some of the 54 governors privately finding fault with what some see as her hard-charging style and in particular her stewardship of the museum, which is far and away the biggest and most expensive construction project in the academy's history.
For the board, the March meeting represented a kind of moment of reckoning with the ongoing challenges the museum has created.
The deep attempt to bring diversity and female power into the academy has been inspiring.
— Laura Dern, governor for the actors branch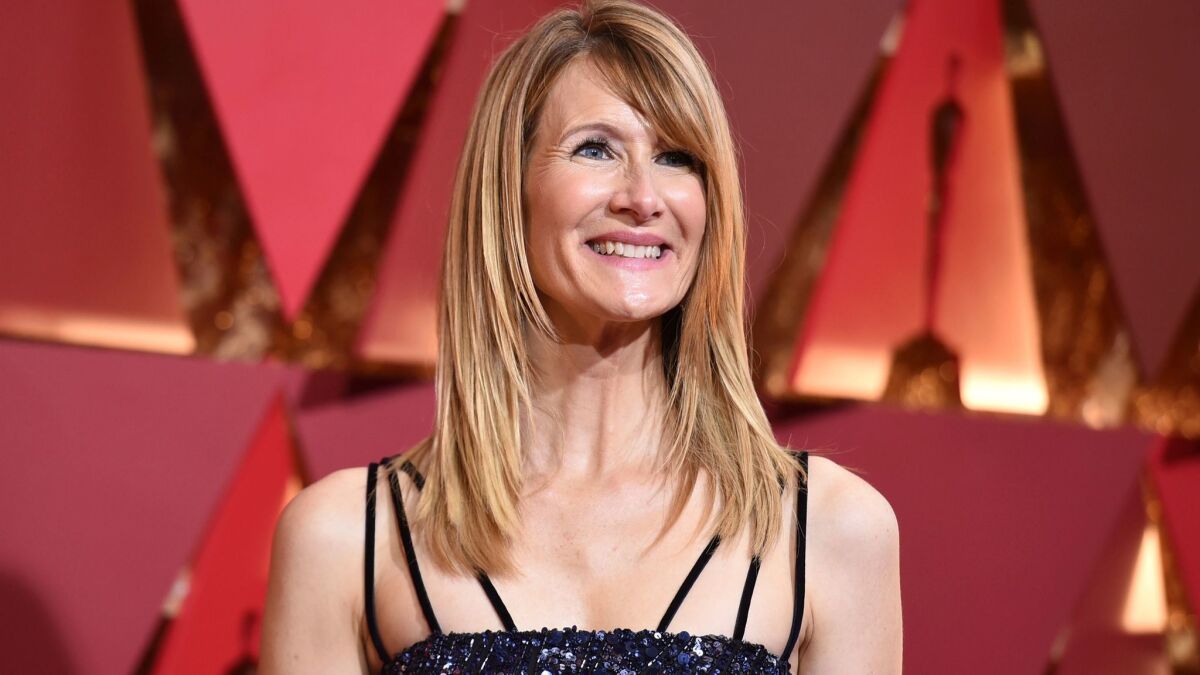 "I think there were a lot of people putting their heads in the sand and wanting to pretend there's nothing wrong," said one academy insider, who acknowledged that factions have developed on the board but declined to share details of private deliberations on the record. "But when you build something, it's going to be harder than you think. I think there's now a definite intent for everyone to get their arms around it."
Hudson acknowledges that for roughly a year the museum's capital campaign slowed as the academy looked for a replacement for its chief fundraiser, Bill Kramer, who left in October 2015. But with Katharine DeShaw hired last fall, she says fundraising is back in full swing.
"She has really picked up speed very quickly. I have no worries," Hudson said. "As Renzo Piano says, it's a very photogenic project and it attracts a lot of people. I really have found that you just have to ask. Once you ask, people get on board."
In a separate interview, Boone Isaacs said that the reports of behind-the-scenes friction among board members over the museum and the academy's finances have been overblown.
"I would say, bottom line, it's just healthy debate," she said. "Certainly with governance we should all be diligent about what we're doing. But it's sort of business as usual. And we are all on top of this. We're on track. It's just the normal process. Construction is always interesting."
As for the growing size and expense of the museum project, Hudson and Boone Isaacs said it's simply a reflection of the scale of ambition involved.
"Some people are like, 'Oh my God, it's big!' " Boone Isaacs said. "Yeah, it's big, and it's big for a reason because storytelling and this art form of motion pictures that's so prevalent around the world — it's a big concept. There's so much there. I think it's just beyond exciting. It's going to be a major, major attraction in L.A."
Music branch governor Laura Karpman echoes the sentiment that rumors of dissension and hand-wringing among the academy's leadership have been overstated.
"People love gossip and it's totally fun, but at the end of the day, it's distracting and irrelevant," said Karpman, a composer who joined the academy last year and was promptly elected a governor of her branch. "People are on the same page. It's not some big fight. It's just figuring out how to head into the future with these initiatives and the museum."
That said, some staffers worry the costs of the museum could eat into the budgets of other academy programs, like film preservation, film festival grants and educational programs.
But Hudson says she is confident that, far from cannibalizing other initiatives, the museum will ultimately enhance them by serving as a showcase of the academy's ongoing work. "I can say most emphatically that we are fulfilling our mission and we will continue to fulfill our mission as broadly and effectively as we ever have, if not more so," she said.
This year, for the first time, the academy — which draws the bulk of its revenue from the Academy Awards telecast — began charging a license fee to TV stations and networks that broadcast live from the Oscars red carpet, a move some interpreted as a sign of the financial pressure the organization is under. But, pointing out that other major awards shows already charge such fees, Hudson said, "That only makes good business sense."
For all the rumors of behind-the-scenes drama, the academy has made positive strides on a number of key fronts.
In addition to its ongoing effort to diversify its own membership and leadership ranks, the academy in April announced a new industry-wide summer internship program, "Academy Gold," aimed at broadening opportunities for students and young professionals from underrepresented communities. And the academy has continued to pull in an increasing number of members from foreign countries as part of a concerted effort to internationalize the organization.
Though this year's victory for "Moonlight" and the historic number of Oscar wins overall for African Americans could move the issue to the back burner in the public's mind, Hudson and Boone Isaacs both insist that the academy's momentum on the diversity front will continue. "This organization is not going to let it stop," Boone Isaacs said.
At the end of the month, the academy will announce its next class of invitees, and expectations are that it will further diversify the membership ranks.
Meanwhile, as the film industry at large continues to grapple with the steady drift of millions of eyeballs toward television and streaming services, the academy drew a small but important line in the sand with the announcement in April of a new rule in the documentary category that renders multi-part or limited series ineligible for Oscar consideration. If enacted earlier, the rule would have disqualified this year's documentary feature winner, "O.J.: Made in America."
With Boone Isaacs coming to the end of her fourth and final term as president in August, the board will soon need to turn to choosing a president from among its own ranks. Further complicating this leadership transition, the board itself will see some turnover in its latest round of elections this month, with a number of boldfaced industry names such as Whoopi Goldberg, "Whiplash" and "Get Out" producer Jason Blum, writer John Ridley and former academy President Hawk Koch throwing their hats into the ring. (Notably absent is Netflix Chief Content Officer Ted Sarandos, an early candidate who didn't make the final round announced last week. Some observers see his exclusion, coupled with the documentary rule change, as a sign of the academy pushing back against streaming.)
Though actively campaigning for the job of academy president is traditionally frowned upon, a few names have already begun to circulate in the rumor mill — perhaps the most attention-grabbing of them being actress Laura Dern.
Currently serving a first term as a governor for the actors branch, Dern confirmed there has been discussion about her running for academy president but declined to say whether she was actually interested in the job.
"It's just speculative at the moment," Dern told The Times recently, playfully adding that she has taken note of the gavel the academy president wields, wondering if it would come in handy with her two children. ("They'd probably tune it out like they do the sound of my voice," she joked.)
Dern strongly endorsed Hudson's leadership, saying her longtime friend is "doing a great job" and that the "museum is going to be incredible, both for the academy and the city of Los Angeles."
"The deep attempt to bring diversity and female power into the academy has been inspiring," Dern said.
That said, whoever takes on the presidency will undeniably inherit more complicated and difficult issues than in decades past when the job, which is unpaid, was largely ceremonial. Nevertheless, that fact won't deter some from pursuing a position that still carries tremendous authority and prestige.
"There are people who want it," one academy insider said. "The bigger issue is: Who wants the job who can do the job?"
Hudson insists that any focus on behind-the-scenes drama at the academy, whether over the museum or anything else, misses the bigger picture.
"It's just wasted energy," she said. "With any great projects there will be a lot of chatter. Then we'll walk in that door and there will still be chatter — and that will be OK because people will be lining up to learn about movies for the first time in Los Angeles."
Twitter: @joshrottenberg
Twitter: @glennwhipp
ALSO
How the motion picture academy moved the needle on its diversity push: We crunch the numbers
When moviegoers treat theaters like living rooms — texting, talking, even diaper changing happens
Javier Bardem looks for what drives the villain
L.A. lowering filming permit costs for digital productions
'Megan Leavey' tells a tale of two war heroes: a woman Marine and her bomb-sniffing K-9
Get our L.A. Goes Out newsletter, with the week's best events, to help you explore and experience our city.
You may occasionally receive promotional content from the Los Angeles Times.