Gold Standard: What the new, vastly expanded academy membership could mean for the Oscars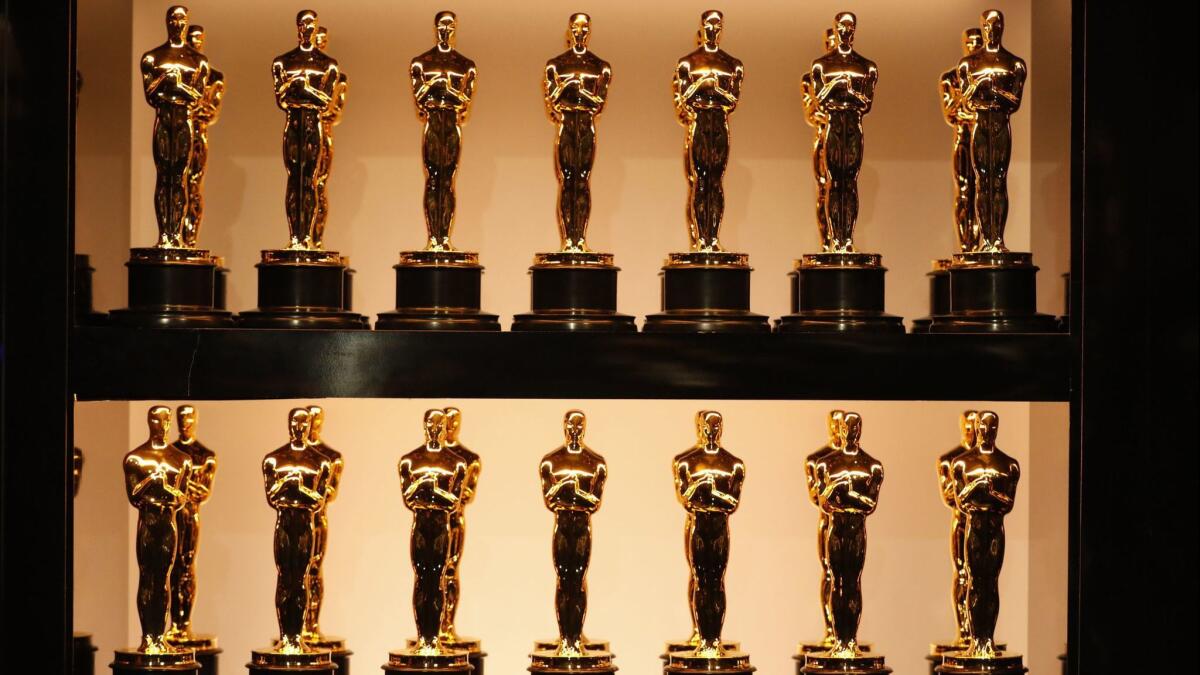 What would real change at the Oscars look like?
Three years into its diversity initiative aimed at doubling the number of women and minorities in its ranks by 2020, the Academy of Motion Picture Arts and Sciences has now added nearly 2,400 members, including this year's record class of 928 invitees.
It's not a stretch to say that today's motion picture academy — now consisting of more women (31%, up 6% since 2015) and people of color (16%, double the number three years ago) — has been altered significantly.
However, that change has yet to really manifest itself at the Oscars. It'd be hard to argue that the Academy Award winners of the past couple of years have been appreciably different from those of previous seasons — or markedly distinct in and of themselves.
By the time Oscar nominations are announced, the Golden Globes, Screen Actors Guild Awards and Film Independent Spirit Awards have already provided an awards season road map. And Oscar voters haven't exactly taken the road less traveled.
Yes, the academy gave its best picture honor to a sci-fi movie for the first time this year. But "The Shape of Water" had been in play with a number of other awards groups too and already had claimed top prizes from the directors and producers guilds.
And, yes, "Moonlight" prevailing in 2017 felt like a collective epiphany redefining what a best picture winner could be. But its Oscar came just a year into this record membership expansion.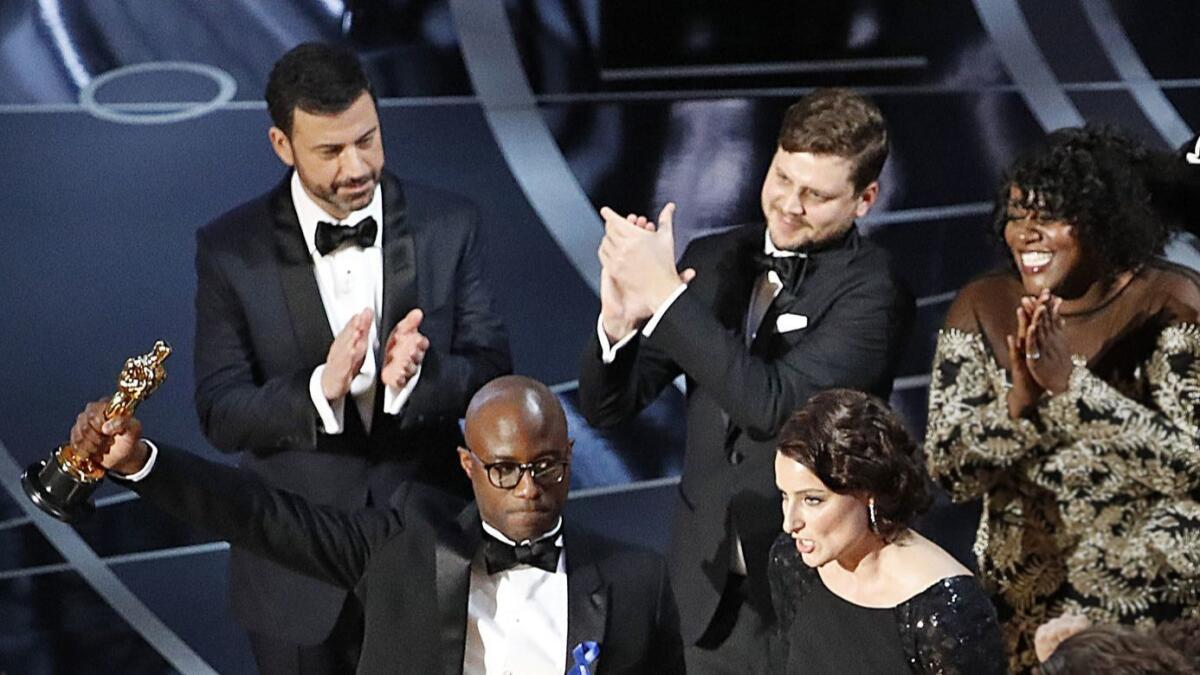 READ MORE: Motion picture academy's record-breaking 928 new members a sign of the changing times »
A more inclusive voting body may have influenced the outcome to a degree, though one could just as easily see "Moonlight's" triumph as an acknowledgment of its excellence, as well as an overdue realization that a movie depicting black lives could win the academy's highest honor without having to focus on slavery. (Or it could have been a reaction to Donald Trump's election and/or a counterbalance to all that "La La Land" love. Take your pick.)
So how would we know if we were in the middle of a real Oscars revolution? For starters, how about a foreign language film earning a best picture nomination for the first time since 2012's "Amour"?
In this dramatic membership expansion, the academy has, to its credit, cast a wide net, inviting hundreds of international filmmakers, actors and crafts people. ("What it is is we realize now how much talent there is out there," academy president John Bailey told me last year.)
Last year, 283 international industry professionals received invitations. Nearly half of this year's class — 460 invitees — came from 59 countries across the globe.
Those invitations have vexed awards season consultants who have complained about figuring out how to reach the far-flung new members who speak a wide variety of languages and may live thousands of miles from the nearest official academy screening.
But the inclusion of so many celebrated international filmmakers and artists — this year's directors class included the likes of Hong Sang-soo, Lee Chang-dong, Chloé Zhao and Béla Tarr — can't help but alter and expand the landscape in a meaningful fashion. I can't presume to know how "Call Me by Your Name" director Luca Guadagnino is going to vote next year, but I suspect his Oscar ballot will be interesting and inclusive in every possible fashion.
On that note, it's possible to make a case that the surprise best picture nomination for Paul Thomas Anderson's "Phantom Thread" this year owed a little to this increased international emphasis. A chamber piece romance set in London in the 1950s, the film featured an alluring mystery at the heart of its love story as well as dry (dare I say "British") humor and a global cast.
"Phantom Thread" may well have been nominated three years ago, but its across-the-board recognition — the film earned six Oscar nominations, after pulling in just two from the Golden Globes, four from BAFTA and none from SAG — could be seen as a manifestation of a new sensibility. It's all speculation, of course. But however you choose to spin it, it's pretty terrific.
Many academy members have griped that the group's diversity push has diluted the prestige of the institution. Rather than acknowledge the limitations of a body whose membership was ridiculously, overwhelmingly white and male, these members cited the names of invitees they felt unworthy of inclusion — as if the academy didn't have a long history of welcoming members sporting spotty resumes.
"We have settled on numeric answers to the problem of inclusion, barely recognizing that this is the industry's problem far, far more than it is the academy's," Bill Mechanic, a former 20th Century Fox and Walt Disney Studios executive, wrote in a letter to the academy's board in April, resigning his position from the group's board of governors.
Mechanic isn't the only academy member who feels this way. But he was vastly outnumbered on the group's 54-member board of governors, which is why he left. This year's record class of invitees makes it clear that the academy is pushing forward, and there's little reason to believe that the momentum will abate in the next two years.
By that time, we may begin to see the kind of profound changes that would improve the Academy Awards, changing them from an awards season afterthought into something potentially powerful and provocative. If the Oscar nominations become more difficult to forecast, thanks to a deeper, more inclusive membership, then maybe the kinds of movies and performances considered "Oscar-worthy" will continue to broaden.
The first test will be upon us soon enough. No superhero movie has earned a best picture nomination in the history of the Academy Awards. But then there's never been a superhero movie like "Black Panther." Christopher Nolan is already predicting a best picture nomination. We'll soon see if this new academy proves him right.
READ MORE: See the full list of the Academy's 928 new invitees »
Get our L.A. Goes Out newsletter, with the week's best events, to help you explore and experience our city.
You may occasionally receive promotional content from the Los Angeles Times.